Featured Video
This Week in Quality Digest Live
Delcam
CMSC
Automotive Toolmaker Uses Delcam's PowerINSPECT to Standardize Across All Devices
Published: Thursday, May 19, 2016 - 13:24
(Delcam: Birmingham, UK) -- During the past five years, German automotive toolmaker Konrad Schäfer Modell und Formenbau has switched all its static and portable CMMs, as well as its hand scanners, to Delcam's PowerINSPECT inspection software. The results of standardizing on a single software have included lower training expenses, greater staff flexibility, and perfect CAD compatibility.
The company's roots in manufacturing models date back 110 years, originally in Muehlhausen, where Konrad Schäfer GmbH now has an additional production site. "We see ourselves as one of the leading manufacturers of design and data control models, inspection and function cubing, and control gauges for the European automotive industry," explains Jörg Große-Beilage, head of the model-making department, which has been based in Osnabrueck since 1962.
Additional activities include models for vehicle interiors and prototypes for vehicle lights, as well as jigs and molds for aerospace carbon-fiber composites.
Konrad Schäfer transforms customers' ideas into reality—five to 10 years before they are ready for batch production—with the help of innovative approaches to prototyping; the newest CAD, CAM, and metrology technologies; and a modern machine shop. Große-Beilage also points out that technical skill is still a crucial part of the organization's philosophy, something that wouldn't be possible without motivated and well-trained staff.
At nearly every workstation, there is a CMM, either a stationary manual or CNC CMM, or a portable measuring arm. The range of measuring machines are of different ages and from Mora, Zett Mess, and Stiefelmayer, while the portable arms are from FARO.
"Metrology is an important part of our core business," says Große-Beilage, one of the reasons Konrad Schäfer continually invests in this area—not only in machines, but also in staff training. "Our target continues to be that both measurement engineers and model builders know how to use our metrology systems." That was also one of the reasons why Konrad Schäfer started to convert its whole range of metrology machines to a universal software.
A wide range of solutions from different companies was reviewed as part of the selection and decision-making process, "but in the end, PowerINSPECT convinced us the most."
"The decision to purchase PowerINSPECT was absolutely spot on, even from today's perspective," says Große-Beilage. On one hand this is because of the good CAD compatibility. Components in all CAD file formats can be inspected with PowerINSPECT, something that was particularly important for Konrad Schäfer.
In addition to the extensive feature set and the support from Delcam, the user-friendly interface was a key factor for Große-Beilage and his team. The CAD File Manager in PowerINSPECT is just one example; this makes it easy to manage component groups. The decision was also easy because PowerINSPECT offered by far the best price-performance ratio.
Konrad Schäfer GmbH currently uses 16 licenses of PowerINSPECT, which have been purchased progressively. At the start, in 2009, the company purchased two licenses and contracted to buy four additional licenses in each subsequent year.
Portable coordinate metrology is becoming increasingly popular at Konrad Schäfer. Five Faro Gauge arms are already used, all supported by PowerINSPECT. "Manual measuring arms have the advantage that I can measure quicker than with a stationary measuring machine, because I can just measure one zero point and then inspect everything else from top to bottom without adjusting anything," says Große-Beilage. "But because I'm limited by the part size, the movable stand measuring machine is definitely better suited to a whole car."
Christian Wollbrick, a metrologist who works daily with the software, confirmed that PowerINSPECT's ease-of-use means that even untrained staff can get started immediately. "Elements can be interactively selected in the CAD view, for example," he says. "This makes inspection programming significantly easier and quicker, something that is really useful when you just work with the system from time to time."
Moreover, the ability to define a critical measurement point in advance and to be led to that point by PowerINSPECT during the measurement is very valuable. "This is particularly beneficial with hand-held devices, as it guarantees consistent and repeatable measurements."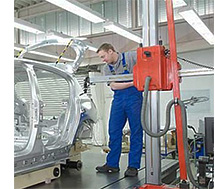 Work on inspection cubes depends on being able to work as flexibly as possible, yet at the same time in a reproducible way with a three-axis CMM. "Test cubes are reference models that simulate the body in white," explains Große-Beilage. "Subsequent parts that occur in different car types can be built in or attached to them. So you can test in advance whether they truly fit, or check that there are no interfering edges, and also if joints and radii are correct. Every manufacturer has different reporting standards, but we can implement them really quickly with PowerINSPECT."
About The Author

Delcam
Delcam develops, markets, and supports advanced CAD/CAM solutions for the manufacturing industry. Delcam's range of design, manufacturing, and inspection software provides complete, automated CAD/CAM solutions to take complex-shaped products from concept to reality. Headquartered in Birmingham, UK, Delcam is known for its high-quality support throughout Europe, Asia, and North America. Its U.S. head office is in Salt Lake City.