This Week in Quality Digest Live
Verisurf Software Inc.
CMSC
Verisurf X9 Now Available
Published: Thursday, February 18, 2016 - 17:41
(Verisurf: Anaheim, CA ) -- Verisurf Software Inc. announces the availability of its Verisurf X9 software for 3D measurement. Verisurf X9 is now available for download and includes the addition of Verisurf SOLIDS, a complete 3D solid modeling application, as well as major productivity enhancements to each of the modules that comprise the Verisurf solution—CAD, MEASURE, ANALYSIS, and REVERSE.
Three components, which were previously cost add-ons, are now included in the Verisurf CAD module: creation and editing of solid models; raster-to-vector conversion of images and photos; and true shape nesting of 3D geometry for use in composite materials, 3D printing, and many other applications.
New scanning features
New speed menu options for point cloud and mesh objects greatly reduce the time to scan, align, and inspect parts. In the improved point cloud display with shading, the fine details of live scans look great and appear in real time, as the data is collected. Analysis functionality has been optimized for increased speed and accuracy when using large scan data with the capability to process and display one million points per second in real time. These enhanced capabilities have enabled new productivity features, including a "Do It" icon to run the macro for quick alignment, registration, analysis, and reporting.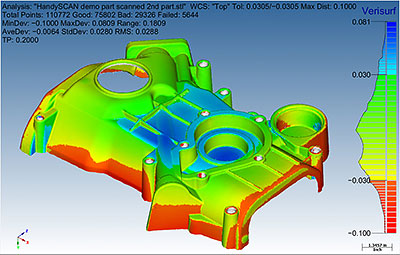 "At Verisurf our goal is to provide a comprehensive set of measurement tools so quality and manufacturing engineers can effectively do their jobs," says Ernie Husted, president of Verisurf. "With the release of Verisurf X9 we continue to close the gaps in being able to maintain a digital thread between design, manufacturing, and quality inspection. Verisurf users continue to provide the practical insight necessary to help guide our software development."

The new Verisurf software functionality and added features are designed to make stationery coordinate measuring machines (CMMs), portable CMMs, and 3D scanners more productive for automated inspection, guided assembly, and reverse-engineering. Built on a powerful CAD platform, Verisurf software provides a variety of manufacturing measurement solutions to meet the needs of the quality lab and in-process applications on the shop floor.
Attend a webinar for Verisurf X9 software release
This fast-paced webinar will review many new software features and enhancements for automated inspection, quality reporting, guided assembly, tool building, and reverse-engineering.
Webinar topics include:
• New direct solid modeling and editing
• Improved point cloud analysis performance
• Free file-to-file translation validation
• New 3D scan gap and flush analysis
And much, much more..
Register NOW
Thursday, Feb. 18, 2016
• 8:30 AM–9:30 AM PST
• 4:00 PM–5:00 PM PST
Thursday, Mar. 24, 2016
• 8:30 AM–9:30 AM PDT
• 4:00 PM–5:00 PM PDT
About The Author

Verisurf Software Inc.
Verisurf Software Inc. is a metrology software development company headquartered in Anaheim, California, committed to delivering advanced, field-proven computer-aided inspection and reverse engineering solutions. Verisurf software allows manufacturers to produce higher quality products in less time and at a lower cost by using highly automated paperless 3-D model-based inspection processes rather than hand measurements and 2-D paper drawings. Initially focused on the aerospace industry, Verisurf now serves the manufacturing and inspection needs of several industries, from automotive to medical.