Featured Video
This Week in Quality Digest Live
Scott Everling
CMSC
Scanning a Jet Wing in Four Minutes or Less
Published: Thursday, August 10, 2017 - 10:36
Two leading aircraft manufacturers, Boeing and Airbus, face a challenge many manufacturers would envy: an order book of close to 12,000 aircraft, representing between eight and 10 years' worth of production. But what might appear to be a dream is proving to be a nightmare—asking customers to wait a decade for the delivery of their product. Management across the industry is wrestling with how to reduce build times once again.
Finding ways to accelerate the manufacturing process, and specifically inspection processes, is a red-hot topic these days in the engineering boardroom. These drivers are bringing together the brightest minds in the field to open new doors with recent advances in technology and automation.
Improving accuracy and reducing costs are also important drivers for aircraft manufacturers. Transitioning from traditional to automated validation systems is a big step, but forward-thinking manufacturers now have the scanning speed, and the confidence, that rigorous inspection requirements can be met by using automated measurement solutions. An example of how to tackle this challenge is situated at the National Institute for Aviation Research (NIAR), where an automated metrology solution is being demonstrated to show how organizations can scan a jet wing in fewer than 4 minutes.
Improving throughput
Wichita, Kansas, is known as the "Air Capital of the World." This is due in part to the National Institute for Aviation Research (NIAR) at Wichita State University, a leading advanced aircraft manufacturing laboratory. The area is home to notable aerospace and defense OEMs, including Boeing, the Hawker Beechcraft Corp., Bombardier Learjet, Cessna, Spirit Aerosystems, and Airbus Americas, to name but a few organizations located there. In the competitive world of advanced aircraft manufacturing, developing world-class talent to drive innovation is essential to the longevity of the industry. NIAR is uniquely positioned to assist both the local and global need for highly skilled aircraft assembly professionals.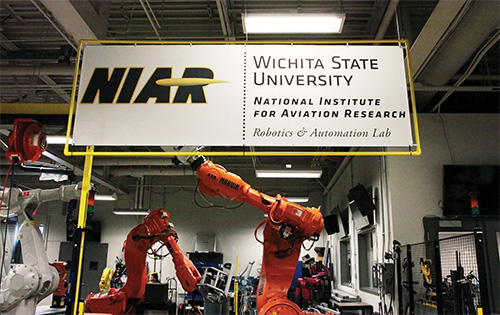 The NIAR Robotics and Automation Laboratory in Wichita, Kansas
NIAR was selected by the Obama Administration as an Advanced Design and Manufacturing Research Center in a network of research institutes focused on developing and commercializing manufacturing technologies through public-private partnerships between U.S. industry, universities, and federal government agencies. NIRA is also home to the Federal Aviation Administration's Center of Excellence for Composites and Advanced Materials, and the National Center for Advanced Material Performance sponsored by NASA and the United States Air Force. The laboratory's value to private industry cannot be understated: NIAR provides essential test and design services for developing aircraft products. A key initiative for NIAR and the aerospace industry is determining how to leverage automated manufacturing technologies for improved speed and throughput.
Although automobile manufacturers have embraced automation, in part because the production volume is so large, the aerospace industry has been slower to make this investment. One reason for this is the difference in production volume. Many aircraft manufacturers are considered low-volume producers, which has delayed their adoption of automation technologies currently in use at modern automotive OEMs. But that trend is changing, as organizations like NIAR demonstrate that it is easier to employ automation in lower-production markets.
Scanning a jet wing in under four minutes
NIAR teamed with Hexagon Manufacturing Intelligence to demonstrate an automated wing-surface scanning solution for the aerospace industry. Using a small business jet wing measuring approximately 25 ft x 6 ft, NIAR and Hexagon engineers were able to reduce a scanning process that previously took all day to less than four minutes. Leveraging the multitasking capabilities afforded by the automated solution, NIAR was able to demonstrate on a jet wing that an integrated network of robots, scanning technologies, and software tools could accurately and repeatably manage metrology and inspection tasks.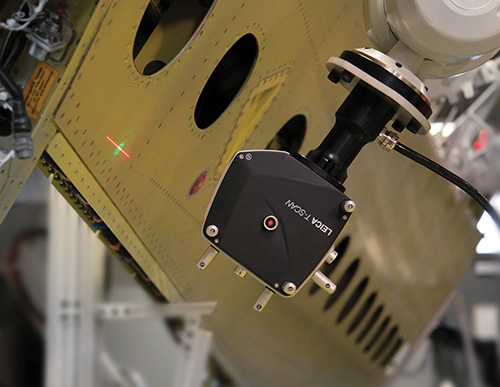 The automated scanning solution is able to scan the 25 ft x 6 ft jet wing in four minutes or less.
To forge this breakthrough, the team used the combination of a Leica Absolute Tracker AT960 and a Leica T Scan 5 (Hexagon Manufacturing Intelligence, North Kingstown, RI) mounted to an ABB IRB 4600-40/2.55 robot on IRBT 4004 tracks. The AT960 was designed from the ground up to take full advantage of improved dynamic performance and advancing robotic speeds that are needed for fully automated installations. The laser tracker's groundbreaking 7DOF measurement capability enables real-time machine control and robotic guidance for factory-of-the-future applications.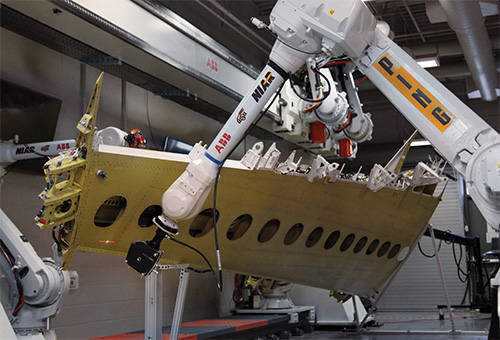 The automated scanning solution featured a the Leica Absolute Tracker AT 960 from Hexagon Manufacturing Intelligence, and a Leica T Scan 5 mounted to an ABB IRB 4600-40/2.55 robot.
The portable laser tracker works in tandem with the industrial laser scanner to capture measurements on large-scale parts and assemblies up to 196.85 ft. During an automated work session, millions of 3D coordinate points are gathered quickly on virtually any part surface without special preparation, from matte black to highly reflective to carbon fiber. The high-speed scan rates allow for high-speed acquisition of surface (OM and IML) profiles, as well as small-detail feature extraction for the precise measurement requirements of aerospace applications.
Brian Brown, director of the Robotics and Automation National Institute for Aviation Research at Wichita State University, spearheaded the automation project. Working closely with application engineers from Hexagon Manufacturing Intelligence, they were able to get the automated scanning process up and running in a matter of hours. "Rather than spending hours to days of manual labor inspecting large aerospace components, we can now leverage the Leica T-Scan 5 and ABB Robotics to turn the job into an automated process that only takes minutes," Brown says.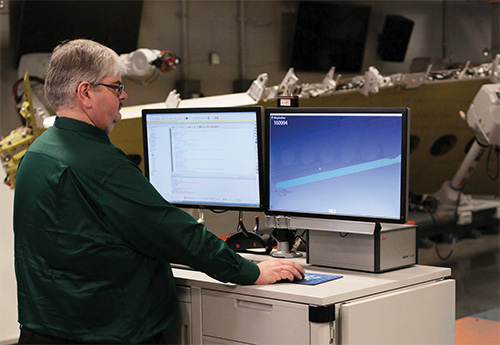 Brian Brown, director of the Robotics and Automation at NIAR, reviewing the data set collected from the automated scanning process
Speed and productivity
The results were very encouraging. Despite the challenges of scanning a large, metallic-finish wing section, the surface scanning data were collected quickly with a high degree of accuracy. NIAR's mission is to be the place "Where Test Plans Become Results"—full structural elements are a focus for this initiative. The ability to rapidly and accurately provide a surface scan of a jet wing is a departure from tradition aircraft metrology processes, offering an automated, accurate, and fast way to ensure that aerospace assemblies are fabricated as intended.
With 20+ laboratories focused on certification testing for airframe technology and a $45 million yearly budget, NIAR is paving the way for advanced aerospace manufacturing processes. The local economy is powered by aviation manufacturing: Wichita is home to 7,000 engineers and 26,400 aerospace production jobs—43 percent of the U.S. generation aviation aircraft is built here. "As more aviation manufacturing processes become automated, organizations are looking to increase speed, efficiency, and precision," says Brown. "By combining our expertise with experts and leaders in the metrology and robotics fields, high-value, low-cost solutions are developed and implemented quickly and efficiently."
Moving forward
Technology and education partnerships are shining a light on the future of large-scale manufacturing with an eye on productivity and driving down those future backlogs. It is not easy to accelerate safety-critical inspection processes, but large and complex part inspection is now possible using sophisticated automated measurement solutions. Organizations like NIAR and Hexagon are the proving grounds for things to come, which will set the aerospace industry on a new course to gain operational speed and find confidence in automated scanning approaches for inspection.
About The Author

Scott Everling
As Product/Business Development Integrated Solutions , Hexagon Manufacturing Intelligence, Scott Everling has worked in the metrology industry for more than two decades, solving precision manufacturing measurement problems in a wide variety of industries. His background includes several years chasing precision at Stanford Linear Accelerator Center, as well as operating a measurement consulting and programming firm concentrating on automotive and aerospace powertrain applications. Scott holds a degree in mechanical engineering from Cornell University.