Two years after publishing the second edition of QS-9000, the Chrysler, Ford and General Motors Supplier Quality Requirements Task Force has released the third edition of the requirements manual on March 13. The revised edition, which may be used immediately for compliance and registration efforts, will officially replace the second edition on January 1, 1999.
A number of significant additions were made to the third edition, reports R. Dan Reid, the task force's General Motors representative. "The International Automotive Sector Group's Sanctioned QS-9000 Interpretations is a substantial document in its own right," he observes. "We've integrated that into the text of the third edition of QS-9000 and revised initial and ongoing process capability requirements as well as process control elements. These provide suppliers with additional options for compliance. And we've added an additional test-laboratory requirements section for suppliers' in-house laboratories, modeled after ISO Guide 25 guidance for laboratories."
The task force also has been discussing future harmonization with European automotive manufacturers, according to Reid. "To date, we've agreed that we could revise our own ISO 9000-based quality manuals and include some of the content in the other manuals, cross-pollinate them a little bit, so that they're closer to being equivalent," he says. "They're not all the way there yet, but they're a lot closer with the third edition."
Along with the third edition, the task force has released the Quality System Assessment, Second Edition, which contains the Automotive Industry Action Group's Quality System Deployment Checklist, and the QS-9000 Third Edition Workbook, which the task force used to track changes during the revision process. The task force will host a third edition workshop May 20 in Novi, Michigan. Attendees will receive copies of the third edition, the Quality System Assessment and the QS-9000 Third Edition Workbook.
Of particular interest are two new additions to the requirements, says Radley M. Smith, author of The QS-9000 Answer Book (Paton Press, 1997). Section 4.1.6.1. requires a supplier that is being punished for severe quality problems to advise its registrars of that punishment; section 4.1.5 states that the costs of poor quality must be tracked. "I suspect that each registered site will probably have to amend a dozen procedures, track costs of poor quality and a few other things," predicts Smith. "No big bombshells or anything more than a mild bit of evolution."
For more information, contact AIAG at telephone (248) 358-3003 or visit the group's Web site at www.aiag.org.

Combines "Section II: Sector-Specific Requirements" into 20 ISO 9000-based elements.

Includes the IASG's Sanctioned QS-9000 Interpretations.

Numbers all automotive additions.

Adds several requirements developed from reviews of European automotive quality requirements.

Includes expanded glossary.
New Quality Standard for Telecommunications Industry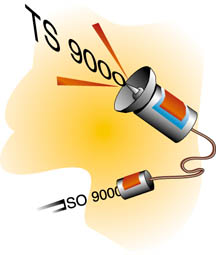 A new telecomunications standard, set for release in late June, will attempt to establish quality systems requirements throughout the rapidly growing worldwide telecommunications network.
The new standard -- TS 9000 -- is based on ISO 9001. It was written by the Quality Excellence for Suppliers of Telecommunications Leadership Forum, which was founded by service providers from Pacific Bell, Southwestern Bell, Bell Atlantic and Bell South. QuEST now includes members from 30 of the world's top telecommunications companies.
The group began its efforts in June 1996. "The impetus behind it came from the realization that there are competing standards and processes, both within our industry and the global industry as a whole," explains Jim McDonnell, Pacific Bell's director of strategic procurement services. The telecommunications industry includes 1,000 tier one suppliers and 10,000 tier two suppliers worldwide, estimates McDonnell.
QuEST intends for TS 9000 to serve as the telecommunications industry's extension to ISO 9000. Because the two standards will remain in alignment, conformance to TS 9000 will constitute ISO 9000 conformance.
"There is a migration strategy that will take into consideration registrations that companies already have in place," says McDonnell. QuEST has met with QS-9000 representatives several times for bench-marking purposes, he adds.
QuEST membership is open to anyone in the telecommunications industry. For more information about the group or TS 9000, contact Jim McDonnell at telephone (510) 823-0200 or e-mail jrmcdo2@ pacbell.com.
Index Highlights
Low Customer Satisfaction Scores
A continuing decrease in American consumers' satisfaction is reported in the most recent release of the quarterly American Customer Satisfaction Index. The national customer satisfaction index dropped slightly over the last quarter to 70.8; the overall index is down 1.6 percent from last year.
The ACSI also shows that, despite the emphasis U.S. businesses place on a strong connection to customers, customer satisfaction is down, most notably in discount and department store retail chains, and commercial banks. While retail stores faced a 2.7 percent decline in the ACSI, and a total sector decline of 3.3 percent from the previous year, they also recorded a slight increase in sales over the holiday season. This gain, especially in January, is credited to aggressive markdowns rather than customer service improvements. Satisfaction among commercial bank customers fell one percentage point to 71, following a two-point drop last year.
Policyholders of property and casualty insurance remained stable at 77 percent, while life insurance policyholders rose to 76. Satisfaction with major supermarkets dropped one percentage point to 73. Fast food restaurants enjoyed an upswing of two percentage points, from 66 to 68. Customers report that fast food quality is up for the first time in several years, good news for an industry historically anchored near the index's bottom.
The index -- a uniform, cross-industry measure of consumer opinion on goods and services in the United States -- is produced through a partnership between the University of Michigan Business School, the American Society for Quality and Arthur Andersen.
American Systems Registrar and Deloitte & Touche Quality Registrar Inc. have joined the competitive registrar marketplace.
American Systems Registrar of Grand Rapids, Michigan, was formed by a group of lead assessors frustrated with their experiences at the registrars where they were working. ASR plans to work with companies across many industries but will specialize in certifying service industry members, including health care organizations, financial houses, banks and insurance companies.
ASR now offers ISO 9000 and QS-9000 certification, but Richard Clements, ASR's marketing director, expects other standards and requirements to follow, including ISO 14000, TS 9000, the TE Supplement and AS9000.
"What's going to make our company unique is a renewed emphasis on customer service," notes Clements. "We're going to work a lot closer with clients to get them through the registration process."
Canada's Deloitte & Touche Quality Registrar Inc. of Windsor, Ontario, will offer certification to ISO 9000 and QS-9000, eventually adding ISO 14000, AS9000 and TE Supplement services.
"Our approach emphasizes improvement vs. just identifying nonconformances and walking away," says Bill Dobranski, Deloitte & Touche QR's chief operating officer. "The ISO 9000 standard is evolving to where a registrar must be more of an assessor and coach rather than just an assessor."
For more information about these companies, contact Deloitte & Touche QR at telephone (519) 258-8983 and American Systems Registrar at telephone (888) 891-9002. Visit ASR's Web site at www.asr .9000.net.
Baldrige Spotlight: Merrill Lynch Credit Corp.
In 1997, Merrill Lynch Credit Corp. of Jacksonville, Florida, won the Baldrige Award with its first application. The company, which provides customers with liability management services such as home financing, personal credit, and investment and business financing, operates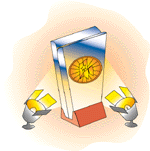 through a nationwide network of 29 district offices, 830 partners and more than 14,000 financial consultants.
"People are working a lot better and smarter because of this," says Kevin O'Hanlon, MLCC's president and chief operating officer. "They now understand how they contribute to the overall success of the company."
The Baldrige feedback report provides MLCC with important information on improving its processes. "Some of the things we implemented haven't gone through a full cycle yet," explains Michael Johnston, chairman and chief executive officer. "The report helps us to be aware of that and to follow it through."
MLCC is now getting frequent requests from other companies interested in forming benchmarking partnerships. Many of these companies want to visit MLCC's Jacksonville facilities, according to Lee Lomax, group manager for quality and business improvement. "What we do, what our partners do is effective and infectious," she observes. "They want to see, feel and touch that." When asked what significant qualities MLCC can offer benchmarking companies, Lomax notes that the company has found a way to improve and evaluate what it does.
Another of MLCC's exceptional traits is the partnership amongst its employees, says Johnston. "It has opened lines of communication from the boardrooms to the mailrooms and back up again."
Johnston credits MLCC's five major principles for its success: integrity, respect for the individual, responsible citizenship, teamwork and client focus. "When those are your principles, you can't help but be a success," he maintains.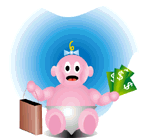 P.T. Barnum's Methods for Success
World-famous showman P.T. Barnum was a clever and dedicated businessman, reveals Joe Vitale in his recent book, There's a Customer Born Every Minute: P.T. Barnum's Secrets to Business Success.
Vitale highlights several methods and philosophies upon which Barnum relied heavily during his long and varied career. They include:

There's a customer born every minute. Think big -- the world is filled with potential customers.

Capture people's attention. From the audacious to the subtle, capturing and keeping people's focus determines an effort's success or failure.

Give people more than their money's worth. Deliver a product customers will want to buy and enjoy.

Use the power of the media. Skillfully using the media can generate the kind of publicity that makes a product successful.

Advertise persistently. Let people know your product is worth their time and money. They won't want it unless they know it exists.

People are drawn to good causes. If your business and your methods are based on the right principles, consumers will respond.

Everything happens for a reason. After suffering setbacks, losses and disappointments, keep moving forward. Look for the good that can grow from the bad situations in life.

The written word is powerful. One of the most reliable advertising methods when used properly, the written word can draw people's interest.

Use the persuasive power of speech. The spoken word's ability to persuade and appeal is perhaps unmatched. Barnum used it effectively many times.
Excerpts of the book may be viewed at www.mrfire.com. For more information, call AMACOM Books at (800) 262-9699.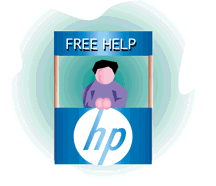 Hewlett-Packard Offers Free Help on the Web
Engineering educators and students will find creative help in overcoming limited time, budgets and resources at the Test and Measurement Educator's Corner, Hewlett-Packard's award-winning Web site located at www.hp.com/info/college_lab103.
Educator's Corner offers interactive lab experiments, free software, tutorials and access to online publications. Experiments and tutorial topics include modulation, phase shift, radio frequency, filters, distortion and amplifier characterization. All experiments and tutorials may be downloaded free of charge. The entire Web site also is available on CD-ROM. For a free copy, contact Hewlett-Packard at telephone (800) 452-4844.