Since its release in 1987, the ISO 9000 quality management standard has steadily gained acceptance across many industries around the world. Until recently, the majority of organizations using the standard were from the manufacturing sector. Now, however, customers' quality expectations extend beyond manufacturing to include the service industry.
To address this new set of customer expectations, service providers such as hospitals, personnel placement offices and transportation organizations have begun to use the ISO 9000 standards to define and improve their quality management systems. Two such customers, Chrysler and General Motors, have even formalized their expectations by setting ISO 9000 registration deadlines for their transportation service providers of December 31, 1998, and July 31, 1998, respectively.
One service company's quality management process is examined here from three perspectives: the company's, the consultant's and the registrar's. The company, Ryan Transportation Group, is a full-service transportation organization providing less-than-truckload and truckload services throughout the Midwest. As the consultant, Eagle Group USA Inc. offers full-service consulting and training, and specializes in the service industry. NSF International Strategic Registrations Ltd. serves as the project's registrar. Each stakeholder discusses its role, expectations and issues in the ongoing effort to make the project a winning proposition for all.
Company perspective

When our major customers pointed out that we could solidify our standing as a transportation supplier by obtaining ISO 9000 registration, we at first wondered how this management system would make us a better, more efficient company. Being strictly a service company rather than one that produces parts or maintains a material inventory, we initially didn't feel that registration would be of much value to us. Nonetheless, with some trepidation and an attitude that lacked complete commitment, we began the process.
Now we're about 75 percent completed with the registration process, and our attitude is very positive. We're interested in ascertaining the value-added benefits of being registered, and we're beginning to understand how this will happen. Put simply, we're formalizing many facets of our business that previously were informal.
For a long time at our company, uncertainty surrounded even our most basic business processes. Naturally, senior managers met regularly, and staff members were informed of current business plans. We handled situations and put out fires as they occurred, but until we began the registration process, we had no formal system to review what we were doing and how we could do it better. We now believe that, with a properly documented management system and a desire to practice what we preach, most of this uncertainty will clear up.
For example, with our purchasing process, which entails buying and maintaining equipment as well as recruiting and retaining owner-operator drivers, we expect to realize a significant payback for the time and effort spent achieving registration. We'll have a purchasing system in place that will mandate a more consistent vendor review, including work performance quality and pricing. But I think we'll benefit most from using ISO 9000 as a catalyst to achieve systemwide customer service improvement goals. Our new management system will clearly indicate where the buck stops and with whom.
As far as the actual implementation process goes, Ryan senior management has expressed concern about how our current staff -- which includes office clerks, dispatchers, maintenance personnel and midlevel managers -- will handle the change to a management system that requires so much documentation and internal auditing. Ryan Transportation employs about 90 people, and we've trained seven staff members to serve as internal auditors.
At first, I thought that internal auditing might prove difficult for inexperienced staff members. They'd have to be responsible for auditing a business process they had very little prior exposure to. However, we recently completed our first round of internal audits, and I must admit I'm surprised at the confidence and enthusiasm our internal auditors have exhibited during this process.
Lisa Ann Throne, our deputy manager representative, is one of them. "Everyone here was very comfortable with the implementation process," she reports. "We mainly had to learn to write everything down, rather than simply going across the room and talking to someone. Now we have tracking devices to follow up our verbal quotes."
Concerning our consulting firm and registrar, our expectations were fairly simple. We wanted the consultants to be patient, thorough and committed as they taught the ISO 9000 system to Ryan Group staff. And they were. We're implementing a management system that will forever change the way we do business, and this radical change is not without its detractors. Having said that, I have full confidence that we will achieve all of our ISO 9000 goals.
With our registrar firm, NSF-ISR Ltd., we are expecting an audit that not only grades us on our ability to properly interpret the standard but also suggests ways we can continually improve our business processes. By the time we are ready for our certification audit this month, we anticipate having a functional system in place, but I predict it will take a couple of years for our company to have a well-oiled, excellent management system in process.
We hope NSF and Eagle Group will help us, through continuing education, achieve continued growth into the future.
Consultant perspective

A service-based organization faces many challenges when it decides to set out on the path to ISO 9000 registration. Because the standard is geared toward the manufacturing industries, it can leave a service provider feeling lost and confused. The ISO 9000 series does provide several guidance documents, such as the ISO 9004 guidelines on quality management and systems elements, and the ISO 9004-2 guidelines for service industries, but making the connection without adjusting organizational processes or losing the standard's intent isn't always an easy task.
As a service provider, Eagle Group had to come to terms with these issues before it could attain registration of its own management system. We addressed the unique opportunities presented to service organizations when we developed our quality management system. We wanted other service provider organizations -- our clients, specifically -- to be able to model from it. Eagle Group's registration success coupled with its expertise within the service arena provided Ryan Transportation with another case study as well as a practical approach to ISO 9000 registration.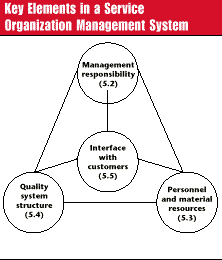 Our own management system became easier to define as we reviewed ISO 9004-2, keeping in mind the elements shown in Figure 1. ISO 9004-2 helps define key components of a service organization and gives direction to the organization for applying the manufacturing-based requirements listed in the ISO 9002 standard. Figure 1 represents the key pieces of a service organization's management system: management, customers, policy and procedures, and resources. It's important when businesses begin to define their intent with ISO 9000 to tie the requirements back to these key elements.
Ryan Transportation is well-suited for a true service-based management system. It's looking to enhance its business processes and meet future customer needs. When Ryan and Eagle Group teamed to implement an ISO 9002-registered management system, our goals were to develop a system based around Ryan's current practices rather than the ISO 9002 standard; keep the system lean, effective and value-added; and keep the company's processes responsive from a sales perspective.
Eagle Group's approach to implementing a service-based ISO 9000 system emphasizes flexibility and responsiveness. Service organizations, just like manufacturing companies, function best when they can offer quick response times to customer needs and order changes. However, the service provided often is the only "product" it has to measure. Consequently, its management process must be a constantly evolving system based on whatever customers want, when they need it.
Our first step with Ryan was to perform a gap analysis comparing the systems currently in place against what the ISO 9002 standard requires. Then we mapped the standard elements to those systems and processes. By doing so, we laid the groundwork for determining what elements were applicable and how we could structure the content and quantity of procedures based upon existing business processes. This method differs from more typical procedures that structure business processes around ISO 9001's 20 elements or ISO 9002's 19 elements, as shown in Figure 2.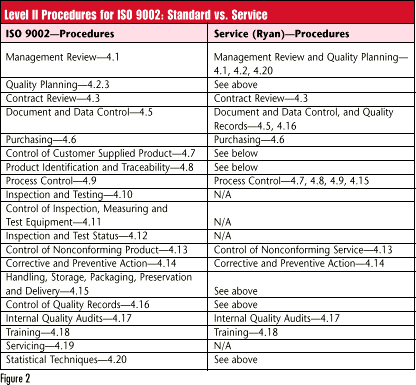 Many elements that apply to manufacturing organizations are easily left as procedures relative to a specific department. This isn't the case within a service industry. For example, when we think of process control procedures, we typically envision manufacturing lines with operators and equipment. For Ryan Transportation, process control actually means its interaction with customer-supplied product, product identification and traceability, and handling, storage, packaging, preservation and delivery.
For a service provider, implementing a quality management system requires understanding nonmanufacturing environments in order to develop procedures that maintain ISO 9002's intent without overcomplicating the documentation.
Ryan Transportation also is typical of many organizations in that resources and time are valuable commodities. The system must be lean, functional and easy to maintain. Based on these factors, we developed a seven-page policy manual, less than 10 standard operating procedures tied to the business's various functional areas and a handful of key work instructions (as outlined in Figure 1). Standard operating procedures and work instructions are kept short and concise to ensure they are understood and used by all staff members. The streamlined process developed for changes, revisions and corrections works in conjunction with the company's continuous improvement process.
While developing procedures and supporting documents, we focused on improving process, communication and record keeping. This ensured that Ryan's system would help the company manage its growing business and keep it flexible in meeting customer needs as well as daily and hourly market changes. During this process, the management team interacted with staff members to mark the starting point for future process improvements. "This process means a lot of time and effort for a company our size, but it's going to help us define processes for our existing people as well as new people," noted one of the management team members.
Certain concerns arise when implementing ISO 9002 in a service organization, and Ryan experienced its share of them. Service providers always struggle with implementing elements 4.3 -- Contract Review and 4.6 -- Purchasing. Most service organizations' operations don't depend on lengthy contracts, with review and approval processes between provider and the customer.
Similarly, most service organizations don't have a formal process for subcontractor evaluation or purchasing. When they're not based on the practical business system of a service-based organization, these issues can become a burden. A system must allow for quick order turnarounds of one to four hours from start to finish as well as spontaneous purchasing within that time frame.
This type of implementation and process evaluation for unique solutions is one of Eagle Group's specialties. Although we have an extensive background in manufacturing and process-industry systems implementation, being registered to ISO 9001 ourselves gives us firsthand knowledge that we can pass along to our service-based clients.
Registrar perspective

The ISO 9000 series of standards was written as generically as possible so that any type of organization can implement an ISO 9000 management system. As a registrar, NSF-ISR frequently is requested to certify the ISO 9000 management systems of service organizations, and overall our method is the same as for any registration. However, certain aspects of service organizations require a slightly different approach for both the client and registrar.
Perhaps the biggest difference service organizations find is that, for many aspects of their quality management system, they must first define their product (i.e., service) and how they inspect that product before they can move forward.
In many respects, the way a company approaches its implementation program will impact how easily it can define its service. If a company is counting on the ISO 9000 implementation process to enhance its operations and improve customer service, it will almost certainly evaluate what its customers really need and thus easily define what its service is. However, an approach based more on minimizing efforts to obtain certification probably will skip some of the initial work of analyzing the service's true nature.
Certainly many of the elements -- such as management review, document and data control, corrective and preventive action, control of quality records, internal quality audits and training -- are relatively straightforward. However, mapping ISO 9002 or ISO 9001 into a service organization's relevant areas often proves more of a stretch. An important reference for any service company prior to program implementation is the ISO 9004-2 service guidelines.
As a registrar, we must first verify that the service has been defined realistically. The next issue is applicability. For example, ISO 9002's element 4.11 -- Control of Inspection, Measuring and Test Equipment almost certainly won't be defined in terms a production environment would use. Key factors in interpreting and adapting the requirements would certainly include service specification, service delivery process and customer assessment.
Service specification deals with just what services a company will provide. We find that some service organizations already have developed company mission statements for their marketing proposals, while others have to start with a blank sheet of paper and create new specifications.
The service delivery process documents how the customer actually gets the service. A tanning salon, for example, typically might require its customers to make specific appointments before they come in. In the case of a trucking company like Ryan Transportation, there may be several different processes, depending, for example, on whether its customer is looking for local deliveries or long haul.
The customers' assessment determines if customers received -- sufficiently -- what they expected; sometimes this information is available only when the service is delivered, other times it's available afterward. From a transportation perspective, this evaluation would include not only delivering correct and undamaged parts but doing so in the time frame required and with proper documentation.
Because service industries deal with interpretation and applicability more than their manufacturing counterparts, it's probably true that more service organizations use the various resources, such as consultants, available to assist their efforts. Typically, service providers will have more questions for their registrars. At NSF-ISR, we assign the lead auditor to our client immediately after they apply to us so that the client can call the auditor directly.
Many registrars will respond to their clients' questions relating to interpretation or applicability. However, unlike the consultant, the registrar's auditors can't specifically advise clients. The auditor will determine whether a client's interpretation or procedure under discussion meets the standard's requirements. If it doesn't, the lead auditor can't recommend a specific solution. Using a consulting firm can help provide that insight during the implementation process.
As for all registration audits, the audit team must have relevant experience in the industry. This is certainly an important factor for service providers because of the industry particulars discussed above.
NSF-ISR uses a two-step approach for the on-site audit. Thus, after the document review has been completed and Ryan Transportation has had an opportunity to review the desk audit report, an on-site readiness review will take place. This will be followed some weeks later by the main audit. The readiness review provides an excellent opportunity to deal with those aspects of the ISO 9000 management system that are peculiar to a service organization. If any problem areas are detected, there is usually enough time to make any corrections before the main audit.
Ryan Transportation will soon undergo its certification audit, and as its registrar, NSF-ISR certainly can't prejudge the company's success. However, Ryan's sincere interest in the ISO 9002 standard and the benefits of a well-implemented system is evident from their involvement in this article, and we look forward to working with them.
Conclusion
For some service providers, a quality management system implementation might prove frustrating because the ISO 9000 standards are geared toward the manufacturing community. Their efforts therefore should focus on ways to integrate the ISO 9000 requirements into existing processes, making use of the ISO 9004-2 guideline and outside expertise for assistance.
All three stakeholders in the process described here are committed to attaining the same goal: a focused and effective quality management system that maintains and improves customer satisfaction. Teamwork is the key to reaching this common goal and succeeding in the ongoing effort to maintain the system in the future.
About the authors
Tony Fletcher is director of operations for Eagle Group, overseeing client implementation activity and product development. Joseph Hart is treasurer/controller for Ryan Transportation Group and also serves as the company's management representative. Jill Kitka is a quality system auditor, trainer and consultant for the Eagle Group and also serves as the company's management representative. David Fitzwilliam is an account executive for NSF International Strategic Registrations Ltd. and is responsible for management systems registration services for NSF-ISR.