IQF Begins Certifying Six Sigma Black Belts
The International Quality Federation (IQF) has begun beta testing its Six Sigma Black Belt certification system. Boeing Satellite Systems of El Segundo, California, and the University of Arizona's Partnership for Six Sigma are working with the IQF to validate the examination and the certification process. Boeing tested its first wave of 15 Black Belts on Feb. 2, which cultivated a great deal of feedback on examination content and procedures.
"The Boeing Satellite Systems beta test went very well," reports IQF President Thomas Pyzdek. "As is to be expected with the first beta test of complex software, there were a few bumps in the road. But the feedback was excellent and we are busy incorporating Boeing's suggestions into our program. In coming weeks we will be collecting additional data and using it to validate the exam."
The IQF developed its Six Sigma Black Belt examination and effectiveness validation process after reviewing the certification processes of a number of large organizations.
Examples of Effectiveness Criteria
In addition to passing the IQF BOK exam, certification requires the following:

Acceptable completion of a Black Belt training curriculum approved by the sponsoring organization

Demonstration of clear and rational thought processes, including the ability to analyze a problem following a logical sequence and the ability to use facts and data to guide decisions and action

Ability to clearly explain Six Sigma and the define, measure, analyze, improve and control (DMAIC) project cycle in lay terms

Ability to achieve tangible results, for example:
Complete two or more projects that employ the Six Sigma approach (DMAIC or equivalent)
Perform benefit-cost analysis
Quantify deliverables in terms meaningful to the organization (e.g., cost, quality, cycle time and safety improvement)
Identify and overcome obstacles to progress
Work within time, budget and operational constraints

Demonstration of the ability to explain Six Sigma tools to others

Demonstration of interpersonal and leadership skills necessary to serve as an effective change agent within the organization

The IQF Black Belt examination is believed to be the first attempt to provide third-party validation that an individual has mastered the Six Sigma body of knowledge (BOK). The examination is computer-based and takes a full day to complete. Unlike other certification exams in the quality field that forbid the use of computers, the IQF exam requires the use of computers and tests the candidate's ability to use them to solve difficult problems. The categories tested includes basic tools, descriptive and exploratory statistical analyses, enumerative and analytic statistical analysis, finance, measurement, modeling, process capability analysis, process optimization, SPC, project management, reliability, simulation, statistical theory, and sociometric analysis.

Another innovation in the IQF process is the "sponsoring organization" concept. With the IQF certification model, in addition to passing the exam, the candidate must also obtain certification from an organization verifying that the knowledge was effectively applied more than once. The IQF provides minimum standards and guidelines for assessing effectiveness. The sponsoring organization must certify that the candidate meets the effectiveness criteria before recommending him or her for IQF certification. Thus, IQF-certified Black Belts will be co-certified by at least two organizations. IQF Black Belts automatically become IQF members-at-large, and sponsoring organizations become IQF member organizations.

To ensure confidentiality--and to protect sponsoring organizations from raids by headhunters and competitors--IQF doesn't publicize the names of certified individuals. Instead, it issues numbered certificates and maintains a database on the IQF Web site. Prospective employers wishing to confirm the certification status of applicants will enter the certificate number and the individual's name to determine if that person is actually certified.

If you are interested in providing IQF certification for your organization, contact the IQF through its Web site at www.iqfnet.org . You may also contact Pyzdek at www.pyzdek.com .

Fight Stress to Boost Performance

During times of change, uncertainty or strong competition, business strength depends upon workers performing with high morale and focus. If you think ignoring uncontrolled stress is a good idea in this era of strong competition for employees and customers, think again. Leadership expert Robert Pater says that stress can boost performance, but only when it is well-controlled. Unmanaged tension and uneven morale can create a plethora of workplace woes, none of which are beneficial to the bottom line.

"I define stress as the feeling of being out of control," explains Pater, founder of Strategic Safety Associates. "That's what people really mean when they say they're 'stressed.' It's a problem with potentially serious consequences. Recent reports by the National Institute of Occupational

Safety & Health and the American Psychological Association confirm that mental disruptions can strongly affect performance, safety and morale. In addition to producing less-focused employees who commit more errors, unmanaged pressures sidetrack creativity, communication and effective customer service."

One or two employees feeling stressed is detrimental enough. But what happens when an entire department--or company--is suffering? If unmanaged stress has indeed infected your workplace, take action to improve the situation. The key, says Pater, is to begin with yourself. If your co-workers are feeling the effects of unmanaged pressures, you probably are, too.

Symptoms of Unmanaged Organizational Stress

Whining and pining. You hear a lot of complaints focused on what employees perceive as negative changes. They pine away for "the good old days." (E.g., "It wasn't like this 10 years ago; we were appreciated back then.")

The silent treatment. You can walk down the hall or through the factory and hear a pin drop; no one is laughing or chatting. Instead of joking around at the beginning of meetings, people sit in tense silence.

Angry explosions. People may slam doors, yell or cry. You may encounter fear, blaming, bad-mouthing and out-of-control displays of emotion.

Clumsiness. Accidents may increase, both at work and outside of work. This is often due to the "tunnel vision" that comes with stress.

Mistakes. Workers make mistakes, communicate poorly or are easily distracted.

Avoidance/separation. People may take extra long breaks, come in late or daydream. You may notice an increase in absenteeism.

Turnover. Consider how many people have recently left "great" jobs because the stress level was too high.

Pater suggests the following techniques to avoid the harmful side effects of a stressful work environment:

Maintain your perspective. Don't allow yourself to get "tunnel vision." Stress-induced tunnel vision inhibits your ability to make sound decisions.

Expect the best from life. It's too easy to focus on what we're not getting. Make the decision to be grateful for all that you have. You'll be amazed at how your positive attitude improves the attitudes--and motivation--of your employees.

Intervene with out-of-control employees… but do so carefully. Watch for warning signs of low motivation and high stress in your organization (see sidebar). Be careful not to say or do things in the heat of the moment that will damage your relationships with employees forever.

Enlist support for yourself and others. Studies show that reported work stress is lowered when people feel support from others. Nurture your outside support system and develop a workplace support system to help your employees.

Nurture and share your sense of humor. To activate your sense of humor, just look around and realize how silly we can all be.

Set the example. Leaders who are able to manage stress, rather than allowing the stress to manage them, are more successful managers, and in turn, produce more efficient and productive employees.
For more information, visit www.movesmart.com .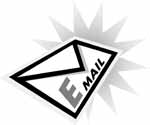 Do you ever wonder where your workday goes? In this e-world, with a multitude of devices available to increase productivity and efficiency, many of us still don't have enough hours in a day. One cause, in complete contradiction of the convenience and speed it promises, might well be e-mail.
A new survey suggests that executives devote nearly two hours per day entirely to e-mail. The survey, conducted by Accountemps--a temporary staffing service for accounting, finance and bookkeeping professionals--asked executives, "On average, how many minutes do you spend each day at work reading and sending e-mail messages?" The mean response was 108 minutes.
"The speed and simplicity of electronic messaging make it a preferred method of communication in many situations," explains Max Messmer, chairman of Accountemps and author of Managing Your Career for Dummies (Hungry Minds Inc., 2000). "E-mail is among the many technologies that are increasing the pace of business and creating expectations for faster turnaround--ironically, the very tools designed to save time might actually be adding to the number of hours we spend working."
To reduce the time spent reading and sending e-mail, Messmer offers the following guidelines:

Organize incoming e-mail into folders labeled for easy retrieval. Don't leave old messages in your inbox if not necessary.

Keep your writing clear and concise. If your message is too complicated for a brief e-mail, consider another communication channel.

Resist the temptation to read each new message immediately as it arrives. Instead, read and respond to messages at several predetermined times throughout the day.
AIAG Cultivates Employee Involvement in Registration Process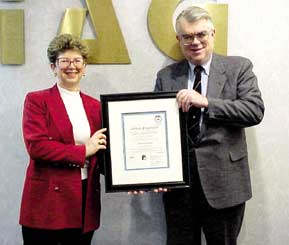 Darlene Miller accepts AIAG's ISO 9001 certificate from Radley Smith of KPMG Assessment & Registration Services.

A hallmark of change-management books, consultants and other resources is the push to make employees, at all levels, part of the proposed change. More than just making the transition smoother, many recognize that fostering employee involvement and buy-in might well mean the difference between success and failure.

In becoming one of the first not-for-profit associations in North America to become registered to the ISO 9001 standard, the Automotive Industry Action Group (AIAG) developed a unique employee-motivation system, dubbed "ISOBucks," to encourage employee participation in the registration process.

As various pieces of quality system documentation were completed, the managing director would e-mail "test" questions to all staff members. When employees responded correctly, they earned ISOBucks.

"By the time the ISO 9000 auditors arrived, the walls were literally covered with big green ISOBucks," notes Darlene M. Miller, AIAG's managing director. "During our post-audit celebration, staff members were able to spend their ISOBucks on prizes, such as AIAG merchandise and even extra vacation time."

From the beginning of the process, AIAG determined and followed through on several key techniques to ensure success. First, to elicit employee involvement, every staff member's performance plan included a registration-related objective. Additionally, employees received training on the ISO 9001 certification process early on. Refresher training was held throughout the year, with the managing director conducting the training to show top management commitment.

Because AIAG is intimately involved with the Big Three's automotive quality system requirement, QS-9000, the organization knows the value of an effective quality system. However, because AIAG is not a production parts supplier, it isn't eligible for QS-9000 certification. AIAG's two primary areas of business are project management and the distribution of publications and training, both of which require a design phase, making ISO 9001 certification a fit.

Founded in 1982, the AIAG is a not-for-profit trade association of more than 1,600 automotive and truck manufacturers and their suppliers. AIAG's purpose is to provide an open forum where members cooperate in developing and promoting solutions that enhance the prosperity of the automotive industry. Its focus is to continuously improve business processes and practices involving trading partners throughout the supply chain. For more information, visit www.aiag.com .

Corning Inc. Acquires Metrology Company

C orning Inc., one of the world's largest optical-networking manufacturers, is buying Tropel Corp., a maker of measuring instruments for the semiconductor industry, for about $190 million in cash and stock.

Corning announced in January that it will pay about $60 million in cash and 1.95 million shares--worth about $132 million--to acquire Tropel, which is based in Fairport, New York.

Tropel's product lines of high-performance optical components, subsystems and optical metrology instruments, specially designed and manufactured for wafer, photomask and semiconductor equipment suppliers will complement Corning's current portfolio of microlithography optical materials and allow the company to expand its commitment to the increasingly important semiconductor industry.

Tropel's chief executive, John Bruning, will remain at the helm of the subsidiary, which will be called Corning Tropel. The acquisition, which awaits required regulatory approval, is to be completed in March. Tropel employs about 170 people.

"Corning is very pleased to be able to combine our leading material expertise with Tropel's knowledge of precision optical subsystems for the microlithography industry," says Jim Steiner, vice president and general manager of Corning's Specialty Materials division. "We are especially pleased to have John Bruning, a well-recognized industry leader, join our management team."

Corning is the world's largest producer of optical fiber and cable used in telecommunications networks and one of the leading makers of optical components that enable the high-speed transmission of massive amounts of data. For more information, visit www.corning.com or www.tropel.com .

Correction

Quality Digest failed to give appropriate credit in our February issue to Barry O'Brien, a co-author of "Tomorrow's Document Management." O'Brien joined Waterford Crystal in 1970 as a production engineer and has held many positions within the company, including general manager of manufacturing, and at present is general manager of strategic products and quality assurance. Quality Digest apologizes for the error.

SME E-Newsletter
The Society of Manufacturing Engineers has launched its first e-newsletter, "Lean Directions." Each monthly issue provides an easy way to stay up-to-date with lean manufacturing. It includes quick bites of expert advice, tips from lean implementers, updates on lean manufacturing developments worldwide and guides to available resources.
www.sme.org/leandirections
Product Compliance
Test4safety.com Inc.'s new Web site provides engineers access to information, products and interactive technical support for global product safety compliance. Benefits include easy access to products and testing tools supported by technical and regulatory compliance information, online purchasing, technology management, searchable databases, regulatory agency links, and links to regulatory compliance information sources.
www.test4safety.com
Calibration Reminder
Dickson Calibration Services' Calibration Club offers a free calibration reminder service, using convenient e-mail reminders. Simply register any or all of your instruments with the Calibration Club and you will receive free reminders every time any of those instruments is due for calibration.
www.calibrationclub.com
Quality E-Newsletter
InsideQuality.com offers a free weekly e-newsletter, "QualityInsider." The e-newsletter, free to members of InsideQuality (also free to join) contains quality news stories, discussion threads from InsideQuality's quality forums, featured products and much more.
www.insidequality.com
Mahr Federal E-Commerce
Mahr Federal Inc.'s recently updated Web site now offers e-commerce and more detailed product information. The site includes product information on hand tools, dial and digital indicators, air and electronic gages, standards, form measurement, surface analysis, gear-roll testers, precision length metrology, multi-sensor CMMs, special gaging and customer services.
www.mahrfederal.com
If you have a Web site you'd like to submit for consideration, e-mail a description of its content to contact_us . Due to space constraints, not all Web sites can be published. More quality-related links are available at www.qualitydigest.com .