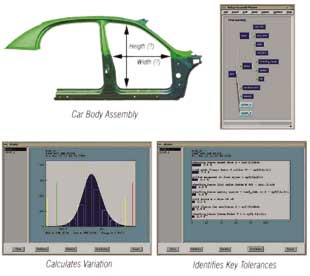 Automaker Implements Digital Manufacturing Program
Tecnomatix eMPower Solutions
One of the largest employers in western Japan, Hiroshima-based Mazda Motor Corp. manufactures passenger cars and commercial vehicles. To speed time-to-market and improve the overall quality of the cars and commercial vehicles it produces, the company implemented its Mazda Digital Innovation (MDI) program. At the core of the MDI program is Tecnomatix Technologies' eMPower solutions. Mazda uses the Tecnomatix eMPower quality software to define, predict, measure and analyze tolerances throughout the entire industrial process. The software ensures that tolerances are correctly specified during the design phase and fully adhered to during the manufacturing and assembly processes. At every stage of the industrial process, the eMPower Quality tools provide a dedicated solution to minimize variations, reduce engineering changes, and help ensure that parts are manufactured according to the designer's intent.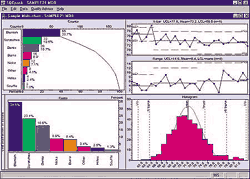 Software Improves Care at Pediatric Hospital
PQ Systems SQCpack
For Children's Hospitals and Clinics of Minneapolis and St. Paul, Minnesota--the largest children's health care organization in the upper Midwest--identifying, coordinating and implementing continuous process improvement measures is no haphazard task. To focus, measure and document its large-scale quality improvement program and more easily maintain organized records of improvement efforts, the organization began using PQ Systems Inc.'s SQCpack.