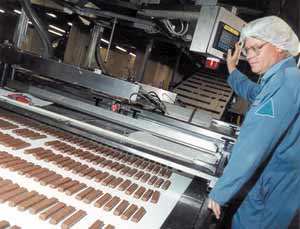 Controllers Boost Chocolate Production
Rockwell RSView32
Although Cadbury's Crunchie Bar plant is modern, the existing distributed control system (DCS) that was installed in 1981 was becoming outdated, forcing Cadbury to look for a replacement. Cadbury couldn't afford to let consumers switch to a competitor's product while old equipment was being removed and the new control system was being installed. Due to the critical time schedule and the scope of the project, Cadbury looked to Rockwell Automation's, Allen-Bradley and Rockwell Software products and support to get the job done.

Precision EDM Shop Speeds Inspection Process
Mitutoyo M-507 CMM
Wirtz Wire EDM Inc., of Hendersonville, North Carolina, checks a variety of milled, turned and round parts from the aerospace, automotive, mold and die, turbine and fluid power industries. To improve its process control and cut its inspection costs, Wirtz Wire turned to Mitutoyo America Corp. and its M-507 coordinate measuring machine.

CMMs Give Automotive Wheel Maker Added Control
LK MSI G90C
Dunlop Topy Wheels, located in Coventry, England, needed a way to maintain better control of pressworking operations of center-disc production for its steel automotive wheels. To solve this problem, Dunlop turned to LK Metrology Systems Inc. (LK MSI) and its coordinate measuring machines (CMMs).