Endangered Species:
The President's Quality Award
Just hours after announcing the program would be cut in a cost-saving measure, the U.S. Office of Personnel Management announced in late February that the President's Quality Award would remain, at least through 2001.
The President's Quality Award Program, managed by the OPM, is designed to recognize federal organizations that have documented high-performance management systems and approaches. The award criteria, which are based on the Malcolm Baldrige National Quality Award criteria, are updated every year to reflect the best approaches within the public and private sectors to systematically improve organizational performance.
On Feb. 26, the OPM sent out an e-mail announcement revealing that the Reagan-era President's Quality Award Program would be axed, effective immediately, though several agencies had already begun the 2001 application process.
The emphasis on and efforts dedicated to the President's Quality Award Program have been diminishing over the last several years, beginning with the closure of the Federal Quality Institute in 1996 and then in 1998 when the Annual Conference on Federal Quality was discontinued, according to the OPM.
The OPM statement also suggested that the current administration believed the program had served its purpose of focusing attention on quality management principles and was being cut as part of a governmentwide search for programs to eliminate or cut back as part of an effort to rein in the growth of federal spending.
For the last two years, there has not been a winner at the presidential level. The most recent winner was the Defense Contract Management Command Long Island, which saved taxpayers $116 million in fiscal 1997 through improved operations and techniques. However, other agencies, have been recognized for "quality improvement." Last year's winners in that category were the James A. Haley Veterans Hospital and Clinics in central Florida, the Defense Supply Center in Philadelphia and the Army Armament Research, Development and Engineering Center at Picatinny Arsenal in New Jersey.
Following the announcement, the OPM received substantial feedback about the decision to abolish the program, much of it focused on the time and resources invested in applying for the 2001 award.
On Feb. 27, the OPM announced that it had decided to continue the President's Quality Awards Program, at least through this year. According to the OPM, the decision-makers involved in the decision to cut the program were not aware of the amount of work and commitment made by agencies to the process. "Once that was realized, and almost immediately after that, they decided it would be not be prudent to end [the awards program]," said an OPM spokesperson.
A pending Bush administration review of the President's Quality Awards Program will determine if it should be continued in coming years. As part of that review, the OPM is considering new approaches to recognize quality achievements, particularly those that focus on new uses of technology, consistent with the Bush administration's management priorities.
For more information about the President's Quality Award Program, visit www.opm.gov/quality/index.htm .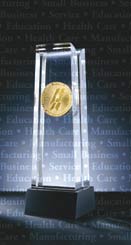 Baldrige Ceremony Slated for April
The National Institute of Standards and Technology (NIST) has confirmed that the 2000 Malcolm Baldrige National Quality Award ceremony will be held in early April. Though decided, the exact date in April had not been publicly announced at press time.
Previous to this development, the continued inability of the NIST to confirm a date with the Bush administration to hold the annual Baldrige ceremony (which the President generally attends) threatened to prevent the 2000 ceremony from ever being held.
When available, additional information will be posted at www.nist.gov .
The Sky Is Falling! (Or Is It?)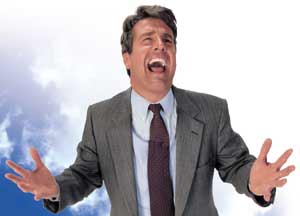 As the nightly news, stock market reports and financial pundits deluge us with predictions of impending economic doom, two leading economic indicators show that U.S. consumers are beginning to believe--rightly or not--the Chicken Littles' reports that the sky really is falling. Some experts are urging consumers not to follow the pack, lest they help create a costly self-fulfilling prophesy.
The Conference Board's Consumer Confidence Index, which is based on a survey of 5,000 representative households, fell in February (for the fifth consecutive month) to its lowest reading in nearly five years. This decline continues the trend of consistently falling figures since July 2000, when the index stood at 141.7. The index now stands at 106.8, down from 115.7 in January.
Consumers' appraisal of current business conditions was also less positive in February than in January. The percentage of respondents who rated current business conditions as "good" declined from 34.5 percent to 30.7 percent, and those rating conditions as "bad" increased from 10.7 percent to 11.4 percent. Consumers' short-term outlook in February was considerably more pessimistic than in the prior month's survey, as well: The percentage of those respondents expecting a pickup in business conditions declined from 13.1 percent to 11.1 percent, and those anticipating worsening conditions increased from 15.2 percent to 17.8 percent.
"The erosion in consumer confidence continues to be fueled by weakening expectations regarding business and employment conditions," says Lynn Franco of the Conference Board's Consumer Research Center. "While the short-term outlook continues to signal a severe economic downturn, consumers' appraisal of current economic conditions suggests we are mired in a period of moderate growth, not a recession."
Another leading economic indicator showing a downturn is the University of Michigan's Consumer Sentiment Index. The revised index for February was 90.6, down four points from January but above the early-month estimate of 87.8. Likewise, the indexes for current conditions and consumer expectations were revised upward from their mid-February estimates but remain below their January levels.
Nevertheless, economists disagree about the future of the U.S. economy. Some suggest that there's a danger in lending too much weight to the news of consumer confidence downturns.
"There is a lot of information out there that would promote the negative argument that we are falling off the precipice into the deep hole of recession,'' says Ned Riley, chief investment strategist at State Street Global Advisors. "What seems unfortunate is that we may be creating some of our own morass by believing that the drop in demand for things has been so dramatic. And it can only be associated with recession when we fail to realize that the growth we had in the last two years has been just spectacular."
Says another analyst, "The economy has lost altitude, but the fact is it's still flying--just not as high." While the consumer confidence indexes have continued to slide, their levels are still consistent with economic growth.
Indeed, the Conference Board reported in February that its index of leading economic indicators climbed 0.8 percent (double what analysts had expected) to 109.4, following a 0.5 percent decline in December.
More information about the Consumer Confidence Index is available at www.conference-board.org .
Other Indicators of Economic Slowdown

A February report from the Department of Commerce showed new home sales registered their sharpest monthly decline in seven years.

Jobless claims for the last week in February jumped to 372,000, well above forecasts and the previous week's reading, indicating that the labor market continued to soften.

The number of new, single-family homes sold in January slipped 10.9 percent to an annual rate of 921,000 (the largest monthly decline since January 1994), down from a record 1.034 million annual rate in December.

The Conference Board's Help Wanted Advertising Index closed at 76 in January, down three points from December. It was at 89 one year ago.

In February, the government reported that U.S. orders for long-lasting goods fell 6 percent in January to their lowest level since June 1999.

Orders for all types of durable goods fell to $202 billion in January, the lowest level since $197 billion in June 1999.

U.S. purchasing managers reported that manufacturing activity slowed for the seventh consecutive month in February.
Successful Six Sigma Strategies
Sure, you've read a few books or case studies about Six Sigma. But do you know the techniques for best implementing such a system? Without them, you won't be getting everything you could out of Six Sigma. A substantial investment of time and money does not guarantee success. Inherent even to Six Sigma, which has become increasingly popular in recent years, is a success rate and, therefore, a corresponding failure rate. What, then, are the key factors that separate a Six Sigma triumph from a Six Sigma crash and burn?
Key Drivers of Six Sigma Success

Winning executive support for Six Sigma initiatives

Linking Six Sigma with succession planning

Defining critical objectives for the Six Sigma program

Demonstrating the impact of quality initiatives on customers

According to a recent benchmarking report, successful Six Sigma initiatives share three common characteristics: implementation teams led by senior executives, well-organized training programs and the ability to create a corporate culture that values objective performance measurement. Organizations that attempt to implement Six Sigma initiatives without addressing these three areas are far less likely to reap the rewards enjoyed by successful Six Sigma programs.

"Building Six Sigma Excellence: A Case Study of GE'' examines how Six Sigma programs have been applied to nearly every business function, including manufacturing, customer service and finance. The most successful initiatives eliminate redundancy, minimize hand-offs and track metrics that reflect satisfactory performance from the customer's viewpoint. For example, a Master Black Belt at one company profiled in the report discovered that call center service representatives were inaccessible 24 percent of the time. After implementing Six Sigma initiatives, the company now boasts a 99-percent access rate for customers seeking to speak with a customer service representative on their first call.

The best practices, managerial insights and benchmark metrics presented in the report draw on research on world-class companies that have implemented Six Sigma programs.

"Building Six Sigma Excellence: A Case Study of GE'' is available for purchase at www.benchmarkingreports.com/pr/op72.htm . For more information about the report or Best Practices LLC, call (919) 403-0251 or visit www.best-in-class.com .

Customer Satisfaction Growth Halts

The American Customer Satisfaction Index slipped during the final quarter of 2000 after being revised to include scores for retail and finance/insurance sectors. The overall score, updated on a rolling quarterly basis, dropped by 0.4 percent (from 72.9 to 72.6).

While the drop on the 100-point scale ACSI doesn't constitute a complete reversal of the upward trend that began three years ago, it nevertheless brings the improvements of those past years to a halt.

The ACSI is produced through a partnership among the University of Michigan Business School, the American Society for Quality and the CFI Group. More information is available at www.bus.umich.edu/research/nqrc/acsi.html .

Financial Services Industry Plays Copycat

Sometimes you don't have to re-create the wheel. Despite all of the supposed benefits of today's rapidly progressing technology, those in financial services are still often bogged down with months of work following one of the industry's many mergers or alliances.

To help back-office systems achieve the elusive goal of seamless integration, about 80 executives from more than 30 top financial services firms recently met at Citigroup's corporate auditorium in New York to consider establishing a standards-setting entity. This organization would immediately begin crafting voluntary guidelines, based on the popular ISO 9000 series of standards, for basic back-office technologies such as check processing, call center and transfer agent operations, claims processing and, eventually, beyond.

The sponsors of the event, called the ISO/FS 9000 Quality Awareness Conference, are consulting firm Productivity Resources LLC and accounting firm KPMG LLP. The two sponsor companies propose to name the standards-setting organization the FS 9000 Association, symbolizing the evident link to ISO 9000.

"The major benefit of standardization is to provide the financial services industry with a much more common language to provide benchmark data for common processes," says Len Farano, quality director for emerging markets at Citigroup Inc.

"Like the telecoms that started TL 9000, those in financial services understand that while ISO 9000 is a great start, several gaps exist when it's applied to their industry," adds George Wagner of Productivity Resources, which would like to manage the FS 9000 Association.

Industry experts confirm that if companies' technologies were more interoperable, they could much more easily hire outsourcing vendors, complete mergers and collaborate in other ways. Other benefits could include streamlined activity among departments, better service for clients and investors, and easier compliance with regulators.

"Standardization is crucial because it ensures that an operation is done reliably every time, which in turn can lead to enhanced customer satisfaction," says Wagner.

Plans are expected to move forward pending the support of at least 10 to 15 financial services firms. And, while the sponsoring organizations were actively reviewing feedback from the New York event at press time, Wagner characterizes the overall reaction as overwhelmingly positive. "There was a strong indication of support for the need for a financial services industry quality management standard and a related performance metrics and benchmarking program for the industry," he says.

Pointing to this proposal as a viable solution, Citigroup's Farano asserts, "Quality, service and delivery should be something expected and not perchance. We know that standardization helps that. From this point, the sponsoring organizations will determine if enough support exists to warrant going forward, and we in the industry will ultimately decide whether to participate."

The FS 9000 Association, which currently has no official members signed on, would finance its activities through dues and certification fees. More information about the proposed FS 9000 standard can be found at www.fs9000.com , an FS 9000 Association site launched by Productivity Resources.

Statistical and Environmental Consultant
InControl Technologies Inc. aims to provide low-cost, high-quality statistical and environmental management and consulting services. The company consults in mathematical, industrial and social statistics; process and quality control; project management; site investigations; human and ecological risk assessment; chemical and environmental engineering; remediation design and implementation; and agency negotiations. Visit the company's site to learn more about its many services.
www.incontroltech.com
Benchmarking
The Benchmarking Exchange's (TBE's) BenchNet is a user-friendly, comprehensive, centralized and specialized electronic communication and information system designed specifically for use by individuals and organizations interested in benchmarking and process improvement. TBE offers up a free newsletter and subscription-based information on how to measure quality and process improvements in your organization.
www.benchnet.com
Research Center
The Center for Quality and Productivity Improvement (CQPI), a research center, was founded in 1985 by University of Wisconsin--Madison professors George E.P. Box and William G. Hunter. The mission of the center is to conduct innovative practical research on concepts and methods of quality improvement, provide a national and international forum for the exchange of ideas, and disseminate research findings and ideas through effective instructional and communication approaches.
www.engr.wisc.edu/centers/cqpi
Automotive Industry Resource
The American Supplier Institute (ASI) was formed in 1981 to provide supplier training to the automotive industry with W. Edwards Deming providing the original material for supplier training and serving as the institute's initial instructor. The organization's courses, software offerings and publications cover Six Sigma, robust engineering and design, Taguchi methods, statistical process control, failure mode and effects analysis, project management, lean manufacturing, QS-9000, ISO 9000, APQP, 8D problem solving and more.
www.amsup.com