Fort Benning Wins
Top Quality Award
The U.S. Army Infantry School and Center at Fort Benning, Georgia, has received this year's Presidential Award for Quality. The award, which is the federal equivalent of the private sector's Malcolm Baldrige National Quality Award, is given annually to federal organizations whose commitment to quality can be demonstrated through improved customer service or significant taxpayer savings.
Fort Benning has received seven quality-achievement awards since 1993, including the Soldiers Quality of Life Program award in 1996, and the Commander-In-Chief's Award for Installation Excellence in 1994, 1995 and 1997.
"We are a team of teams," says Sarah McLaney, Ft. Benning's chief of the Quality Management Division, Directorate of Resource Management. "Our success is really based on teamwork."
A variety of activities go on at the base, including infantry training, infantry doctrine, infantry future and power/force projection. The base supports 21,000 active soldiers daily and serves 103,000 people -- including ROTC students, the base's civilian work force, active soldiers, retirees and dependent family members. Ft. Benning's Quality of Life program, its major quality initiative, provides amusement, medical, educational and retail services to soldiers and their families.
"We took the Baldrige criteria, which the Army calls the Army Performance Improvement Criteria, and we laid that criteria over the way we were already organized functionally," McLaney explains. They then asked themselves, Why do we exist at Ft. Benning? The answer: "We exist to train soldiers," says Mclaney. "That's our mission."
McLaney notes that key leadership and support was important to the base's success. "We identified many years ago that our customer is the soldier," he says. "Quality at Ft. Benning is all about taking care of our soldiers and their families."
The reaction to the award at Ft. Benning has been very positive and has helped to build morale, says McLaney. "This is the ultimate award. It has created a sense of pride in everyone, and they are excited and honored to receive this recognition."
West Named Acting Chairman
of U.S. TAG to TC 176
John E. (Jack) West, director of operations and quality systems at Tenneco Inc., has been appointed acting chairman of the U.S. TAG to TC 176. West's appointment comes in the wake of the sudden death of TAG Chairman Don Marquardt on July 5.
West was elected last year as the TAG's co-vice chairman, along with Jeff Hooper. He has also previously held the position within the U.S. TAG to TC 176 of task group chairman of Task Group 15 on Quality Management Principles, and is the principle U.S. delegate to the International Working Group on that topic. West has been an active participant on the TAG Strategic Planning Committee, as well as serving on the joint working group between the U.S. TAGs to TCs 176 and 207. He chairs the TAG Ad Hoc Task Group to study developing an interpretations process for the ISO 9000 series of standards in the United States.
The major project the TAG is now working on is the development of a consistent pair of quality assurance and quality management standards for the turn of the century, notes West. A nominating committee will soon be appointed to elect a permanent replacement for Marquardt by the end of the year, with the new chair taking office in 1998, he adds.
Brochure Helps U.S. Firms Obtain CE Mark

The CE Mark is now mandatory for a wide range of products sold in the European Union. It indicates that a product conforms to EU safety, health and environmental legal mandates. The European Commission calls it "a passport" that allows manufacturers to trade industrial products freely within its internal market.
Unfortunately, many U.S. manufacturers view the process of securing a CE Mark as difficult and time-consuming. CE Alert, a new brochure prepared by the National Institute of Standards and Technology's Technology Services, ends the confusion surrounding the CE requirement and makes it easier for American businesses to secure the mark. The brochure gives solid recommendations for manufacturers to follow and then works through an example. It also lists sources of information that can provide assistance throughout the process.
Copies of the brochure may be obtained by sending a self-addressed mailing label to the National Center for Standards and Certification Information, Building 820, Room 164, NIST, Gaithersburg, MD 20899-0001. Copies also may be requested by telephone: (301) 975-4040; fax: (301) 926-1559; or e-mail: ncsci@nist.gov.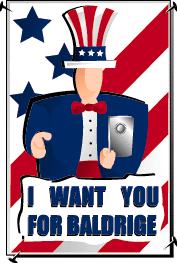 Wanted:
Baldrige Award Examiners
The National Institute of Standards and Technology is looking for business and quality experts to serve a one-year term on the board of examiners that reviews applications for the 1998 Malcolm Baldrige National Quality Award. The board consists of about 325 members, including nine judges and 60 senior examiners. Examiner applications will be available beginning Nov. 10 and are due Jan. 9, 1998.
Key qualifications for examiners include expertise in business, education or health care management; processes and results; leadership and interpersonal skills; achievements and recognition; and knowledge of quality practices and improvement strategies. Examiners are chosen from industry, service, education, health care, professional and trade organizations, as well as government agencies and other nonprofit groups.
Examiners volunteer their time -- 10 or more days a year -- to evaluate applications for the award, prepare feedback reports for applicants and recommend award winners to the director of NIST. They participate in a three-day preparation class using a fictitious case study, which includes a detailed review of the Baldrige criteria and scoring system, the three stages of the review process -- including independent review, consensus review and site visits -- and the Code of Ethical Standards.
For more information or to receive an application, write to the Malcolm Baldrige National Quality Award, NIST, Administration Building, Room A537, Gaithersburg, MD 20899-0001. Information brochures are available by calling (301) 975-2036.
New Baldrige Categories in Jeopardy
If Congress' budget bills pass, the Malcolm Baldrige National Quality Award may not receive the funding necessary to add health care and education categories to its awards scheme.
The National Institute of Standards and Technology's 1998 budget requested $5.3 million for the Baldrige Award program, raising the amount by $2.3 million from the previous year to fund the new categories. However, the current budget proposals from the House of Representatives and Senate far undercut that figure.
The House has recommended $4.1 million for the Baldrige Award, with the requirement that NIST seek full reimbursement from the departments of Health and Human Services and Education for the expenses involved in adding the new categories. The Senate's budget offers the program only $3 million, with the specific stipulation that the award not expand into the additional categories. However, the Senate did indicate that it would provide funding if the Department of Health and Human Services and the Department of Education wanted to establish awards similar to the Baldrige.
The budget, which must be finalized by Oct. 1, is moving relatively quickly compared with previous years, according to Michael E. Newman of NIST. "We wanted to go ahead and start working toward adding the two categories as formal categories in the upcoming fiscal year," says Newman. "If we don't have the budget for it, it will have to come from the private sector."
In response to the initial budget figures, the support team to the board of directors of the Baldrige Foundation issued the following statement to Quality Digest: "We continue to support full funding for the health care and education categories for the Baldrige program. There are still many steps to be taken in the budgeting process, and we are optimistic that the House/Senate Conference Committee will provide full funding for the health care and education categories when they meet to work out the details for the final resolution."
Five Keys to Choosing the Right Consulting Firm
You want to hire a consultant, but you're not sure when to hire a consultant, how to go about it or whom to hire. Jimmy Benefield of Tompkins Associates Inc., a Raleigh, North Carolina-based engineering consulting firm, suggests you ask the following questions to help ensure that your consulting dollar is maximized:

Is the firm an engineering-based consulting firm? The firm you are considering should be able to explain the processes it will utilize to evaluate the tasks for which you are considering hiring it. Does it collect and analyze data to more accurately develop its recommendations, or does it base its recommendations on past experience alone?

How does the consulting firm request to be paid? Project-based (one cost for the entire project) or cost-plus (project costs plus expenses)? Choose cost-plus only if the project is loosely defined.

Will the firm provide references? The firm should supply you with numerous references of companies for which it has completed projects. Contact these companies to determine if the firm met with the company's expectations.

Will the firm provide résumés of the consultants that will be working on your project? This request will give you a chance to evaluate who will actually be providing the consulting services. How much experience do the consultants have? What is their educational background? What is their field of expertise?

Will the firm provide a sample of its work? The consulting firm should provide a generic sample of the work it will perform. It should give an idea of the elements that will make up the final proposal.
Looking for ways to stir up excitement in your teams? Need to spice up your team-building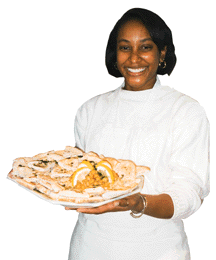 efforts? If you are, perhaps a Team Cooking workshop is for you. The unique seminars take team members out of the office and puts them in a kitchen in order to teach them about teamwork in a whole new context.
Every experience is custom-tailored to the group. Before entering the kitchen, team members rate themselves on how well they are living up to the team's concepts and principles, their ability to work together, actual work processes and their effectiveness in the business environment. The workshop directors then ask the teams to set goals for what they want to accomplish in the kitchen. A team of culinary coaches is on hand to help participants in the preparation of the meal, and executive coaches are also present to watch the team members' interactions.
When the teams have finished cooking, they are asked a series of debriefing questions about what happened in the kitchen. Both team members and the executive coaches then have the opportunity to share their observations. Filomena Warihay, president of Take Charge Consultants, and Team Cooking's creator, refers to the process as the "dilemma discovery" model.
The workshops are geared toward senior leaders. "Many of these people operate very independently, and sometimes there's open conflict, relative to overall direction," notes Warihay. "It causes them to see that their examples are important to the rest of the organization. The kitchen is a pretty decent metaphor for the real world."
For more information on Team Cooking, call Take Charge Consultants at (800) 282-7209, or visit their Web site at: www.takechargeinc.com/TCC
Taking a Closer Look at Outsourcing
Outsourcing -- contracting work to outside vendors and suppliers -- is gaining more attention in the new corporate culture where restructuring and downsizing are ever-present realities.
The American Management Association's annual job elimination survey lists seven functions in the workplace where outsourcing commonly occurs: finance and accounting, general and administrative, human resources, information systems, marketing, transportation and distribution, and manufacturing. Of those surveyed, 94 percent listed outsourcing in at least one activity connected with these functions, with nine being the average number of outsourced activities. General and administrative functions are most commonly outsourced, followed closely by human resources. Building maintenance and cleaning is the most commonly outsourced activity. Manufacturing activities are more commonly outsourced to multiple providers than other activities, with time reduction and cost savings as the main rationales.
Respondents cited cost reductions as their main reason for outsourcing, although 25 percent added that their expectations for outsourcing's positive effects have not been fulfilled. This has caused more than half (51%) to cease outsourcing at least one activity.
Who is outsourcing what? Generally, large companies (employing 10,000 or more employees) outsource information systems and accounting activities, while small firms (employing 500 employees or less) most commonly outsource human resources and marketing activities.
Source: "Outsourcing: The AMA Survey," American Management Association.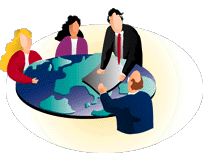 Group Considers Global Business Ethics
A working group on global business ethics principles, which was begun this spring by The Conference Board, is developing guidelines and recommending criteria to formulate standards of conduct for business professionals and organizations worldwide. The group expects to meet four times during the year, and will issue a full report on its findings in the summer of 1998.
Ronald E. Berenbeim, The Conference Board's ethics specialist and director of the Working Group, says this is not a discussion group, but rather a blue ribbon commission composed of senior executives, lawyers, academics, nonprofit leaders and government officials from more than 50 organizations, including General Motors, AlliedSignal, Columbia University, Harvard University and the U.S. Office of Government Ethics.
The working group will consider issues of process, including: What best practices companies can use for educating employees on the company code of conduct and business conduct standards; what processes companies have for formulating and articulating their core values; and what analytical methodologies individual local managers use in resolving certain dilemmas in different cultures that may potentially conflict with a company's core values.
"There is an interest on the part of business institutions to discuss these things amongst themselves and to get exposure to the wider community," says Berenbeim. "In the last several years, practitioner commissions have addressed issues of major corporate concern probably more successfully than any other approach."
The World Wide Web continues to grow as a source of information for professionals in all fields. It seems that every week Quality Digest learns of some new quality-related site that provides useful information to those who make their living pursuing quality. Here are just a few. These sites are also listed on our Web site at www.qualitydigest.com/html/qlinks.html. If you know a site that should be included on our quality links page, please let us know by e-mailing links@ qualitydigest.com.
Data Quality
www.dataquality.com
This is an interesting site for statisticians and information scientists. Data Quality is a peer-reviewed journal that includes papers on data and information quality. The scope is from general interest to theoretical. The online newsletter is published weekly.
Jerry's W.E. Deming Bookstore
www.eskimo.com/~jhines/mpm/Demingbk.htm
Looking for books on Deming, by Deming or how to apply Deming principles to education? Jerry Hines' bookstore lists about 35 titles on the world's most noted quality figure. The site is tied in with amazon.com online bookseller, so titles may be ordered directly from the site.
Philip Crosby Associates II
www.philipcrosby.com
This popular quality author and lecturer has his own site. Although the majority of the site contains information on Crosby's courses and materials, there is a nice section called "Phil's Page," which contains Crosby's monthly column and a Q&A section where Crosby answers questions from readers.
Quality World
www.qualityworld.com
Wow! At this site, you will find more than 1,780 quality-related links searchable by text, quality term (a drop-down menu with popular quality topics) or country. Easily the most extensive quality-links site we have seen.