Industry Leaders in ISO 9002 Registration
First E-Commerce Distributor Registered to ISO 9002
In sharp contrast to many Internet-based companies that have come under fire for poor service quality, bestroute.com LLC recently became the first e-commerce distributor to earn ISO 9002 registration, just one of the firsts this young company has experienced.
Bestroute.com is the first online stocking distributor specializing in providing real-time inventory of hard-to-find trade products not common to traditional brick-and-mortar retailers. The e-tailer plans to offer more than 60,000 different inventoried products. The bestroute.com Web site debuted on March 31, and its e-store opened for business on June 12.
"Until recently, the technology for this--an e-store linked up with real-time inventory and available 24 hours a day, seven days a week and 52 weeks a year--didn't exist," says Michael J. Gambino, founder and president of bestroute.com. "Forming a new business in the trades, let alone an Internet company, is tough because nonper-
formers are dealt with harshly. By going through ISO 9002 certification, we've made integral improvements to our business and built a bridge of confidence to our customers, many of whom have gone through ISO 9000 registration themselves."
For bestroute.com, ISO 9002 registration is just one piece in the puzzle of continuous improvement. "Very soon we will be raising the bar yet again by introducing money-back performance guarantees," explains Gambino. "Fifty-dollar credits will be issued to any customer whose in-stock item was not received when promised, whose package arrives with the incorrect number of items or whose order is shipped with incorrect items.
"My experience with ISO 9000 goes back at least 10 years to when I was with American Electric. ISO 9000 success is about getting processes, procedures and mechanisms in place that people can feel comfortable with and believe will help you serve your customers. I very much believe in that."
Being a relatively new company helped the bestroute.com head convince his employees of ISO 9000's benefits. "An existing dotcom company would have a harder time going after ISO 9000 registration," says Gambino. "I was amazed how much work we had to do with our customer service personnel. ISO 9000 requires that a sound service plan be in place and be followed. Being a new company, we didn't have the same kind of internal resistance that an existing company might."
Bestroute.com's ISO 9002 certificate was issued by ITS Intertek Services. For more information, visit www.bestroute.com .
First U.S. Trade Association Registered to ISO 9002
The Precision Metalforming Association (PMA) has become the first U.S. trade association to be registered to ISO 9002.
For Jon E. Jenson, the president of PMA, the decision to seek ISO 9002 registration was a simple one. "Many of our member companies have been registered to ISO 9000," he explains. "The effects on their quality systems were impressive, and we knew those same standards could strengthen our services. The benefits extend beyond the obvious goal of continuous improvement. We're now on the same page."
In 1999 the PMA staff began reshaping the way many PMA activities were addressed and documenting those process and systems. With the help of Plante & Moran, an accounting and management consulting firm, teams drafted written procedure for each task. Final registration audits were completed on May 25, and registration was awarded to PMA in June.
PMA is a full-service trade association representing the $41 billion metalforming industry in North America. Its more than 1,600 member companies include metal stampers, fabricators, spinners, slider formers and rollformers, as well as equipment, materials and service suppliers to the industry.
The PMA's ISO 9002 certificate was issued by CRS Registrars Inc. To learn more about PMA, visit www.metalforming.com .
First All-Military Unit Registered to ISO 9002
U.S. Naval Reserve Unit Naval Aviation Depot (NADEP) 0386 was awarded an ISO 9002 certificate of registration on August 4. The registration was recommended by ABS Quality Evaluations, whose president, James R. Wilson, presented the certificate at the August ceremony.
"This registration represents nine months of effort by our unit," says Capt. Joseph R. Badick, the commanding officer of NADEP 0386. "ISO 9000 quality is a way of life for most of the reserve officers' civilian occupations. This was a natural extension of their civilian activities."
Even before the company was registered, the ISO 9002 effort proved its value. "Part of our efforts included recovering more than $3.5 million in untracked aircraft components," explains Badick.
NADEP 0386 provides aviation maintenance, engineering and logistics support for the U.S. Navy. Its facility in Cherry Point, North Carolina, is one of the state's largest industrial employers, with more than 3,600 employees whose total annual payroll exceeds $200 million.
Newport Intends to Acquire International Metrology Systems
Newport Corp., a manufacturer of more than 10,000 products in the areas of positioning equipment, optics, vibration control, photonics and video metrology, recently announced that it has signed a letter of intent to acquire International Metrology Systems (IMS), a United Kingdom-based global supplier of coordinate measuring systems and other metrology solutions.
Though no official statement about the state of this acquisition was available at press time, it was originally estimated that the transaction would be completed in August. Terms of the acquisition were also not disclosed. However, Newport officials confirmed that the contact-metrology products of IMS, which had sales of $17 million in 1999, will be combined with Newport's existing RAM Optical vision-metrology offerings, resulting in a full line of 3-D coordinate metrology products.
"The acquisition of IMS will make Newport one of the leading suppliers of multi-modal metrology for industrial applications with a single software solution to our customers' varied measurement needs," explains Newport Chairman and CEO Robert G. Deuster. "By combining the noncontact expertise of our Video Metrology Division with IMS' talents in touch-probe metrology, we are significantly increasing the size of our potential market. Additionally, we believe this enabling software technology will have strategically important applications across all of Newport's businesses as we build on our core competencies in optics, vision, and vibration and motion control."
According to Mark V. Edwards, vice president and general manager of Newport's Video Metrology Division, IMS' hallmark product added to the appeal of acquiring the company as it provides a chance for Newport to standardize the software that accompanies many of its current and future products.
"The combined software technologies of IMS' Virtual dimensional measurement interface standard, known as Virtual DMIS, and Newport's Galaxy will yield unique online and offline capabilities," says Edwards. "The ability to apply this true 3-D software package across any hardware platform will provide an opportunity for end-users of sophisticated process-control and measurement equipment to use and train operators on only one software package. The next generation of metrology solutions will be completely seamless and fully CAD-integrated regardless of sensor selection or data-collection device."
For more information on this story or to follow the progress of the acquisition, visit Newport Corp. at www.newport.com or International Metrology Systems at www.dmis-cmm.com .
Download Quality Standards from ASQ
Available Standards


ANSI/ISO 14012-1996
ANSI/ISO/ASQC Q9000-1-1994
ANSI/ISO/ASQC Q9001-1994
ANSI/ISO/ASQC Q9002-1994
ANSI/ISO/ASQC Q9003-1994
ANSI/ISO/ASQC Q9004-1-1994
ANSI/ISO/ASQC A8402-1994
ANSI/ISO/ASQ Q9000-2-1997
ANSI/ISO/ASQC Q9004-2-1991
ANSI/ISO/ASQC Q9004-3-1993
ANSI/ISO/ASQC Q9004-4-1993
ANSI/ISO/ASQC Q10007-1995
ANSI/ISO/ASQC Q10011-1994 Series
ANSI/ISO/ASQC Q10013-1995
ANSI/ISO 14001-1996
ANSI/ISO 14010-1996
ANSI/ISO 14011-1996
ANSI/IEC/ASQC D601070-1997
ANSI/IEC/ASQC D601078-1997
ANSI/IEC/ASQC D601123-1997
ANSI/IEC/ASQC D601164-1997
ANSI/IEC/ASQC D601165-1997
ANSI/IEC/ASQC D60300-3-1-1997
ANSI/IEC/ASQC D60300-3-2-1997
ANSI/ISO/ASQC A3534-1-1993
ANSI/ISO/ASQC A3534-2-1993
ANSI/ASQC B1-B3-1996
ANSI/ASQC C1-1996 (ANSI Z1.8-1971)
ANSI/ASQC D1160-1995
ANSI/ASQC E1-1996
ANSI/ASQC E2-1996
ANSI/ASQC E4-1994
ANSI/ASQC M1-1996
ANSI/ASQC Q2-1991
ANSI/ASQC Q3-1988
ANSI/ASQC S1-1996
ANSI/ASQC S2-1995
ANSI/ASQC Z1.4-1993
ANSI/ASQC Z1.9-1993
ANSI/ASQ Z1.13-1999
ANSI/ISO/ASQ Q9000-3-1997
ANSI/ISO/ASQC Q10006-1997
ANSI/ASQC Z1.11
ISO DIS 9000:2000, 9001:2000, 9004:2000
TL 9000 Quality System Requirements
TL 9000 Quality System Metrics
BSR/ISO/ASQ QE 19011-2001
ISO/TS 16949
The American Society for Quality (ASQ) has been providing members and nonmembers alike with books, software, videos and other quality-related information for years. Now the ASQ has made a number of quality stand-ards available for purchase and download from its Web site.

While the option of ordering hard copies of standards from the ASQ still exists, this new "e-standards" option allows users to download quality standards to their computers in just minutes.

Currently, more than four dozen different standards (including ISO 9000, ISO 10000, ISO 14000, and the dependability and statistical-management-system stand-ards) are available for download. Visitors must prepay for their choice of the stand-ards, for which no ASQ-member discount is offered, and accept a user's agreement that prohibits anything more than personal use.

The standards come to the user's computer in a 300 dpi version of the popular Adobe .pdf format, which requires the Adobe Acrobat Reader (a free program available at www.adobe.com/products/acrobat/read ermain.html ) for viewing and printing.

To download the standards or learn more about this new service, visit e-standards.asq.org
.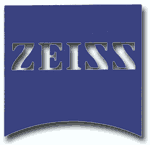 Carl Zeiss Receives Ford Q1 Award
Carl Zeiss Industrial Measuring Technology (IMT)
recently reached a new level in its customer-focused efforts when it was granted the first Ford Motor Co. Q1 Award ever given to a coordinate measuring machine (CMM) manufacturing company.
The Q1 certification, established in 1981, recognizes outstanding suppliers that demonstrate commitment and support for continuous improvement in quality and productivity. It's the highest commendation Ford gives to its suppliers.
"We are honored that Zeiss IMT is the first CMM manufacturing company to receive this award," says Anja White, a Zeiss quality representative.
"This certification process was definitely the most meaningful and demanding in terms of supplier requirements," added Wilhelm Keller, quality representative at Carl Zeiss, Germany. "Receiving the award makes us a much more powerful company, and we are proud of the achievement."
Moreover, it was a requirement. Ford announced in February that it would soon use only Q1 suppliers, sending a clear mandate to companies like Zeiss, which has been supplying Ford with CMMs for more than 15 years.
The Q1 Award process is based on a two-fold approach that combines prior receipt of ISO 9001 certification with a detailed analysis of key Ford total quality management areas: continuous improvement, customer focus and satisfaction, structured team problem solving, and business planning.
Zeiss IMT received the award for its entire operation and its support services, including on-time delivery, product quality, cost and customer communication.
For more information, contact Carl Zeiss IMT Corp. at 7008 Northland Drive, Minneapolis, MN 55428, call (800) 752-6181 or visit www.zeiss.com .
A Strong Economy Inhibits Improvement
A robust domestic economy offers U.S. businesses a number of different types of opportunities. However, a recent survey suggests that it also presents at least one obstacle: complacency.
Too many are business owners are content with current performance and are not using the current good economic times to make improvements to ensure long-term success, according to the survey sponsored by the George S. May International Co.
"We're seeing a trend among business owners to accept and be satisfied with the good times, in effect using them as an excuse not to improve basic business operations," explains Donald J. Fletcher, president of May International. "Smart businesspeople not only profit from good times, but also prepare their companies for the not-so-good times."
For more than 70 years, says Fletcher, highly visible quality programs have often been used to continually improve operations, products and service. For those businesses that do have quality programs, more than two-thirds responded that the program is working as hoped (45%) or working better than expected (23%).
"However, our survey shows that 72 percent of small- and medium-sized businesses today have no formal quality program," explains Fletcher. "This high number of companies that don't have even basic business-improvement plans shows an alarming lack of interest that doesn't bode well for them.
Fifty-two percent of respondents from companies without any such program said their company simply lacked the ability to institute quality programs. Other reasons given included a feeling that a quality program is unneeded (29%), doubts that it would justify the expense of its development (23%), a sense that it wouldn't be possible to set up a program (18%), and a belief that maintaining such a program would be too expensive (16%).
For more information, visit the May International Web site at www.georgesmay.com .
Are Consultants Worth the Investment?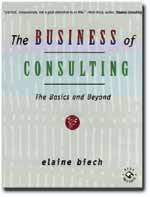 According to a new book by consulting expert and best-selling author Elaine Biech, The Business of Consulting: The Basics and Beyond (Jossey-Bass), consulting projects have dramatically increased in recent years, a phenomenon for which she offers two primary reasons.
"First is the trend toward outsourcing more and more services," explains Biech. "Corporations will continue to hire more temporary professionals when needed, as opposed to adding highly paid permanent staff. Consultants temporarily provide the people power to complete the work when needed, with no further costs or commitment.
"Second is that the rapid changes occurring in the world make it almost impossible for an executive team to remain knowledgeable about their industry, remain focused on their customers, stay ahead of their competition and know instantly what to do when these factors collide in an negative way. Consultants offer the knowledge, data and systems necessary to solve the puzzle."
Even given the increase in consulting's popularity, one question remains: Are consultants worth all that money? Not surprisingly, Biech says they are, and she offers five reasons to back up her position:
Consultants have the experience, expertise and time that employees may not. Organizations turn to consultants to fill the knowledge and time gaps presented by special projects, allowing employees to continue uninterrupted with their regular work.

Consultants provide flexibility. Unlike hired staff (who require ongoing paychecks, benefits and severance packages), consultants work any time--including nights, weekends and holidays--and leave when the project is completed.

Consultants offer fresh, objective points of view. Consultants bring new, unbiased ideas from their experiences with other companies in other industries.

Consultants are more efficient. The right consultant has experienced similar projects, can focus solely on one project, and is unencumbered by an organization's internal politics and tasks (e.g., staff meetings and other events at which employee attendance is mandatory).

Consultants may be proof of honest endeavor. When other parties are involved, a consultant may serve as a sign that an effort is in progress. In addition, organizations may use consultants to show that an effort is being made to correct gaps in compliance with regulations.

Online Testing
Testengine.com engineers network-based exam-delivery systems and content. Testengine.com also creates third-party exams and is an outsourcing agent for exam-delivery and analysis systems. The Socrates Web-enabled Analytical Test-engine is an automated and scalable system architecture for all aspects of the exam-delivery process. It includes guidelines for exam design and quality assurance and is capable of supporting millions of examinees.
www.testengine.com
Human Resources
One of the newest one-stop human resources Web sites, HR One, recently launched with services designed to assist beleaguered small-business owners and human resources managers. HR One provides knowledgeable, friendly, comprehensive advice to business owners and managers dealing with employee communications; hiring and recruiting; laws and regulations; performance and motivation; policies and administration; and training, discipline and firing procedures.
www.hrone.com
Management Consultants
This site gives visitors a brief overview of what Guaspari & Salz Inc.'s business is all about: the principles underlying what they do, how they go about doing it and how it all adds up to value for clients. It also offers links to the complete library of articles the consultants have had published as well as to information about their books and videos. The site also links to a series of "Short Takes," brief, thought-provoking ideas and comments on a variety of organizational issues.
www.guaspari-salz.com
Calibration
Calibrationclub.com offers a free calibration tracking and reminder service. More than 6,500 users have already signed up to receive free e-mail reminders whenever their instruments are due for calibration. Managing calibration processes has never been easier. The service allows users to create a custom profile complete with the ID number, manufacturer, model number, vendor number, serial number and calibration due dates of all of their instruments requiring regular calibration.
www.calibrationclub.com
To submit your Web site for consideration, e-mail a description of its content to contact_us . Due to space constraints, not all Web sites can be published. More quality-related links are available at www.qualitydigest.com.