The mission statement of an MES deployment could be "to provide timely information access to plant associates in an actionable format, empowering the manufacturing enterprise to meet its goals." In short, it provides immediately usable information to the right people at the right time to help them make timely, well-informed decisions. When all the various "islands of information" are connected and coordinated via an integrated MES, the efficiency of each function increases. An MES creates a series of synchronized and coordinated information links that results in tighter control over manufacturing activities and, ultimately, in first-time, end-product quality and production repeatability. Simultaneously, it establishes an automated system for documenting and distributing information procedures, not only satisfying ISO 9000's requirements, but also eliminating the confusion and errors that occur in paper-based systems.
For example, with respect to adherence to specifications, an integrated MES automates the process of matching customer specifications to part numbers, bills of material, material specifications, drawings, work instructions and routings. It identifies and documents deviations in the manufacturing process. It also time-stamps all entries concerning the order and automates order acknowledgment, providing documentation that the order has been correctly interpreted and entered. The MES then routes, tracks and fulfills the order through its manufacture, identifying any deviations or bottlenecks and automatically alerting appropriate personnel of potential delays, pertinent production information and quality results.
By automatically tracking and collecting all related production data and documenting each step in the manufacturing process from raw materials to finished goods inventory, the MES provides the ultimate foundation for a quality program, fulfilling ISO 9000 compliance requirements even when problems are encountered along the way. An MES links seamlessly to corporationwide document management systems, ensuring that procedures are followed (or executed) and everyone is using the latest critical documentation (instructions, work flow, material specifications and so on) relating to how work should be performed. In fact, an online, integrated MES satisfies the information requirements of almost all of ISO 9000's quality elements. It essentially automates any quality system's documentation requirements.
For example, meeting ISO 9000's supplier and purchasing components becomes easier with an integrated MES. Information can automatically be correlated and checked against the specifications, vendor certifications, vendor performance and incoming material quality.
Automatically fulfilling ISO 9000's product identification and traceability requirements is probably an MES' most powerful and automatic function. Bar-coded product serial numbers, unique ID numbers and lot numbers allow individual parts to be linked to all the other information concerning product manufacture. The manufacture of a finished product can then be traced immediately back to the original work order, from every subcomponent and raw material used to any related process and worker ID data.
The MES relational database model's built-in document control functions are also ideal for satisfying ISO 9000's process control, inspection, testing, measurement and test status quality elements. Policies and procedures are easily built into the model in configuration and documented, and the information is distributed quickly and accurately to all levels of operations, quality and business management in the organization. Quality analysis data is also automatically linked to the product record in the database and stored as part of the genealogy. This is exactly the type of record keeping specifically required under ISO 9000's quality records element.
By tracking and controlling product as it's routed through the production process, dispositioning and grading it along the way, an MES automatically handles the nonconforming product control issues. It also provides the data to analyze root causes of defects and suggests corrective actions to prevent similar occurrences in the future.
Procedures for processing returned goods can also be automated with an integrated MES. This not only satisfies ISO 9000's requirements, but also makes the MES the ideal basis for continuous improvement because it closes the loop with the processes that took place earlier in the manufacturing cycle. Should a defect occur, the MES makes it easy to identify where the problem arose, whether in raw materials, processing or secondary operations. Again, all of this information is automatically recorded and allows for the setup of a corrective action, as required by ISO 9000.
As the central nervous system of the production process, an MES becomes the ultimate vehicle for a continuous improvement or quality program. An MES allows tighter control over in-process activities and, ultimately, end-product quality and production repeatability. At the same time, it provides comprehensive documentation and acts as the information distribution system. Consider the following case study of a recent MES deployment at a food processing facility.
Project background
A food products company was unable to handle the high retail and wholesale demand for its products. It was also unable to take advantage of its expanding contract sales. Its capacity constraints had become so severe it had to curtail sales expansion. In an effort to employ the system that would allow it to better manage its current customer base and expand in the future, the company chose a leading ERP system.
During the implementation, the company realized that the project, although 300 percent over budget, had done little to affect the company's real throughput. To help alleviate the problem, the company invited Interwave, a leading enterprise production and MES consultant, to the site to review the facilities and identify opportunities for the deployment of technologies that would increase throughput. Upon completion of the site assessment and documentation of the proposed system's functionality and benefits, it became apparent to the company's operations manager that the company would "… obtain the return on the ERP deployment only after the deployment of the MES layer." In fact, the operations manager expects the MES to provide a six- to nine-month return on investment, and the system has freed suitable capacity to delay the inevitable expansion of the facility and its associated costs. As a result of the success of the MES project, the company asked Interwave to help design the new facility systems to provide the greatest flexibility and throughput while maintaining strict cost control and adherence to regulatory and quality requirements.
Project scope
The MES was deployed in a layered architecture between the newly developed business ERP system and the existing shop floor equipment, instrumentation and controls. As the centralized data warehouse for the entire production facility, the MES provided automatic interface to and synchronization and control of all of the functions or systems depicted in Figure 1.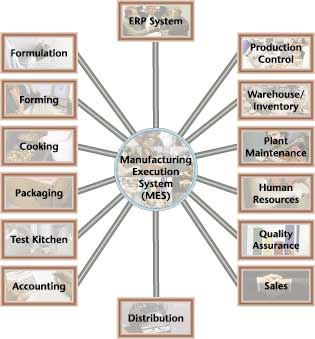 The MES architecture includes an NT applications software server, 15 NT client workstations, auto-ID equipment, process control and instrumentation interfaces, and an interface for the existing ERP system (hosted on a UNIX server) for material management functions.
Project results
The MES improved the company's processes in the following ways:

Significantly reduced work center downtime and increased overall throughput.

Provided traceability and product genealogy correlating work orders with process manufacturing data. This facilitated performing recovery operations, meeting Hazard Analysis and Critical Control Points (HACCP) requirements, attaining certificates of analysis, and meeting the impending requirements for traceability of allergens.

Eliminated manual record keeping on the shop floor and exhaustive manual data entry to the ERP system, greatly improving the accuracy and organization of the data.

Integrated quality, lot tracking and process data collection, automatically correlating production, process and quality analysis data with finished product.

Provided comprehensive, accurate and timely production and inventory data (e.g., availability of process management data like formulations or bills of materials) to manufacturing personnel, empowering them to assess performance on the production floor in a timely and accurate fashion.

Provided live information such as production summaries, utilization, downtime, product yields, scrap, formulation lot, and batch and ingredient consumption on quality, inventory and production control.
Increased customer expectations demand MES
Challenges common in manufacturing, such as product recalls, delayed orders, orders returned because of defective material, lengthy root-cause analysis cycles, production delays caused by raw material outages and customer inquiries about shipment dates, can become major problems at some plants. For organizations with an integrated MES, however, these are opportunities that yield a competitive edge. The bottom line is simple: Timely information gives you the power to change your organization's destiny.
Accuracy mandates data collection at the time of the event and as close to the data source as possible. People make mistakes on simple, repetitive data entry tasks. We automate manufacturing because machines reproduce tedious, repetitive operations more efficiently than do human beings. In other words, to get better production information, you need to automate the data collection feed to your information systems. With better product information, you can make better business decisions. Further, by automating the information collection process, manufacturing associates spend more time on value-added process execution and improvements.
An MES enables manufacturers to establish flexible, responsive information infrastructures that can respond rapidly to changes in product, process, people and procedures, providing the agility necessary to compete in today's business climate.
About the author
Jonathan Kall is founder and president of Interwave Technology Inc. ( www.interwavetech.com ), a manufacturing information technology consulting, advanced systems integration and software development firm that designs and implements enterprisewide manufacturing execution and information systems. He has more than 18 years' experience in management, engineering and marketing of industrial computer control and real-time information systems. Kall has spoken at numerous industry-sponsored events and has written various white papers and symposia. Contact him at jkall@qualitydigest.com .