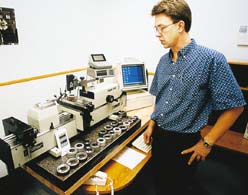 Fowler's Length-Measuring System Offers Flexibility to Calibration Lab
Trimos Universal Length Measuring System
Swiss instruments are known for precision. But calling Fowler's Trimos Universal Length Measuring system (TULM) "precise" may be a bit of an understatement.
One company impressed with the TULM and its 0.000020 in. tolerance is Calibration and Repair Labs Inc. in Owatonna, Minnesota. In less than two years of full operation, the company has grown remarkably because of its flexibility in checking customers' gages on site or at its Minnesota headquarters. The TULM allows Calibration and Repair Labs to provide its customers with a three- to five-day calibration turnaround, a rarity within the industry.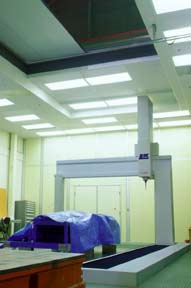 Honda's CMM Enclosure
Improves Accuracy
O'Brien Plant Office Package
Controlling the environment of a coordinate measuring machine (CMM) can be a difficult task. It's made more difficult if the items to be measured are 15- to 18-ton dies, which require a 30-ton crane to be moved. But that's just what Steve Brenzo, of Honda EGA in Marysville, Ohio, had to do. He found what he needed in O'Brien's Plant Office Package System. "The package that O'Brien put together was a unique solution that other companies were not able to provide," Brenzo explains.