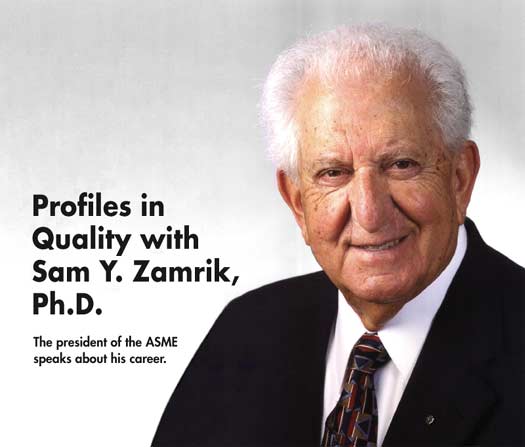 Sam Y. Zamrik, Ph.D., is the 126th president of the American Society of Mechanical Engineers, serving the 2007-2008 term. Zamrik is a technical consultant and professor emeritus at Pennsylvania State University. He's also a fellow of ASME, and his area of expertise is pressure-vessel technology. With 160 technical publications to his credit, he has explored the topics of fatigue analysis, life prediction, biaxial loading, and thermal analysis. Zamrik was instrumental in the formation of the Pressure Vessels and Piping Division of ASME, and received ASME's Pressure Vessels and Piping Medal in 1996. Zamrik also has a strong record of service with the ASME Journal of Pressure Vessel Technology, which bestows their award for outstanding achievement, renamed the "Sam Y. Zamrik Literature Award."
In the following interview, Zamrik discusses his long affiliation with the engineering profession and ASME, his commitment to the continual improvement of education, ASME's role in the development of code and standards, and his aspirations for ASME's future.
Quality Digest: When you began studying engineering, what were your goals and ambitions?
Sam Zamrik: Engineering was one of the best-respected professional choices when I began studying engineering at the University of Texas in 1950. My father was an agricultural engineer, and I was interested in design and analysis. I chose to study aerospace engineering, probably influenced by my wanting to become a pilot, which I continued with some years later. Once in school, a professor in thermal dynamics greatly impressed me, and my studies shifted to mechanical engineering. Actually, I got a double degree, one in mathematics and one in mechanical engineering.
My master's and doctorate are in engineering mechanics from Penn State, where my research activities dealt with multiaxial fatigue, which was pioneering work, including development of the rhombic test method, the anticlastic biaxial stress bending method, and high-temperature creep fatigue research.
My first job was in oil pipeline and refinery work in Texas in 1957.
QD: How long have you been affiliated with ASME, and what brought you into contact with the organization?
SZ: I have been associated with ASME for more than 35 years. I became involved in the mid-1960s, came into full membership in 1974, and became a fellow in 1983. Initially, a colleague who was an ASME member called to invite me to join the society, explaining that they were forming a pressure vessels and piping division that he thought I could contribute to, especially through the design and analysis committee. I eventually became chair of that committee and then the division, and through that involvement, I interacted with and moved into activities with professional development, and voluntary consensus codes and standards.
Over the years, I became more involved with the societal structure, getting to know a lot of people. At each step, my professional career correspondingly excelled. I've been involved in initiatives such as emerging risk-assessment technology, nuclear standards, and global leadership opportunities that require the interface of various ASME sectors with key industry and governmental agencies worldwide. I've also promoted the tutorials and short courses as a way to introduce important emerging technologies that are affecting both early-career engineers and senior professionals.
As president of ASME this year, I have been able to use this knowledge of various areas of ASME to build collaborative projects and move among the membership effectively.
QD: What are the benefits of becoming a member?
SZ: Most engineers join professional societies to advance their careers by keeping their skills up-to-date and receiving access to the kind of information that enables them to explore solutions to technical challenges. For many, it becomes a lifelong resource. ASME's mission is to promote and enhance the technical competency and professional well-being of our members and, through quality programs and activities in mechanical engineering, better enable its practitioners to contribute to the well-being of humankind.
Our vision is to be the premier organization for promoting the art, science, and practice of mechanical and multidisciplinary engineering and allied sciences to our diverse communities throughout the world. We were founded to give the profession a voice in the economic and social development of the nation and the world. Being a member of ASME stands for knowledge, community, and advocacy, and is recognized throughout business and industry for its excellence and integrity. This has been beneficial for me throughout my career, and I enjoy helping pass along similar opportunities to others.
QD: What would you say has been the greatest achievement of ASME in its history and in the past 10 years?
SZ: From its beginnings in 1880, ASME's strength has been in translating technical knowledge into industrial practice. Historically, we are most notably recognized in the successful adoption of the Boiler and Pressure Vessel Code. We created a voluntary consensus-building model for developing standards, which now includes nearly 500 standards used in more than 100 countries.
In the last 10 years, ASME has reorganized to focus on its strengths and, in particular, on its role as an industry-academia-government convener and its redefinition of global collaboration. To stay responsive and focused on growth in future markets and in multidisciplinary technologies, we nurture a culture of innovation and strategic management. We are a society with no boundaries that strives to serve our engineering and scientific communities and has the resources to do that.
QD: During your term as ASME president, what would you like the organization to achieve, and how will you go about reaching those goals?
SZ : I believe that this is a brand-new day for ASME as it strengthens its communities, becomes more involved with the relevant technology developments of the day, and continues a solid foundation of advocacy for the profession. We are looking for companies, coalitions, organizations, and others who work in ways that help accelerate solutions and design challenges. We are also looking to bring innovation into the educational pipeline.
Finding solutions within the complexity of today's world has a lot to do with preparing a diverse, globally oriented workforce. We encourage this through new programs, such as ASME Solutions, which is a customized approach to ASME products and services, and through educational programs in the areas of global management. As an organization, we are focused on global growth in China, Europe, and India, in all areas, from education to standards.
As president, I am committed to enhancing communication throughout the organization, to help strengthen our relationships with our partners, and to increase the effect of these new opportunities for everyone, particularly women and minorities.
QD: How does ASME interact with governmental agencies in developing and implementing new codes and standards?
SZ: Codes and standards development is a consensus-building process to create living documents that are constantly being updated, revised, and reissued to reflect new developments and technical advances. Government agencies actively participate in the development of ASME codes and standards as members of the standards-writing committees and, through the ASME Standards Technology LLC, they occasionally fund research and development projects that facilitate development of scientific data required by the ASME committees. Overall, ASME standards development supports the public-safety mission of governments around the world, as many ASME standards are accepted by government agencies as a means of satisfying their regulatory requirements. In the United States, for instance, this effort is done through the National Technology Transfer and Advancement Act from 1995, which provides for federal participation in the development and use of voluntary standards.
Global trade is pushing standardization toward harmonization on a global scale. Companies must think beyond performance, quality, and safety, and they will want to demonstrate how they are meeting these expectations. ASME is involved in providing a transparent and integrated standards-setting system that can keep pace with innovation.
QD: Based on your biography on the ASME Web site, you have been very active as an educator; have you worked on engineering projects outside of academia?
SZ: Yes, in addition to my work in academia, I have been involved in a number of engineering projects dealing with
aerospace-design applications, gas-turbines materials, and thermal-mechanical and biaxial-fatigue design systems .
As a consultant, I've worked with National Forge Co., General Electric Co., Westinghouse Power Division, Mason & Hanger, NASA-Space Center Houston, and Quest Engineering. I've published technical papers, served as editor for journals, and presented seminars and lectures in many countries. I've worked within numerous technical divisions of ASME, including the PVP Division and Design Division. Collaboration across multidisciplinary boundaries and throughout industry-academic
governmental structures continues to grow in importance through any engineering career today.
QD: What advice would you give to students today who have an interest in pursuing engineering as a career?
SZ: Look for activities that bridge classroom lessons with real-life application, such as contests and service programs. ASME partners with Engineers Without Borders-USA to build student-mentor teams that develop and execute programs in sustainable and appropriate technology all over the world. Our student design competitions for human-powered vehicles, Future City, and other team projects, offer a great opportunity for learning and working alongside engineers.
One very exciting new program being launched this coming November is called Innovation Showcase (I-Show), a collegiate competition featuring prototype concepts created by engineering students, and a springboard for tomorrow's entrepreneurial innovators and technical problem-solvers. ASME will judge entries based on feasibility and the potential to affect the commercial marketplace, and will reward the winning design team with seed funding and start-up support. Teams will be matched up with entrepreneurs and mentors during development. Also, remember that you learn all through your life as your career grows. Stay involved in activities where you can make connections, develop mentor relationships, and expand your opportunities. ASME student sections are just the beginning of a lifelong-learning approach.
QD: What advice would you give to educators to help them attract and retain quality students in the engineering field?
SZ: If we articulate a strong, positive vision of engineering as a profession that can meet the challenges that face the world, such as energy, water management, and environmental sustainability, then we will attract young people with a desire to contribute to something really worthwhile. Students today will work in a future of rapid change, multidisciplinary project teams, and advanced information technology. To succeed in this environment puts a premium on creativity, risk taking, and continual learning. Within educational programs, creating quality partnerships with diverse groups will help broaden the engineering pipeline and encourage opportunities that give students different perspectives of the engineering profession.
ASME is invested in the development of a multidisciplinary, multicultural workforce set to compete on a global scale and thrive throughout their careers. We need to create the bridges between industry and academia that encourage the team-building and innovative skills needed to do this. ASME promotes in-service teaching programs and other resources to create opportunities for collaboration and learning.
QD: What has been the greatest change in engineering since you began your career?
SZ: Some of the greatest changes I've seen in engineering have been the technology advances in space conquests and their influence in so much of engineering's technological advances. Computational techniques that have taken us from slide-rule calculations to complex computerized analysis and testing, and the challenges of energy sustainability, now require systems thinking unlike anything the engineer has faced before. The engineer's job is no longer focused within a specific expertise, but now requires a multidisciplinary teamwork approach.
In design and problem solving, linear cause-effect relationships must now evolve to recognize and work with multiple-causation interconnectedness, feedback, and synchronicity. Plus, broader business acumen and stronger communication capabilities are needed. Knowledge about emerging technologies, such as nanotechnology, advances in energy resources, and open educational trends is paramount to competitive performance. As a result, lifelong learning has grown in importance to an engineering career. Getting students involved in real-life applications is also important.
QD: Quality Digest is read by thousands of quality assurance experts in every field of human enterprise. How can they and mechanical engineers best work together to make their jobs complementary of each other?
SZ: Today's technology allows us to form communities to share ideas and extend our relationships in new ways. Online learning communities, for example, will draw people who are willing to share challenges and who bring diverse knowledge and
experience.
ASME has shifted its focus toward systems thinking, in which advanced resource productivity requires systems integration, not reductionism. It requires design approaches that optimize whole systems, not just parts. A whole-system, multibenefit approach to design and engineering looks at improving resource productivity to cut waste, do more with less, and generate more wealth from every unit of natural resources used. It requires teamwork and a sense of interconnectedness. Learning to communicate and manage effectively across multidisciplinary lines is essential to taking advantage of these networks. Together, we face a future that is more open, interconnected, and challenging than ever before.
About the author
Carey Wilson is Quality Digest's news editor.