More Fun, Less Lead
In a cooperative effort to ensure the safety of children's toys, the U.S. Consumer Product Safety Commission has announced an agreement with its counterparts in the Chinese government aimed at stopping the use of lead paint in the manufacture of toys, and addressing other product-safety issues. At a Consumer Product Safety Summit held on Sept. 11 in Washington, D.C., CPSC announced that China's General Administration of Quality Supervision, Inspection, and Quarantine has agreed to take action to eliminate the use of lead paint on Chinese-manufactured toys exported to the United States. Lead paint on toys sold in the United States has been banned since 1978.
In addition to the lead paint agreement, the two agencies announced work plans for cooperation in four product categories: toys, fireworks, cigarette lighters, and electrical products. The work plans outline bilateral efforts to improve the safety of these products, which represent some of the most frequent hazards under CPSC's regulatory jurisdiction.
Nancy Nord, CPSC acting chairwoman, says that the work plans show "significant forward progress" in the agency's efforts to bring Chinese-made consumer products into line with U.S. safety rules.
"This is an important signal from the Chinese government that it is serious about working with CPSC to keep dangerous products out of American homes," says Nord. "We will be looking for meaningful cooperation on the ground--that means not just with the Chinese government, but also with industry at both ends of the supply chain."
The summit also resulted in an agreement by AQSIQ to increase their inspections of consumer products destined for the United States and to assist CPSC in tracing hazardous products to the manufacturer, distributor, and exporter in China. The two agencies will review the plans' effectiveness within one year to identify possible areas for improvement.
For information about all kinds of product recalls, visit www.cpsc.gov.
ASQ on Food Safety
The American Society for Quality has submitted a statement on food safety to the Subcommittee on Oversight and Investigations of the Committee on Energy and Commerce, a subcommittee that is focusing on food quality and safety in the United States. ASQ submitted its statement to offer perspectives from quality assurance professionals that it believes will be useful to the subcommittee, to the Food and Drug Administration, and to the food-processing industry in general.
According to ASQ's written statement of record, the subcommittee should focus on the following areas when assessing the FDA's ability to ensure safe food:
• System and process focus. Current food-safety challenges demand less focus on end-item testing and more emphasis on the process and the supply chain.
• Supply chain management. Although much of the existing inspection effort has been concentrated at points close to the ends of the food chain, specifically at import and processors, a focus on innovative methods of evaluating the hand-offs further down the chain might yield better food-safety results.
• Joint agency activities. As the subcommittee hearings have pointed out, federal food-safety oversight is a fragmented undertaking, with multiple agencies each playing a role. Joint agency activities in complementary fields would permit more thorough oversight with existing resources.
• Government/industry partnerships. There will never be enough inspectors, no matter what the design ends up being. What is also necessary is for the agencies to focus on the weak areas.
• International data system for traceability. Food-safety professionals are emphasizing the need to share data internationally.
• Carbon monoxide process. Although seafood has always been labeled to indicate carbon monoxide (CO) treatment, this is not the case in meat and poultry. ASQ supports the concept of labeling to identify all foods that have been treated with CO.
• Implement recommendations of IOM . The Institute of Medicine's 2003 report, "Scientific Criteria to Ensure Safe Food," made numerous recommendations that would strengthen the food chain and reduce the incidence of food-borne illness. Congress and the FDA should take steps to implement these recommendations.
• Congressional and HHS support and funding of FDA proposals . In recent years, certain FDA programs and legislative proposals that demonstrated innovative approaches to the agency's food-safety challenges have died due to lack of funding or congressional or administration inaction. These prevention-oriented initiatives should be supported and funded by Congress and the U.S. Department of Health and Human Services. Funding should promote better use of existing fee-for-service programs that strengthen buyer-supplier relationships and ease taxpayer burden.
To view ASQ's entire statement, visit www.asq.org/advocacy .
Do the Math
Last month we sent you to The Washington Post for a story on "Salary, Gender and the Social Cost of Haggling" by Shankar Vedantam. There were a lot of facts and figures in this story. So many that we think the fact checkers just got tired and gave up. (Hey, we feel their pain.) They missed this little nugget:
"If a 22-year-old man and a 22-year-old woman are offered $25,000 for their first job, for example, and one of them negotiates the amount up to $30,000, then over the next 28 years, the negotiator would make $361,171 more, assuming they both got three-percent raises each year."
Crank up Excel and plug in the numbers. At a starting wage of $25,000 for the woman and $30,000 for the man, with a three-percent per year salary increase, at the end of 28 years the difference is $226,094, not $361,171. The problem was most likely a typo. If you do the same calculation over 38 years instead of 28, you get the author's results.
In the immortal words of the great Maxwell Smart, "Missed it by that much."
This month's winner, chosen completely pseudo-randomly using the Monte Cristo method, is Jonathon Andell, who will receive a refurbished gift from woot.com.
Reader Ed Levy spotted an error at www.msnbc.msn.com/id/20535978 ("Scientists discover 'skinny' gene") and suggests that women's body fat obviously does not behave the same as men's body fat. Spot an error and send it to us at comments@qualitydigest.com for a chance to win a prize. Levy gets a prize for his submission, and most likely a night on the couch for his comment.
Help keep "Do the Math" alive. If you spot a math error on television, radio or national news, let us know about it using the Feedback link at the bottom of this page.
NAM Blames Congress for Loss of U.S. Jobs
The National Association of Manufacturers says that the latest employment report from the Department of Labor reflects the continuing bipartisan inability of leaders in Washington to craft sensible, pro-growth policies for the nation and eliminate impediments that ultimately cost the United States jobs.
The Labor Department reported that the economy lost 4,000 jobs in August, as the 64,000 jobs lost in construction and manufacturing more than cancelled out the 60,000 jobs gained in the service sector. Over the summer, private-sector employment growth has averaged just 71,000, which is the slowest pace in four years. Manufacturing lost 46,000 jobs in August.
"The fact that manufacturing lost 46,000 jobs in August is not a partisan problem, not a Democrat or Republican problem, but a problem for the 46,000 families that have lost work and hope in the future," says John Engler, president of NAM. "Congress must step up to the plate, recognize the impact of decisions it has made in the past that make America less competitive, and do something about it."
"Overall manufacturing employment has fallen by 215,000 in the last 12 months, the largest 12-month drop in three years," says David Huether, NAM's chief economist. "Up until [August], most of the loss of manufacturing jobs was in motor vehicles or sectors closely tied to housing, but in today's report, the decline of manufacturing jobs was more broad-based."
Jay Timmons, NAM's senior vice president for policy, says that the loss of jobs is a result of Washington's failure to address the external costs that make it unnecessarily expensive to create jobs. "We have documented that the external costs imposed on U.S. manufacturing [companies] for energy, excess litigation, regulation, taxes, and health care add significantly to the cost of production in this country compared to our major trading partners," says Timmons. "That is a disadvantage that has helped kill more than three million U.S. manufacturing jobs in this decade.
"Those 46,000 manufacturing jobs represent 46,000 families in distress. But right now the best our leaders in Congress can do is debate creative ways to make energy even more expensive than it is already. There is a disconnect between Washington and the real world outside the Beltway, and the real world is paying the price."
For more information, visit www.nam.org.
World Standards Day 2007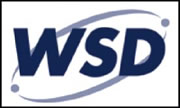 From air quality to children's toys, and from alternative sources of energy to security and privacy on the Internet, standards and conformity-assessment programs have become the tools that bolster social progress and stimulate worldwide economic development. To acknowledge the significance of standards on society and the economy, the theme of the U.S. celebration of World Standards Day 2007 is "Standards and the Global Village."
On October 18, 2007, leaders of business, industry, academia, and government will gather in Washington, D.C., to join with consumer representatives and experts in science and technology for a celebration of the relationship between standards and the well-being of citizens in every corner of the world.
For more information, visit www.ansi.org/meetings_events/WSW07/wsd07.aspx?menuid=8.
I on the News
Editorial by Carey Wilson
Batteries Included--for $1 million
The Department of Defense has launched a contest to develop a wearable power supply for "warfighters" that will not exceed four kilograms (8.8 lb) in total weight, and will deliver 96 hours of continuous electrical power at an average of 20 watts per hour, with surges of up to 200 watts for up to five minutes. The purpose of the wearable power supply is to provide U.S. soldiers with the energy to power the myriad of electronic devices that they use without burdening them with the nearly 20 pounds of batteries currently required for a 96-hour mission.
The contest's winner--who according to posted rules, must be at least 21 years of age and "must be a U.S. citizen on the date of registration for the prize competition, and must remain a citizen until the end of the competition"--will receive $1 million.
Contestants can seek sponsorships "from corporations, manufacturers, civilian sporting and outdoor-goods manufacturers, or other sources. Sponsorships are not regulated or managed by the competition officials." State and local governments are also encouraged to compete, and foreign sponsorships are okay.
At the field competition, to be held in fall of 2008, entries will be judged on weight, performance, and wearability, which will be "measured by the maximum thickness of the system as it protrudes from the body when attached to a garment. The thinnest system wins the tie-breaker."
I on the News is all for entrepreneurial competition, and all for supplying our troops with the best possible equipment. We wonder why team leaders must be 21 years old to register for the competition when 18-year-old citizens can register to vote and serve in the armed services that the contest winner will assist. We also wonder how many millions of dollars the federal government has already paid to researchers and contractors who haven't been able to deliver a winning wearable power system.
Registration for the contest opens on Oct. 8, 2007 and closes on Nov. 30, 2007.
For complete information, visit www.dod.mil/ddre/prize/topic.html.
Has Anybody Seen the Bomb?
On Thursday, Aug. 30, the U.S. Air Force accidentally flew six nuclear warheads mounted on cruise missiles from Minot Air Force Base in North Dakota to Barksdale AFB in Louisiana. The warheads were supposed to be removed from the missiles before being mounted on the B-52 for their flight to Barksdale where they were to be decommissioned.
According to anonymous military officials quoted in a Sept. 6 story on CNN, the crew of the B-52 didn't know they had nuclear warheads on board, but there was no risk of detonation even in the event of a crash because the warheads were not armed.
The biggest risk to public safety would have been a crash or accidental dropping of the missiles resulting in nuclear materials being spread in the area of the crash, according to retired Air Force Major General Don Shepperd, a military analyst for CNN.
In the aftermath of this nuclear fiasco, Barcoding Inc. announced a solution to help track weapons for the U.S. military, including nuclear warheads. Utilizing an RFID multiplexing system, the tracking
system will sense the moment that a bomb or missile is moved from its location. For tracking the weapons, RFID tags are affixed to the bombs or missiles and tracked with RFID readers. This allows military bases to know where their weapons are at all times.
"We have been working on a system to track missiles and bombs for about five years but it had always been a project that was put on hold," says Jay Steinmetz, CEO of Barcoding Inc., in a story posted on http://news.bigg.net on Sept. 7. "After last week's mishap with the U.S. military, we have been working around the clock to develop a solution that is effective in tracking military weapons."
In a phone interview with Quality Digest on Sept. 11, Steinmetz confirmed that his company has "done RFID work for the military involving inventory control," but due to reasons of national security he was not at liberty to discuss nuclear weapons inventory control. He added that the original press release on Barcode Inc.'s Web site has been taken down.
IMTS Freshens up for 2008
The Association for Manufacturing Technology has announced a new theme and logo for the 2008 International Manufacturing Technology Show, the 27th edition of AMT's biennial IMTS. The theme, "Connecting Global Technology," emphasizes the show's focus on innovative technologies in metalworking equipment and services. The logo features an image of a globe with a spark on the horizon, symbolizing freshness and new ideas.

IMTS 2008 will be held Sept. 8-13, 2008. More than 1,000 exhibiting companies will occupy 1.2 million net square feet of exhibit space at the McCormick Place complex in Chicago.
For more information, visit www.imts.com.
Quality Blooper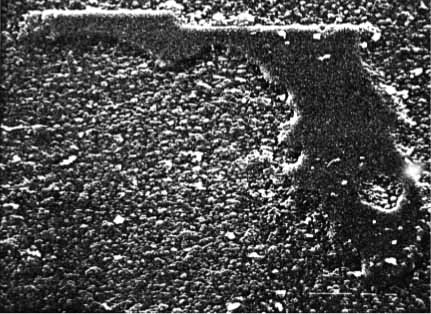 About 20 years ago, as part of acceptance testing, a lot-sample of a bare semiconductor die was examined under an optical microscope. The inspection report indicated the presence of contamination or a defect on every die. The low-magnification photomicrographs showed a crescent-shaped area with a small internal dot. The entire lot was put on hold until the problem could be resolved. These dies were intended for use in a critical, time-sensitive Department of Defence application. To resolve the nature of this contamination/defect, one die was examined in a scanning electron microscope. The feature was viewed at 1,000×. The area was then better described as a handgun, with a wider part, the "grip," and a narrow portion at roughly right-angles, the "barrel."
The high-resolution SEM photographs more clearly showed details of the object. By rotating the image, we identified it as a map of the state of Florida! The "contamination or defect" was the logo for the manufacturer, Harris Semiconductor of Melbourne, Florida. The "barrel" was the state's panhandle, and the internal dot was Lake Okeechobee."
--Joel Weiner, Quality Manager, Johns Hopkins University Applied Physics Laboratory
If you have a humorous 150- to -250-word story about a quality process gone awry, send it to us using the feedback link at the bottom of this page. If we print yours, something funny will come your way.
Sir! Yes, Sir!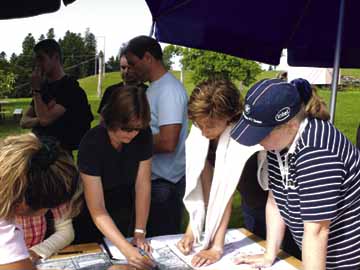 On July, 2007, 60 newly hired analysts and associates from the international bank, BNP Paribas, kicked off a five-week leadership course designed to train businesspeople to execute actions with improved discipline and to develop their personal style of empowered leadership. Led by Business Battlefield, a leadership-training and consultancy company made up of former U.S. Marines, the "Analysts and Associates Training Program" or "AATP 2007" teaches leadership by way of military-style field maneuvers
One scenario-driven exercise was the "field leadership lab." BNPP Green and White teams were given an open-ended problem: "Using only your collective wits and equipment provided by BizBatt and requested by you through your staff planning exercise, you will locate and retrieve material lost in New Jersey's Wawayanda State Park in 18-20 satellite-
identified areas. Solve any problems you encounter along the way, stay together as a team, and utilize all team members and their skills. And do it faster than your competing AATP (White/Green) company."
Because the teams were given a limited budget, they were forced to prioritize, improvise, and innovate to create an executable plan. By the end of their orientation conference, both Green and White teams had devised specific, measurable, achievable, relevant, and time-bound plans.
The next day company leaders assembled their teams and began the mission. Due to the rugged, heavily wooded terrain, radio communication was challenging. Alternative means of communication were required as teams endeavored to work together in a situation where their goals were aligned and urgent: The more efficiently they could accomplish their individual tasks and incorporate them into the team's execution, the quicker they would get the job done, and the less time they would have to spend hot, tired, and sweaty.
At the end of their field training, each AATP participant had navigated more than four miles of tough terrain while reacting to unpredictable situations. To tie it all together, the Business Battlefield Marines demonstrated the usefulness of debriefing to accelerate learning for all participants, and to highlight the real-world application of the exercise's lessons.
"Our goal was to help train BNP's future leaders by identifying and accentuating leadership and teamwork opportunities. Typically, we accomplish this by delivering team decision-making exercises, open-forum discussions, and energetic competitions. And then we debrief the activity to help them close the loop," explains Matt Daniel, Business Battlefield's founder and president.
For more information, visit www.businessbattlefield.com.