Increasing Competitiveness: One Manufacturer at a Time
Like many small manufacturers, South Carolina's MI-TECH Inc. realized it needed to be ISO 9002-registered to compete on a larger scale. Company President Bill Totten knew the benefits of registration but wondered if he could dedicate the time and resources required to accomplish it in a profitable manner. Then he found the South Carolina Manufacturing Extension Partnership, a not-for-profit organization that helps manufacturers compete in the open market.
"With the help of SCMEP, we were registered in 18 months," says Totten. "The process would have taken at least another year and cost us another $10,000 without the help."
The SCMEP is a federally funded program with a simple mission: helping small and medium-sized manufacturers become more competitive. A means to that end is ISO 9002 registration. The SCMEP acts as an ISO 9000 consultant, providing guidance and extra staff that allow companies to maintain their operations while completing the registration process. It also researches and applies for grant assistance on behalf of its partners and provides its services for far less than a consultant would charge.
"We investigated the needs of small to medium-sized manufacturers to become more competitive; in the end, the missing ingredient was quality," explains John Irion, SCMEP's president. "And to be in a supply chain for the big companies, you have to be ISO 9000-registered or they won't even look at you."
MI-TECH had a loyal customer base, but many potential clients seemed out of reach because the company's processes weren't certified. With its small size, strong infrastructure and existing quality management program, MI-TECH fit the profile that the SCMEP looks for. The manufacturer also had one other trait that helped: MI-TECH is a minority-owned company.
"When the SCMEP began in 1989, there was a void in the number of minority-owned manufacturers; we could only find six in South Carolina," explains Irion. "To fill that void, we went to the U.S. Minority Business Development Agency and the U.S. Department of Commerce and proposed this project. Of the four companies we started with, MI-TECH was the best minority-owned manufacturer in the state, so it began the process first. Typically, ISO 9002 registration costs about $30,000 and can take two years; we were able to cover about 80 percent of that cost with grants."
The SCMEP project for minority-owned manufacturers is now the model for a national version still in development, and MI-TECH's success was the foundation. "We were the first minority-owned manufacturer in the state to be ISO 9000-registered," notes Totten. "Working with SCMEP, we have been able to increase sales by $350,000 since registration." MI-TECH has also been able to land contracts that representatives had been trying to get for some time.
Originally developed by the Commerce Department, the Manufacturing Extension Partnership has grown from three original offices to more than 400. Currently administered by the National
Institute of Standards and Technology, the program has assisted more than 107,000 clients. Irion believes SCMEP's success is based on its methodology. "We take a holistic approach," he explains. "We're not trying to sell anything. Instead, we get companies to partner with us and then we become their support group."
After completing the process and realizing the benefits, Totten believes the MEP is a good opportunity for any manufacturer looking to take a bigger bite of the market. "I would enthusiastically recommend it to any manufacturer looking to become ISO 9000-registered; it makes the process so much faster and easier."
If quicker and easier registration isn't enough motivation for a small to medium-sized manufacturer, Irion knows what is: "Our priority is to make them more money."
For more information about the MEP, visit www.mep.nist.gov .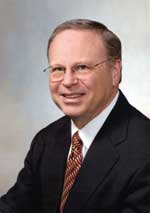 ISO Elects Next President
Oliver R. Smoot was recently elected president-elect of the International Organization for Standardization. He will serve in that position for one year and then assume his official two-year term from current president Mario Gilbert Cortopassi of Brazil.
"I am extremely honored to have been selected ISO president-elect and I'm enthusiastic about the opportunities that lie ahead," says Smoot, an American with a distinguished history in the standards community. As chairman of the American National Standards Institute, Smoot lobbied Congress about standards-setting and U.S. competitiveness, and made cross-industry cooperation one of his most important goals. "I look forward to working collaboratively with colleagues from around the globe to promote the development of a single set of international standards," he adds.
During his term with ANSI, which nominated him for the ISO presidency, Smoot was productive in the policy-setting arena, facilitating the efforts of more than 250 standards developers and organizations. He presently serves as the vice-president for external voluntary standards relations at the Information Technology Industry Council.
New E-Book Makes Sense of Lean
I f you've ever heard somebody say heijunka, and replied, "God bless you," you may want to download LeanSpeak, a new dictionary of lean manufacturing concepts and theories from Productivity Press.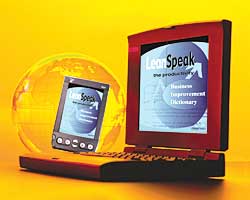 Available in PDF, Microsoft Reader and Palm formats, the 600-entry dictionary contains definitions of the most common lean manufacturing terms, a welcome tutor for those new to lean. "It evolved when one of our sales reps realized that a lot of our customers knew some lean manufacturing terms but not all," explains Bettina Katz, a publicist for Productivity Press. "He found that people were always asking for definitions."
The lexicon was incorporated into the Palm OS format so that it could be available whenever and wherever needed. "We hope that manufacturing executives looking at implementing lean methods will find it useful, especially when they're in meetings and they need to know something quick; they can have it right there at their fingertips," explains Katz. The entries are searchable and can be printed as well.
This is the inaugural venture into e-books by the Portland, Oregon-based Productivity Press, a consulting, training and publishing company. "This will be the first of many e-books we'll be doing," says Katz. "Some of our new products will first be piloted as e-books."
For those of you too shy to risk admitting your ignorance of lean manufacturing lingo, rest assured--you're not alone. Even Katz admits, "I use it all the time." LeanSpeak is available for purchase at www.productivityinc.com .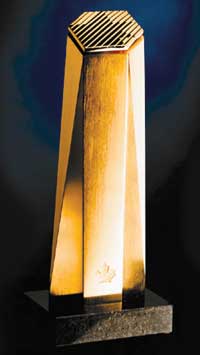 Canadian National Quality Awards Presented

The 2001 Canada Awards for Excellence were presented at the National Quality Institute Summit in Toronto on Oct. 12, 2001. The award, the Canadian equivalent of the Malcolm Baldrige National Quality Award, is administered by NQI. This year's winners include Cardiac Care Network of Ontario, Diversicare Canada Management Services Co., IBM Solution Delivery Services and Dana Corp., which earned two awards.

"The CAE designation is a hallmark of excellence--a validation of an organization's pledge to apply the Canadian Excellence Framework and Criteria as a strategic tool to becoming one of our country's best-run organizations," says Dan Corbett, president and CEO of NQI.

Representatives from Dana Corp., whose Spicer Driveshaft and Structural Solutions divisions were both honored, were particularly proud of the double recognition. "These Awards illustrate the commitment of our people globally to quality and customer service," says Joe Magliochetti, chairman and CEO of Dana.

Much like the Baldrige Award process, companies vying for a CAE don't compete against each other but instead are judged against strict criteria set by NQI. Judges investigate candidates for a solid framework, leadership, planning, customer focus, people focus, process management, continuous improvement and partnerships within the public and private sectors. The awards have been presented annually since 1984.

An inspiring recipient of a CAE Certificate of Merit was 280-student Gleneagles Elementary School of West Vancouver, British Columbia. The school's staff demonstrated an appreciation of quality principles, including teamwork, continuous improvement, learning outcomes and the future needs of their students to be successful in their life and learning endeavors. A Certificate of Merit implies that a recipient's quality system is strong but remains one to two years away from demonstrating sustainable measures of continuous improvement. Although rare, other schools have been honored in the past.

For more information about NQI or the CAE program, visit www.nqi.ca .

USDA Organic Food Rule and ISO Standard Don't Mix, Yet

A fter years of debate and nearly 300,000 comments from the public, the U.S. Department of Agriculture has finalized its national standard for what can--and cannot--be considered organic food. Although many in the industry agree that the National Organics Program Rule of 2000 is a marked improvement from previous versions of the rule, some industry insiders are concerned that it won't comply with ISO 65, the organic-food standard of choice for the European Union, a major importer of U.S. organic foods.

"We've found many areas of noncompliance with ISO 65," warns Lynn Coody, who owns Organic Ag Systems Consulting and identifies six contradictions within the two standards. "The USDA standards are very well-conceived and strong, but the European standard is so ISO-based that the issue is very contentious right now."

Coody, who co-authored the study "Comparative Analysis: ISO Guide 65 and USDA National Organic Program Final Rule," identifies several areas in which the USDA rule and ISO 65 contradict each other, effectively prohibiting a certifier from registering to both standards. These contradictions include issues of seal use, document review, appeals, acceptance of other certifiers' work, changes and nonconformities. A very hot topic, according to Coody, is the "conflict of interest" issue regarding the USDA's decision to ban representatives of registered companies from sitting on the boards of directors of the agency that certified them. "ISO 65, however, is based on the idea that you must have committees that are representative of your constituency," she explains.

USDA officials believe these issues are minor and are focusing their time instead on three other issues. "The majority of the comments from the first proposed rule dealt with the 'big three:' irradiation, sewage sludge and genetic engineering," explains Demaris Wilson, public affairs specialist for the USDA. "We didn't say that these things were acceptable in the first rule; some people just kind of took it that way." The new rule aims to remove any ambiguity.

Concerns aside, the USDA is happy with its product. "The U.S. organic standards are the strictest standards in the world," claims Wilson. "Anything imported into the United States will have to meet the national standard." Coody agrees with Wilson's sentiment, pointing out that there is a provision in the USDA rule that requires a peer review panel.

The question of quality, however, still stands: Will the new USDA rule affect the quality of organic food?

"There is a potential for increased quality because certifiers' own systems are being strengthened by the requirement for mandatory accreditation," suggests Coody. "It provides oversight to the system that certifiers use, which in turn creates quality for the producer. The organics industry has always gone from the bottom up. This is a ratcheting of quality from the top down."

Customer Satisfaction Index Decline Slows

In the wake of September's tragedies and the continuing trend toward an economic recession, a faint glimmer of good news regarding the economy came out of the American Customer Satisfaction Index in August.

According to the ACSI Second-Quarter Report for 2001, customer satisfaction in the second quarter of this year was down only slightly from the previous quarter, dropping 0.01 percent to a score of 72.1 (out of a possible 100). In the previous two quarters, the ASCI had dropped from scores of 72.6 and 72.9, respectively.

The small 0.01-percent slip was influenced by a larger fall in the manufacturing durables industry, which dropped 0.9 percent from this time last year to a score of 78.7. Individual industries are measured on a staggered, yearly basis.

Despite the downturn in durables manufacturing, analysts are somewhat more optimistic than the numbers might suggest. "The gains made in the durable goods sector during 2000 have not completely evaporated," says Claes Fornell, a professor at the University of Michigan Business School. "The scores are generally higher now than they were in 1999. Spending growth for the third quarter of 2001 should be only slightly less than the second quarter. And once the recent income tax rebate is factored in, it may well be that growth in spending remains steady for the third quarter."

Automobile manufacturing was the only sector in the durables industry to avoid loss, staying even at a score of 80. Personal computers, household electronics and consumer electronics dipped 4.1, 3.5 and 2.4 percent, respectively.

Within the automobile industry, Hyundai made the most improvement, jumping an impressive 6.6 percent since last year to a company-high score of 81. During the previous two years, the Korean automaker has climbed 19.1 percent, the largest two-year improvement for the industry in the ACSI's history. The biggest drop in this quarter's report belongs to DaimlerChrysler's Dodge division, which dropped 4.9 percent to a score of 77. That score is an increase, however, from its 1999 score of 75.

In personal computers, IBM fell to a four-year-low score of 71 by slipping 5.3 percent. The company's score was the lowest it's been since 1997. That dip was felt sectorwide, as no other personal-computer maker included in the study showed an increase in customer satisfaction.

In household appliances, Kenmore showed the only gain, rising 1.2 percent to a company-high score of 86. General Electric was the only other maker not to drop its score, staying even at 83, its highest since 1995. Maytag and Whirlpool recorded losses of 4.6 and 3.5 percent, respectively.

The ASCI is considered to be a forecast of consumer spending in the United States. "The data indicate that there's a strong correspondence between ASCI changes (in percent) for any given quarter and changes (also in percent) in consumer spending for the subsequent quarter," Fornell states. "In fact, the ACSI alone accounts for 40 percent of the variation in spending."

For more information about the most recent ACSI report or the index's methodology, visit www.bus.umich.edu/research/nqrc/acsi.html .

CimCore Inc. Forms German Subsidiary
CimCore Inc. recently announced the creation of CimCore GmbH, a wholly owned subsidiary of the portable-CMM manufacturer.
The new company will be located in Hanover, Germany, an area widely considered to be the industrial hub of Europe. Placement of the new factory is critical in the company's plan for global expansion, according to the company. CimCore manufactures portable articulating-arm CMMs for inspecting or reverse engineering fixtures, assemblies or manufactured parts. For more information, visit www.cimcore.com .
World Standards Day Celebrates the Environment
The international standards community marked Oct. 14, 2001, as its 32nd World Standards Day. This year's theme was The Environment and Standards: Close Together. In a unified message from the leaders of three of the world's leading standards organizations (International Organization for Standardization, the International Electrotechnical Commission and the International Telecommunications Union), international standards are described as primary tools in resolving a number of environmental issues and are considered inextricably linked to the environment.
The United States celebrated WSD on Oct. 10 with a reception in Washington, D.C. The World Standards Day Committee, co-chaired by the National Institute for Standards and Technology and the American National Standards Institute, organized the event.

CEJohansson Streamlines for Future Growth
Acting to reduce costs and prepare for expected future growth, CEJohansson has consolidated its Irvine, California, plant into its Eskiltuna, Sweden, facility. CEJohansson, the Sweden-based arm of its parent company, Newport Corp., manufactures the company's metrology systems. Company executives described the move as vital to introducing advanced solutions and utilizing employee experience and knowledge. CEJohansson supplies advanced metrology solutions through production-ready video metrology, contact metrology, software, service, training and calibration products. For more information, visit www.cejmetrology.com .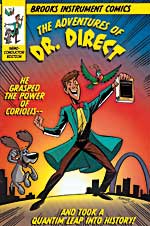 Comic Book Hero Promotes Brooks Instrument
Brooks Instrument has shed traditional marketing ventures and produced a comic book, The Adventures of Dr. Direct, for its new Quantim advertising campaign. The four-color, 16-page book follows Dr. I. M. Direct, an ordinary youth transformed by a tornado into an advocate of coriolis-based mass flow control devices. Dr. Direct, who is named after Quantim's method of measuring and controlling process flow, will solve various problems with Quantim-based solutions.
Brooks Instrument manufactures flow measurement and control instrumentation. For more information about The Adventures of Dr. Direct, visit www.quantim.com .