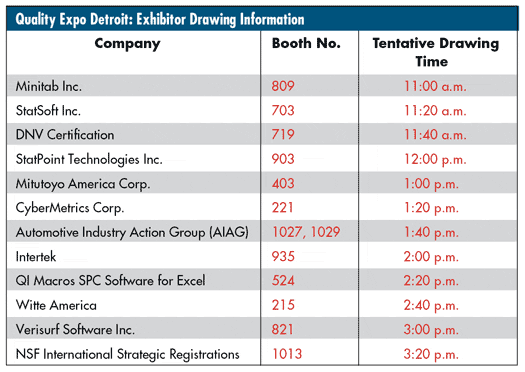 If you haven't done so already, mark your calendars for June 11 and 12. The place? The Rock Financial Showplace in Novi, Michigan. The event? Quality Expo Detroit--truly one of the best opportunities of the year for anyone looking for the products and services that they need to create better manufacturing processes.
Quality Expo is notable for the breadth of exhibiting vendors. At the show, you'll see companies that offer borescopes, calibration equipment and software, coordinate measuring machines, gauges, testing equipment, optical comparators, and much more. It's a one-stop shop for quality professionals from the shop floor to the boardroom.
On the following pages, we've assembled a terrific cross- section of organizations that will be exhibiting at this year's Quality Expo. This roundup of vendors gives you a good idea of the kinds of products and services that you can expect to see in Novi. Be sure to review these summaries and check out the companies' web sites for more information about their offerings. Even better, stop by their booths during Quality Expo and talk to them in person about how they can help you do your job better.
Once again, this year we're creating some added excitement on the exhibition hall floor with $50 American Express gift check giveaways on Wednesday, June 11. Each of the 12 organizations highlighted in this special section will participate in the drawings, giving you a dozen shots at winning a prize. Take a moment to review the drawing times in the sidebar, right, and make it your business to be at these booths at the appointed times on June 11--you may end up with a little spending cash for your night in Detroit, to match the wealth of information sure to be presented to you by these companies' reps at the show.
Of course, while you're in the exhibition hall, be sure to stop by and see your friendly Quality Digest crew at booth No. 116. We're always interested in interacting with our readers and getting your feedback about how we're doing.
We look forward to seeing you in Novi!
Automotive Industry Action Group (AIAG)
Booth Nos. 1027 and 1029
$50 AMEX drawing time: 1:40 p.m.
www.aiag.org
AIAG is the automotive industry's leading nonprofit association where retailers, automakers, suppliers, and other trading partners work collaboratively to reduce costs, complexity, and redundant practices in the supply chain via the advancement of global standards and harmonized business practices. AIAG develops guidelines, best practices, and industry standard documents in the areas of automatic identification, materials management and logistics, customs regulations, engineering, health care, safety and environmental regulations, ISO/TS 16949, and other automotive quality-related processes. Additionally, AIAG offers a variety of certification and training options for improved quality and supply chain business processes.
CyberMetrics Corp.
Booth No. 221
$50 AMEX drawing time: 1:20 p.m.
www.cybermetrics.com/products/GAGEtrak/index.htm
GAGEtrak calibration management software is the world's No. 1 installed calibration management software solution. Achieve and maintain standards compliance and certification, decrease manufacturing costs, improve efficiency, ensure product quality, and increase your company's profitability with GAGEtrak!
GAGEtrack helps you:
• Ensure product quality
• Achieve industry and vendor compliance
• Improve production efficiency
• Decrease manufacturing costs
- • Improve profitability
CyberMetrics provides live technical support, consultation and implementation services, and customized on-site or regional (classroom) training to ensure your company's successful implementation and utilization of GAGEtrak.
With a 20-year track record of success, GAGEtrak provides your company with the assurance and confidence of owning the No. 1 installed calibration management software solution in the world.
DNV Certification
Booth No. 719
$50 AMEX drawing time: 11:40 a.m.
www.dnvcert.com
DNV is a leading accredited registrar for ISO 9001 and ISO 14001, having issued more than 50,000 registrations worldwide. We also offer certification services for ISO/TS 16949, AS9100, AS9110, AS9120, AS9003, OHSAS 18001, TL 9000, HACCP, ISO 22000, ISO 27001, climate-change services, corporate social responsibility, and product certification for the European Union's CE Mark. Our clients range from Fortune 500 industry leaders to small, specialty companies, and our reputation for excellence in both service and industry recognition is well-known. DNV has five U.S. district offices.
Intertek
Booth No. 935
$50 AMEX drawing time: 2:00 p.m.
www.intertek.com
Intertek is a leading provider of quality and safety solutions serving a wide range of industries around the world. From auditing and inspection to testing, quality assurance, and certification, Intertek people are dedicated to adding value to customers' products and processes, supporting their success in the global marketplace.
Our services take us into almost every field imaginable, such as textiles, toys, electronics, building, heating, pharmaceuticals, petroleum, food, and cargo scanning. We operate a global network of more than 1,000 laboratories and offices, with more than 21,000 people in 110 countries around the world.
Customers of Intertek include some of the world's leading brands, major global and local companies, and governments.
Minitab Inc.
Booth No. 809
$50 AMEX drawing time: 11:00 a.m.
www.minitab.com
Minitab is the leading provider of quality improvement software. Minitab Statistical Software--our flagship product--has been used to implement virtually every major Six Sigma initiative around the world. Quality Companion by Minitab supports and guides Six Sigma teams through projects from start to finish, enhancing quality analysis and reporting. Quality Trainer by Minitab provides convenient, subscription- based e-learning for using Minitab to apply quality improvement statistics. Distinguished companies that rely on Minitab software, training, and services to help them achieve world-class quality include 3M, Honeywell International, Toshiba, and the leading Six Sigma consultants.
Mitutoyo America Corp.
Booth No. 403
$50 AMEX drawing time: 1:00 p.m.
www.mitutoyo.com
Mitutoyo America Corp. announces the new QuantuMike line of micrometers. Derived from the words "quantum" and "micrometer," QuantuMike represents the most revolutionary advance in micrometer technology since James Watt's invention in 1772, and is a quantum leap in micrometer performance. The new QuantuMike provides accuracy at an industry-leading ±1 µm/0.00005 in. and is dust- and water-resistant--rated IP-65.
A coarser thread feeds the spindle at 2 mm per thimble-revolution instead of the standard 0.5 mm--four times faster! Trials show that the QuantuMike's reduces spindle positioning time by approximately 60 percent and decreases overall measurement time by 35 percent on a standard work piece.
NSF International Strategic Registrations
Booth No. 1013
$50 AMEX drawing time: 3:20 p.m.
www.nsf.org
NSF is dedicated to providing services that best fit our clients' unique needs. Our quality management systems and environmental management systems involve a comprehensive review of your business and goals to provide the total solution that your company requires to achieve worldwide recognition. Our certification and auditing services are designed for one purpose: to add value to your business process. If a service doesn't add value, it adds expense, and at NSF we consider this outcome unacceptable. Some of our services include ISO/TS 16949, ISO 9001, ISO 14001, OHSAS 18001, aerospace, information security/ISO 27001, greenhouse-gas management, sustainability services, and more.
QI Macros SPC Software for Excel
Booth No. 524
$50 AMEX drawing time: 2:20 p.m.
www.qimacros.com/excel-spc-software.html
Can your SPC software choose the right control chart automatically? The QI Macros can! The QI Macros is an affordable, easy-to-use set of Excel add-ins that draw run, Pareto, box whisker, histogram (Cp, Cpk), scatter, and control charts. It contains more than 70 fill-in-the-blank templates, such as the Ishikawa diagram, PPAP forms, QFD, DOE, FMEA, and gage R&R for MSA. The QI Macros also performs ANOVA, t-test, F-test, and regression analysis. Compatible with Windows 95 to Vista and Excel 97 to 2007, at $139 per copy it is the most affordable and robust SPC solution on the market. Visit our web site to download a 30-day trial.
StatPoint Technologies Inc.
Booth No. 903
$50 AMEX drawing time: 12:00 p.m.
www.statgraphics.com
StatPoint Technologies Inc. develops the STATGRAPHICS line of statistical analysis software products. For 27 years, the company's flagship product, STATGRAPHICS Centurion XV, has been a leader in the field. It's used by numerous Fortune 500 companies and countless small enterprises for data analysis, statistical modeling, quality improvement, forecasting, DOE, and Six Sigma. STATGRAPHICS Centurion XV is available in French, English, Spanish, German, and Italian versions, with a Korean version now in development.
StatPoint's product line includes STATGRAPHICS Mobile for pocket PC devices, STATGRAPHICS MultiLingual Edition, allowing instant interchangeability between all five available languages, and STATBEANS, a Java library of statistical routines. StatPoint offers consulting, live and web-based training, and customized application services, including SPC, DOE, quality control, and Six Sigma.
StatSoft Inc.
Booth No. 703
$50 AMEX drawing time: 11:20 a.m.
www.statsoft.com
StatSoft is the largest manufacturer of enterprisewide quality control and improvement software systems in the world, and the only company capable of supporting its quality control products worldwide. Founded in 1984, StatSoft is one of the largest producers of enterprise and desktop software for data analysis, data mining, quality control/Six Sigma, and web-based analytics. Its products are used worldwide and are supported with training and consulting services by a worldwide network of StatSoft offices in 24 countries on all continents. StatSoft's software products are used in mission-critical manufacturing applications, in regulated, FDA-controlled industries, and as a foundation of corporatewide Six Sigma initiatives. The STATISTICA suite of data analysis applications is fully web-enabled, offers a selection of user-interfaces, and quickly integrates with virtually all database platforms. STATISTICA has received the highest rating in every independent comparative review in which it has been featured since its first release in 1993.
Verisurf Software Inc.
Booth No. 821
$50 AMEX drawing time: 3:00 p.m.
www.verisurf.com
Verisurf is the world leader in model-based inspection, analysis, and tool fabrication. We are a diverse team of individuals united by our desire to provide the best possible product and support to our customers.
Verisurf Software Inc. is a California-based metrology software-development company that specializes in computer-aided inspection and manufacturing software for a variety of industries.
Verisurf provides solutions with a universal, competitively priced, efficient, and powerful metrology software suite that interfaces with nearly all measurement metrology devices. Verisurf is a model-based definition (MBD) manufacturing inspection solution for the paperless factory.
Verisurf is supported by a powerful computer-aided design (CAD) system (Mastercam) that provides a full suite of CAD modeling features, including solids, surfaces, wireframe, and drafting, plus a full suite of built-in translators for nearly every CAD platform.
Witte America
Booth No. 215
$50 AMEX drawing time: 2:40 p.m.
www.witteamerica.com
Aluquick, the new fixturing system from Witte America, enables high flexibility with a small number of basic components. This new modular fixturing system is comprised of extruded profiles with grooves and incorporates a grid. With its cost-effective standard components allowing high repeatability, Aluquick fulfills current demands regarding main characteristics required for fixture building. Aluquick fixtures allow repeatably accurate positioning using the grids or positioning off-grid using grooves. The intentionally limited number of different Aluquick standard components means start-up is possible with a low initial investment. As a result of the compatibility with existing Witte systems such as Alufix Classic and Alufix XL, almost unlimited expansion is possible.
About the author
Mike Richman is Quality Digest's publisher.