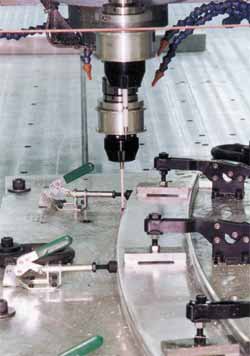 Machine Probe Helps Meet New Boeing Tolerances
Renishaw's MP10 Machine Tool Probe
Shops that machine aircraft parts have traditionally been asked to hold some of the tightest tolerances in the metalworking industry. Now, with its Accurate Fuselage Assembly program, Boeing has begun requiring ultra-tight tolerances that allow fuselage components to snap in place as Legos do. To meet these increased accuracy demands of AFA, Northrop Grumman's Applied Digital Technologies Group not only bought a new machine tool but also fitted it with a Renishaw MP10 machine tool probe for in-cycle gaging of critical assembly hole locations, reducing scrap and speeding throughput of the flight-critical components..