The Dilemma--Part 2
Mary Scott contemplated her dilemma. Her new pseudo-boss, Dennis Tisda, had informed her that he expected her to simultaneously convert the call center into a profit center for shareholders, and to improve customer loyalty by delivering superior service. "Do you have any suggestions on how I can deliver more with fewer resources?" Mary said somewhat sarcastically.
"Glad you asked," he responded, ignoring her tone. "In fact, TechDyno is deploying a process excellence initiative called Quality 2.0. It's an umbrella for many of the existing improvement initiatives that are currently underway, such as lean, Six Sigma, TQM, kaizen, and several others. Our new CEO, Steve McDowell, has added his own innovations and created something truly revolutionary. Your team will need to schedule and complete training soon if you're going to meet Steve's timeline."
"What training?"
"Just a few days of off-site training," he said. "Your team will learn a few key concepts and techniques, then apply them immediately during the workshop."
"Dennis, I don't know if I can spare a few days off site for my entire team. Especially not with the new challenges you've given me here."
"I can help you there, Mary. Do you remember the strategic planning off-site meeting scheduled for next month? Well, that's been canceled. The monthly operations review, too. We'll be overhauling the format of the ops reviews to incorporate the new approach."
Mary decided to ask the obvious question. "How will management stay up to speed without strategic planning and ops review meetings?"
Dennis shrugged. "They were pretty much useless anyway, right? Ops reviews are presentations of hundreds of metrics without a context. Nobody knows what they're solving for during the ops reviews, or at their job, for that matter. Quality 2.0 is different. A lot different. You'll see what I mean during the training.
"Let me show you something," he continued, opening his laptop. "Here's what Steve is solving for at TechDyno." The screen showed a simple table, seen in figure 1.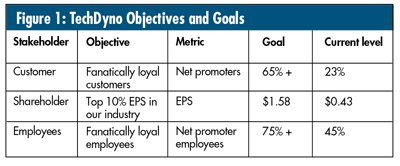 Mary shook her head. "I know what you're thinking," Dennis said. "But with Quality 2.0, these aren't just Steve's dreams. He'll achieve these results--count on it--with our help. Or our replacements' help."
Dennis tapped the keyboard and another slide appeared. It showed each of Steve's goals at the top of what looked like an organization chart, as seen in figure 2.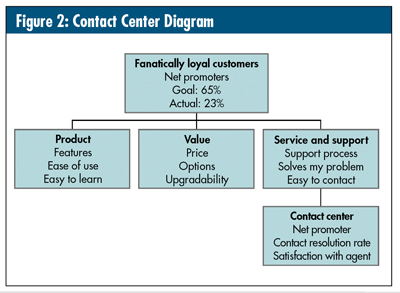 "This is a partial diagram, a work in progress," he explained. "The bottom box is what I'm guessing is the critical driver of the net promoter score for the contact center. You'll need to come up with real models of how the call center affects the net promoter score, validated with data and rock-solid statistical analysis. Then you'll use the models to identify plans, projects, and other changes."
Critical drivers? Models? Data? Statistical analyses? All linked to plans, projects, and management changes in the organization? Mary's head swam as she started to comprehend the magnitude of the differences between the traditional approach to management she'd learned in business school and this new thing called Quality 2.0.
Hang on tight, Mary, she told herself. You're in for one wild ride!
About the author
Thomas Pyzdek is the author of The Six Sigma Handbook (McGraw-Hill, 2003), Quality Engineering Handbook (Marcel Dekker Inc., 2003), and The Handbook for Quality Management (Quality Publishing, 2000). He is a consultant on process excellence. Pyzdek recently received ASQ's E.L. Grant medal. Learn more at www.pyzdek.com .