Basic Block and Tackle
Last year was a landmark for U.S. automakers. Ford Motor Co., the founder of the auto industry in the United States, lost its long-standing second- place standing to Toyota Motor Corp., and General Motors Corp. may also bite the dust because Toyota sold more cars in the United States last year than GM did. Chrysler produced thousands of cars that it wasn't able to sell. In 2000, about two-thirds of all cars purchased in North America were bought from U.S. companies. That figure has now dropped to 54 percent. Detroit sales keep falling while Japanese and Korean auto companies gain ground in the U.S. market. Consumer Reports recommends a much smaller percentage of autos manufactured by U.S. companies than by their Japanese counterparts--37 percent to 80 percent, respectively. "[ U.S. companies'] reliability is hit-or-miss," it states, "not consistent like that of vehicles from some Japanese companies."
Consumer Reports also quotes Jim Hall, automotive analyst for AutoPacific, who says that "from the 1970s to the 1990s, Detroit's attention was focused on finance, sales volume, debt repayment, and other factors--everything but customers."
With 70 percent of vehicles' cost directly related to supplied parts, quality professionals in the U.S. auto industry focused on improving quality in the supplier process. ISO 9001 wasn't stringent enough for them, so they developed their own standard. But what's causing U.S. companies to lose market share isn't incoming quality; rather, it's outgoing reliability. The problem is neither the suppliers nor the production workers in U.S. plants; it's automotive design. Some of the most reliable cars in the world roll off assembly lines in the United States with parts supplied by U.S. suppliers. Honda's Accord, Civic, CR-V, and Odyssey; Hyundai's Sonata and Infiniti; Mazda's 6 and Tribute; Mitsubishi's Galant; Nissan's Altima, Maxima, Pathfinder, and Titan; Subaru's Legacy; Toyota's Camry, Sienna, and Tundra--these cars are all manufactured in the United States. As much as 80 percent of all Toyota Camrys sold in the United States are built in the United States.
Delivered quality is important, but it's not the main reason that U.S. companies are losing market share. Another culprit sharing the blame is long-term reliability. It's not the small percentage of bad parts that are found in manufacturing; it's the good parts that fail before customers are through using them. For instance, I'm unhappy with my Buick Park Avenue. Why? Because the driver's seat control panel broke off from the seat. My mechanic explained that it broke off because as the springs in the seat wear, you put all of your weight on the panel as you get in and out of the car. He said that to fix it, I'd need to get a new seat. The seat control panel is mounted on the left-hand side of the driver's seat, and it's a very large piece of plastic that could have easily been designed to be two to three inches smaller, eliminating the problem.
Why is Toyota winning the market? Because, during a 10-year period, the average Toyota vehicle's total number of problems are fewer than a four-year-old U.S.-brand vehicle. When you compare first-year performance, Japanese and South Korean automakers make the most reliable cars, with 11 problems per 100 vehicles on average. U.S. automakers record 16 problems per 100 cars, and European automakers lag far behind with 19 problems per 100 cars. That's a fairly close grouping, but look at figure 1 to see what happens over time. After 10 years of operation, Toyota vehicles have 63 problems per 100 vehicles, Ford vehicles have 122 problems per 100 vehicles, and GM and Chrysler vehicles have 160 problems per 100 vehicles.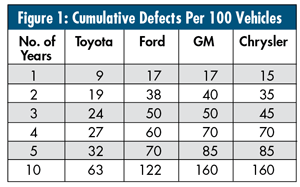 I'm continually asked what's going to come after lean, now that Six Sigma is losing favor. Lean won't correct the problems that the United States is facing. We're never going to be lean enough to offset low-cost labor markets in the Middle East and Africa. Instead, we need to keep in mind something I learned when playing football. We didn't have many great players, but we defeated much better teams. Why? Because our coach made us practice basic blocking and tackling until we had it down cold. That's just what we need to do to get back into the reliability game. Turn our Black Belts into Red Belts--reliability engineers--and learn how to use the tools and approaches set forth in total quality management. Focus on prevention, not on problem solving.
About the author
H. James Harrington is CEO of the Harrington Institute Inc. and chairman of the board of e-TQM College Advisory Board. Harrington is a past president of ASQ and IAQ. He has more than 55 years of experience as a quality professional and is the author of 28 books. Visit his web site at www.harrington-institute.com.