Not Toying Around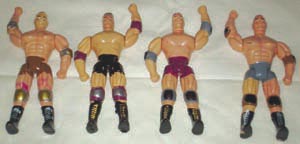 Since a series of recalls over concerns of excessive lead content in paint coating, loose magnets, and harmful chemicals accidentally ingested by children, toy manufacturers in China have been under the quality microscope. Industry officials are now putting more pressure on manufacturers to comply with higher standards.
At the Hong Kong Toys and Games Fair this past January, Carter Keithley, president of the Toy Industry Association (TIA) said, "Our analysis was that our toy safety standards are excellent, as they have been for years, but it was toy safety testing at the manufacturing level and inspection processes that failed us."
Li Qing-xiang, deputy director of the Guangdong Entry-Exit Inspection and Quarantine Bureau in China concurred. "We must admit that any management system, no matter how effective it is, will have loopholes," Li told Japan Economic Newswire. "But the focus of our work should be combating manufacturers who purposely compromise safety standards."
Hong Kong is the world's second largest toy exporter with many manufacturers residing in the Guangdong province. After inspections in 2007, 752 units, or 0.17 percent, failed quality tests and 13 million toys recalled worldwide were found to have different problems, including design faults and unsafe paint coating.
Although Li said that the general quality of toys made in Guangdong is good, he conceded that there was room for improvement. The Guangdong Entry-Exit Inspection and Quarantine Bureau is now setting up clear safety regulations, including stepping up the control of hazardous substances, making manufacturers legally liable for substandard products, and making sure that they comply with local authorities' requirements.
At the seminar, John Tsang, financial secretary for the Hong Kong Special Administrative Region, noted that Hong Kong toy companies responded quickly and effectively to the recent recalls. "A growing number of firms have recruited their own in-house testing teams and are, developing their own testing facilities, says Tsang. "They are using independent performance monitors to ensure that their products are safe. And all companies are subjected to heightened inspection and supervision procedures in the mainland."
In the United States, recent laws passed by Congress seek to gain greater compliance and participation from the industry in five basic areas: testing, traceability, lead-content limits, federalizing of industrial standards, and advertising requirements. "We want to help adopt a law that improves toy safety but does not allow unwarranted government involvement," says Keithley.
Should they be passed, the bills would also change consensus standards to mandatory standards and require mandatory third-party testing before toys are put on the market despite the extra cost burden that would be placed on manufacturers.
"In both versions of the new laws, expect lead content in toy products to be pushed to zero. You are better off finding suppliers who do not put lead in toys," says Richard O'Brien of the Consumer Product Safety Control (CPSC). He added that the CPSC will ask companies for more information. "What we are looking at is not help from the government, but 100-percent participation from the industry itself. The industry is responsive, it is taking up its share of the burden, and we are optimistic that we will be able to put in best practices."
The 2008 Electronic Industry Supply Chain Conference
Attend the 2008 Electronic Industry Supply Chain Conference hosted by ERAI Inc., in Las Vegas, May 1-2, 2008, to learn about the latest issues that are affecting the electronics supply chain. Gather with other industry professionals from all sectors of the market, including franchised and independent distributors, original component manufacturers (OCM), original equipment manufacturers (OEM), contract manufacturers (CM), government agencies, and non-profit associations servicing the industry. ERAI unites the industry to address many of the issues that are plaguing the market. As more companies outsource globally, there are a number of issues affecting supply-chain personnel, program managers, and quality personnel that need to be addressed.
EISCC will cover a number of topics, including counterfeit and high-risk part mitigation, the latest visual inspection programs and techniques to identify counterfeit and high-risk parts, testing techniques and standards for various components, legal liability of counterfeits and high-risk parts in the supply chain, and more.
The conference provides an opportunity for participants to meet with other industry professionals, government officials, and enforcement agencies that are addressing these issues. Collaborate with industry experts and practitioners in interactive and informative workshops. Stay on the forefront, become educated and trained, and remain competitive in the fast paced electronics market.
For more information, visit www.erai.com.
Do the Map
Thanks to all of you for playing last month's Do the Map, hunting down the hidden symbols in our yearly Quality Sourcebook. Along with the correct answers we got plenty of "ahoy mateys," requests for "swag" and "booty," and, of course, enough "arghhhhs" to fill a barrel of rum.
For those who care, here is where all the symbols were hidden:
• Ship's wheel--pages 36, 67, 99
• Telescope--pages 6, 88, 127
• Ship--pages 26, 28, 56, 121
• Cutlass--pages 48, 76, 104, 125
• Pirate's skull--page 60
The winner, chosen at random from all correct entries was Shelly Corpe. Shelly has her choice of a lovely gift from woot.com or walking the plank. The plank may be the wiser choice.
This month's puzzle
Back to math errors. In keeping with our nautical theme, this month's math error, submitted by Dan Renfro, was spotted in the Beacon, a publication of the Coast Guard Auxiliary Association Inc. The publication may be downloaded from www.cgauxa.org/beacon/Fall07BEACON.pdf. The article in question is "We're Aground" by Bob Adriance, starting on page 2.
Submit your answer by clicking the feedback link at the bottom of the page. If we select your correct answer, you will win a fabulous prize from woot.com.
Send us your math murder
Tell us where you spotted an egregious, or at least humorous, math error. If we use it, you win a prize. You must be able to send us a copy of the error or a reference to it on the web so that we can investigate it. We are looking for obvious math mistakes not alternate interpretations of existing data. Send the errors to us at comments@qualitydigest.com.
Six Sigma Travel Procurement
A few years ago, Deloitte & Touche USA in Wilton, Connecticut, started looking at travel management business processes as a broadened supply chain. As one of the largest auditing, consulting, financial advisory, risk management, and tax services firms in the world, Deloitte sends its mass of professionals out to traverse the world and collaborate with independent firms, often at the last minute. By employing Six Sigma methodologies, the company was able to handle the growing demand for meeting services.
Deloitte initiated a more granular approach by first separating the travel and meetings planners into two separate and distinct sections, thereby honing the scope of management and creating a direct route for responsibility within the travel management supply chain.
In an interview with Travel Procurement magazine ("Dismantling Hierarchy: Deloitte Targets Process Efficiencies," Jay Campbell), chief procurement officer Mike McMahon said of the process, "We wanted experienced travel people managing the operation of travel and experienced procurement people managing the procurement of travel."
Next, the company deployed a cross-functional compliance department. By taking on the finer points of compliance from hotels, airlines, transportation, offshore labor, to involving travelers in the process, Deloitte has been able to redefine travel and global conference planning, improve service, and streamline spending.
According to McMahon, "Supplier relationship management is where all the value of strategic procurement is obtained for both buyer and supplier."
Prior to the new system, Deloitte typically juggled about 1,200 meetings annually, each with its own individual contract and legal review. This led to higher costs and greater potential for mismanagement.
Changing its organizational structure and defining exact process improvements has resulted in more efficient procurement and contracts that now fall under an umbrella where all meetings and conferences now have only one master agreement, saving time, resources, and money.
For more information, visit www.deloitte.com.
Students' Quality Circles Convene in India
Delegates from 20 nations participated, and 82 schools from India and 122 from other nations took part in the 10th annual International Convention on Students' Quality Control Circles (ICSQCC) in Lucknow, India, on November 20-December 1, 2007.
Several activity and competition streams were offered, including the Case Study Presentation with three prizes awarded--Ishikawa Award (1st place), Deming Award (2nd place), and Juran Award (3rd place)--as well as consolation prizes.
The host organization for the convention was the renowned City Montessori School and Degree College, a private school with 32,000 students spread over 20 campuses in the city of Lucknow. The school was awarded the UNESCO Prize for Peace Education in 2002, and in 2005 received the Changemakers Innovation Award.
Jagdish Gandhi, founder and manager of the school is also president of the sponsoring organization of the convention, the World Council for Total Quality and Excellence in Education (WCTQEE).
The ICSQCC is held every other year at the CMS Degree College; next year's convention is planned for Istanbul, Turkey.
For more information, visit www.cmseducation.org.
Delayed Take-off for 787
In a January 16 news release, the Boeing Co. of Seattle announced that the first flight of the 787 has been moved from the end of the first quarter of this year to around the end of the second quarter to provide additional time to complete assembly of the first airplane. Deliveries are now expected to begin in early 2009, rather than late 2008.
"The fundamental design and technologies of the 787 remain sound," says Scott Carson, president and CEO of Boeing Commercial Airplanes. "However, we continue to be challenged by start-up issues in our factory and in our extended global supply-chain."
Carson said that while solid progress has been made on the assembly of Airplane No. 1, the rate at which jobs are being completed has not improved sufficiently to maintain the current schedule.
"Our revised schedule is based upon updated assessments from the 787 management team of the progress we have made and the lessons we have learned to date," says Carson. "This includes our experience on the factory floor completing production work on the airplane that was originally intended to be done by our suppliers."
The jumbo jet's production schedule was made even more complicated because Boeing, for the first time, was relying extensively on a global network of suppliers, including 48 tier-one suppliers of everything from landing gear structures from Messier-Dowty in France, to tires from Bridgestone of Japan. It's an innovative strategy that Boeing officials hope will change the way commercial airplanes are built in the future. "This is truly a breakthrough in our industry," Carson told reporters and analysts during a December 11, 2007 conference call.
Challenges arose when components built offsite arrived at the Seattle assembly plant without vital components, such as connectors for the fuselage and completed wiring systems, requiring major rework on the Seattle factory floor.
The 787 will be the first commercial airplane largely made of a plastic composite that is stronger than titanium yet lighter than aluminum. The 200- to 300-seat, wide-bodied plane also features new fuel-efficient engines, and is the fastest-selling skyliner in aviation history, currently on order from 53 different airlines. Boeing sold a record 314 in 2007, says Carson.
The January 16 announcement dramatically contradicted the optimistic tone set in a December 11, 2007 conference call, during which Shanahan and Scott expressed confidence that Boeing had the 787 program back on track after major supply chain management and assembly setbacks earlier in the year.
WCBF Announces New Awards Format
WCBF Inc. has announced changes to the award format for their newly rechristened Global Six Sigma and Business Improvement Awards, to be held on October 15, 2008. The awards will be presented during WCBF's third annual Global Six Sigma Summit, taking place October 14-17, 2008. The site will be determined soon.
Specific awards will now be presented in four general categories, as follows:
Organizational categories
• Best Achievement of Organizational Business Improvement in Financial Services
• Best Achievement of Organizational Business Improvement in Manufacturing
• Best Achievement of Organizational Business Improvement in Chemicals and Pharmaceuticals
• Best Achievement of Organizational Business Improvement in IT, Software, and Telecom
• Best Achievement of Organizational Business Improvement in Health Care
• Best Achievement of Organizational Business Improvement in Services
Business Process Excellence
• Best Project Achievement in Innovation or Product Development (including design for Six Sigma)
• Best Project Achievement in Supply Chain Management
• Best Project Achievement in Business-Enabling Processes--HR/IT/Regulatory/Risk Management
• Best Project Achievement in Health, Safety, and Environment
• Best Project Achievement in Sales, Marketing, or Customer Experience
People
• Six Sigma and Business Improvement CEO of the Year
• Business Improvement Deployment Leader of the Year
• Master Black Belt of the Year
• Black Belt of the Year
Special Awards
• The Platinum Award for Organizational Business Improvement
• The Platinum Award for Process Excellence Project
• Best First-Year Business Improvement Deployment or Best Emerging Business Improvement Deployment
• Best Achievement of Organizational Business Improvement by a Small Organization
• Best Organizational Achievement in Lean Enterprise Improvement
Other upcoming WCBF events include the Lean Six Sigma and Process Improvement in Healthcare Summit, April 1-4, 2008, in Las Vegas, and the Lean and Six Sigma Summit, April 29-May 2, 2008, in Chicago.
To learn more about WCBF events, visit www.wcbf.com/quality. For details on the Global Six Sigma and Business Improvement Awards, including registration and award application information, visit www.tgssa.com.
Quality Conversation with Dr. Tomas Gonzalez
Dr. Tomas Gonzalez, senior vice president and chief quality officer for Valley Baptist Health System of Harlingen, Texas, is a busy man. Not only does he direct quality process improvement at Valley Baptist's two hospitals, he's also a physician and a certified Master Black Belt. Valley Baptist, which began using Six Sigma as its core improvement methodology with the arrival of CEO James G. Springfield in 2001, had a banner year in 2007, including a No. 1 ranking in the United States by the Centers for Medicare and Medicaid Services for heart failure management. In addition, in October, Valley Baptist received multiple awards from WCBF during their Global Six Sigma Awards ceremony; Dr. Gonzalez himself was named WCBF's Six Sigma vice president of the year. He is also a keynote speaker at WCBF's Lean, Six Sigma, and Process Improvement in Healthcare Summit, occurring April 1-4 in Las Vegas. Visit online at www.wcbf.com/quality/5086 for information on the summit, including registration information.
Quality Digest: How do you get physicians to "buy into" quality improvement?
Tomas Gonzalez: By including them. Twenty-seven of our doctors have been trained as Six Sigma Yellow Belts, and sixteen of them serve on the Six Sigma Physicians' Council. The DMAIC process formalizes what physicians have always done with their patients--define (or diagnose) the problem, measure and analyze the problem, improve it, and control it. Physicians expect hospitals to provide environments for their patients with near-perfect processes. Six Sigma provides the tools to achieve that level of quality, to meet the physicians' expectations. The art of medicine is not lost with Six Sigma. Six Sigma is disciplined and data-driven, but it never interferes with the sacred physician-patient relationship.
QD: How do you initiate new projects?
TG: Each fiscal year, there's an opportunity for ideas on quality improvement projects to be proposed at the grassroots level from our physicians, nurses, staff, and medical students. This helps ensure that quality improvement projects are responsive to community needs, as well as to weaknesses in our organization as gauged by those at the point of care. Meanwhile, the commitment to Six Sigma at the top of our organization ensures that our quality improvement projects address national, state, and local priorities, for example, those national priorities identified by the Institute for Healthcare Improvements, the Joint Commission, and the U.S. Centers for Medicare and Medicaid Services.
The process of choosing Six Sigma projects continues with a list of ideas presented to our senior leadership, who discuss the proposals and decide what our quality improvement priorities will be for the next fiscal year. Valley Baptist's quality initiatives department also has a voice in determining whether quality improvement proposals can be effectively implemented using the organization's DMAIC process. Key caregivers and staff are involved from the beginning of each Six Sigma project, because Six Sigma initiatives require the input and participation of those closest to the care or procedure. Patients, family members, physicians, and other customers provide input through the voice of the customer, the starting point for any Six Sigma initiative.
Processes are measured long before any solution is implemented, to obtain the baseline statistics on how often a standard is being met under the current procedures. Solutions are tried and retooled in the pilot phase. Once success is achieved, the improvements are applied on a larger scale in the control phase, and eventually rolled out throughout the hospital and health system. Solutions and ideas for improvement are rewarded, and an even greater emphasis is placed on day-to-day execution of the improved procedures to ensure continuous success.
QD: What's next for Valley Baptist? Have you considered applying for the Malcolm Baldrige National Quality Award?
TG: Yes. We are working on applying for the Baldrige Award. In addition, we have another wave of initiatives underway at both hospitals, and we are refocusing our quality initiatives department to achieve greater participation and input from nurses, physicians, and board members. We will seek to continually raise the bar as we strive to deliver the highest quality of care to each and every patient and to be at the top of the nation when it comes to delivering quality health care.
Wall-to-Wall Quality
We do not have a formal lean or Six Sigma process," says Anthony Minite, president of Bentley Prince Street, the largest commercial carpet manufacturer in California. Instead, the company developed its own quality, improvement process. "QUEST (Quality Utilizing Employees Suggestions and Teamwork) is our associate-driven, companywide program that was begun in 1994. Through meetings, teams and training, QUEST is an integral part of how we do business every day."
Through ISO 9001 and 14001 and QUEST, employee's are empowered to create new ideas, processes, and products while keeping sustainability at the forefront of everything the company does. "For example, our associates created a way to capture shear lint, which then can be sold to other industries as pure fluff. This not only keeps this type of waste isolated, but also adds to our bottom line," says Minite
Through the QUEST program, Bentley Prince Street employees form teams around a particular process or procedure and determine what steps can be taken to eliminate waste in that process.
"Waste is defined as anything that does not add value to our customer," explains Minite. "Through our QUEST Teams, Bentley Prince Street has improved our processes, eliminated waste, and greatly decreased our environmental impact."
As well as winning recognition for environmentally positive business practices, in 2007 Bentley Prince Street was named one of "Best Places to Work In Los Angeles," by Los Angeles Business Journal.
For more information, visit www.bentleyprincestreet.com.