3M Sued Over Six Sigma Practices
One current and one former employee of manufacturing giant 3M Co. filed suit against the company recently, charging that its implementation of Six Sigma discriminates against older workers.
The suit, filed by Clifford L. Whitaker and Michael V. Mucci, alleges that 3M favors employees under the age of 45 for intensive Six Sigma training. At issue is 3M's intricate set of personnel rules, promotion evaluations and quality training, which the plaintiffs allege is set up to favor younger workers. While both Mucci and Whitaker have had some Six Sigma training (according to their lawyer, Mucci is a Green Belt and Whitaker has received Design for Six Sigma training), they claim that hundreds of their less-qualified younger colleagues were chosen for further training--as Black Belts and Master Black Belts.
In the suit, Mucci and Whitaker point out that when the company chose about 1,000 employees for Black Belt and Master Black Belt training last year, "the vast majority" of those approved were under 45, even though the pool of eligible employees contained many employees over that age. Employees that reach Black Belt and Master Black Belt status are far more likely to be promoted, according to the lawsuit.
According to its Web site, 3M started using Six Sigma's statistical analysis tools in 1995, and implemented the methodology companywide in 2001. In a statement, 3M claims the suit is without merit and vows to "vigorously defend" itself in court. On its Web site, 3M reports that it has trained more than 30,000 employees in Six Sigma, and that it planned to train all its salaried employees as Six Sigma Green Belts by the end of 2004. According to 3M literature, the company has closed 11,000 Six Sigma projects, and has another 12,000 underway.
However, attorney Susan Coler, who represents Mucci and Whitaker, claims that the aggressive culture produced by Six Sigma created an atmosphere at 3M that made it virtually impossible for older workers to receive the Six Sigma training required to be promoted. Coler, a partner with law firm Sprenger & Lang, claims that the discrimination has been worsened by 3M CEO W. James McNerney Jr.
"3M makes no bones about the type of person it is looking to train in the new methodology," says Coler. "3M's CEO publicly has stated that he views Six Sigma as a 'low-risk way to spot up-and-coming managers.' That same CEO praised another intensive training program for developing future 3M leaders 'earlier in their careers.' We believe that 3M uses this training to give younger employees a huge advantage in their careers over older peers."
In their complaint, Whitaker claims his responsibilities were given to a younger employee (who later became a Master Black Belt) when he was demoted from his position as laboratory manager. Whitaker is a now a senior engineer in stationery products. Mucci left the company in September 2004.
The case has implications that could extend to 15,000 current and former 3M workers, as Coler has asked for class action status for the suit that would extend back to 2001. Coler says she has received "many" calls from prospective plaintiffs asking about joining the case. Before filing suit in Ramsey County District Court, both plaintiffs took their cases to Minnesota's labor commissioner. Whitaker's complaint was dismissed, and Mucci's are still pending, according to the lawsuit.
Several large companies, including Ford Motor Co. and Capital One, have already settled age discrimination claims arising from their use of employee training and rating systems similar to 3M's, Coler says.
When asked about the lawsuit, 3M refused to comment.
For more information, visit www.minnesotaclassaction.com.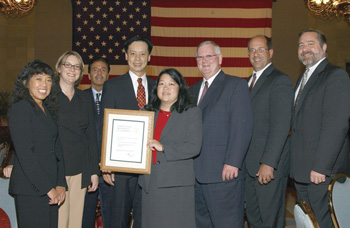 Benjamin H. Wu (center left). Technology Administration undersecretary, and Heidi Hijikata, (center right) International Trade Administration standards liason, presented the federal grant money to ASME members.
Standards Developers Push for Chinese Standardization
A consortium of worldwide standards developers plan to open an office in Beijing in an effort to convince Chinese manufacturers to use U.S. and Canadian technical standards.
The consortium, which is led by the American Society of Mechanical Engineers, will also advocate the development of Chinese standards that are compatible with those in North America, says Mark Sheehan, ASME managing director for development, codes and standards.
The consortium received a $399,500 grant from the Commerce Department's International Trade Administration recently, and will use that money to open the Beijing office. The maximum amount for an award given by the trade administration is $400,000. The other members of the consortium ar
e ASTM International, the American Petroleum Institute and CSA America. All four members are world leaders in standards development.
"This award will help us to immediately establish a firmer standards presence in China," says June Ling, ASME's associate executive director for codes and standards. "Over the past several years, we have developed relationships with key Chinese officials, and having an on-the-ground presence in Beijing will help cement those relationships and further efforts to open Chinese markets to U.S. goods and services."
For more information, visit www.asme.org.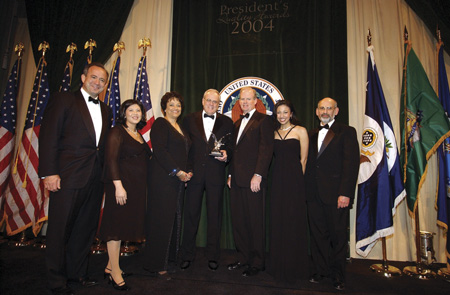 Office of Personnel Management Director, Kay Cole James, Deputy Director at the Office of Management and Budget, Clay Johnson , and Department of State staff members were among the winners of President's Quality Awards.
President Issues Quality Awards
Six federal agencies received President's Quality Awards recently for managerial excellence and commitment to the President's Management Agenda.
The following agencies received President's Quality Awards: the Department of Agriculture, for its National Finance Center's innovation in expanded electronic government; the Department of Education, for improved financial performance agencywide; the Department of Labor, for strategic management of the workforce and budget and performance integration; the Department of State, for innovation in budget and performance integration; and the Department of Treasury, the Internal Revenue Service and NASA, for innovation in competitive sourcing.
The Department of Education is the first Cabinet-level agency recognized for getting high scores on all Office of Management and Budget reporting requirements, and achieving improved status on all measures of improved financial performance.
The Office of Personnel Management, which administers the awards, recently changed the rules by which winning agencies are selected. The new rules reward agencies that have made the most progress in achieving goals set forth by President George W. Bush.
iPod Winner
Rob Boggs, sales/safety director for Southern Rubber Co. Inc., was the winner of an iPod mini for his responses to Quality Digest's annual Reader Survey.
The survey asked Quality Digest readers to give their opinion on the magazine's coverage of industry topics and the quality of the magazine in general. The results of the survey will be used to fine tune editorial content to better match reader's interests. More than 1,800 Quality Digest readers responded to the survey, and Boggs was selected randomly.
Congratulations, Rob!
Nursing Homes Improve Quality of Care
Quality improvement efforts by the Centers for Medicare & Medicaid Services have resulted in fewer nursing home residents suffering from chronic pain and being physically restrained.
Those were among the findings in a recently published study that examined the effects of the Nursing Home Quality Initiative, which was implemented nationwide two years ago. The prevalence of long-term pain decreased by 38 percent and the use of physical restraints declined by 23 percent, according to the CMS.
"By working together, we're creating a higher quality of life for seniors in nursing homes and having a meaningful impact on the care they receive," says Health and Human Services Secretary Tommy Thompson. "Improvements in quality mean improvements in the lives of nursing home residents, as well as peace of mind for their families. The improved outcomes are a great first step, but we know much more can be done."
The NHQI improved quality in nursing home care by:

Strengthening regulatory and enforcement activities to better track and address complaints and deficiencies

Improving and expanding consumer information available online

Strengthening community-based and regional nursing home quality improvement programs

Expanding partnerships with state survey agencies, nursing homes, staff members, and residents and their families to accelerate improvements

Implementing a pilot program in 10 states that expands background checks for prospective nursing home employees

Improving fire safety by increasing the number of comparative life-safety surveys and requiring smoke detectors in areas of nursing homes that don't have automatic sprinklers

Improving the accuracy of Medicare payment systems
CMS is also working with the National Quality Forum to identify quality measures that are considered most important to consumers and nursing home administrators. The agency reports that quality improvement was most prevalent in nursing homes that worked closely with their regional quality improvement organizations.
"We have clear evidence that improved quality of care is an achievable goal," says Dr. Mark B. McClellan, CMS administrator. "We will keep building on our initiatives until all people who need nursing home care are receiving the quality of care they deserve."
For more information, visit www.medicare.gov.
Facts & Figures
66% of executives said they attend one to two seminars or workshops per year. About half of the respondents said they would travel up to 50 miles for a two-hour seminar if the session had perceived value.
--Survey by Purdue University and Flexware Innovation Inc.
ANSI to Accredit Food Safety Auditors
In an effort to bolster consumer confidence in food supplies, the Food Marketing Institute recently selected the American National Standards Institute to accredit the certification bodies that audit suppliers under the FMI's Safe Quality Food program.
The agreement is a pilot program, aimed at ensuring that certification bodies are independent and free of conflicts of interest, that they employ qualified people, and have proper oversight of the products and processes they are contracted to monitor.
"Accreditation provides the necessary additional oversight of the certification and auditing function," says Paul Ryan, executive director of the Safe Quality Food Institute, the FMI division that administers the program. "If a food safety certification program is going to have credibility and be internationally recognized, it must have an accreditation component."
ANSI reports that seven certification bodies have already expressed interest in participating in the Safe Quality Foods program. The program is a fully integrated food safety and quality management system that requires suppliers to ensure that products have been produced, prepared, transported, stored and handled according to stringent international standards. SQF certification ensures that suppliers use the Hazard Analysis and Critical Control Point system.
There are currently 4,000 businesses in 17 countries that have been registered to the SQF standard. For more information, visit www.sqfi.com.
Quality News From China:
Chinese Businesses Receive Six Sigma Awards
The Shanghai Association for Quality recently presented eight Chinese businesses with awards for their innovative, successful Six Sigma implementations. The "2004 Shanghai Six Sigma Excellent Organization Award" selected 37 projects from the eight winning businesses. Total project profit was a little more than $100 million.
It was the first time the SAQ issued the awards, and highlights the growing popularity of Six Sigma in China. The winning businesses represented a broad swath of China's manufacturing industry, says Olivia Zhao of the SAQ. The winners are: Bao Shan Iron and Steel Co. Ltd., Shanghai Airlines Co. Ltd., Shanghai Turbine Generator Co. Ltd., Shanghai Jinting Automobile Harness Ltd., Shanghai Viva Ecology Electronics Technology Co. Ltd., Mettler-Toledo Instruments Co. Ltd. (Shanghai), Mettler-Toledo Instruments Weighing Equipment System Co. Ltd. (Changhzhou) and Ningbo Baoxin Stainless Steel Co. Ltd.
Many enterprises report that the methodology solved problems they once thought were unsolvable. For example, winning company Baosteel decreased its oil consumption by a third after implementing Six Sigma.
Six Sigma has also been used outside of the manufacturing world in China, with much success. Shanghai Jinting Automobile Harness Ltd. saved money by reducing employee turnover, Mettler-Toledo Instrument reduced its spare parts inventory and Shanghai Yongxin Color Tube Co. Ltd. was recognized for markedly improving efficiency by using Six Sigma in its product design processes.