by Dirk Dusharme
All best-of-industry quality processes depend upon data collection. For manufacturing processes, the data often come from measurement instruments used to collect spatial, environmental, electrical, mechanical or physical characteristics from the part being manufactured. Twenty-five years ago, most measurement data were collected manually. But as computers became smaller, more affordable and faster, this function was turned over to them, decreasing the time and increasing the accuracy of data collection.
Years ago, setting up an automated shop floor data collection system involved straightforward decision making: You either bought a dedicated data collection system, had one custom-designed for you, or you put one together yourself using a PC, a data collection box, a multiplexor and some sort of data collection software to communicate with the whole mess.
But these dedicated systems were large, usually sitting either on a benchtop next to where measurements needed to be taken, or on roll-around carts for limited portability. Unless you were built like Arnold Schwarzenegger, you probably didn't lug these systems onto an aircraft wing to take measurements. For data collection from a remote location, you did it the old-fashioned way: a caliper in one hand, a clipboard in the other and a pencil clenched between your teeth. It was tiring, time-consuming and error-prone. Worse yet, the handwritten data had to be transcribed back into a computer for analysis, requiring more time and providing more opportunities for error.
Fortunately, those days are long gone. Portable data collection units now available range in size from fitting in the palm of your hand, like Tescina's 8 oz Visor-based DataGet, to DataMyte's 3.5 lb binder-sized 3000 series of products. Each will upload a measurement process (often called a "route") from a host computer and, once on the shop floor, guide the operator through the measurement protocol using onscreen prompts, greatly reducing training time. They all have an LCD screen to display measurement instructions and results, including alarms for out-of-control processes and ports that will connect to almost any measurement device. All allow alphanumeric entry either through a QWERTY keyboard or a small alphanumeric keypad. All provide varying degrees of on-the-spot SPC data analysis and will download data to a PC workstation for further data analysis. The main differences between products is the number and types of devices they can connect to, the size of the screen and keyboard, the amount of on-the-spot data analysis, battery life, ease of use and special functions.
Is a portable for you?
Although all that functionality in a small package might sound too good to pass up, a portable data collector isn't for everybody. "You go to a portable data collector because you have to," says Erich Shroeder, product manager for DataMyte, an industry leader in portable data collection systems. "If your parts are spread out or too big, you go to a portable."
It also depends upon the job function of the person doing the work, adds Frank Skog, DataMyte's application manager. "For the person whose only job is to collect data, a portable makes sense," he explains. "For a person who takes data while working at a milling machine for instance, a dedicated system may make more sense."
As supplier audits become more the norm and, in some cases, mandated, the ability to quickly set up and take measurements at a supplier's location may also dictate the use of a portable. Most portable data collectors give instant reporting, letting auditors make crucial decisions within minutes instead of hours or days.
A portable probably isn't for you if you need to monitor a large number of devices. "Someone once called me up asking to collect 32 channels of analog data," recalls Oliver King-Smith, president of Tescina Inc., the leader in Palm OS-based data collection. "It quickly became apparent that by the time I was done, he would have a small suitcase filled with connectors that he would then plug into his hand-held. If the amount of wires and connectors is vastly greater than the size of the hand-held, you need to start asking yourself if using a PC might not make more sense."
Finally, if you don't need the functionality of a desktop system, a portable may be more cost effective--even when used as a dedicated data collector.
What to consider
So what things should you think about before deciding on a portable data collector?

Location. Depending on where you need to take measurements, size and weight are considerations. Will the unit and any adapters physically fit where they need to go? Will the operator have to carry the collector continuously or can it be set down? A four-pound unit slung over your shoulder will feel like 40 pounds after eight hours.

One-, two- or no-handed operation: Lacking a flat surface, will the operator need to hold the unit in one hand and measure or input data with the other, or will the operator need both hands free? This ties into the size and ergonomics of the unit as well as its user interface. Some come with a footswitch for triggering actions on the unit, leaving both hands free.

Battery life. All portables run on battery power; some can also run on line power. If the unit you are considering uses only battery (or line power isn't available at the site), will the battery last long enough for your application?

Text entry. Does your application require the operator to input a lot of free-form text? If so, a telephone-style keypad or pen stylus will be tedious. Consider a portable with a QWERTY keyboard.

Ruggedness. What kind of environment will the unit operate in? Is there a lot of dust, spray or other contaminants? Verify with the manufacturer that the unit is designed for use in such environments.

Display. Most portables have a small LCD display. You need to determine how the display will be used in your application and whether a small display will tire the operator. If you constantly need to refer to run charts or other data, a larger screen may be called for.

Desktop analysis. Although all the units shown here will export collected data for use in any third-party analysis software, each is designed to connect directly with one or more popular SPC software packages. If your company is tied into specific analysis software, consider a portable that works directly with your package.

Cabling. Some portables require special adapter cables for each type of gage to be used; others work directly with the cables supplied by the gage manufacturer. If you already have a lot of manufacturer-supplied cables, this may be a consideration.

Wireless. Do you want or require wireless communication with your portable? One advantage with a wireless system is data integrity; the data is sent to a host computer instead of being stored on the unit. If the unit is broken or lost, you still have the data. A wireless system also allows functions such as e-mail and access to documents stored on the host computer. How-ever, wireless units may not work well in areas with a lot of electrical noise (e.g., motors or welders), which can cause dropouts (think cell phone). Before buying a wireless system, make sure that it will work in your environment and that the unit has some sort of data integrity system that prevents lost data in the case of dropouts.

Ports. How many gages and gage types do you need to monitor at one time?

Memory. How much data will you collect before downloading the unit? This isn't as much of an issue with wireless units.
What follows is a list of major portable data collection device vendors and the basic specifications of their products. Pricing is provided as a guideline only. Actual price will vary depending on your options.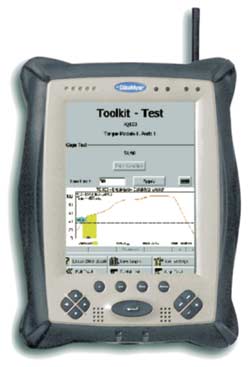 DataMyte
When it comes to portable data collection, DataMyte is the granddaddy of them all and the chief competitor to all who have followed. It was the first company to produce portable data collectors and is considered the Cadillac of the industry. DataMyte's product line is as versatile as it is varied, including not only the portables shown here, but dedicated systems as well.
At around $2,000 to $4,000, the 501 is DataMyte's most affordable portable unit. This slick, ergonomically sound data collector communicates with analog and digital instruments, bar code readers, torque transducers and more. The optional SPC package provides onboard functions such as trending, Pareto, histograms, control charts and alarms.
The predecessor to the 501 is the $6,000-to-$7,000 3053, which offers the same gage connectivity as the 501 but with SPC charting standard, networkability and two integrated torque ports.
The 3055 and 3052 are similar to the 3053, differing primarily in the number and configuration of the gage ports. They sell for around $4,500 to $5,500.
All three of the 3000 series units have a 16 line by 40 character (320 x 128 pixel) display and are the larger of the portables discussed in this article. Unless you need the extra digital ports afforded by the 3000 series, the 501 is probably a better choice.
DataMyte's latest offering is the Auditor. This sleek-looking unit is based on Windows CE and features a large color screen encased in an industrially hardened, splash-resistant, cast magnesium case and bonded Alcryn Elastomer shell.
DataMyte's pitch for this large-screen rugged unit is that it addresses the measurement integrity issue--that is, making sure that the operator takes the right measurement at the right place. The color screen lets the programmer include graphic images of the part to be measured with annotations on where and how to take the measurement. Each step can be graphically prompted, reducing operator training and error.
The unit also includes wireless networking for instantly transmitting data to a remote computer or to allow the user access to files (work instructions, drawings, etc.) stored on a host computer.
Cable compatibility depends on the type of gage. Some DataMyte data collectors use special cables to connect the collectors to particular gages; others work directly with the gage manufacturer's cable.
DataMyte also sells a variety of analysis software for offline data analysis.
From a buyer's perspective, DataMyte offers the stability of a well-established product line and products that cover a large range of applications. It goes without saying that if you're planning on buying from the Cadillac of data collectors, don't expect to pay Yugo prices.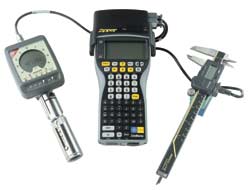 GE Fanuc/Cimworks
The Zipper, manufactured by Cimworks, a GE Fanuc Automation Co., is a shop-hardened hand-held designed for rigorous use. With an IP-54 rating, the Zipper is adequately protected against dust intrusion and splashing water, plus the unit's rugged design will withstand a three-foot drop to a concrete floor.
Cimworks has attempted to incorporate the best ideas from its competitors into this unit and add a few cool features of its own. The unit is lightweight and ergonomically shaped, has a 240 x 100 pixel screen and connects to gages from Mitutoyo, Mahr Federal, LMI and more, as well as torque and RS-232-based gages. The Zipper eases gage connectivity with its GagePort technology, which automatically detects the type of gage connected to the unit and configures the device accordingly.
One apparent design goal for the Zipper was to attempt to minimize operator key strokes; during data collection most functions are available with one or two button pushes. The Zipper also takes the operator out of the data transfer process by making the process hands free; drop the unit into its cradle at the PC docking station and it automatically detects the unit, downloads data and uploads setups with no operator intervention. For sites using several data collectors, Cimworks sells a multiport docking station and software to manage multiple Zippers.
The optional SPC package gives the user on-screen SPC charts and statistics. Once downloaded, collected data is transferred seamlessly to MINITAB or VisualSPC software packages, or it can be exported as delimited text for use in any other third-party analysis software.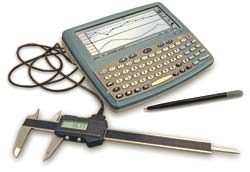 Lighthouse Systems Ltd.
UK-based Lighthouse Systems sells two hardened Windows CE-based portable data collectors, the palm-sized Exodus 500 and the larger and more popular
Exodus 700. Both have a very respectable IP-65 rating, making them dust tight and protected against water intrusion. The Exodus 500 has been drop tested to two meters. These units should be considered if ruggedness is an issue.
Both units come with two Mitutoyo gage ports and two serial ports. An analog input port is optional. The Exodus 500 has a very simple user interface consisting of a numeric keypad, and a handful of arrow keys. The 700 has a QWERTY keyboard and a half-size (640 x 240) VGA color or grayscale screen, making the 700 useful for more graphic-intensive applications or where extensive free-form text entry is required.
According to Lighthouse, the Exodus 700 is the company's most popular unit, probably because it's less expensive and it has a full keyboard and large screen. Unless having a small unit like the 500 is a necessity and worth the extra cost, the 700 is the way to go.
Both units are wireless-ready and a data integrity algorithm ensures that if wireless communication is lost during a data transfer, there will be no lost or duplicate entries upon reconnect.
L.S. Starrett Co.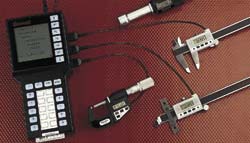 Starrett's 772 series of data collectors weigh only about 1.5 lb and come equipped with two or eight gage inputs, an RS-232C serial port and the ability to input data directly through the keypad. Plug-in modules interface the 772 to Starrett gages, as well as gages from a variety of other manufacturers, such as Mitutoyo or LMI, without the need for special adapter cables. The unit accepts both analog and digital gages.
As with other products designed expressly for data collection, the 772 is ruggedized and sealed for shop-floor use.
Its large memory capacity means the 772 can store weeks or months of data. PCMCIA cards can add extra memory or extra functionality to the unit.
The unit also provides instant SPC gratification with features including X-bar, R and S charts, histograms and characteristic data reports on its LCD display. Charts are updated in real time, and alarms can be configured for out-of-control conditions.
To work with data offline, the 772 can be downloaded into a PC and the data manipulated in Excel or other third-party applications. To aid SPC analysis in Excel, Starrett sells an Excel add-on called SPC IV. This module works seamlessly within Excel to produce SPC charts and analysis with normal or non-normal data.
Tescina Inc.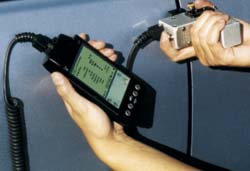 Because of its extensive marketing efforts, Tescina has made its DataGet product the only one of its kind for Palm OS-based data-collection. The unit is even resold by two other data collection manufacturers, Starrett and Zontec, as a low-cost alternative to their companys' products. And no wonder--one of the biggest advantages with DataGet is cost. With Handspring Visors selling ridiculously cheap, the average DataGet system, including software, gage interface module and Visor Deluxe, costs about $500.
Tescina has targeted this product at users who need to collect a lot of data but don't need a large number of input ports or extensive on-screen data analysis, although DataGet does provide basic SPC run charts and alarm capabilities.
Input modules easily connect DataGet to the majority of gage interfaces using standard cables, including gages from Starrett, LMI, Mitutoyo and others, as well as RS-232 devices, thermocouples, torque gages, gap gages and more. Both analog and digital signals are supported.
If all you really need to do is collect a lot of data for analysis later, a DataGet may be the ticket. Weighing only 8 oz, the unit slips into your pocket. Back at your computer (PC or Macintosh), slide the unit into its cradle and synchronize it to your Palm desktop as with any other Palm application. Two third-party software packages, PQ Systems' SQCPack and Zontec's Synergy 2000, will take data directly from the Visor for instant analysis. It also directly connects to Microsoft Access and Excel.
Although not as rugged as purpose-built shop floor data collectors, a Visor has no moving parts (e.g., disk drive) so the only real worry is dropping it. The issue here is not the loss of the unit (cheap) but the loss of data (expensive). To guard against damage, Tescina sells GummiGuard, a soft rubber case that tightly encapsulates the unit. Along with the belt hook or neck strap the unit should be reasonably safe from harm.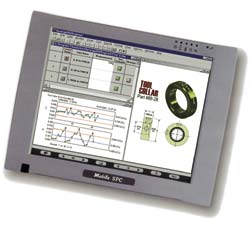 Zontec Inc.
Months before the November 2001 Comdex at which Bill Gates hyped the evolution of tablet computers, Zontec Inc. had already taken the leap with its Mobile SPC product. Using an off-the-shelf Fujitsu Stylistic 3500 tablet loaded with a standard wireless communication port, Zontec provides a solution that connects this portable data collection tool directly to a network server running the company's Synergy 2000 product. The Zontec Mobile SPC's key selling point is that wireless data collection and Synergy 2000 allow real-time data collection and monitoring from anywhere on the shop floor.
By loading Synergy 2000 directly onto the Mobile SPC, the unit can also be used solo for remote audits or in locations where wireless communication is infeasible.
Zontec supplies interface cables for the majority of digital gages that use a serial interface. Analog measurements require a user-supplied analog-to-serial interface box.
This type of unit fits the bill where a full-screen display or extensive free-form text entry is required. Wireless communication means the user can run standard Windows applications, such as instant messaging, e-mail, and printing to a networked printer directly from the shop floor.
Minus a keyboard (you type directly on the touch screen or use a pen stylus), Mobile SPC is inherently less susceptible to shop-floor contaminants than a laptop or desktop. A concern for some users, however, might be the ruggedness of such units, which, like a laptop, contain a large glass panel display and embedded 15 GB hard drive. Zontec can supply one of the heavier duty tablet computers now on the market if ruggedness is a concern.
About the author
Dirk Dusharme is Quality Digest's technology editor. E-mail him at ddusharme@qualitydigest.com .