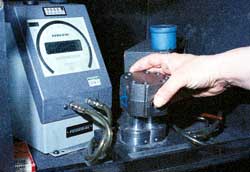 Digital Gages Improve Accuracy
Federal Products Model 832 Gaging Amplifier
Haldex Barnes, a large manufacturer of hydraulic gear pumps and power units, realized substantial productivity and quality improvements by switching from analog to digital display technologies in a variety of shop floor gaging applications. Haldex Barnes found the displays on Federal Products Co.'s Model 832 Gaging Amplifier, used with Federal Products' LVDT electronic gaging probe, to be more reliable and less subject to subjective interpretation. With the help of these digital gages, Haldex Barnes' downstream assembly operations that depend upon the machinists' shop-floor readings are now performed more accurately, resulting in better pump assemblies and fewer rejects..

Software Drives Auditing Success
Integral Solutions APACT
The Victor Reinz division of Dana Corp., a tier one supplier in the transportation industry, found excellence and adaptability in Integral Solutions Inc.'s APACT (auditing, planning and control tool). The division has been using the APACT software application for more than two years, relying on the continued ease the multifaceted program provides