In May 2006, I wrote an article for Quality Digest ("Dialing in Quality for Telecommunications") about the benefits of the TL 9000 quality management system (QMS) for telecommunications. It began with these statements: "If there's one constant that telecommunications industry managers and executives have dealt with over the years, it's frenetic change. Since the industry was deregulated in the United States in the 1980s, several key trends have created a constant state of upheaval while completely changing the dynamics of the telecommunications supply chain."
In that article, I listed the following trends as being key elements of this change:
• Rapid changes in technology
• Consumer demand for speed, mobility, and content
• Globalization
• Outsourcing
Nearly two years later, everything has changed and the industry continues to be in a constant state of flux. Overall market demand has grown and we've seen an explosion of new technologies like fiber-to-the-home and mobile devices that combine pocket computers, telephony, global positioning, and video. Outsourcing continues, and India and China have become major competitors in the global telecom market. Mergers and acquisitions such as SBC–BellSouth and Alcatel–Lucent continue at a steady pace in the service provider and supplier sectors.
Our prediction 19 months ago was that the TL 9000 quality management system, an ISO 9001-based QMS, would provide the telecom industry with a solid footing to maintain and even improve quality despite changes in the supply chain and emerging network technology models. We believed, and still believe, that the standard, in its own way, enables the telecom marketplace to endure radical change by providing a stable framework within which the ever-changing supply chain can flourish.
This is because TL 9000 provides certified telecom suppliers and service providers with a common quality language to help them define mutual quality expectations. It also helps them work together to provide quality and reliable services to end-users, regardless of their current role in the supply chain. This is critical, because an in-house supplier today may easily be tomorrow's outsourced one. A TL 9000-registered organization is more likely to understand the need to modify processes and methods to undertake its new role in the supply chain. TL 9000 also supplies common measurements with which TL 9000-registered companies can benchmark their performance against similar organizations.
QuEST Forum and TL 9000
The governing body of the TL 9000 standard is the QuEST Forum, whose initial vision was and is to be "the key global force in the telecommunications industry to improve quality of products and services to customers." As a result of this vision and QuEST Forum's critical mission to establish and maintain a single, robust, effective quality standard for telecom, the nonprofit organization continues to enjoy success with more than 150 members.
The TL 9000 Requirements and Measurements Handbooks, first released in 1999, are both in their fourth major release. QuEST Forum members have already begun work on Release 5.0 of the standard to incorporate key lessons learned and maintain alignment with the upcoming ISO 9001 revision. The requirements have always included ISO 9001, and as of this writing include 90 additional requirements for registering companies.
The result is a very stable and mature quality standard. This does not mean that TL 9000 is not evolving. Research by QuEST Forum members in 2005 and 2006 provided exhaustive cross-references between TL 9000 and the software industry's capability maturity model integration (CMMI), as well as TL 9000 and the automotive standard ISO/TS 16949. QuEST Forum members will comment and vote on adding comparable elements of CMMI and ISO/TS 16949 to TL 9000 where they consider that there's value for the standard and QuEST Forum members.
Growth and globalization
What leads us to believe that the standard has been successful amid the continuing industry and technology revolution? TL 9000 registrations have grown consistently from 15 in 2000 to more than 1,000 registered locations worldwide today, as service providers and suppliers accept and adopt the standard, as seen in figure 1, below.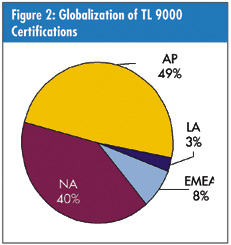 Not only has the total number of registrations grown, but the mix of registrations has also changed as the standard is recognized globally. QuEST Forum began in North America, the brainchild of, among others, Steve Welsh, then- president of procurement for Southwestern Bell Telephone. Founding members always envisioned TL 9000 becoming a truly global standard. Figure 2, right, shows the current composition of registrations. QuEST Forum currently has active regions with volunteers participating in North America (NA); Europe, Middle East, and Africa (EMEA); Latin America (LA); and Asia Pacific (AP). The Asia Pacific regions have subregions in China, Japan, Korea, and Australasia.
Industry improvement
TL 9000 has had its most significant deployment and effect in the "land-line" or traditional service provider supply chain. Wireless and cable operators have yet to embrace the standard on a large scale . Later, we will discuss how and why we believe that this will change. However, the improvement in critical key performance indicators for participating organizations has been real. For instance, one problem that plagued the industry for many years was nonconforming installations (i.e., those with sufficient installation defects for them to fail a standardized quality audit). Issues like this one, as well as others such as poor on-time delivery, became a focus for QuEST Forum. TL 9000-registered installation companies are required to report measurements in these categories. Figure 3, below, shows the improvement made in nonconforming installations as measured by the percentage of nonconforming jobs to total jobs audited. Companies reduced their nonconforming jobs from more than 50 percent to less than 1 percent during a six-year period.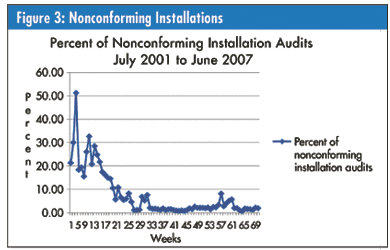 Business opportunity
Not only is the industry better because of TL 9000, but the standard has also had a significant effect on individual companies. Consider that business opportunities arise as companies improve their products, operate more efficiently, and consistently deliver what customers want. This is demonstrated by the following two case studies of companies that have implemented TL 9000.
Dynis
Dynis is a 50-person, minority-owned, engineering, furnish, and installation (EF&I) company headquartered in Columbia, Maryland. In February 2005, the company purchased the assets of the mid-Atlantic division of a national EF&I company. The purchase included contracts, personal property, inventory, approximately 100 employees, and facilities in Maryland, Pennsylvania, and West Virginia. Now, faced with the important task of integrating two different cultures, operations, and EF&I processes, Dynis made the decision to simultaneously commence its pursuit of TL 9000 registration and use its structured quality management system to help with the corporate integration process.
During the next 12 months, Dynis' management team worked diligently to merge two different processes--one automated but less detailed, and the other more manual yet extensive--as a leading system for defining quality, on-time EF&I service. The team developed new processes and procedures across the lines of business. This resulted in the creation of the new Dynis QMS, which has become the backbone of the company and the way it conducts business. TL 9000 helped Dynis achieve cost reduction by removing duplicate expenditures and overhead redundancies, which helped Dynis achieve its return on investment sooner than expected.
The new Dynis exceeded its integration objectives and received its TL 9000 registration and certification on July 18, 2006.
"Our major client, Verizon, was impressed with the overall integration," recalls Earl Scott, president of Dynis. "This fact is further reflected in that the work that was completed during this period received continued positive results on the quarterly quality report cards."
Today, Dynis has established itself as one of the leading network infrastructure services companies specializing in EF&I services to telecommunications service providers.
"Verizon Communications, AT&T Wireless, CISCO, and others have entrusted Dynis with critical deployments of optical, video, data, and power solutions from a number of equipment manufacturers," says Scott.
Intelliswift
Intelliswift is a California-based software staffing and network-integration company that has used TL 9000 to improve service quality and customer satisfaction.
"All employees are… aware that the improved processes and procedures dictated by TL 9000 requirements will help them get better results and more business," says Mike Jani, Intelliswift's vice president of business development.
The TL 9000 requirement of on-time delivery and problem reports helped drive improvement at Intelliswift in the following ways:
• Every employee was made aware of the importance of on-time delivery, maintaining records of delivery, and generating a problem report if the deliveries were not on time.
• There is an improved focus on better customer service, based on the records maintained for on-time deliveries. Data analysis provided a clear picture of the company's performance to all employees responsible for ensuring on-time deliveries. This resulted in a better customer focus that improves on-time delivery numbers and reduces problem reports.
• As part of TL 9000 requirements, Intelliswift designed a Web-based customer survey to obtain client feedback, which has been a major process improvement in its sales department.
"Before the company implemented TL 9000, it did not have a formal system of customer feedback," says Jani. "It was often based on just phone or e-mail exchanges."
Looking ahead
The vision of QuEST Forum is being realized due to the contribution of member companies and their employees working together to create and maintain TL 9000 and expand its reach globally. As the deployment and maintenance of TL 9000 continues, several issues lay ahead.
• Embracing new industry segments . As mentioned earlier, the composition of QuEST Forum and the deployment of the TL 9000 standard is most pronounced within the traditional wire-line or land-line segment of the telecommunications industry. However, this must change because the market is changing. Although voracious consumer demand for voice, data, and video services continues to drive wire-line growth, the increasing demand for mobile voice, data, and video will greatly elevate the demand for wireless services. This will also increase consumer demand for wireless service quality that is on a par with wire-line service quality.
Additionally, consumer expectations for wireless services have historically been low because wireless services have traditionally been less critical. This is not likely to continue as consumers become increasingly reliant on wireless service alone for their critical communications such as E911 (enhanced 911 service for wireless). Consumers who have been satisfied with lower-quality wireless service will want and need wireless service providers to deliver video, mobility, and emergency services with wire-line quality and reliability. Interruptions, long connect times, and calls that cannot be completed will no longer be acceptable.
As these changes continue, QuEST Forum needs to reach out aggressively to the wireless and cable market segments. This has already begun in the Asia Pacific region with the addition of China Mobile Ltd. There is a tremendous opportunity in North America to demonstrate to the wireless community that TL 9000 is a standard that can help their firms improve results by benchmarking and improving key performance areas such as dropped calls, connection time, and others.
QuEST Forum continues to develop liaisons and strategic partnerships with similar organizations, through which member companies are able to express the value of TL 9000 and QuEST Forum membership through panel discussions, keynote presentations, and the like. Furthermore, member company representatives can and do meet one-on-one with executive prospective member companies to explain the TL 9000 value proposition.
• Service provider registration and measurements. Although the complete supply chain is well-represented by various TL 9000 measurement categories that enable comparison of many products and services, wire-line and wireless service providers alike will need additional measurements of network quality and customer experience, such as customer wait times, number of return trips for repairs, and so forth.
• End-user focus. Because service providers have the greatest effect on the end-user consumer experience, QuEST Forum should encourage these firms to certify their brick-and-mortar and online customer-facing organizations to TL 9000. For consumers that need to order or change services, straighten out a billing error, or have repair work done, the experience is often negative in spite of everything that has been done to maximize the quality and reliability of the network.
Summary
The outlook for telecom and QuEST Forum is bright. TL 9000 is a flexible, robust quality standard with the unique characteristic of requiring certifying companies to report performance measurements to an unbiased third party. This measurement strategy has already provided member companies with valuable data used to assess their own performance against others within their line of business. As QuEST Forum continues to strengthen its capabilities, TL 9000 requirements and measurements will further enable wire-line, wireless, and cable operators to deliver high-quality voice, video, and data reliably when and where consumers want it. Although there is more work to be done, QuEST Forum member companies have done an outstanding job in propagating the standard and extending TL 9000's globalization.
About the author
Bob Clancy has worked in the telecommunications industry for more than 35 years, holding key positions in DSC Communications, a leading manufacturer of central office systems, and later with French telecommunications company Alcatel (now Alcatel–Lucent). In 2001, Clancy began BIZPHYX Inc. to provide implementation, support, and training services relating to TL 9000. BIZPHYX is a member of the QuEST Forum, the TL 9000 governing body, and is a QuEST Forum-sanctioned trainer. Clancy serves on the Forum's Global and IGQ work groups providing critical input to the TL 9000 standard and measurements.