ASQ Plans to Offer New Certifications
N early 35 years after deciding to offer certification services for quality professionals in 1966, the American Society for Quality (ASQ) has plans to launch pilot programs for two new certification programs by January 2001.
In November 1999, the ASQ board of directors and the ASQ Certification Board, with sponsorship of the Food, Drug and Cosmetic Division, approved the first add-on certification to the Certified Quality Auditor (CQA) exam. To qualify for the CQA-HACCP (CQA-Hazard Analysis and Critical Control Point), applicants must be ASQ-certified quality auditors and have at least two years of experience working with HACCP, a food-safety system developed during NASA's early years.
The HACCP add-on certification pilot program will be launched Sept. 30, 2000. Its one-part, 100-question multiple-choice test will consist of 10 "HACCP overview" questions, 18 "prerequisite programs" questions, 47 "HACCP plan development"
questions, and 25 "implementation and maintenance of HACCP system" questions.
ASQ Certification History
Current
CQA (Certified Quality Auditor)--1987
CQE (Certified Quality Engineer)--1967
CQT (Certified Quality Technician)--1968
CRE (Certified Reliability Engineer)--1970
CMI (Certified Mechanical Inspector)--1984
CQA-HACCP (CQA-Hazard Analysis and Critical Control Point)--2000
CQM (Certified Quality Manager)--1995
CSQE (Certified Software Quality Engineer)--1996
Planned
CQIA (Certified Quality Improvement Associate)--2001
Six Sigma certification--2001
CQA--Biomedical add-on--TBA
The Certified Quality Improvement Associate (CQIA) certification pilot program is planned to commence Jan. 27, 2001. According to ASQ, a quality improvement associate is an individual who has a basic knowledge of quality tools and their uses and is involved in quality improvement projects but does not necessarily come from a traditional quality area. To be eligible for certification, ASQ requires applicants to have at least two years of work experience or an associate degree.

The CQIA examination will be a one-part, 100-question, four-hour exam made up of 27 "quality basics" questions, 23 "teams" questions and 50 "continuous improvement" questions.

After peaking between 1992 and 1994, certification test numbers seem to have cooled. In fact, between 1992 and 1999, the number of CQE (49%), CQT (19%), CRE (61%), CMI (19%) and CQA (47%) certification test takers has significantly dipped. The only exception to this trend is the relatively new CSQE certification program, which began in 1996 and whose applicant and certification numbers have steadily grown since its inception.

"Some of the programs have peaked," says Sally Harthun, manager of certification at ASQ. "But some are growing. Until two years ago, we did virtually no marketing outside of our organization, so we may have simply saturated our membership." In the past two years, ASQ has begun looking at advertising, direct mail and partnerships with other associations to expand the market for its certification services.

Additionally, ASQ continues to launch new programs, several of which have garnered considerable positive feedback. "We're going to continue to offer quality certification programs in new areas such as service and health care--representing the changing face of quality," explains Harthun.

In addition to the CQA-HACCP and CQIA certifications, ASQ is developing another CQA add-on certification for medical device auditing and a Six Sigma certification program.

The society is currently working on developing an implementation plan for the Six Sigma program. A "body of knowledge" meeting is planned for August 14-15, the fruits of which would need to be approved by ASQ's General Technical Council, then the Certification Board and, finally, the board of directors before becoming an official certification program. A target pilot date of January 2001 has been set.

ASQ's Biomedical Division is currently developing a body of knowledge for the second CQA add-on program. More information about all of ASQ's certification offerings is available at www.asq.org/standcert/cert.html .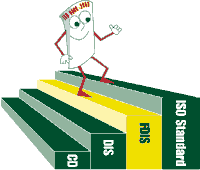 TC 176 Elevates
ISO 9000:2000 Drafts to FDIS
At its July 7 meeting in Kyoto, Japan, ISO Technical Committee 176--the group charged with revising the ISO 9000 standards--voted in a plenary session to elevate the draft versions of ISO 9000:2000 to the Final Draft International Standard (FDIS) stage.
The nine negative votes in the April balloting for the revised standards were reduced to one for each in Kyoto. The nearly unanimous vote represents weeks of tireless revisions and negotiations spawned by the earlier votes and comments.
While in the FDIS stage, the three documents (ISO 9001:2000, ISO 9004:2000 and ISO 9000 Fundamentals and Vocabulary) will be circulated to participating member bodies for a vote on publishing the drafts as international standards. In contrast to the protocol of previous stages, votes will not include comments, and no revisions are to be made at this point.
In the coming weeks, the three FDISs will be edited by the various subcommittees in cooperation with the ISO Central Secretariat and are expected to be available for balloting by participating member bodies in early September. The target date for the publication of the revised ISO 9000 series of international standards remains mid-November.
For more information, visit the ISO Web site at www.iso.ch .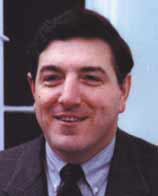 Juran Institute Names New Head
On July 1, Joseph A. DeFeo changed titles from executive vice president and COO of the Juran Institute to president and CEO as his predecessor, Quality Digest columnist A. Blanton Godfrey, left the consulting company to become dean of the College of Textiles at North Carolina State University.
DeFeo now leads Juran Institute's strategic business operations and business developments globally. He is responsible for providing executives worldwide with business solutions and organizational training to improve the efficiency and quality of virtually every operation performed by a company and its employees--including design, manufacturing, inventory, delivery and all transactional processes.
With more than 15 years of experience as a business professional, DeFeo has established an impressive track record of successfully helping companies--in industries including aerospace, automotive, semiconductors, and secondary and higher education--to reduce costs while improving their processes.
Juran Institute provides a wide range of training and consulting services and products devoted to improving organizations' business performance by focusing on improving and reengineering the quality of goods, services and processes. Visit the company's Web site at www.juran.com .
Building a Capacity for Change
Despite all of the talk about continuous improvement, few consider that such efforts are de facto calls for continuous change. Some changes are successful, and others are not. But success may not have as much to do with the logic of the proposed change as with your organization's ability to deal with change at all, says Rick Maurer, author of the new Building Capacity for Change Sourcebook.
"Some organizations create sound change-management practices that build support for new initiatives," suggests Maurer. "Others go from change to change making the same mistakes over and over again."
Maurer states that only one-third of all major changes succeed. The reason, he continues, is simply resistance. Most approaches to managing change ignore or trivialize the need to build commitment to changes such as mergers, reengineering and new software systems.
Failed changes cost organizations dearly. Research indicates that resistance is the main reason why so many new initiatives go severely over budget or are implemented in ways that aren't worth all of the effort and cost.
Building Capacity for Change Sourcebook
is written for executives, project managers and consultants--anyone who must lead or influence people who are leading organizational changes. Whether working on a merger, reengineering, reorganizing or enterprise resource planning (ERP), leaders will find ideas and practical tools they can use immediately.
According to Maurer, there are four major principles that must be addressed in order to build a capacity for change:

Know the lay of the land


Build bridges


Examine the past and steal from the best


Take action in a way that builds commitment to the change
Maurer believes that the human side of change has been ignored or just been given lip service for too long. The tools included in his new book are designed to help those who are serious about building commitment to change and keeping major changes possible.
To order the sourcebook or for more information visit www.beyondresistance.com/source .
Registrar VP Joins ANSI-RAB'S QMS Council
T he Registrar Accreditation Board (RAB) has appointed Reg Blake, BSI's director and vice president of corporate development, to ANSI-RAB's National Accreditation Program's Quality Management Systems (QMS) Council. Blake was formally voted onto the council at the recent QMS Council meeting in Indianapolis.
"Blake's appointment is a result of his commitment to the registration industry and his proactive approach of involving RAB in reviewing the ethical operations of BSI," says Robert Perry, president of BSI Inc.
The QMS Council is composed of a blend of industry professionals and top executives at registered corporations, as well as users of its accreditation services: registrars and course providers. The council seeks members with firsthand experience implementing quality management systems in industry, government or similar organizations. Members are selected to provide a balance of experience between the types of programs offered by RAB and the stakeholder interests in the programs, with no single interest group dominating.
"The fact that council members are selected to assist RAB and even challenge the NAP's various projects is a statement in itself about ANSI-RAB's intentions," says Blake. "I look forward to working with the QMS Council members to maintain the best interests of all stakeholders in third-party conformity assessment."
The American National Standards Institute (ANSI) and RAB established the National Accreditation Program for registrars of quality management systems to ensure that the marketplace, including buyers, sellers and the public, can rely on the competence of ANSI-RAB accredited bodies for their activities related to quality management systems. The program also accredits QMS auditor training course providers.
Survey Reveals Startling Automotive
Workplace Misconduct Figures
A recent survey of 2,300 employees in various industries has uncovered a possible epidemic of workplace misconduct within the automotive industry.
Seventy-eight percent of the 117 automotive employees who participated in the survey acknowledged that they had witnessed violations of the law or company standards within the 12 months prior to being questioned.
"Today, the auto industry is more open to new ideas, perspectives and a diversity of approaches," says Dale R. Frank, director and national industry account leader of KPMG's Automotive Products Services practice, which conducted the survey. "While new ways, and sometimes revolutionary ways, are definitely moves in the right direction, they do create significant challenges to companies' internal control systems. This period of significant change and the KPMG survey is management's wake-up call for ensuring that there are effective risk management and control processes embedded in their day-to-day operations."
The KPMG automotive survey found that about 75 percent of workers would not place a compliance helpline call if they noticed any violations on the job. Only one-fourth said they would feel comfortable seeking advice from the compliance helpline if they had questions or concerns about company's standards--a full 15 percentage points lower that the national industrial average.
Other survey findings include:


Only 38 percent of all automotive workers believe their CEO and other corporate executives know what type of behavior takes place in the company. This is 6 percent less than the national industrial average and 10 percent less than the national average in the chemicals and pharmaceutical industries.

When asked if their report would be treated confidentially if a violation was reported to management, less than half said they thought it would. Comparatively, this figure is 11 percent less than the national industrial average and 19 percent less than the national average in the chemicals and pharmaceutical industries.

Only 36 percent of employees in the automotive industry said they wouldn't experience some sort of upper management retaliation for reporting a violation. This is 9 percent less than the national industrial average.

Only 77 percent of automotive employees said that their customers are satisfied with the products and services they receive, compared to 95 percent in the chemicals and pharmaceutical industry. This automotive statistic is 12 percent less than the national industrial average.
However, the survey results also inspire some optimism and provide direction for changing what may be a critically dangerous cultural truth within the automotive industry.

Nearly half (42 percent) of automotive employees said that if there was a better evaluation of business practices by the company's board of directors, standards would be easier to comply with.

Half of all automotive workers surveyed said that if there was a stronger level of commitment from managers, standards would be met more easily.

41 percent of automotive workers said that if there were more realistic set earnings and growth projections, they would find it easier to comply with company standards.
For this survey, KPMG commissioned one of the world's largest database firms to establish a national database on company standards of conduct, employee perceptions and behaviors relating to organizational ethics. For more information about KPMG services, contact www.kpmgconsulting.com .
Committee Drafts Health Care-Focused
ISO 9000 Guideline
A new guideline document based on ISO 9000 is currently being considered by at least eight countries as a health care standard. Currently in the draft stage, the 70-page document, named "Quality Management Systems--Guidelines for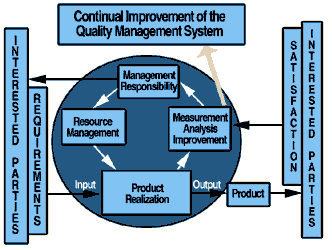 process improvements in healthcare organizations," incorporates ISO 9004:2000, lends guidance on the application of quality management and describes what processes quality management systems for health care organizations should encompass.
A committee with representatives from the American Society for Quality's Health Care Division and the Automotive Industry Action Group created the document to help health care organizations develop fundamental quality management systems that provide for continuous improvement, emphasizing error prevention and the reduction of variation and organizational waste.
The proposed standard provides guidance on quality management systems, including the processes for continual improvement that contribute to the satisfaction of an organization's customers and other interested parties. That guidance is intended to be generic and applicable to all organizations, regardless of the type, size or the product provided.
The document is not a guideline for implementing ISO 9001 and is not intended for certification, regulatory or contractual use, as is true for ISO 9004:2000.
Instead, the proposed standard provides additional guidance for any organization involved in the management, delivery or administration of health care products or services, including training and/or research, in the life-continuum process for human beings, regardless of type, size and the product or service provided. This scope includes private practice offices, dental offices, clinics, hospital-based services (e.g., inpatient, outpatient), ambulatory care centers, home care, skilled nursing, rehabilitation, hospice, pharmacy, durable medical equipment organizations, health care plans, extended care facilities, independent licensed practitioners, diagnostic clinics, third-party payers and ancillary services (e.g., imaging such as MRI, CT scan, X-ray or ultrasound).
Other international standards that relate to health care include ISO 13485 and ISO 17025 (which provide additional information for medical device organizations and commercial laboratory facilities) and ISO 15189 (which provides additional information for clinical laboratories). Quality Digest will follow and report on the development of this guideline document.

Online Education
Omega College is a noncredit online college offering more than 100 classes, including several that relate directly to quality. Classes are held in various formats, which are described in the online course catalog. There is also a free course on taking online classes for potential students new to this format. Classes are grouped together under departments such as business, management, computers and education. Most are individualized, enabling students to get the most positive learning experience possible.
www.omegacollege.com
ASQ Sections
Part of the Quality.org Web site, the page referenced below offers links to dozens of ASQ section Web sites and contact information. A text document listing hundreds of such sections and their headquarters cities as well as e-mail addresses and officer lists is also available.
www.quality.org/html/asqcsect.html
Mistake-Proofing
John Grout's Poka-Yoke page is made available with the support of the Campbell School of Business at Berry College of Rome, Georgia, though it is not an official Berry College page. It features information on mistake-proofing, ZQC and fail-safing. Additionally, an impressive reading list is offered with links to online excerpts from many works. Contact Grout by e-mail at jgrout@campbell.berry.edu for more information.
www.campbell.berry.edu/pokayoke
Best Practices
The Best Manufacturing Practices Center of Excellence was formed through a partnership between the Office of Naval Research, the U.S. Department of Commerce's Bureau of Export Administration and the University of Maryland's Engineering Research Center to work together in an effort to strengthen the U.S. industrial base. Because the Office of Naval Research funds the Best Manufacturing Practices (BMP) program, the use of BMP resources (software, Web site and documents) is free. Visit the site to learn more about this voluntary program and its benefits.
www.bmpcoe.org
To submit your Web site for consideration, e-mail a description of its content to contact_us . Due to space constraints, not all Web sites can be published. More quality-related links are available at www.qualitydigest.com .