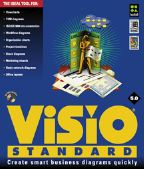 From Office Layout to Process Mapping
Visio Standard 5.0
by Dirk Dusharme
Visio Corp.'s flagship product, Visio Standard, provides the business professional with an inexpensive tool for almost any diagramming need. Designed for breadth, this software offers diagramming tools for everything from TQM to office layout to electronic schematic design.
As a general-purpose program, Visio Standard performs very well, offering much customization and a great selection of diagramming templates. The program's depth is limited, however, for many tools of interest to the quality professional: flowcharting, for instance.
Visio uses the standard drag-and-drop method for symbol placement. Extensive symbol palettes -- "stencils" -- include flowcharting, process control, TQM, office layout and technical symbols. More than one stencil may be open at a time.
The program assists in precise symbol placement by allowing users to snap symbols to rulers or guides. Symbols may be grouped as one entity for easy handling or glued to rulers or guides so that when they're moved, all glued symbols move with them. This feature particularly helps in diagramming office layout: When you move a wall, for instance, all file cabinets and desks can move with it.
The program manages text very well and includes a feature we haven't seen in other diagramming packages: the ability to set tabs, which is useful for displaying diagram information in a table format. Tabs must be set by specifying a numerical offset for each tab stop. A graphical method for inputting tabs would improve this feature.
Visio's use of layers is the reverse from most programs. Users must first select all the objects on a page that they wish to put onto a layer and then specify the layer, rather than selecting a layer and having subsequent symbols automatically placed in it. Layers may be turned on or off, and each includes its own set of rules for glue and snap-to options.
The software offers a moderate selection of TQM tools. A TQM diagramming Wizard assists in generating cause-and-effect charts, force-field diagrams and cross-functional flowcharts. Users may create these on a blank layout page, or input data from an existing spreadsheet or database file created in an ODBC-compliant program.
We played with a variety of Visio's business aids, including timelines, pie charts, organization charts and bar charts. In all cases, data for the graphs was easily changed and caused a corresponding change in the graphs.
Visio Standard offers full OLE and ODBC support, allowing users to link applications such as Access or FoxPro to Visio documents. This, along with the program's file-linking capabilities, offers the means to create diagrams that fully document any process. Procedures or spreadsheets may be called up simply by clicking on a diagram symbol. Office-furniture inventory and costs, process cost analysis or even bills of materials easily are generated using Visio's property report.
The software also does a decent job of publishing html pages for use on Web sites. Pages appear as GIFs, and links are handled as image maps over linked symbols.
Although the program's layout is relatively simple, other important features are not. For instance, users easily may assign variables to symbols such as cost, resources and duration, but getting that data into another database or spreadsheet program for further analysis proves cumbersome and requires a fair amount of knowledge about ODBC. Working with Visio technical support, we spent about 15 minutes figuring out how to create a Microsoft Access database from the data in our Visio document and then link that data to the document. Once you know how, it's easy, but it would be helpful if Visio made the database Wizard a bit more user-friendly.
Visio Standard covers a lot of territory for a modest price, and for that reason alone we recommend it. However, this otherwise excellent package is marred by inadequate documentation. Although layouts prove fairly intuitive, new users will find themselves bogging down when they try to perform any special functions. The company promises a more user-friendly manual and a tutorial in upcoming releases. Meanwhile, we found technical support very helpful in guiding us through our exercises.
Visio provides a good, general-purpose package for business diagramming. A wide selection of templates and customization options allows users to quickly flowchart a process, design an office or produce an organizational chart. If cost is a consideration, and you don't need the frills of a specialized flowcharting or diagramming package, take a look at Visio Standard 5.0.
Visio Standard 5.0 by Visio Corp.
System requirements: 66 MHz 486 processor or better, Windows 95 or NT 4.0, CD-ROM for installation, 16 MB RAM (Windows 95), 24 MB RAM (Windows NT), 90 MB disk for full install (15 MB for minimum install).
Price: $149
Contact: Visio Corp.
520 Pike St., Suite 1800
Seattle, WA 98101
Phone: (800) 248-4746, ext. 93W or (206) 521-4500
Fax: (716) 586-0820
www.visio.com
About the author
Dirk Dusharme is Quality Digest's technology editor.