Effective Oct. 1, Ford Motor Co. will require all new suppliers and those on probation to be third-party registered to QS-9000.
The company has instigated the new policy because it believes that certain suppliers need special attention, according to Steve Walsh, Ford's supplier quality requirements manager. Ford wants to ensure that any new supplier -- which Walsh defines as any company that doesn't currently have a business relationship with Ford -- has certain quality measures in place, he explains. Also garnering special attention are suppliers that have lost their Q-1 preferred supplier recognition and are placed on probation by Ford. The Q-1 designation is Ford's way of ensuring that suppliers meet the company's quality expectations.
However, Ford does not currently intend to follow General Motors' and Chrysler's lead by requiring all of its suppliers to be third-party registered to QS-9000, says Walsh. "If we had wanted to do that, we would have taken that step right now," he notes. Ford is considering whether to require tooling and equipment suppliers to be registered to the TE Supplement, as Chrysler is now doing, adds Walsh.
Another standards development Walsh reports is the creation of an international automotive standard that includes QS-9000 and European auto standards from countries including France, Germany, Italy and Great Britain. Developed by an ad hoc group of original equipment manufacturers, automotive trade groups and consortia, the standard -- tentatively titled TR16949 -- has gone out for a vote by ISO's participating members.
"There's a positive feeling that it will be formally received by the participating members," reveals Walsh. He adds that the vote won't be final until late November.
What will be the future of QS-9000 in the wake of this new standard? "QS-9000 will continue," asserts Walsh. "There's no plan to shelve or discontinue it. Suppliers will have the option to be registered to one standard or the other."

Customer
Service
Celebrated
in October
Whatever It Takes" is the theme of this year's National Customer Service Week celebration, scheduled for Oct. 5–9. The annual event, now in its 10th year, is sponsored by the International Customer Service Association.
National Customer Service Week celebrates the importance of the customer and the customer service profession. The weeklong celebration allows participating companies and organizations to strengthen existing customer ties and commit to greater customer service excellence. The event also offers the public the chance to thank the customer service professionals who serve them.
ICSA suggests a number of ideas for celebrating National Customer Service Week, including rewarding customer service representatives with a trip to a local sporting event; planning companywide activities such as guest speakers, customer service videos or weeklong consulting workshops; distributing customer service surveys to customers; or organizing quality teams to determine how to increase customer satisfaction.
For more information about the event and ideas on how to celebrate, visit ICSA's Web site at www.icsa.com .

U.S. Companies Fail Global Challenges
Are U.S. companies struggling with globalization? In a survey of more than 300 U.S. executives, 78 percent rated U.S. companies as fair or poor on becoming truly global companies, while 82 percent rated the same companies as fair or poor on improving knowledge management and using new information technology.
The survey on 21st-century leadership challenges, sponsored by the private, nonprofit Foundation for the Malcolm Baldrige National Quality Award, identified major trends affecting U.S. companies and the ability of companies to take advantage of those trends. The survey's results will play a key role in guiding the Baldrige Award criteria and program in its efforts to help U.S. companies attain a competitive edge in the global marketplace, says Roger Ackerman, the Baldrige foundation's president.
Most CEOs surveyed said the Baldrige program was extremely or very valuable in stimulating improvements in quality (79%) and competitiveness (67%) in U.S. businesses. In addition to globalization, CEOs cited five other major trends affecting large U.S. companies: improving knowledge management (88%); cost and cycle-time reduction (79%); improving supply chains globally (78%); manufacturing at multiple locations in many countries (76%); and managing more part-time, temporary and contract workers (71%).
To receive a copy of the survey results, call NIST at (301) 975-2762 or access their Web site at www.quality.nist.gov/ceo-rpt.htm .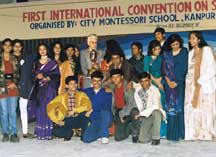 Indian Students
Implement Quality
Circles at School
During a three-day conference held in Lucknow, India, more than 58 schools from that country and other nations considered how to put quality to work in education. Held Dec. 18–20, the first International Convention on Students' Quality Control Circles was co-sponsored by the Quality Circle Forum of India and the City Montessori School.
Through case study presentations, collage and poster competitions, debates, a slogan competition, skits, a quality quiz and panel discussions, students addressed problems that arise in computer labs, how to improve in math, time management, waste management and recycling, and minimizing classroom distractions.
The quality control circle concept took root in Indian education beginning with Lucknow's City Montessori School, a private, multicampus institution that educates 22,000 students. The school's founder, Jagdish Gandhi, approved the school's use of quality control circles.
Gandhi believes in imparting value-based education to his students. "Our objective is to make every child a gift of God to mankind and a credit to the human race," he explains.
Vineeta Kamran, a principal at one of the school's main campuses, put QC circles to work at CMS. In October 1994, Kamran took a quality circle of CMS students -- with an average age of 13 -- to the International Convention of Quality Circles in Hong Kong. There, the students addressed the topic "How to Concentrate on Studies" using cause-and-effect diagrams, histograms, brainstorming and Pareto analysis to develop strategies to help solve the problem. Kamran has since continued her effort to implement quality in education because she recognizes the changes QC circles facilitate in her students' analytical thinking, initiative, confidence and motivation.
Don Dewar, president of QCI International, attended the Lucknow conference as the keynote speaker and was impressed by the young people's enthusiasm. "I was constantly surrounded by students asking good questions, seeking to expand their knowledge of QC circles and total quality concepts," says Dewar.
While there, Dewar met several Indian industrialists who supported the conference. "They see circles as a worthwhile vehicle in developing teamwork and analytical skills in the people they will be hiring in a few short years," observes Dewar.
The conference proved so popular that a second one is scheduled to take place in Lucknow Dec. 16–18, 1999.
For more information, contact Vineeta Kamran, Ph.D., CMS Degree College at fax 91 (0522) 212888.
Hotel Industry Scores High in Financial Performance, Low in Customer Satisfaction
Despite record profits, the lodging industry's customer satisfaction rating stands at a five-year low, according to the 1998 industry results of the American Customer Satisfaction Index.
Since the ACSI was introduced in 1994, the hotel industry's score for customer satisfaction has dropped from 75, on a 100-point scale, to a four-year low of 71 in 1997, where it remained in 1998. While the hotel industry's score for customer loyalty rose one point from last year -- from 59 to 60 -- it's still below that of previous years, and well below the customer loyalty score of the service sector overall (66). The service sector's score, in contrast, rose 6.6 percent to 72.2.
In addition to customer satisfaction and loyalty scores, the study reveals that customer expectations and perceived quality of the lodging experience, which received ACSI scores of 80 this year, have remained relatively flat during the past five years. Perceived value -- what guests receive for what they pay -- earned an ACSI score of 73, its lowest mark in five years.
Developed by a team of research scientists at the University of Michigan Business School's National Quality Research Center, the ACSI offers the only uniform, cross-industry measure of U.S. consumers' perceptions of goods and services. It includes 200 U.S. companies and government agencies in 33 industries.
Ten Ways to Tame Tough Projects
Leading a project can be daunting, especially when the responsibility for success -- and failure -- rests with the leader. Virginia LaGrossa and Suzanne Saxe, authors of The Consultative Approach: Partnering for Results(Jossey-Bass, 1998) offer the following 10 strategies for managing projects successfully:

Fine-tune communication skills.

Clearly define project goals at the first meeting.

Match work assignments with each individual's skills.

Link project goals to the company's business objectives and strategies.

Establish a protocol for project meetings and follow it.

Effectively manage the discussion to ensure everyone is heard and all parties understand and agree on what steps must be taken.

Hold people accountable by making sure they deliver on their assignments.

Keep the project on schedule and on budget by establishing checkpoints to track its progress.

Play, and encourage others to play, many different roles within the project.

If you've been assigned project leader, then lead the project; bother your boss only when necessary or when you have solutions on hand.
Six Organizations Receive Quality Cup

Six companies from five states have received the 1998 Quality Cup, co-sponsored by the Rochester Institute of Technology and USA Today. The award recognizes individuals and teams that make quality improvements in the products and services they provide.
This year's winners include: Education -- University of California, Irvine; Service -- GE Capital Mortgage Insurance of Raleigh, North Carolina; Manufacturing -- AlliedSignal Aerospace MS&S of Tempe, Arizona; Government -- TVA Allen Fossil Plant of Memphis, Tennessee; Health Care -- Rochester General Hospital of Rochester, New York; Small Business -- Diamond Packaging Services division of Henrietta, New York.
In selecting the six winners, RIT's College of Business, USA Today and a panel of experts from around the United States judged more than 150 nominations from organizations and companies nationwide.
Juran Institute Examines Quality on the Net
During a conference held June 15 at the Juran Institute in Wilton, Connecticut, quality professionals gathered to discuss ways to use the Internet and intranets to advance quality efforts, encourage employee involvement and ensure measurable business success within companies.
"It's all about doing better work," declares Howland Blackiston, Juran Institute president. The conference, titled "Quality and the Net," was organized because the institute's clients expressed a need for guidance in new information technologies, explains Blackiston. "We have this great technology but it's tremendously underused," he observes.
Leaders from AT&T, IBM and Xerox discussed the innovative routes they have taken to put technology to work for quality. Topics included real-time quality, delivering strategic information over a company intranet and using the Internet as well as intranets to share best practices throughout a global company.
The feedback from participants has been very positive, reveals Blackiston. As a result, a plenary session on technology and quality will be held at IMPRO '98, a conference sponsored by the Juran Institute and The Conference Board, scheduled for Sept. 24–25 in Las Vegas.
For more information, contact the Juran Institute at telephone (203) 834-1700 or visit www.juran.com