ISO Survey Reports Registration Growth
With the deadline to transition looming and a number of surveys indicating that organizations won't transition in time, the state of ISO 9001:2000 registration is largely a matter of speculation. To gain a sense of registration growth, the International Organization for Standardization has conduced its 12th cycle of The ISO Survey.
A total of 611,209 management systems had been registered to ISO 9000 or ISO 14000 standards at the end of 2002, compared to 547,381 the previous year, according to the survey.
The 12th cycle reports the following highlights:

Through the end of December 2002, 561,747 ISO 9000 certificates had been issued, compared to 510,616 certificates through December 2001.

The top 10 countries for growth in ISO 9000 certificates in 2002 were China (+17,972), Italy (+13,103), Spain (+10,941), Japan (+6,579), Hungary (+2,892), the Czech Republic (+2,862), India (+2,566), the United States (+1,901), Singapore (+1,866) and Switzerland (+1,694).

The number of registrations to ISO 9001:2000 more than tripled in 2002.

The top 10 countries for ISO 9001:
2000 registrations at the end of 2002 were China (40,997), Japan (16,813), Italy (14,733), Germany (10,811), the United Kingdom (9,301), Spain (8,872), Australia (7,024), France (6,529), Switzerland (5,060) and the United States (4,587).

By the end of 2002, at least 42,462 ISO 14001 registrations had been issued in 118 countries, an increase of 12,697 since the end of 2001.

Top 10 countries for growth in ISO 14001 registration were Japan (+2,497), China (+1,718), Spain (+1,164), the United States (+975), Sweden (+660), Brazil (+550), France (+375), Germany (+320) and Hungary (+300).
"Growth can fluctuate from one year to another, and it would be superficial to [evaluate] the success of ISO 9000 and ISO 14000 solely in terms of the number of registrations," says ISO Secretary-General Alan Bryden. "At a time when the globalization of many issues opens world markets, ISO's management system standards provide a globally understood framework for business and thus contribute to creating an upgraded and level playing field."
The ISO Survey includes data on the following aspects of both ISO 9000 and ISO 14001:

World, regional and country-by-country totals of certificates

A breakdown of the world total by industrial sector

A breakdown by country of withdrawn certificates of registration

In the case of ISO 9001:2000, an indication of whether the registrations represent new users or migrations from the 1994 versions of ISO 9001, 9002 and 9003

Whether ISO 9001:2000 certificates cover single or multiple sites, and whether the certificates are accredited or nonaccredited
The ISO Survey of ISO 9000 and ISO 14001 Certificates is available as a combined 42-page report and CD-ROM. An abridged version is posted online at www.iso.org.

Count Down to ISO 9001:2000 Transition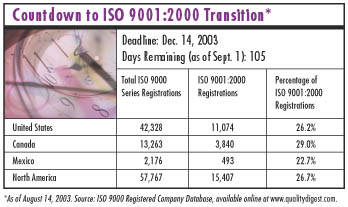 New Standard Targets Project Management Excellence
A new standard in the ISO 9000 family provides guidelines for quality management of projects, wherever they're carried out and whatever the type or size of the organization.
Published by the International Organization for Standardization, ISO 10006:2003, Quality Management Systems--Guidelines for quality management in projects, offers a structured approach for the optimal management of all processes involved in any project, including those that cut across both the internal and external boundaries of the organization.
Using the standard, organizations can ensure that they're applying a process-based approach to projects, in accordance with ISO 9001:2000. Although not a requirement of ISO 9001, ISO 10006 can be used as a basis for agreement among organizations involved in a common project.
"The creation and maintenance of process and product quality in a project requires a systematic approach," says Reg Sutcliffe, principal U.K. expert to the working group that developed the standard. "ISO 10006 provides an approach aimed at ensuring that the customer's stated and implied needs are met, that other interested parties' needs are evaluated and that the organization's quality policies are taken into account in the management project."
The new standard outlines principles and practices applicable to projects of varying complexity, size and duration. It allows organizations to monitor and realize objectives not only of the project process but also of the project product itself, therefore achieving quality in both.
ISO 10006:2003 is the work of ISO Technical Committee 176 Subcommittee SC2. A copy of the standard is available from ISO national member institutes, a list of which can be found at www.iso.org.
ANSI Approves Three Radio Frequency Communications Standards
The International Committee for Information Technology Standards has approved three new standards that define two air-interface protocols and a single application programming interface for real-time locating systems used in asset management. The standards relate to radio band frequency for communication within an organization.
INCITS Technical T20 developed the three INCITS 371 standards over a two-year period. The American National Standards Institute and the INCITS's executive board both approved the series.
"Everyone on the technical committee recognized the huge business value of establishing standards for RTLS technology," says Larry Graham, global manager of manufacturing technologies at General Motors Corp. and chairman of T20. "This standard will encourage widespread adoption of wireless location systems--as the technology has already proven to deliver tremendous bottom-line savings for enterprises around the world."
The INCITS 371 series includes:

INCITS 371.1:2003, Information Technology--Real Time Locating Systems (RTLS), Part 1: 2.4 GHz Air Interface Protocol. This document establishes a technical standard for radio frequency beacon systems that operate at an internationally available 2.4 GHz band frequency. The standard is suitable for applications in which assets need to be tracked throughout extensive areas that are within range of a permanent reader infrastructure. A typical application might involve the monitoring of vehicles through a multi-station assembly line or within a delivery yard.

INCITS 371.2:2003, Information Technology--Real Time Locating Systems (RTLS), Part 2: Application Programming Interface. This document establishes a technical standard for radio frequency beacon systems that operate at an internationally available 433 Hz band frequency and are intended to provide presence and location data for assets that have fixed RTLS tags. The standard is generally applicable for assets that need to be tracked through zones within range of a permanent reader infrastructure. A typical application might involve the monitoring of mobile assets within a military installation.

INCITS 371.3:2003, Information Technology--Real Time Systems (RTLS), Part 3: Application Programming Interface. This document defines the application programming interface. To be fully compliant with this standard, RTLS must comply with either Part 1 or Part 2. An API is a boundary across which application software uses programming language to invoke services.
INCITS focuses on standardization in information and communications technology, encompassing storage, processing, transfer, display, management, organization and retrieval of information. To learn more, visit www.incits.org.
Book Offers Eight Steps to a Lean Office
Administrative functions represent 60 to 80 percent of the total cost of doing business. By eliminating waste from these functions, a company's profit margin can increase. An important part of achieving bottom-line savings is not only converting the factory floor but also the office into a lean enterprise.
A recent book, Value Stream Management for the Lean Office: Eight Steps to Planning, Mapping and Sustaining Lean Improvements in Administrative Areas (Productivity Press, 2002) offers executives, managers, supervisors and team leaders a complete system for lean implementation in the office.
Authors Don Tapping and Tom Shuker modified their factory-floor lean transformation process presented in their first book Value Stream Management and adapted it to work in the office. This how-to book discusses lean tools such as 5S, continuous flow, kanban and standardized work.
The eight steps discussed in the book are:
1. Commit to lean
2. Choose the value stream
3. Learn about lean
4. Map the current state
5. Identify lean metrics
6. Map the future state--customer demand, continuous flow and leveling
7. Create kaizen plans
8. Implement kaizen plans
The book also includes a complete case study that illustrates the applications of lean in an office environment; an overview of basic lean concepts; methods for identifying the administrative activities that need improvement; guidelines and checklists to help direct and maintain lean improvements; definitions of common lean terms and concepts; and a CD-ROM containing lean assessment tools, a storyboard template, charts, a team charter, forms, reports and worksheets.
To learn more, visit Productivity Press at www.productivitypress.com.
Benchmark Study Lends Human Resources Advice
Leading companies understand that one of their most valuable resources is their employees. In turn, human resource managers integrate employee appraisal into HR training to generate the most effective performance management and development processes, according to a study from research and consulting firm Best Practices LLC.
"Best Practices in Employee Performance Management and Development" shows how training practices have proven profitable. Some examples include:

One benchmark partner developed an apprenticeship program to develop employee knowledge across skill competencies. The program enabled the company to achieve Six Sigma production quality and a 90-percent retention rate of employees who participated in the program.

One manufacturer that participated in the study requires that 85 percent of its employees be in continuous training. The company's production rates are four times faster than that of its competitors. The company attributes this growth to continual employee training.

A benchmark partner put continuous training first among its priorities and allowed its training budget to make up 3.3 percent of its annual payroll. This allows the company to generate customer price reductions of up to 22 percent.
Based on information gathered from 70 companies in more than 30 industries, the study contains best practices, benchmarking metrics, case studies and lessons learned. It also contains recruiting and career planning strategies, training information, cost and time investment, delivery methods, and employee evaluation rating systems.
"World-class companies are making tremendous improvements in all areas of human resources," says Chris Bogan, president and CEO of Best Practices. "These companies are investing billions of dollars to develop systems that will increase employee retention and overall workforce morale."
To download a summary of the study, visit www3.best-in-class.com/rr156.htm.
Instantis has partnered with George Group to develop software solutions for lean Six Sigma project selection and tracking, knowledge management, and effective reporting.
George Group, creator of the first lean Six Sigma process, has expertise in program design and a curriculum for lean Six Sigma, design for lean Six Sigma, leadership and lean masters. For more information, visit www.instantis.com/sixsigma.
Veeco Instruments Inc. has purchased the atomic force probe business of NanoDevices Inc.
"This strategic technology will help Veeco provide its customers with probes designed specifically to maximize the performance of Veeco's atomic-force microscopes and will accelerate our development of new AFM products where innovative probe technology can be the critical element," says Don Kania, president of Veeco. For more information about Veeco Instruments, visit www.veeco.com.
The Pratt & Whitney Metrology business unit of Siemens Measurement Systems has been divested from Siemens Energy and Automation. The new company will now be known as Pratt & Whitney Measurement Systems Inc.
Pratt & Whitney designs, manufactures and services length metrology instruments for use in calibration laboratories. Pratt & Whitney applications include SuperMicrometer, LabMaster, Laseruler, LabMicrometer, Electrolimit and GageCal. For more information, visit www.prattandwhitney.com.
Entela-Boston needed more room after expanding its testing capabilities and adding new equipment. Consequently, the company has relocated to a new facility that is more than 50-percent larger than its original location.
Entela's new equipment includes an Unholtz-Dickie vibration machine, a Cincinnati subzero AGREE chamber and a five-meter EMC chamber. With the addition of the new equipment, Entela-Boston now offers the following performance tests: vibration (sine, random and shock), thermal aging, thermal cycling, programmable chamber exposures, temperature/humidity and extensive EMC testing. For more information about Entela, visit www.entela.com.
Perceptron's laser scanning Contour Probe will be used by Romer CimCore in a new scanning inspection system that provides real-time analysis.
The system combines Perceptron's Contour Probe laser scanner, CimCore's six- or seven-axis portable CMM and Delcam's PowerINSPECT software with embedded Perceptron ScanWorks algorithms. The combination of the different technologies provides real-time geometric and surface comparison to a CAD file, point-cloud generation and output to additional CAD applications. For more information about Perceptron, visit www.perceptron.com.
Beta LaserMike has acquired TSI Inc.'s length, speed and diameter product lines, including the Holix series laser gages and the LaserSpeed speed and length indicator.
"This acquisition not only expands our current product offering, but it also expands our capabilities within existing and new markets," says Dan Doster, president of Beta LaserMike.
TSI's sales and service personnel will be retained under the acquisition, and Beta LaserMike will continue to support TSI's current line of process instrument products. For more information about Beta LaserMike, visit www.betalasermike.com.
X-Rite Inc., a maker of precision measurement devices, software and services, has acquired Monaco Systems, a developer and distributor of color management software to the graphic arts and photo markets.
The $10.6 million asset purchase is part of X-Rite's drive to offer color management solutions combined with the company's instruments.
This is the third color-management company acquisition for X-Rite in 2003. Earlier this year, the company acquired Benjamin Moore & Co.'s ColoRx product line and related assets from Thermo Electron Corp., Benjamin Moore's former supplier. More recently, X-Rite acquired ccDot meter products from Centurfax Ltd., a developer of prepress and printing products. For details, visit www.xrite.com.