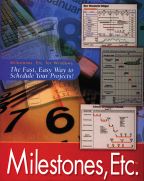 Marking Time
Milestones, Etc.
by Dirk Dusharme
Milestones, Etc. makes project scheduling and planning as easy as clicking your mouse. Using the setup Wizard, and following the excellent documentation, we created a standard Gantt chart in about 10 minutes. We did our testing on the 5.01 beta version, which includes several useful new features.
Up to four calendar rows of years, months, weeks, days or hours can be specified, or users also may define their own calendar units. To lay out a chart, users select a start milestone from the symbol palette and place it on the appropriate task line beneath the desired start date. Click and drag a finish milestone from the start milestone, and the two automatically connect with a specified line type. To change the schedule, users simply click and drag milestones to new start or end dates. Milestones, Etc. provides a wide array of symbol and line types, all customizable, or users can design their own.
Users can create up to 10 columns to display tasks and data associated with the task -- budgeted cost and manpower figures, for instance. A Smart Columns feature automatically places program-generated information into columns; moving milestones automatically updates the column data and vice versa.
The software automatically annotates each milestone with the date and user text notes that move with the milestone. Graphics and free-form text notes may be added anywhere on the diagram. Free-form text suffers from only one drawback: In the latest version, Kidasa removed the ability to resize text blocks.
For large schedules with many tasks and subtasks, Milestones, Etc. provides an outline mode that allows users to identify the hierarchical nature of tasks, i.e., subtasks can be indented beneath the main task. In addition, with a mouse click, tasks can be rolled up to hide subtasks -- ideal when it's only necessary to show a project overview.
Another helpful feature for large projects is the software's ability to sort tasks by name or start date. A filtering feature lets users show only tasks within a certain date range, outline level or by a particular word in the task name. By carefully following naming conventions, users can filter tasks according to department or person.
Task dependencies are easily defined. Connect a milestone of one task to milestones of one or more other tasks, and the dependency is set. Move the parent milestone, and all dependent milestones will follow. The only glitch we found was that dependency lines do not avoid milestones that get between the parent and any dependents.
The software easily handles linking a milestone to another application, document or Web address.
Of course, what good is a schedule if you can't associate important information with it -- cost data, for example? Milestones, Etc. allows users to create up to nine data fields. A field may represent data for calendar units across the entire project (e.g., project monthly budget figures) or data for each task's calendar unit (e.g., task monthly budget figures). Once data is input, it can be graphed using the program's datagraph function.
We were disappointed that Milestones, Etc. does not provide a means for importing user data; it must be input manually or cut and pasted from other applications. This is surprising, given the product's extensive ODBC and OLE support, which are available only for importing scheduling data. The company says they plan to support user data import in future releases.
Version 5.01 also includes the ability to create baseline schedules. The baseline, usually the original "wish" schedule, can be displayed, hidden or locked in place. It's a nice feature for those who need to track schedule slippage.
Another new feature is an Internet publishing Wizard that steps users through creating an HTML page that may include a JPG or BMP image of the Gantt chart. Our test created a usable HTML page along with associated links.
We encountered only minor problems using the software, mostly in the user interface. Milestones, Etc. uses pull-down menus to set preferences. Each time a preference is set, the menu closes, so to set multiple preferences, you must keep reopening the menu. Although the manual was one of the best we have seen, it sometimes refers to example files that are misplaced, and users must browse the Milestones folder to find them.
All in all, this is an excellent piece of software. The easy-to-use interface and comprehensive manual allow users to create project schedules in no time. A reasonable price and good customer support round out the package. Now, if only someone could write a piece of software that made us keep the schedules we create .
System requirements: Windows 95 or NT, CD-ROM or 3.5" floppy disk, 4 MB RAM, 6 MB hard disk space.
Price: $169
Contact: Kidasa Software
1114 Lost Creek Blvd., Suite 300
Austin, TX 78746
Telephone: (512) 328-0167
Fax: (512) 328-0247
www.kidasa.com