Big Three Continue Customer Satisfaction Slide
As if U.S. automakers needed more bad news.
Customer satisfaction with American-made automobiles increased slightly in the latest American Customer Satisfaction Index, but satisfaction with Japanese- and Korean-made cars increased even more, widening the customer satisfaction gap that U.S. automakers have been struggling mightily to close.
Deep discounts on DaimlerChrysler Corp., General Motors Corp. and Ford Motor Co. models pushed thousands of Big Three-made cars off of U.S. car lots this year, but several observers have pointed out that buying exuberance doesn't necessarily equal customer satisfaction. Subir Chowdhury, chairman and CEO of ASI Consulting Group LLC, points out that Toyota Motor Corp., Honda Motor Co. and Hyundai Motor Co.'s laser-like focus on quality and customer satisfaction is evident in ACSI's report.
"The fact is, foreign makers have been very good at making quality the entire organization's focus," he says. "For American automakers, quality is relegated to a department. If there's a quality problem, the CEO will hammer that department. But that's not the way it should be."
Claes Fornell, head of the ACSI at the University of Michigan, reports that rebates, low-cost financing and employee discounts for the public have led to higher sales and ACSI scores in the short term, but they have also taken a toll on profits. Ten years of ACSI data across many industries have shown that while price incentives can be a quick fix to sluggish sales, the remedy is usually temporary and directed at symptoms rather than underlying causes. Rising satisfaction with foreign cars is due to improvements in quality and customization rather than a focus on price.
"It is still not clear that Detroit is taking customer satisfaction, or the lack thereof, seriously," says Fornell. "Their measurement procedures are primitive, problems are not well identified and across-the-board price cutting to reduce inventory has become standard but is not a sustainable strategy."
The ACSI measures a different set of industries each quarter, and each industry is measured once per year. The second-quarter report examined manufacturing and durable goods (automobiles, personal computers and appliances) and e-businesses. The overall ACSI stands at 73.1, halting a six-month decline that left the index more than a point lower than this time last year. In general, a change in the ACSI in one quarter, adjusted on the Consumer Price Index, has been followed by a proportional consumer spending change the following quarter.
For more information, visit www.theacsi.org.
AutoTech 2005 Zooms Into History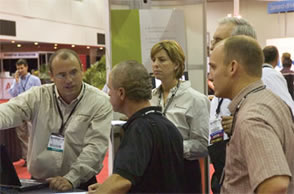 More than 3,500 automotive industry professionals from all over the world were treated to dozens of workshops, forums and presentations from some of the biggest names in the industry at AutoTech 2005.
The event, now in its 18th year, featured addresses from Tom W. LaSorda, chief operating officer for DaimlerChrysler Corp.; Greg Smith, Ford Motor Co. executive vice president and Ford Motor Americas president; and Karenann Terrell, Chrysler Group and Mercedes-Benz vice president and chief information officer.
Cross-company cooperation was a major theme of the conference. LaSorda spoke about the industry's need to create more cooperative relationships between OEMs and suppliers, Smith acknowledged American automakers' declining market share and noted that cross-communication and cooperation are integral to the industry's success, and Terrell addressed information technology's response to the industry's challenges, noting that the traditional Big Three have never worked more closely than they do now.
"I am sure that 15 years ago at this conference, someone stood here and said, 'We have never faced the challenges that we are facing now,'" Terrell said at her lunchtime presentation. "But never has that been more true than it is now. These are historic times for our industry and we are facing them with historic cooperation."
AutoTech is hosted annually by the Automotive Industry Action Group as a neutral meeting ground for competing automotive industry professionals to address common problems and needs. It was held Aug. 29-Sept. 1 at the Cobo Conference Center in Detroit.
For more, visit www.aiag.org.
Worldwide Productivity Movin' Right Along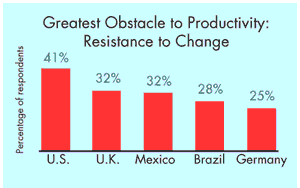 A recently released survey of manufacturers in five industrialized nations has good news to report: productivity is on the increase.
The survey is conducted annually by TBM Consulting Group, which polled 790 responses from executives at mid- to large-sized manufacturing firms in the United States, the United Kingdom, Germany, Brazil and Mexico. The majority of manufacturers in all five countries reported productivity gains in 2004, with 60 percent of U.S. companies reporting improvement.
Customer connection and service played a major role in business improvement. Across the five surveyed countries, 64 percent of companies reported greater efforts to connect with customers. This finding suggests that manufacturers are paying closer attention to the needs of consumers, who increasingly expect innovation, responsiveness and quick solutions to their problems. The survey underscores this fundamental shift in the marketplace and its broader implications for global competitiveness.
The survey also found that lean is increasingly the tool of choice for creating agility and meeting customer demands. A majority of respondents reported productivity gains from lean practices and continuous improvement efforts. In the United States, 64 percent of companies attribute their improved productivity to the adoption of lean culture and continuous process improvement.
When asked what productivity or quality improvement program they use, 72 percent of U.S. respondents reported that lean or lean Six Sigma were their tools of choice. These methodologies were used less in the United Kingdom, Brazil and Mexico (56%, 55% and 42%, respectively). The data suggests that lean culture is driving productivity improvements and innovation in the world's major manufacturing countries, and that lean companies have become more flexible, closer to their customers and better prepared to take advantage of economic cycle upturns.
"Resistance to change" was most often named as the greatest obstacle to productivity, broken down as follows by nation and percentage of respondents: the United States, 41 percent; the United Kingdom, 32 percent; Mexico, 32 percent; Brazil, 28 percent; and Germany, 25 percent. The second-greatest barrier to growth was "lack of leadership," cited by 24 percent of Mexican respondents, 24 percent of Brazilian respondents, 16 percent of U.S. respondents, 15 percent of German respondents and 13 percent of British respondents.
The survey was completed in conjunction with The Manufacturer magazine in the United States, Manufactura magazine in Mexico and Produktion magazine in Germany.
For more information, visit www.tbmcg.com.
News From the U.S. TAG

Alka Jarvis, Cisco Systems manager of software quality, will likely replace John E. "Jack" West as the chair of the U.S. Technical Advisory Group to TC 176. West is stepping down after nine years of leading the committee and Jarvis is the only person nominated for the position. Nominations close November 7, 2005.
At its last plenary session, the U.S. TAG recognized five of its members with professional achievement awards. Morgan Hall was recognized for his work on the TC 176 official interpretations process, Alka Jarvis was awarded for her work on ISO's international survey of ISO 9001 users, Craig Johnson was awarded for his revisions to ISO 9001, Dan Harper was recognized for his work on SC 3 (the TAG subcommittee helping draft standards on customer satisfaction) and Lorri Hunt was recognized for her help in developing some of the TAG's internal processes.
RABQSA Opens Turkey, South Korean Offices
RABQSA International recently ventured into the Turkish accreditation market by opening an office in Istanbul.
The accreditation body partnered with AHI Management Consulting to open the new office, which will provide Turkish customers with direct access to RABQSA services and products. Turkey has become a major manufacturing hub, especially for raw steel and iron production.
RABQSA also announced the formation of an alliance with International System Quality Registrars to expand its services in South Korea. ISQR's Seoul, South Korea office will provide support for RABQSA-certified auditors and training providers. In addition, RABQSA hopes to use the partnership to promote its ISO/IEC 17024 personnel certification options.
The new office and partnership join RABQSA's operations in Australia, New Zealand, Malaysia, Vietnam, Taiwan, Japan, Korea, the United States and Canada. For more information, visit www.rabqsa.com.
ANSI Approves Z10 Standard
The American National Standards Institute recently granted final approval to a new standard, ANSI/AIHA Standard Z10.
The new standard allows organizations to integrate occupational health and safety (OHS) management into their overall business management systems. It focuses on principles that are broadly applicable to all types of organizations, instead of detailed specifications, and is compatible with relevant OHS, environmental and quality management standards.
The reviews for the new standard have been wholly positive, reports Jill Wilson, standards program manager for the American Industrial Hygiene Association, which has served as the secretariat for the Z10 committee. The organization had more than 600 requests to review the draft document during its public review period last year, a previously unheard-of figure, according to Wilson. AIHA has sold 400 of the standards since pre-orders were accepted in late August.
"We've had good reaction so far," Wilson says. "I think there's a lot of interest from people in the industry who want to show that their agencies are performing as they should."
The AIHA is an association of occupational and environmental health and safety professionals, with a membership numbering 12,000. For more information, visit www.aiha.org.
Court Withdraws Judgement in FARO/ROMER Case
The judge presiding over a lawsuit against FARO Technologies Inc. has withdrawn a summary ruling he made in August that the company's use of infinite rotation technology in several of its products infringes on a patent held by ROMER CimCore Corp.
The development reverses a ruling made in August, when the judge agreed with ROMER's claim that FARO illegally uses ROMER's patented infinite rotation technology in its FaroArm articulated inspection device. Also in dispute is FARO's alleged use of ROMER's patented technology in its FaroGage and FaroGage Plus. The technology allows the CMM's three joints to swivel endlessly without encountering a stopping point or needing to be rewound.
"The court's reconsideration is a vindication of our opinion that the prior decision was in error," says Simon Raab, FARO chairman and CEO.
Hexagon Metrology, which owns ROMER CimCore, noted that the judgment does not end the case. There will be another summary judgment hearing on Nov. 7 and the jury trial is scheduled to begin on Jan. 31, 2006.
The companies, which are the two largest manufacturers of portable-arm measurement devices, have been in unsuccessful settlement talks for months.
Darin Sahler, FARO's global public relations manager, says that his company is prepared to pursue the case into a federal circuit court. FARO continued to manufacture and distribute the FaroArm, FaroGage and FaroGage Plus during the lawsuit, pointing out that the case involves "only very minor features" of the disputed devices. It announced a "design-around" solution to the disputed products last month when the summary judgment was handed down against the company.
Raab says that the company stands by its claim that the disputed patent does not apply to FARO's use of the infinite rotation technology. ROMER's patent was issued on Nov. 3, 1998.
This isn't the first time FARO and ROMER CimCore have tussled in court. FARO filed suit against ROMER in January 2002, alleging patent violations. That case was dismissed.
For more information, visit www.romer.com or www.faro.com.
Shanghai News: Quality Management Keeps the Lights On
The Shanghai Power Co.'s use of quality chain management theory allowed it to keep the electrical grid up and running in the bustling Chinese city all summer last year.
The organization recently released a report on the process it used to avoid power failures, which have been common in Shanghai, reports the Shanghai Association for Quality. The quality organization joined with the power company for a public campaign to increase power awareness and reduce power usage, resulting in both decreased power use and more efficient power delivery.
Shanghai Power Co. used a quality chain management theory developed by the Shanghai Academy of Quality Management to improve its power-delivery processes. The theory requires the involvement of all business units in an organization to form and realize a single process. It takes quality, information and value flow as critical chain modes to realize effective quality management throughout the organization.
A survey of Shanghai residents shows that they are increasingly aware of their individual needs to decrease energy usage. The survey, performed by the Shanghai Economic Commission in partnership with the SAQ, found that 96.8 percent of respondents reported that energy saving should start with the individual. More than 79 percent of respondents reported that they are willing to pay more for energy-efficient appliances and 70.9 percent think that saving energy saves not only money but also improves the quality of life.
The results were published in the June issue of Shanghai Quality.