Two of the Big Three automakers will soon require their manufacturing suppliers to be ISO 14001-certified. Ford announced on September 21 that it will require certification to the environmental standard. General Motors quickly followed suit, announcing a similar requirement hours later in words that almost mirrored Ford's.
"We're estimating that this decision will affect about 5,000 of our suppliers worldwide," says Ron Iori, public affairs manager of Ford's purchasing department. A GM spokesperson estimates at least 5,000 GM suppliers will be affected as well.
Ford will require all suppliers with production facilities to certify at least one manufacturing site by the end of 2001. By July 2003, Ford will require suppliers to have certified all sites. "Our own experience with ISO 14001 taught us that a lot is learned after certifying one facility, and that knowledge and those processes can be leveraged to other sites," notes Iori. "So, that's why we felt it was important to use a two-step approach."
GM will require conformance with ISO 14001 by the end of 2002. According to GM, third-party confirmation is "strongly preferred," but the automaker will also accept internal auditing and "a written declaration by a responsible executive" that his or her site is in conformance with ISO 14001. Ford will require accredited certification.
To facilitate the newly required certification, Ford is providing its suppliers free ISO 14001 awareness training in November and December. However, a recent Ford survey revealed that most key suppliers were planning to become or already were certified.
"We have extended that commitment [to the environment] to thousands of other companies, exponentially increasing the benefits of the rigorous environmental certification," states Carlos Mazzorin, group vice president of purchasing for Ford.
Harold Kutner, GM's group vice president for worldwide purchasing and North American production control and logistics, expresses similar views. "Working together with our suppliers, we can accomplish more to improve the environment than GM can alone," says Kutner.
Although both companies herald their decisions as signs of their continued commitments to environmental stewardship, requiring ISO 14001 does affect the bottom line.
"Consumers around the world have shown increasing interest in the environmental reputation of the companies they purchase products from," explains Iori. "Certainly we think this decision will save cost and add value to the customer as a result. ISO 14001 certification enforces such environmental, process and production discipline that increased efficiency is inevitable. We estimate that our own certifications of plants will save us hundreds of millions of dollars in a five-year period."
With that kind of financial benefit, as well as the image of environmental friendliness, Ford and GM's decisions are likely to spawn further support of ISO 14001 within the automotive sector.
DaimlerChrysler may not be far behind Ford and GM. "In keeping with our status as a global automaker, we are studying the possibility of adopting international standards for our suppliers that would support our global manufacturing," says a DaimlerChrysler spokesperson.
Paper Company Breaks New Ground
with ISO 14001 Certification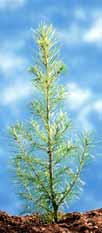 In response to their poor environmental reputation, many forest products com-panies are taking a proactive approach to repairing their image.
On September 20, Blandin Paper became the first such company to register its mill and its forest lands to ISO 14001.
"Our industry has undoubtedly suffered from a historically bad, and sometimes deserved, environmental reputation," says Ed Zabinski, vice president of organizational development and public affairs for Blandin. "We are therefore taking an environmentally aggressive position on the way we manage our forest lands."
It was the registration of those forest lands to the environmental standard that make Blandin's achievement a first. "Several mills have been registered to ISO 14001, but we are the first to include all of our forest lands in the registration," explains Zabinski.
"Water, emissions, noise and workplace issues common to all manufacturing sites were addressed as part of the mill's registration," he continues. "But, for the forest lands, there really is no universal standard. We have voluntarily pursued ISO 14001 because we understand that if we don't monitor the management of our forests ourselves, we are going to be facing more and more restrictions on the manufacture of forest products."
Blandin will follow up with internal audits and independent ISO 14001 verification every six months.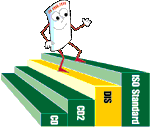 TC 176
Promotes
ISO 9000:2000

D

ozens of those who helped define quality in the 1980s and 1990s recently met in San Francisco to debate quality's form for the new millennium. The fruit of their labor? The ISO 9000:2000 second committee drafts (CD2) were approved for elevation to draft international standard (DIS) status.

"We made a lot of good progress in San Francisco," says Jack West, U.S. delegation leader and chair of the U.S. Technical Advisory Group to ISO's Technical Committee (TC) 176.

The 11-day TC 176 meeting brought delegates from scores of countries around the world, all working toward one objective: revising the CD2 to allow its passage into DIS standing. Subcommittees and technical groups met for a week, sometimes with no more than half a dozen members, and occasionally engaged in heated debate.

Attempting to create a quality standard for various companies of differing type and size from different countries and in different languages provided a number of stumbling blocks. Delegates and committee members were intent on creating a standard that was easily translatable, auditable, ISO 14000-compatible and consistent throughout. At a subcommittee meeting on September 17, that goal appeared to be out of reach.

Draft resolution D4 proposed to move both 9001:2000 and 9004:2000 drafts to the DIS level, but met strong opposition. Several countries' delegates (including those representing Germany, Japan, the United Kingdom, France, Italy, Canada and the United States) proclaimed they would vote against the resolution. Each gave a specific reason, with most believing that the 9004 draft wasn't yet ready for DIS. Due to the objections, resolution D4 was withdrawn before the formal vote.

Two other resolutions that would send the drafts separately still remained. When the subcommittee took a short break before the vote, many delegates speculated that 9001 would pass but would leave 9004 behind. Many were surprised when both passed.

"The majority of concern was that 9004 had not adequately matured," says West. "Once the two drafts got split apart, most countries felt comfortable that 9001 was ready. So we ended up with 9001 winning handily and 9004 winning by the skin of its teeth.

"The fundamental U.S. position has been that we have to go forward together. 9004 needs to be published at the same time as 9001 because, frankly, if it isn't, it probably won't get used. It's our view that the pair needs to remain consistent, be developed in parallel and be published at the same time. When it came down to the time to vote on 9004, I voted for it—but that's based on wanting to see them go together, not on the belief that it had matured enough."

Both evolving drafts are being sent to the ISO Central Secretariat for editing and another round of voting. "The goal of having a published standard in November of 2000 has not changed," says West.

Aerospace Launches New Quality Standard

Just as ISO/TS 16949 harmonizes the Big Three's QS-9000 with the European automotive quality system requirements, a new document, AS9100, is expected to do the same for the aerospace industry's two quality system standards: the U.S. AS9000 and Europe's prEN9001.

ISO Technical Committee 20 (TC 20), the ISO group responsible for aerospace quality issues, met in Madrid, Spain, in June. There, Working Group 11 (WG11)—representing the United States, France, Germany, England, Mexico, Brazil, Japan and China—agreed on the new standard, which will be known as AS9100 in the United States and EN9100 in Europe.

"AS9100 incorporates the expectations by European and Asian companies with what the United States had already spelled out in AS9000," says Eugene Barker, WG11 chair and Boeing technical fellow. "The two major areas of increased emphasis are design control and internal process control.

"After the meeting in Madrid, the standard was then made available for balloting by the Society of Automotive Engineers (SAE) in the United States and the European Association of Aerospace Industries in Europe. The understanding was that other countries would be allowed to publish a translated version. U.S. balloting is completed, and the U.S. standard is approved and ready for publication," says Barker.

However, the United States agreed to postpone publication of AS9100 until Europe has completed its balloting. All signs indicate that Europe will approve the draft as a standard, and the U.S. standard will be published in November.

Aerospace industry insiders expect companies that currently require AS9000 registration of their suppliers to soon require registration to AS9100. "Boeing's official stance is that we will require 'adherence to ISO 9001, supplemented by the new AS9100,' " explains Barker.

The soon-to-be-replaced AS9000 was the result of the adoption of ISO 9000 as a national quality standard and the subsequent cancellation of military specifications MIL-I-45298A and MIL-Q-9858A. However, when this happened, NASA, the FAA and others in the aerospace industry were not convinced that ISO 9000 was industry-specific enough for their needs.

Key aerospace companies, including GE Aircraft Engines, Lockheed Martin, McDonnell Douglas, and Pratt and Whitney, formed the American Aerospace Quality Group (AAQG). SAE helped the AAQG publish AS9000 in May 1997. AS9000 includes all of ISO 9000's 20 requirements, eight notes on those elements and 27 additional clarifications or additions.

In 1998, the International Aerospace Quality Group (IAQG) was formed, of which AAQG is now a part.

Though AS9100 represents an international aerospace quality standard, it is not an ISO standard. "A conscious decision was made not to elevate the standard to an ISO level at this time," says Barker.

Electronic Newsletter
Offers Quality Information
A new monthly newsletter, Quality eLine, is now available to those interested in quality. The free publication from PQ Systems, a leader in statistical process control software and training programs, offers industry news, case studies, information about product enhancements and software tips.
Each newsletter lists five to 10 items with bold headlines for quick scanning and brief descriptions. Readers who find a listed item particularly interesting will appreciate the Internet links listed below each description, which connect to sites containing expanded information.
A free subscription is available from (800) 777-3020, or e-mail sales@pqsystems.com and type "subscribe" in the subject line. PQ Systems' printed newsletter is delivered quarterly to subscribers and can be requested via the aforementioned e-mail address.

RAB Program Certifies Internal Auditors
A new program from the Registrar Accreditation Board (RAB) recognizes qualified internal auditors and the skills they utilize. Accreditation for third-party registrars of ISO 9000-based quality management systems is nothing new, but this program seeks to certify those who perform audits within their own companies.
"If a company is looking toward ISO 9000 registration, they very often want to perform an internal audit as a means to gap analysis," says Janet Jacobsen, RAB's communications manager. "Such audits help a company gauge where they stand in relation to the requirements of ISO 9000."
Likewise, companies are required to monitor processes as maintenance after registration. "ISO 9000 registration is meant to be an ongoing process, which includes conducting internal audits on a regular basis," explains Jacobsen. "Those audits are something that registrars look for when they do their surveying after a company is granted registration."
Each applicant for internal auditor certification is reviewed independently by RAB. However, there are basic requirements that all applicants must meet. "Certified internal auditors must provide evidence of their educational experience, work experience in the quality assurance field, a number of verifiable internal audits they've performed, and completion of an ISO 9000 auditor course in the past few years," says Jacobsen.
After an application is submitted, the RAB performs a technical review process that seeks to verify all pertinent infor- mation. "We think this lends credibility to the certification program," notes Jacobsen. "This program should serve as recognition that certified applicants have achieved certain requirements that make them qualified to do internal audits."
"I'm always looking for opportunities to increase my credibility as an internal auditor and continually learn new things about the profession," says Richard Flutie of Melbourne, Florida, the first to be certified under the new program. Since the program's inception in July, the RAB has certified four internal auditors and has received about a dozen more applications, which are in varying stages of the certification process.
"We noticed a great demand for this type of program from those doing internal audits," explains Jacobsen. "They were saying, 'We want some type of certification that a recognizes a qualified internal auditor.' "
As ISO 9000 grows more popular, so too will the practice of performing internal audits, says Jacobsen.
Registration Industry Continues to Grow
As ISO 9000 has expanded to reach more organizations of more types and in more countries, so too has the registration industry.
A new directory published by the International Organization for Standardization (ISO) lists 264 more ISO 9000 and ISO 14000 registrars than it did four years ago. The 1999 edition numbers (573 registrars in 93 countries) dwarf those of 1995 (309 registrars in 73 countries).
The ISO Directory of ISO 9000 and ISO 14000 Accreditation and Certification Bodies reveals that the most significant growth in the registration industry occurred in Germany, where the number of registrars increased from 21 to 76 since 1995. The addition of 36 registrars in the Netherlands, 18 in China, and nine each in the United Kingdom and South Korea are also documented in the new directory.
As the expansion of ISO 9000 and ISO 14000 led to the rise of new registrars, those new registrars have brought about more accrediting bodies. ISO's 1999 directory lists 40 such bodies, seven more than in 1995.
The inclusion of a list of accreditation and contact information for all registrars makes the directory a useful resource.
The ISO Directory of ISO 9000 and ISO 14000 Accreditation and Certification Bodies is available from the ISO Central Secretariat, which can be e-mailed at sales@iso.ch .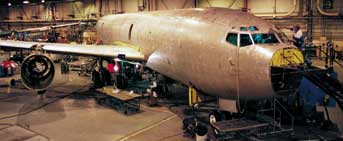 Military Facility Earns ISO 9002 Certification
Tinker Air Force Base's Propulsion Business Area (PBA) recently became the first major U.S. Air Force facility to undergo certification of its quality management system to ISO 9002.
Tinker is one of the only bases supporting both the U.S. Air Force and U.S. Navy. The scope of the registration covered the "management, technical, logistics and contracting processes required to perform the engineering, overhaul, repair, modification and manufacturing of U.S. military aircraft turbine engines and accessories in the Propulsion Business Area."
Tinker, located in Oklahoma City, is one of only five U.S. Air Force depot repair centers that manage a wide range of aircraft, engines, missile and commodity items and house some of the most sophisticated repair manufacturing processes in the world. Tinker itself is home to more than 2,200 aircraft and 22,000 civilian and military personnel.
The September certification of the PBA is expected to be followed by two other by early 2001: ISO 9002 certification is planned for the base's Aircraft Business Area, and ISO 9001 certification is anticipated for the Systems Program Area, one of the Defense Department's premiere interservicing facilities.
E lectrical and optical equipment manufacturers have been granted more ISO 9000 and 14000 certificates than companies from any other sector, according to The ISO Survey , a comprehensive analysis of ISO 9000 and ISO 14000 registrations conducted by the International Organization for Standardization (ISO). The eighth edition of The ISO Survey of ISO 9000 and 14000 Certificates is the first to contain data on ISO 9000 and 14000 certifications by industrial sector and on withdrawn certificates.
Thirty-nine business sectors, derived from European Accreditation of Certification (EAC) codes, were used to classify certifications. ISO succeeded in compiling data on and classifying about 85 percent of the ISO 9000 certifications issued.
By the end of 1998, the highest number of ISO 9000 certificates had been issued to the following sectors, from greatest to least: electrical and optical equipment, basic metal and fabricated metal products, machinery and equipment, construction, and wholesale and retail.
Ninety percent of ISO 14000 certificates were classified. The six top sectors were electrical and optical equipment; chemicals, chemical products and fibers; machinery and equipment; other transportation equipment; construction; and electrical supply.
The ISO Survey reveals that ISO 9000 has reached 148 countries. Moreover, the number of certificates issued rose by 48,563 to a 1998 year-end total of 271,966.
The United States and Italy issued the most ISO 9000 certificates in 1998 with 6,406 and 5,961, respectively, followed by Australia's 3,623. Though Germany's 3,399 certificates marked the fourth highest increase, they also illustrated a significant slowdown since 1997, when the country showed an increase of 7,677 certificates.
ISO 14000 certifications rose from 4,433 in 1997 to 7,887 in 1998. The survey also shows that the environmental standard has reached 72 countries, 17 more than it had the previous year.
According to The ISO Survey, the most common reason for withdrawn certificates was the holder organization's decision to discontinue certification. The publication counted 4,288 ISO 9000 certificates and 45 ISO 14000 certificates withdrawn by the end of 1998.
The eighth edition of The ISO Survey of ISO 9000 and 14000 Certificates is available from ISO, whose Web address is www.iso.ch . For an abstract of the findings contained in the survey, visit www.iso.ch/presse/8thcycle.htm . Download the complete survey from www.iso.ch/infoe/8thcyclesurvey.pdf .

Professional Development Dates
Schedule.com has officially launched the first portal dedicated to personal and professional development on the Internet. A new "quality" subhead has been added to their listings for events concerning business, computers and technology, engineering, finance, education, health, and many more industries. Each listing contains detailed information about each event (including time, place and a link to the sponsor's site) and a discussion board with questions and comments from people interested in attending the event.
www.scheduleearth.com
Machine Tool Reference
Cincinnati Machine has redesigned its site in an attempt to create an easy-to-use reference for new machine tool products. The site contains detailed data about Cincinnati's products and other timely information, including Y2K upgrades and special offers. Additionally, the site cross-references products and markets, allowing users to learn more about typical applications of the company's products in several industries such as aerospace, heavy equipment manufacturing, and fluid and mechanical power systems.
www.cinmach.com
Best Practices Site
The Global Benchmarking Council's (GBC) site contains a comprehensive directory of GBC members, who can serve as valuable networking contacts when your company is looking into benchmarking projects. The site also offers downloadable meeting reports and an archive of speaker presentations from all past meetings. Additionally, a reference database of existing research and metrics and companies similar to yours is available. Membership is required for many of these resources.
www.globalbenchmarking.com
To submit your Web site for consideration, e-mail a description of its contents to contact_us . More quality-related links are available at www.qualitydigest.com.