Creating Organizational Excellence--Part Five

H. James Harrington
jharrington@qualitydigest.com
This is the fifth and final column in a series about organizational excellence, which comprises five elements: process management, project management, change management, knowledge management and resource management.
When I talk about "resource management," I'm using the term in its broadest sense and mean the management of all resources and assets available to an organization. This includes stock, managers, employees, money, suppliers, inventory, boards of directors, alliance partnerships, real estate, knowledge, customers, patents, investors, goodwill and facilities. Effective resource management is one of the most critical and complex activities within any organization. Considering its complexity, you might ask, "Where do you start?"
There's no right answer. However, I like to start with management--specifically, selecting the right management team--because it's so critical to every organization. There's no substitute for experienced, qualified, proven executives. Management is the first thing that professional investors examine. What are the executives' track records? Have they led other successful organizations? Are they visionaries? Do they attract successful managers to their team? A good executive offering a fair product will have a successful business. (Just look at the amazing turnaround Lou Gerstner led IBM through during the 1990s.) On the other hand, a mediocre executive offering a good product has a high probability of leading the organization into bankruptcy.
Some of the things that must be considered in resource management are:

Good governance

Staff resources

Product and service mix

Suppliers and alliance partners

Financial status

Research and development
This list includes only a few of an organization's resources and/or assets. We could also discuss money, equipment, inventory, customer goodwill, facilities, patents and other topics.
Looking at the varied resources, you might wonder what approach best manages all of them. The answer is strategic planning, which defines how the organization will use its resources to optimize value-added opportunities for its stakeholders. The organization must determine the best use of its limited resources. Strategic plans put an organization in the clearest and best possible position to compete in this complex, changing world. They align the organization's resources toward a common business objective that sets it apart from its rivals. In terms of customer service and value provided, strategic plans define the organization's external focus and identify areas in which it must excel in order to succeed. A well-crafted plan can provide the roadmap to success and let each individual know how he or she can contribute to the results.
A thoughtfully developed strategic plan encourages creativity and communication. It mobilizes the efforts of the total organization. It provides competitive insight into your business field and develops buy-in and commitment to the organization's short- and long-term objectives.
However, in most organizations, management usually prepares a strategic plan, updates it a couple of times a year, shares it with just a privileged few and then files it away in the corporate vault so that competitors won't get their hands on it. Unfortunately, this policy prevents the plan from accomplishing its true objective of uniting the organization and focusing on a set of common goals. It's likely that your competition already has a good idea of what your strategic plan entails. You're keeping your employees in the dark.
A strategic plan includes three main objectives that support 11 documents.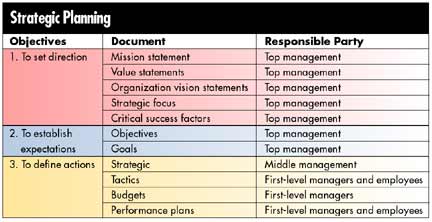 The most important thing to remember about resource management is that it must not be an afterthought but rather the basis upon which all executive decisions are made. To excel at resource management requires much planning, coordination, reporting and continuous refining. Too many successful organizations manage their operations by throwing more resources at them. They may be successful with this approach as long as they have very little competition, but even the giants fall if they fail to do an outstanding job of resource management. Just look at what happened to Big Blue.
Jack Welch, former CEO of General Electric, summed up the correct attitude toward resource management when he said, "The essence of competitiveness is liberated when we make people believe that what they think and do is important--and then get out of their way while they do it."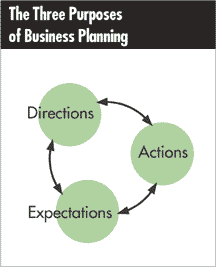 H. James Harrington is CEO of the Harrington Institute Inc. and Chairman of the Board of four other companies. He has more than 45 years of experience as a quality professional and is the author of 22 books. Visit his Web site at www.harrington-institute.com. Letters to the editor regarding this column can be sent to letters@qualitydigest.com.