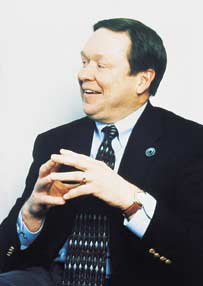 Baldrige Award
Winner Profile


An interview with
Jerry R. Rose, president of
Sunny Fresh Foods

On Feb. 25, President Clinton and Commerce Secretary William Daley presented the 1999 Malcolm Baldrige National Quality Award to four companies in a ceremony held in Washington, D.C. Among those companies was Sunny Fresh Foods, the first food company ever to win the Baldrige Award and the only recognized 1999 entry in the Small Business category.

What follows is an interview with Jerry R. Rose, president of Sunny Fresh. This is the first of four interviews conducted with a representative from each 1999 Baldrige Award winner that will be published in consecutive issues of

Quality Digest.

Rose, who has been with Cargill (Sunny Fresh's parent company) since he graduated from the University of North Dakota in 1973, was named president of Sunny Fresh and vice president of worldwide poultry in October 1995.

Sunny Fresh produces about 200 different egg products. It primarily serves the food service industry. Its customers include major restaurants and quick-service food chains, schools, convenience stores, health care facilities, and food processors.

With headquarters in Monticello, Minnesota, Sunny Fresh employs about 380 people.

QD: Can you tell us a little bit about some of the food products you make, who they're sold to and the retail items they go into?

Rose: All of our products go to the food service industry. The products that we manufacture end up being sold under our label but used in the back of the store, never ending up visibly out front. Some of our products do end up in the retail section, but they are under somebody else's name. So, for example, we may make an egg patty that goes in a Jimmy Dean sausage breakfast sandwich.

We make approximately 200 different products. Most of them are refrigerated liquid or frozen pasteurized products. But about 30 percent to 40 percent of our production is in cooked products--hard-boiled eggs, diced eggs… When you see the diced eggs at salad bars at pizza places and so forth, those may very well be ours.

QD: How far back does your history with the Baldrige criteria go?

Rose: Our journey began in 1990 with the Cargill quality process, which is based on the Baldrige criteria. In addition, we have several very good customers who are strong supporters of quality processes--including McDonald's Corp. We applied for and won that company's most prestigious quality award, the Sweeney Award, in 1998. It's based on the Baldrige criteria. So although we've been using the criteria for about 10 years, this was actually our first application for the Baldrige Award.

QD: Are there any obstacles specific to small businesses that you encountered on your journey?

Rose: I don't think so. The Baldrige-based criteria and similar programs are so available in our country that I don't think that you have a distinct advantage or disadvantage by being a smaller company. I think that small companies can apply for and learn from their customers' awards.

We were probably a little naïve, because since we've won the Baldrige, we've heard a lot of comments that no food company could ever win a Baldrige Award because their margins aren't high enough to sustain the kind of investment that you have to make and the procedures are too complex and rigorous, unlike organizations such as microchip processors and other manufacturers that spit out identical widgets. In our business, we go out of our way to make our products look different.

Our objective wasn't to win the award. If it had been, we probably would've researched whether or not anybody thought that it was possible and probably would've decided not to apply.

QD: So why did you apply?

Rose: In 1998, we won the Sweeney Award, which is a global award that's only been given to four companies worldwide. Once you win it, you can't win it again. We asked ourselves how we could keep driving continuous improvement in our business: How do we keep stretching in our organization to improve our business process systems? We thought the Baldrige Award was the best way for us to keep pushing ourselves and raising the bar.

QD: Where do you go from here?

Rose: We got a 72-page feedback report from the Baldrige examiners which shows us that we have a lot of opportunity for improvement. Once you see those reports, you wonder how you won. Our team is already working on where we go from here. We only have 380 employees and our business has been growing at a dramatic pace over the last three years. Within a fairly short period of time we'll be able to apply for a large manufacturing Baldrige once we move above the 500-employee threshold. There's never been a company to win in two categories. We figure if we're the first food company to win, why don't we do something else that's different? So that's our challenge to ourselves.

QD: Have you been able to quantify the bottom-line benefits of winning the award?

Rose: When we started out, that was clearly what we were trying to do: figure out ways to reduce customer complaints and the cost of nonconformance. The Baldrige criteria have affected us in far more positive ways than that. When we started out in 1990, I had a vision of what it would do for us, but we have gone way beyond improving compliance numbers--we use the Baldrige criteria to really drive business-systems development and business- systems redesign. If you're in a fast-growing organization that's changing all the time, the procedures and the policies that you had in place two years ago are not necessarily what you need in the long term. Our products are getting more and more complicated all the time: You used to buy a whole chicken, take it home and cut it up. Today you can buy a fully cooked, prepared chicken. That's added complexity to process systems and manufacturing. The Baldrige customer focus criterion forces you to get very close to the customers, understand what their requirements are and design the products to meet those requirements.

In addition, food safety is a major issue in the food industry. Any time that you enhance your quality process, you produce products more consistently and you meet specifications more frequently. Because the most important issue to some of our customers is brand name and brand recognition, if you come to them with a value proposition and can show them that you have a system that's well under control, it's going to help you win business.

QD: Was there any internal resistance to the tremendous work necessitated by the Baldrige application process?

Rose: No, because our objective wasn't really to win the award. The focus was on driving ingenious improvement and taking ourselves to the next level.

When we decided to apply for the Baldrige, we were already highly recognized within the food industry, having won the Sweeney Award and Cargill's Award. I think the real benefit for us is that when you win a customer's award, you always wonder how good their process really is. Is it tough enough? Is it fair enough? If we grade ourselves internally, we wonder how somebody else would score us. Winning the Baldrige validated both the Cargill process and the McDonald's process.