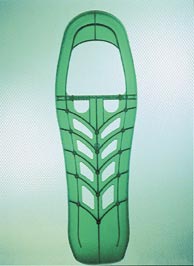 Rapid Prototyping Helps Snowshoe Maker Refine Design
Rapid Prototyping
When Spring Brook Manufacturing of Grand Junction, Colorado, was ready to finalize the design concept of its new Saguache snowshoe, the company chose Accelerated Technologies Inc.'s (ATI's) rapid prototyping services to streamline the development process and meet tight marketing deadlines. Rapid prototyping helped Spring Brook create and produce the Saguache in only nine months, allowing the snowshoe to enter the market a full year earlier than it would have been able to otherwise.

Imaging Software Increases Lab Efficiency
Image-Pro Plus
Reliable Analysis, an independent testing lab that extensively tests automotive components for DaimlerChrysler, Ford and General Motors, was searching for new ways to make its materials analysis more precise and efficient and to improve the presentation quality of its results. To attain these goals, Reliable began using Media Cybernetics' scientific image analysis software, Image-Pro Plus, to thoroughly inspect each automotive component for material defects. .