Believing that the quality field suffers from a lack of diverse voices, noted author and statistician Thomas Pyzdek has founded a new quality organization, the International Quality Federation (IQF).

"My goal for the IQF is to create an independent and autonomous quality society where groups of people involved in quality improvement and quality science can meet, exchange ideas and learn from one another," says Pyzdek. "I think there's a role for us to play given that there is no independent and autonomous quality society. For instance, American Society for Quality (ASQ) sections are simply extensions of the national organization."

Pyzdek is well-positioned to establish a quality society. He is an ASQ Fellow, the author of numerous quality-related books and a Quality Digest columnist. Pyzdek is also the recipient of one of ASQ's highest honors, the Edwards Medal, which is presented to an individual who has demonstrated outstanding leadership in the application of modern quality control methods, especially through the organization and administration of such work. The honor of receiving this recognition in 1995 led Pyzdek to research the man for whom the medal is named: George D. Edwards, ASQ's first president.

"I learned that Dr. Edwards had some ideas about the way that ASQ was organ-ized," recalls Pyzdek. "In particular, he believed that if he had it to do over again, he would have favored a decentralized organi-zation. I agree with that: I think ASQ serves its purpose, but I think there's a place for a quality society that encourages the growth of quality through experiments and local activities that may differ from what the national entity is encouraging."

In contrast to existing quality organizations, Pyzdek envisions IQF becoming a supportive parent organization of many member societies that will decide for themselves what they become. Moreover, IQF will be governed by these member societies rather than governing them. To facilitate this approach, IQF will not sell any products or services in competition with commercial firms.

"We want to be a catalyst to encourage other organizations to provide products and services to quality professionals," Pyzdek explains. "We have a strict noncompetition policy because we don't believe it's fair or wise for a nonprofit organization to compete against commercial entities. Also, we're going to do our best to avoid partnerships that we think compromise the objectivity of a professional society. We won't have our commercial partners on the cover of our magazine."

As for IQF's magazine, heading the effort to establish the publication is Doug Montgomery, the president-elect of IQF and former Journal of Quality Technology editor. In addition, Quality Digest will feature IQF news and events and will give free subscriptions to all IQF members.

The IQF is still in its infancy, but it's poised for growth. The organization's articles of incorporation were filed on January 19, and the IQF's board of directors recently held its first meeting and elected Pyzdek president.

Also in development are IQF bylaws, article review boards, a six sigma black-belt certification process and much more. To subscribe to the IQF e-newsletter, send a plain-text e-mail addressed to majordomo@theriver.com with the words "subscribe iqf" in the message field. An IQF membership form and additional information is available at www.iqfnet.org , which is still under development.

Pyzdek hopes to grow the IQF into an international body through a pervasive Internet presence. How soon that becomes a reality is yet to be determined, but the first president of IQF seems prepared to see it through.

Audits Reveal Pervasive Data Quality Problem

A new study reveals that more than 90 percent of digital product data fails company-defined quality standards. Seventy percent of such data failed standards that companies categorized as "critical."

Prescient Technologies, which conducted the study, announced its initial discoveries from a set of engineering-quality audits that the software provider recently conducted on more than 3,300 product models from aerospace, automotive, consumer products and electronics industries worldwide.


"Data quality has been one of the most significant issues in the product development process for a long time," notes John MacKrell, an industry analyst with CIMdata Inc. "To achieve the full benefits of advanced engineering and data management solutions, companies must have information of the highest possible quality."

"The audit has only scratched the surface of the issue of data quality in engineering," says Gavin Finn, Prescient's president and CEO. "Although there are more analyses to do, the overwhelming rate at which data failed defined standards was consistent across all of the audits. The high percentage of errors is even more noticeable because the results are not limited to company size or market. This problem spans the entire manufacturing industry. The problem is a consequence of the increased pressure to utilize digital data throughout the automated product development process."

An extensive summary of the study is available at Prescient's Web site, www.prescienttech.com/press-releases/AuditQAFinalWeb.html .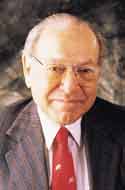 Quality Loses One of Its Own
Dorian Shainin , one of quality's most accomplished contributors, died January 7 at the age of 85. Shainin had acquired nearly 60 years' experience improving the professional approach to industrial problem solving.
Along with Walter A. Shewhart, Joseph M. Juran and W. Edwards Deming, Shainin was one of only 17 people to receive Honorary member statusóthe highest grade of membership and recognitionóby the American Society for Quality (ASQ). According to ASQ's constitution, "an Honorary member shall have rendered acknowledged eminent service to the quality profession," a criterion Shainin certainly exceeded.
Shainin is best known for the "Shainin techniques," a series of practical tools (derived from his extensive experience in the quality field) for solving manufacturing problems previously thought unsolvable. He created strategies that enable engineers to "talk to the parts," a discipline that's been successfully used for product development, quality improvement, analytical problem solving, manufacturing cost reduction, product reliability, product liability prevention, and research and development.
Among the numerous Fortune 500 companies and organizations with which Shainin worked are IBM, General Motors and Motorola, which he helped to win the first Malcolm Baldrige National Quality Award in 1989.
Among the awards bestowed upon Shainin are ASQ's Brumbaugh Award, the Edwards Medal, the Eugene L. Grant Award and the Shewhart Medal.
GE Fanuc Acquires CimWorks GageTalker
GE Fanuc Automation North America Inc. has acquired CimWorks GageTalker. CimWorks produces flexible solutions for SPC, gage interface, document management and control, shop floor data collection and more.
"Integrating CimWorks GageTalker's hardware and software with GE Fanuc's OpenFactory CNCs and CIMPLICITY software allows customers to better share quality and productivity data, ranging from individual business machines to enterprisewide information systems," says Jeffrey Kao, manager of GE Fanuc's CNC business.
Eric Berg, who will remain president of GageTalker Corp., adds that the two companies form a perfect partnership. "Both organizations share a similar commitment to helping manufacturers improve productivity and reduce costs," he says. "CimWorks GageTalker contributes to GE Fanuc's ability to provide complete manufacturing solutions with our innovative computer-integrated manufacturing software and hardware products."
For more information, visit the GE Fanuc Web site at www.gefanuc.com , or call (800) 648-2001.

Mahr Federal Reorganizes Following Merger
Just months after announcing the Federal Products Co. and Mahr Corp. merger, the newly formed gaging products manufacturer Mahr Federal Inc. has announced plans for integrating its two elements. "By merging and expanding our product offerings, we hope to double the size of the combined companies by 2005," Mahr Federal President Joe Golemme told employees at a recent companywide meeting at the Providence, Rhode Island, headquarters.
To achieve this objective, Golemme outlined a five-point plan:

Merge and broaden product lines. Mahr Federal's new line of precision gaging products will include calipers and micrometers; test indicators; dial and digital indicators; mechanical, air and electronic gages; dimensional standards; instruments for surface-finish and geometry gaging; measuring instruments for threads and gears; length-measuring instruments; gage calibration systems; and custom gages.

Create a series of resource centers. The centers will be modeled after the Mahr USA facility in Cincinnati and be located in cities across the United States and Mexico, including Chicago, Los Angeles, and Providence. In addition to providing sales and support, these centers will offer customers a greater level of assistance from applications engineers, as well as on-site training and demonstration facilities.

Change the production strategy. "Changing our production strategy is another important facet of our plan," says Golemme. "We'll be consolidating each product's development and manufacturing at a single facility for marketing and distribution worldwide. The economies we gain from this 'Center of Excellence' concept will free up resources to develop new products and fuel additional growth."

Foster a more growth-oriented organization. "We will establish a series of global teams, organized by function and product category," explains Golemme. "This collaboration will increase our ability to improve product development and manufacturing efficiencies and address specific customer requirements.

Focus sales in two business units: a Tools and Gages division and a Metrology Systems division. This allows Mahr Federal to maintain the level of technical expertise its customers have come to expect from its salespeople, says Golemme.
For more information about Mahr Federal's integration plans, products, technical articles and more, visit the company's Web site at www.mahrfederal.com . Review Quality Digest's original story on the Mahr Federal merger at www.qualitydigest.com/dec99/html/news.html#4 .
In the Registrar Directory section of our January 2000 Sourcebook, we inadvertently ran the listings of two registrars together. Quality Digest regrets the error. The listings should have read as follows:
The National Registry
3031 Javier Road, Second Floor
Fairfax, VA 22031
Ph. 800-222-9001 Fax 703-205-0684
www.thenationalregistry.com
The National Registry is a full-service, third-party registrar providing ISO 9000 and QS-9000 registration services to companies worldwide. The National Registry also provides an exclusive Internet listing service at its Web site.
National Technical SystemsóCertification Services
47 Jack Ellington Road
Fredericksburg, VA 22406
Ph. 800-988-2687 Fax 540-752-7630
www.nts-cs.com
NTS-CS is accredited by the RvA and the RAB. NTS-CS provides certification/registration to the ISO 9000 and QS-9000 series of international quality standards.
Acquisitions
Siemens Energy & Automation Inc. and Moore Products Co. have announced their agreement providing for Siemens' acquisition of Moore for $170 million. Moore Products Co. was founded in 1940 and has since established itself as a global leader in providing process-measurement and control-applications solutions.
Brooks Automation , a supplier of integrated automation solutions for the global semiconductor, data storage and flat panel display manufacturing industries, has acquired AutoSimulations Inc. (ASI) and Auto-soft Corp. (ASC). ASI is an established leader in robotic and material-handling simulation, scheduling and real-time dispatching software for the semiconductor industry. ASC is an international manufacturer of fabrication material-handling software and hardware, bridging the gap between manufacturers' real-time processes and their physical distribution process.
People
Entela Inc ., an international provider of global conformity assessment services, has named Steve Roll vice president of international certification services. Roll is a current member of ANSI's board of directors, a member of the joint-operating board of ANSI-RAB and chairman of the National Fire Protection Committee on the Standard for Electrical Workplace Safety. Visit www.entela.com .
Steve Peterson has been appointed to the position of president of Giddings & Lewis LLC, North America's largest supplier of industrial automation products and machine tools. Peterson is replacing Marvin Isles, former chairman and CEO of Giddings & Lewis. Visit www.giddings.com .
During the organization's recent meeting in Rio de Janeiro, Brazil, members of the International Auditor and Training Certification Association elected George Lofgren as chairman. Lofgren is the QMS president of the Registrar Accreditation Board.
Partnerships
Trace LaboratoriesóCentral, an ISO Guide 25-accredited testing lab, has formed a relationship with TUV Rheinland of North America Inc. to offer manufacturing customers access to Trace's diversified testing facilities and TUV's experience in international certification and compliance. Visit www.tracelabs.com .
Recognition
Sales & Marketing Automation Magazine named Paul Seldon, Ph.D., president of Performance Management Inc., Performance Management International Inc. and The Paul Selden Companies Inc., one of the 10 most influential people in customer-relationship management. Selden has authored numerous books and articles on increasing market share and profitability through improving customer satisfaction.
Certification
The Registrar Accreditation Board has introduced a new certification grade (called Environmental Auditor) to its Environmental Management Systems ISO 14001 auditor certification program. Applicants must meet all of the same criteria, but can have less EMS auditing experience. RAB suggests this new grade as a first step toward full-fledged EMS auditor certification. Applications are available for $10 from RAB. Call (888) 722-2440 and request item T953.

Measurement Database
Thanks to a new online database by the National Institute of Standards and Technology, answers to measurement-related queries are now just a mouse-click away. The International Comparisons Database will allow for the comparison of calibrations and other measurement services performed by national metrology institutes. It will soon become a valuable tool for businesses to ensure compliance in international markets.
icdb.nist.gov or www.bipm.fr
Standards Publication
Standardization News magazine is now available online. Standardization News is the official magazine of the American Society for Testing and Materials (ASTM), one of the largest voluntary standards development systems in the world. ASTM develops standards for materials, products, systems and services and has more than 33,000 members. The monthly publication delivers feature articles, commentary, news briefs, technical committee activity updates and profiles of ASTM members.
www.astm.org
Training Product Information
As the Internet becomes more a part of our everyday lives, sites like the latest from AchieveGlobal promise to become increasingly commonplace. AchieveGlobal, a leading provider of performance skills training and consulting, recently announced the development of a Web site and a product by the same name. The site explores customer service issues as well as features of its training system.
www.theservicedifference.com
ISO 9000:2000 News
Given the tremendous interest in the ongoing ISO 9000 revisions, the International Organization for Standardization is making available Web access to related information and updates. Contents include advice on making the transition to the revised standard, answers to frequently asked questions, revision updates, summaries of the revision process and progress, and a variety of news articles about ISO 9000:2000 and its eventual impact.
www.iso.ch/9000e/revisionstoc.htm
Baldrige Resource
Baldrige Plus sets the lofty goal of becoming a site of record for the worldwide performance excellence community. Its mission statement describes the site's focus on publishing and supporting a set of best-practice models and analytical tools that make the Baldrige system accessible, understandable and applicable to every organization. Newly available through Baldrige Plus is an e-newsletter that delivers monthly descriptions and links to a variety of Baldrige and other quality-related information sources.
www.baldrigeplus.com
To submit your Web site for consideration, e-mail a description of its content to .