Going for the Gold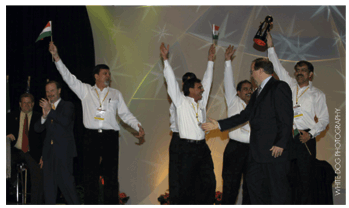 Gold goes to the Reliance Hazira Polyester Fiberfill Cost
Reduction Team, from Reliance Industries Limited India.
Three teams took top honors at the 21st International Team Excellence Competition in Milwaukee, Wisconsin.
The competition was part of the American Society for Quality's World Conference on Quality and Improvement, held May 1-3. The live contest featured 27 teams from around the world hoping to achieve recognition as leaders in quality improvement and performance. The competition was hosted by John Jones, Green Bay Packers president and CEO.
The recipient of the Gold Award was the Reliance Hazira Polyester Fiberfill Cost Reduction Team, from Reliance Industries Limited India. The team's project greatly reduced the production cost of polyester fiberfill by controlling high-cost items without affecting product properties or process operations.
A team from The Boeing Co.'s C-17 Program received the Silver Award for its development of a process to visibly track inventory from receiving to production. The new process eliminated searches for lost parts, implemented online and real-time monitoring, and ensured timely delivery of inventory.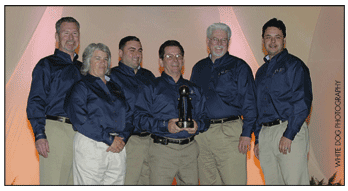 Boeing Co. C-17 Program Team wins silver.
The Mack Trucks Plant Failures Reduction Team from the Siemens VDO facility in Guadalajara, Mexico, received the Bronze Award for a Six Sigma project that dramatically improved quality as it applies to returns at the facility.
Since 1985, 775 teams from Canada, China, Costa Rica, India, Japan, Mexico and the United States have participated in the Team Excellence Competition. The savings of this year's finalists amounted to more than $49 million.
Approximately 2,300 people attended the World Conference on Quality and Improvement. Next year's conference and Team Excellence Competition will be held April 30-May 2 in Orlando, Florida.
For more information, visit www.asq.org.
Consumer Confidence Peaking
The Conference Board Consumer Confidence Index, which had improved in March, further improved in April, bringing it to its highest level since May 2002.
The index now stands at 109.6, up from 107.5 in March. Consumers' overall assessment of current conditions remains favorable, with those claiming that conditions are "good" rising from 27.9 percent to 29.7 percent. The index for those claiming conditions are "bad" also rose, from 14.7 percent to 15.1 percent. Consumers' perceptions of labor market conditions, which had been mixed, improved. Respondents saying that jobs are "plentiful" increased from 28.3 percent to 29.1 percent, and those claiming that jobs are "hard to get" dropped from 20.4 percent to 19.6 percent.
"Improving present-day conditions continue to boost consumers' spirits," says Lynn Franco, The Conference Board Consumer Research Center director. "Recent improvements in the labor market have been a major driver behind the rise in confidence in early 2006. Looking ahead, consumers are not as pessimistic as they were last month. However, expectations for the economy and labor market have been trending downward since peaking in 2003. And, while prices at the pump have yet to impact confidence, further increases could dampen consumers' moods."
The Consumer Confidence Index is based on a representative sample of 5,000 U.S. households. It's conducted for The Conference Board by TNS, a custom research company.
For more information, visit www.conference-board.org.
Quality Chat
Name: Randy Dougherty
Occupation: Director of accreditation
Organization: ANSI-ASQ National Accreditation Board (ANAB; see www.anab.org )
What is a trend that you see in the certification industry?
Randy Dougherty: I'd say that there's an increasing focus on outcomes. At one time, the focus of standards and certification was on the management system, with the assumption that an organization with an effective management system would continually improve outcomes. In other words, a company with an accredited certification for ISO 9001 would have continually improving customer satisfaction, thus improving product or service quality; and a company with an accredited certification for ISO 14001 would have continually improving environmental performance.
This shift has been away from application to the management system with a focus on linking through to the product. While some in the standards community challenge this changing paradigm, those involved in conformity assessment have heard this expectation from end users and are responding to it.
QD: There's been increasing focus on the use of competence-based certification vs. qualification-based certification. What do you make of this?
RD: This has always been recognized as a key issue by conformity assessment practitioners. However, the tools for managing this issue continue to evolve. The publication of ISO 19011 in 2002 shifted the focus from "qualifications" for auditors (in terms of years of experience and education) to "competence," but the standard did not provide understandable tools for practitioners for assessing compliance. International Accreditation Forum guidance has also been increasing the focus on competence vs. qualifications, but has not provided clearly understood tools. Development has also been influenced by ISO/IEC 17024, a standard for organizations that certify personnel. What is slowly coming together is an understanding of competence, as opposed to qualifications, and improving methods of assessing competence.
QD: Are commercial pressures damaging the credibility of third-party certification?
RD: Certification to ISO 9001 or ISO 14001 is a highly competitive business. It's very price-sensitive with a low profit margin. Certification bodies are under constant pressure to reduce fees to maintain or gain clients, resulting in a reduction of audit duration or compensation paid to auditors--both of which adversely affect the value of the audit. The solution to this problem is likely to involve the standards bodies, accreditation bodies, certification bodies and the entire certification industry.
Standardizing Iraq
The American National Standards Institute's vice president of public policy and governmental affairs will spend the next year in Iraq, helping develop a standards and conformity assessment system.
As a short-term employee of the National Institute of Standards and Technology, David Karmol, ANSI vice president of public policy and government affairs, will work with U.S. embassy officials in Baghdad's Green Zone to increase technical capabilities and build an infrastructure for the country's standards and conformity assessment system. His efforts will support the Iraqi Central Organization for Standardization and Quality Control--Iraq's national standards body--and other related Iraqi organizations.
"There is a unique opportunity to help shape the development of a uniform standards and conformity assessment infrastructure as the Iraqi people rebuild their nation," says S. Joe Bhatia, ANSI president and CEO. "David is well-qualified to foster interaction with U.S.-based standards-developing organizations, and private and public sector stakeholders."
White House officials solicited a standardization expert for the job assignment. Karmol reports that he took the position because "I realized I was at a point in my life where this was something that I both could do, and would like to do."
Heating Up?
The International Organization for Standardization has developed a standard for the assessment and reduction of greenhouse gases.
Noting that governments and business interests all over the world use differing approaches to assess greenhouse gas production--if they assess them at all--ISO developed the standard to provide a harmonized method of doing so. The result is ISO 14064, which outlines requirements and specifications to reduce greenhouse gas emissions and trading.
Prior to ISO 14064, the most widely used approach to assessing corporate greenhouse gas inventories was the Greenhouse Gas Protocol: A Corporate Accounting & Reporting Standard. For more information, visit www.ghgprotocol.org or www.iso.org.
Six Sigma CEO of the Year
Jill M. Considine, chairman and CEO of The Depository Trust & Clearing Corp. (DTCC), has won the prestigious Six Sigma CEO of the Year Award.
Considine will be formally presented with the award at WCBF's Global Six Sigma Awards Gala Dinner on June 28 at The Venetian Resort in Las Vegas. Considine has had a long career in international finance. In a banking career that's lasted more than 30 years, she's been the managing director, chief administrative officer and a board member of American Express Bank Ltd.; president of the New York Clearing House Association; and president and CEO of The First Women's Bank of New York. She is a member of the World Economic Forum, and was appointed by President George W. Bush to the Advisory Committee for Trade Policy and Negotiations.
Considine currently serves on the board of directors of the Federal Reserve Bank of New York, as well as several public and nonprofit boards. She is a graduate of Columbia University's graduate school of business, Bryn Mawr College and St. John's University.
For more information, visit www.dtcc.com.
And The Finalists Are…
WCBF recently announced that 31 Six Sigma projects from 23 companies are finalists for the Global Six Sigma Awards.
The awards will be presented at a gala dinner on June 28 at the Venetian Resort in Las Vegas. The finalists were selected from 65 applicants and were chosen by an independent judging panel. Listed by category, the finalists for the 2006 Global Six Sigma Awards are:
Best Achievement of Design for Six Sigma
- Cooper Standard Automotive, Global Fluid Systems

- Cooper Tire & Rubber Co.
Best Achievement of Six Sigma in Financial Services
- Capital One Direct Banking

- Depository Trust & Clearing Corp.

- TD Canada Trust
Best Achievement of Six Sigma in Health Care
- CHRISTUS Schumpert Health System

- DaimlerChrysler Corp.

- Deaconess Women's Hospital, Indiana

- New York Presbyterian Hospital

- North Shore-LIJ Health System

- Quest Diagnostics
Best Achievement of Innovation Through Six Sigma
- CHRISTUS Schumpert Health System
Best Achievement of Integrating Lean and Six Sigma
- North Shore-LIJ Health System

- PACCAR Inc.

- Saudi Aramco
Best Achievement of Six Sigma in Manufacturing
- Celanese Corp.

- General Cable

- Lonmin PLC

- PACCAR Inc.
Best Achievement of Six Sigma in Services and Transactional Environments
- Alexandra Hospital

- Alta Resources

- Capital One Direct Banking

- CHEP

- CHRISTUS Schumpert Health System

- CIGNA

- North Shore-LIJ Health System

- Progeon
Six Sigma Vice President of the Year
- Leslie Behnke, CIGNA vice president of Six Sigma business excellence

- James O. Pearson, EMC Corp. vice- president of customer quality and Six Sigma

- Don Walker, McKesson Corp. senior vice president of business process redesign
The award ceremony will be a part of WCBF's Global Six Sigma Summit & Industry Awards, held June 27-30. For more information, visit www.wcbf.com.
How Pure Is Your Tequila?
Good news for margarita lovers: New tests can detect impurities in tequila.
New testing procedures developed by Mexican and German scientists help distinguish real, unadulterated tequila and a lower-end version of the spirit being passed off as the real thing. Tequila's production is limited to certain geographical areas in Mexico--primarily the state of Jalisco--and is strictly regulated by the Mexican government. Even with the regulations, though, mixed tequila can be passed off as pure, high-end tequila, reports the American Chemical Society.
"Real" tequila is made from the blue Agave plant, while lower-end mixed tequila is made by adding up to 49 percent sugar prior to fermentation. The mixed tequila is usually shipped in bulk and bottled by importing countries--at which point the product is vulnerable to labeling fraud.
Scientists have developed sophisticated testing procedures to identify fake tequilas from the real thing. One of the methods, called molecular fingerprinting, takes just two minutes.
Cheers!
Rockwell Makes European Acquisition
Rockwell Automation recently acquired GEPA mbH, a German provider of change-management software for industrial automation, process control and industrial-information technology.
Rockwell reports that the acquisition complements its strategy for expanding asset-management offerings within its FactoryTalk integrated production and performance software suite, which was announced in late 2005.
"Asset and change management are critical, especially in highly regulated industries where secure, well-documented processes are required," says Kevin Roach, Rockwell Software vice president. "Incorporating GEPA technology into our FactoryTalk asset-management production discipline enables us to provide customers with comprehensive diagnostics, calibration and real-time monitoring of their production environment, easing regulatory compliance and improving plant asset utilization."
For more information, visit www.rockwellautomation.com.
The Winner!
Congratulations to Curt Swanson, quality manager of CARDONE Industries, who won an iPod for participating in Quality Digest's annual salary survey. Happy listening!