Technology Integration Widens U.S.-European Productivity Gap
U.S. retailers' resounding success in integrating business processes with sophisticated high technologies is a major factor in the United States' current dominance over Europe in productivity, a new study shows.
The comprehensive study, performed by The Conference Board, reveals that more than 50 percent of America's productivity growth lead over Europe is due to gains in retail and wholesale trade. The study also shows that the widely successful transformation of U.S. retailing from a low-tech industry to a high-tech market force has accelerated U.S. productivity gains, with massive centralized chain operations and large retailers making significant headway.
The productivity gains have been facilitated by new information and communication technologies, and operational efficiencies that allow retailers to produce new and better information about customers; faster, cheaper and timelier information to and from business units; and smaller inventories.
Labor productivity growth among U.S. retailers jumped to 7.4 percent between 1995 and 2002, up from 2.6 percent between 1980 and 1995. Wholesale trade firms showed productivity gains of 8.5 percent since 1995, compared with 4.1 percent from 1995 to 2002.
Despite its slower start, The Conference Board Director of Economic Research Robert McGuckin reports that Europe has the potential to close its productivity gap with the United States. He points out that innovative European firms are beginning to apply new technologies to their retailing operations, and that regulations that stifle economic growth are easing in many European countries. Furthermore, competitive incentives for change are increasing as obstacles to cross-border operations diminish.
"The marriage of new technologies and organizational change is at the heart of America's growing productivity lead over Europe," McGuckin says. "European firms have not changed as rapidly as U.S. companies, and the regulatory climate in Europe, especially its constrictions on land use, has been a major burden."
Although change is underway in Europe's business climate, the pace of organizational transformation and technological adoption has been slower than that in the United States for the following reasons:

A head start. Although both European and U.S. retailers have adopted innovations like bar codes, U.S. retailers have been much quicker in making the changes necessary to take advantage of new technologies.

Regulatory obstacles. Europe's regulatory environment has stalled productivity growth by restricting both cross-border trade and trade within European countries. Local zoning regulations have also been a major roadblock.

Scale. Because information and communications technologies are products of centralized management, a reduced opportunity for cross-border scale has lowered the incentive for investment in Europe relative to the United States.

Slower complementary change. Europe's trucking industry was deregulated only in the mid-1990s, meaning that many of the shipping adjustments being made in the United States are less advanced in Europe.

Culture and change. Differences in language and culture make it more difficult to streamline operations across Europe, although this may become less of a factor as Europe's economic and cultural integration proceeds.
The study points out that European retailers and wholesalers have been investing in information and communications technologies at similar rates to U.S. firms in recent years, though the overall share of investment in information technology is still considerably lower than in the United States. Bart van Ark, consulting director for The Conference Board's international economic research program, forecasts that as many European countries increase their IT infrastructures, they will be in a better position to exploit the efficiencies of the new retail business models.
"Operational regulations have been eased in many countries, and competitive incentives for change are increasing," reports van Ark. "Some of the slow productivity growth of the late '90s may be due to the actual adjustments being made."
For more information on this study, visit www.conference-board.org.
Electronics Industry Takes Aim at Hazardous Substances
With legislation in the United States on hazardous substances in electronics already in place and similar laws set to take effect in China and Europe shortly, how can electrical and electronic manufacturers be sure that their products comply?

A new specification adopted by the International Electrotechnical Commission's Quality Assessment System for Electronic Components (IECQ) specifies the technical requirements that manufacturers must meet to ensure that their products conform to the new limits. The IECQ now offers global certification for the electronics industry, and is searching for five companies to be the first in the United States registered to it.
The Hazardous Substance Free specification was developed by the Electronic Components Certification Board (ECCB)--the IECQ's U.S. representative--and the electronic component sector of the Electronic Industries Alliance. It's titled "Electrical and Electronics Components and Products Hazardous Substance Free Standard and Requirements," commonly referred to as EIA/ECCB-954.
Stan Salot, president of the ECCB, reports that worldwide response to the standard's release has been overwhelmingly positive. It offers a process-based approach to compliance that prevents the introduction of dozens of new tests and processes. Instead, it builds on the strengths of the quality systems that are usually already present, most often ISO 9001 and ISO 14001.
"The electronics industry at large has been reducing hazardous substances for years, but our waste has reached incredible amounts," Salot says. "It's important to everyone in the world that we manage it, understand it and deal with it in an effective way. But that's made more difficult because we need a very technical language to explain something so complex."
Asian and European manufacturers have been especially receptive to the new standard. "The question there is 'When can we get the training, and when can we start using it?'" Salot says.
There are currently five companies in Taiwan training to be the first in the world certified to EIA/ECCB-954.
IECQ members able to offer immediate certification to EIA/ECCB-954 are BSI Product Services (United Kingdom), DNV Certification and NSAI Inc. (United States), and LCIE (France).
For more information, visit www.iecq.org.
Shingo Winners Announced
Manufacturers of coronary stents, helicopters, circuit boards, fireplaces, laser-guided bomb kits, airbag initiators and injection moldings were among the winners of the 2005 Shingo Prize for Excellence in Manufacturing.
The Shingo Prize is the Nobel Prize of manufacturing, and recognizes successful quality improvement and lean initiatives in the industry. Established in 1988, it's administered by Utah State University's College of Business.
"The recipients of the Shingo Prize demonstrate that lean enterprise leadership will truly weather economic uncertainty by not wasting precious manufacturing and business resources," says Ross Robson, Shingo Prize executive director. "The diversity of the 2005 Shingo Prize recipients clearly demonstrates the universal value of lean enterprise among the manufacturers of North America in terms of performance excellence for quality, cost, delivery and business results."
2005's Shingo Prize recipients are:

Autoliv Tremonton Facility, Tremonton, Utah

BAE Systems, Fort Wayne, Indiana

The Boeing Co., Mesa, Arizona

The Boeing Co., St. Charles, Missouri

Boston Scientific, Stent and Balloon Catheter Plant, Maple Grove, Min-nesota

Celestica de Monterrey, S.A. C.V., Monterrey, Mexico

Delphi Ensamble de Cables y Componentes (Guadalupe II, Plant 8400), Guadalupe, Nuevo León, Mexico

Delphi Packard Electric Sys-tems, Vienna Molding Operation, Vienna, Ohio

Delphi Sistemas de Energia (Plant 39), Saltillo, Coahuila, Mexico

GDX Automotive, New Haven, Missouri

Lockheed Martin, Archbald, Pennsylvania

Takata Seat Belts Inc., Equipo Automotriz Americana, Agua Prieta, Mexico, and Plants 1 and 2 in Apodaca, Mexico
Visit www.shingoprize.org for more information.
State Baldrige Programs Form Alliance
A network of state-sponsored Baldrige Award programs has formed an alliance in an effort to bring added recognition--and possibly added funding--to their programs.
The Alliance for Performance Excellence was formed 18 months ago. Operated by an almost all-volunteer board of directors, it serves as an information clearinghouse and networking center for the country's dozens of state Baldrige Award programs.
State Baldrige programs--there are currently more than 50 of them--have always operated independently. Although that autonomy is important when administering quality awards in locations that are far away from each other, fostering a sense of camaraderie helps the programs practice some of what they preach.
"We've always emphasized the importance of benchmarking to organizations," says Victoria Currie Taylor, APE chairperson and executive director of the Georgia Oglethorpe Award Process Inc. "With this alliance, we can say the state programs are doing it, too."
The alliance helps with finding and distributing funding and using political power, especially for some of the smaller state Baldrige programs. Before the alliance was formed, networking between state Baldrige programs was limited to an annual conference held each July, says Gary Nestebey, executive director of the Iowa Quality Center and the Iowa Recognition for Performance Excellence award process. The Alliance has provided an easy, innovative way for state programs to communicate and, using benchmarks, improve.
Since the Alliance for Performance Excellence has been formed, several Midwest states--Illinois, Minnesota, Wisconsin, Michigan, Ohio and Iowa--have formed a regional alliance that allows their state quality award agencies to share information and examiners, relieving them of a common problem.
"There have been problems with some of the states not having as many examiners available as they needed," Nestebey says. "The alliance allows us to call another state program and get examiners to cross borders to perform site visits. It's very helpful."
Illustrating the programs' importance to powerful government officials is more effective when the fruits of quality improvement's labors--improved local economies, and better jobs and products--are tallied together. Data collected by the Iowa Quality Center show that Alliance members have volunteered $16.5 million worth of consulting to industry from just 21 state programs.
"I'd really like to present a check to President Bush at the Baldrige ceremony representing that money," Taylor says. "That's money that was volunteered to improve local economies. It's a shame that more government officials don't see what they have right under their noses. If they realized it, it would show support for positive business changes and demonstrate an ongoing commitment to improvement."
There are currently about 20 state Baldrige Award programs that are active in the alliance. A survey sent to all the programs last year revealed overwhelming support for the formation of the alliance, and Taylor says that she expects membership to increase dramatically as word spreads.
For more information, visit online at www.networkforexcellence.org.
Quality Saves Big Buck$
A recently released study found that quality initiatives such as Six Sigma and lean can save companies millions of dollars.
The study, performed by Best Practices LLC, found that savings from respondent companies' supply chain quality projects ranged from $10,000 to $50 million, with an average savings of $5 million. Other key findings include: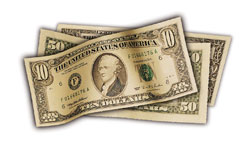 Forty percent of sampled companies saved at least 100 times the amount invested in their quality efforts.

Most companies achieve their best results when focusing supply chain quality efforts on demand/supply management and planning, production planning and scheduling, capacity planning and optimization, actual production, and inventory and warehouse management.

Benchmarked organizations agree that practices of peer company leaders and other industry leaders are critical to identifying supply chain improvement opportunities.

One respondent company was able to reduce complex supply/demand matches from four or five days to one minute.
For more information, visit online at www3.best-in-class.com.
Improving Software Quality
A new study reveals that despite their best efforts, many organizations still struggle to effectively address software application quality.
The findings are included in the study, "Today's Quality Assurance Practices: How Can We Continue to Improve?" The report surveyed 305 U.S. and European information technology (IT) executives from large companies, and examined how companies approach application quality to determine which practices are most effective. The study was commissioned by Compuware Corp. and conducted by Forrester Consulting.
Eighty-five percent of respondents indicated that application quality is critical or very critical to their overall effectiveness in demonstrating value to the business. The study found that 63 percent of respondents started improvement efforts more than three years ago, and more than half have invested in quality testing tools for application development.
However, these efforts are often unsuccessful. Of the 54 percent of IT executives that have invested in software testing tools, only 29 percent reported significant improvement. When asked about the biggest barriers to improving application quality, respondents ranked not having standardized quality procedures at the top of a list of five possible reasons. IT staff who are untrained in quality assurance procedures and lack a formal quality process ranked second and third, respectively.
Having a formal quality assurance program makes all the difference, according to the survey results. Of the 32 percent of respondents that reported a significant improvement in application quality, 64 percent consistently apply a formal quality assurance methodology. Forty-five percent of the 117 respondents who consistently apply a formal methodology have seen huge improvements in application quality. Additionally, 52 percent of the 129 respondents report that consistently applied formal methodologies are very effective at eliminating defects before deployment.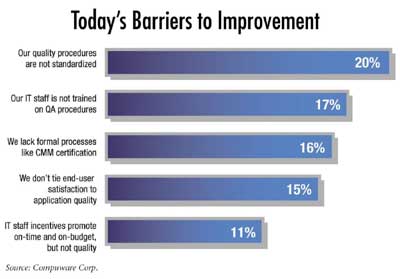 For more information, visit www.compuware.com.