Commerce Department Aims to Ease International Trade Woes
The U.S. Department of Commerce has released an eight-point standards initiative in an effort to alleviate some challenges of international trade. The initiative is in response to industry concerns that foreign standards and technical regulation issues are becoming among the greatest challenges to expanding exports.
"The Bush Administration remains committed to promoting competition and opening new markets for U.S. goods," says Commerce Secretary Don Evans. "Standards and testing are key to our international competitiveness. More and more we're hearing that foreign standards and testing requirements are keeping our products out of foreign markets. This is the wrong approach that reduces efficiencies, limits competition and increases prices for consumer goods. This initiative is an effort to create a more level playing field around the world."
The eight points are:

Developing a commerce global standards activity assessment. The Technology Administration, through the National Institute of Standards and Technology, will conduct a standards activity assessment of existing Commerce Department programs and efforts to reduce standards-related barriers in foreign markets. Following consultations with industry and other stakeholders, recommendations will be made to the Commerce Secretary for future action.

Reinforcing expertise in key markets. NIST and the International Trade Administration have developed a newly redesigned intensive training program for standards liaisons posted abroad.

Devising an effective training and outreach program. NIST and ITA, in cooperation with U.S. standards development organizations, will develop a standards training program for all Commerce Department foreign commercial service officers.

Creating a "best practices" database. The Commerce Department will develop a database of best practices in addressing standards issues in foreign markets.

Expanding the early warning system. The Commerce Department will strengthen and expand Export Alert!, a free Web-based service to disseminate market intelligence and information on standards developments in key priority foreign markets in Europe, Asia and Latin America.

Partnering with the President's Export Council on Standards Leadership. The Commerce Department will support the development of a dialogue on standards within the proposed President's Export Council subcommittee on technology and competitiveness.

Reaching out to U.S. industry. The Commerce Department will host a series of industry-specific roundtable discussions to gather input from U.S. industry on the most pressing standards issues and priority foreign markets.

Appointing a liaison at the International Trade Administration. A senior official will act as ITA's standards liaison with U.S. industry to ensure that priorities on standards are promoted through the Commerce Department's international policies and programs, and will also work with other U.S. government agencies.
The Commerce Department is currently actively engaged in standards-related activities, including ensuring recognition and use of globally relevant and internationally recognized standards domestically and in the global marketplace, promoting worldwide acceptance of U.S. test and calibration data to facilitate the marketing of U.S. products, and providing assistance to other government agencies, industry, trade associations, exporters, and standards development organizations.
To view a full copy of the initiative, visit www.commerce.gov.
Insiders Consider E-Based Management and Auditing
Representatives of accreditation bodies and certification providers recently convened to explore the advantages and challenges that accompany e-based management systems.
An internal report from the International Accreditation Forum states: "The subject of e-based management systems is complex, broad in scope and evolving at an extremely fast pace. It is clear that organizations are implementing these systems because they bring value benefits in terms of increased productivity, process control and cycle time enhancement."
During the March meeting, the group identified four areas that must be recognized and accommodated in order for an e-based management system to be sound: guidance, audit competence, recommendations for assessment mechanics and potential certification/registration body models. The learning session wasn't intended to develop guidance or direction in these areas but rather to identify areas in which guidance is needed.
NetAudit, an e-based auditing system, was discussed and led the learning team to conclude that remote auditing is possible using readily available technology. However, several considerations must first be taken into account, including security of access to the client's system. The report states: "The real question is the confidence of the client in the certification/registration body. The certification/registration body may have to execute a binding nondisclosure agreement with the client to obtain access."
The group also concluded that assessors should require specialized training to work within an e-based assessment environment, including a basic understanding of software development and a high level of business process knowledge.
The meeting included representatives from ANSI-RAB, SCC, RvA, SINCERT, JAB, UKAS, JAS-ANZ, TGA, IAAR, IqNET and ITIC. Application providers and consultants from Vintara, EtQ Inc. and BQPM LLC were also present.
Quality Digest will report more detailed findings from the knowledge-sharing session in next month's issue.
Manufacturers Need to Improve Selling and Ordering Practices
Fifty-seven percent of manufacturers have problems generating error-free customer quotes, proposals and orders, according to a recent comprehensive study conducted by KRC Research and released by Blue Martini Software Inc.
The study focuses on manufacturers across dozens of segments in the United States, the United Kingdom, France and Germany. It highlights some of the challenges manufacturers face in their sales and order processes.
Many manufacturers have adopted lean manufacturing and production principles but haven't applied those principles to their sales and order processes, a practice that Blue Martini calls Lean Selling. Blue Martini asserts that Lean Selling streamlines the sales process beginning with needs analysis and continuing through proposal generation, configuration, pricing, quoting and ordering.
Conducted during February and March, the study finds that manufacturers' sales and order processes are typically inefficient, complex and full of errors. This is especially the case for industrial and high-technology companies with complex products and selling practices.
Some key results of the study follow:

Seventy-nine percent of manufacturers surveyed have products that are highly configurable or difficult to specify. The result is an increasingly complicated selling process involving multiple selling stages, multiple people involved in generating and reviewing each proposal, and an increasing number of product permutations.

Thirty-nine percent of survey respondents have consistently error-ridden orders, even after the orders move from sales to manufacturing.

Almost 70 percent of those surveyed face situations in which customer requirements constantly change, requiring rework of several proposals.

Thirty-six percent of those surveyed said that 51 to 75 percent of content in each proposal requires modification or complete redrafting.
Although 73 percent of manufacturers claim to have tools in place to automate the needs analysis process for products and services and proposal generation, only 38 percent have improved the accuracy, quality and consistency of proposals. A smaller percentage (21%) say that they have reduced costs. However, more than half of the manufacturers surveyed (60%) expect to evaluate better software tools over the next year to help improve their sales processes, including needs analysis and delivery of highly accurate proposals.
KRC Research, a strategic opinion and market research firm, was commissioned by Blue Martini Software to conduct the survey. The majority of companies cited at least $75 million in revenue. Survey results are based on 213 interviews.
To learn more, visit www.bluemartini.com.
Is Your Organization Suffering From Brain Drain?
There are several reasons a company would suffer from the loss of knowledgeable employees: Baby boomers are reaching retirement age, and the corporate tide is flowing toward rapid growth, turnover, mergers, acquisitions and internal redeployment.
In an effort help management retain knowledge in their organizations, the American Productivity and Quality Center embarked on a project to learn how the principles, tools and practices of knowledge management can be applied to retain valuable knowledge. The result of APQC's undertaking was a best-practice report based on information from more than 30 benchmarked companies.
"Retaining Valuable Knowledge: Proactive Strategies to Deal With a Shifting Work Force" summarizes the findings of the five-month study that involved site visits to leading organizations such as Best Buy, Corning Inc., Northrop Grumman, Siemens, The World Bank and Xerox Connect. These organizations, among others, identified best practices in retaining key knowledge and information despite increasing attrition.
"We identified practical methods to capture, transfer and access knowledge," says Carla O'Dell, APQC's president and special adviser for the consortium study. "This report will help organizations that want to build a knowledge-sharing culture, capture valuable information before employees walk out the door, and decrease the time to competency of new hires by giving them access to lessons learned and communities of knowledgeable people from whom they can learn."
The study is intended to assist organizations in designing and implementing appropriate systems, determining support structures and roles, estimating costs, identifying enablers and barriers to success, and assessing and measuring the effectiveness of knowledge retention strategies. It includes five case studies.
Bill Baker, knowledge management and benchmarking champion at Raytheon Co., explained the benefits his organization reaped from sponsoring the study. "We used the study to understand what others were doing and to help craft our own knowledge management strategy, including a valuable training session for our knowledge management champions," he explains.
To view an executive summary or to purchase the report, visit APQC's online bookstore at www.apqc.org/pubs.
Canadian Consumers Assess the State of Service Quality
When asked to provide their general views on the quality of service they're receiving, about 75 percent of Canadians rated their overall perception as either good or excellent, according to a recent survey conducted by the National Quality Institute.
The NQI survey on service quality in Canada took a look at Canadians' impressions of service quality in several sectors, a few of which dropped in satisfaction since 1997, when NQI conducted a similar survey. Telephone companies and airlines showed the largest decline in popularity, which have gone through significant changes in recent years. "What is intriguing in this sector is that the prime reason for taking a deregulated approach was to open the industry to competition and to benefit consumers," comments Dan Corbett, president and CEO of NQI. Large retailers and postal/courier service companies showed the highest improvement.
The survey also revealed that Canadian consumers are happier with their country's services than they are with those of the United States by a ratio of five to one. "The higher the income, the more positive perception there was for U.S. organizations," Corbett notes. "However, Canadians gave a strong response to Canadian organizations. This should be good news in terms of competitive advantage on a service basis."
Although Canadian consumers are generally satisfied with their service quality, more than half of the respondents stated that they've had a negative service experience. The most commonly cited negative experience (43%) was that a service representative had displayed a surly or hostile attitude.
To see the survey and read Corbett's commentary on the results, visit www.nqi.ca.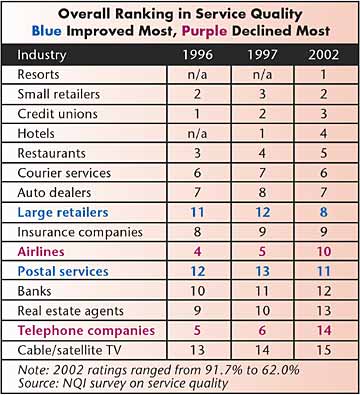 ISO Seeks to Standardize Personnel Certification
Personnel certification programs exist in professions ranging from health care to financial planning to nondestructive testing as a means of verifying professional ability. However, these certification programs frequently vary from country to country, and in some cases, facility to facility.
In an effort to facilitate the global mobility of personnel, the International Organization for Standardization has developed ISO/IEC 17024, Conformity assessment--General requirements for bodies operating certification of persons.
The standard provides guidelines for managing the qualifications and certification of people, including procedures for the development and maintenance of a certification scheme. It's designed to help certification bodies conduct structured evaluations of personnel using objective criteria for competence and grading, and to ensure impartiality of operations and reduce conflicts of interest.
"To be able to choose a person with the competence needed, or for a person to be able to demonstrate specific competencies, a defined certification scheme is particularly useful," notes Thomas Facklam, chairman of the International Accreditation Forum and convener of the working group that developed the standard.
ISO/IEC 17024 addresses the structure and governance of the certifying body, the characteristics of the certification program, the information required to be available to applicants, and the recertification initiatives of the certifying body.
"Only the harmonization of the system for developing and maintaining certification schemes for ersons can establish the environment for mutual recognition and the global exchange of personnel," continued Facklam.
ISO's committee on conformity assessment working group 17, "Certification of persons," and the International Electrotechnical Commission developed the standard. It's available through ISO national member institutes, a list of which can be found at www.iso.org.
ROMER CimCore and FARO Settle Patent Suit
ROMER Inc. and CimCore Corp. have reached a final settlement with FARO Technologies Inc. in the patent- infringement lawsuit pending in the Federal District Court for the Middle District of Florida.
FARO brought about a lawsuit in January asserting that ROMER CimCore's seven-axis 3000iSC scanning arm technology infringed on FARO's patent of its seven-axis arm technology. Under the terms of the settlement, FARO cannot reassert the patents-in-suit against any of ROMER and CimCore's current products, nor can FARO bring a suit against ROMER and CimCore's 3000iSC seven-axis scanning arm on any patent currently held or obtained by FARO in the future.
FARO has reserved its right to sue ROMER CimCore if it introduces any seven-axis articulated CMM products which have other than insubstantial differences from FARO's current products. FARO's seven-axis patents continue to be valid. The court dismissed ROMER and CimCore's counterclaim that FARO's patents for its seven-axis CMM were invalid.
ASQ Koalaty Kid Conference Breaks Attendance Records
"Different Journeys, Same Destination," was the theme of this year's three-day Koalaty Kid Conference, held earlier this year in Ottawa. For the third consecutive year, the conference set an attendance record with 505 attendees, 103 more than last year.
Sandra Cokeley-Pedersen spoke of her experience with Pearl River School District in Pearl River, New York. The district was one of the recipients of the 2001 Baldrige Award. Conference sessions discussed various classroom tools and the plan-do-study-act cycle.
American Society for Quality Koalaty Kid Alliance President Connie Faylor addressed conference attendees on ASQ's expanding role in education. ASQ plans to widen its quality in education outreach, namely by co-sponsoring the National Quality in Education Conference, slated for next year.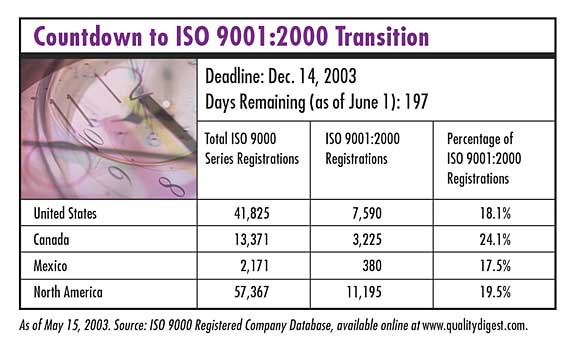 Cyber Optics Corp. has transferred its patented digital range sensor technology and license to Quality Vision International. Through Optical Gaging Products, a QVI company, design teams will utilize the technology to expand and improve upon existing laser measurement capabilities. Manufacturing has been transferred to OGP's facility in Rochester, New York. An existing clean room will be transformed into the laser technology and manufacturing center. To learn more, visit www.ogpnet.com.
Factory Logic Inc. and KAIZEN Institute of America have agreed to jointly offer a combination of lean manufacturing software solutions and consulting services. Factory Logic offers the Streamline lean factory management system, and KIA provides consulting services to both manufacturing and service industries. For more information, visit www.factorylogic.com or www.kaizen.com.



Perceptron will provide 3-D scanning technology to Carl Zeiss Co. for use in its EagleEye Navigator system. The Zeiss system integrates a Perceptron laser sensor and 3-D scanning software with a horizontal-arm coordinate measurement machine to perform data collection and inspection applications. Perceptron's ScanWorks Toolkit software provides mathematical algorithms that extract dimensional features from a cloud of scan data, such as the location and diameter of holes and slots. To learn more about Perceptron, visit the company online at www.perceptron.com.

CogniTens Ltd. and QMC LLC have reached a mutual agreement for integration and distribution of OptiCell, an automated 3-D noncontact robotic cell for online repetitive part measurement.
CogniTens developed the noncontact 3-D measurement solution for the robotic cell, which is based on its Optigo series. QMC provides quality solutions and performs the integration of flexible measurement systems to deliver an integrated turnkey noncontact measurement station. For more information about CogniTens, visit www.cognitens.com.

Corning Tropel Corp. has been named worldwide distributor for Optical Dimensions LLC's Lasercheck application, a noncontact surface roughness measurement gage. As stipulated in the agreement, the product will be marketed as the Tropel Lasercheck. The Tropel Lasercheck measures the average roughness of materials including metals, magnetic media, plastics and ceramics. Product specifications for the Tropel Lasercheck are available at www.corning.com/semiconductormaterials.

The American Productivity and Quality Center has launched a consortium benchmarking project to study how process improvement leaders incorporate knowledge management into their Six Sigma and lean processes.
The consortium, "Replicating the Gains from Six Sigma and Lean: Capturing and Transferring Knowledge and Best Practices," offers participants an opportunity to explore how collaboration, as well as knowledge-capture and transfer of processes, can be integrated into performance improvement methodologies to bolster the replication of meaningful results.
The benchmarking project will commence June 24 in Houston. For more information, call (800) 776-9676.

Hexagon's Swiss subsidiary TESA S.A. has acquired Sud Mesure S.A. Through TESA, Hexagon will expand the business into the noncontact arena and continue to develop manual 3-D vision machines.
In the last year, Hexagon has acquired Brazilian metrology distributor and agent Quality Ltd. and CEJohansson, the metrology company of Newport Corp. For more information, visit www.hexagon.se.

Metrolog software will run on all DEA and DEA Brown & Sharpe machines. Under the software interface development collaboration, both companies agree to supply each other with the necessary support, electronics, mechanical parts and software without limitations.
"Customers will have the ability to equip all existing and new DEA Brown & Sharpe measuring machines (touch-trigger probes or scanning heads) with Metrolog software," says Ettore Bandieri, managing directory of DEA.
Visit Metrologic Group at www.metrologic.fr and DEA at www.dea.it.