40 Top Tools for Manufacturers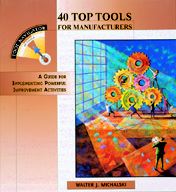 by Walter J. Michalski
In 40 Top Tools for Manufacturers (Productivity Press, 1998), Michalski offers a package of dynamic tools to guide teams through successful process improvement. The book features illustrations, tables and references to help readers navigate through the problem-solving process. In addition, the author provides an overview and relevant background information essential to properly selecting, sequencing and applying major tools such as just-in-time, total productive maintenance, process mapping and cycle-time management. To help readers select the right tool, Michalski arranges the tools in four stages: process, cycle time, variability and problem solving.
To order, call (800) 966-5423.
Good Company

by Hal F. Rosenbluth and
Diane McFerrin Peters
Good Company (Ad-dison–Wesley, 1998) goes behind the scenes at 15 of the world's best companies to reveal how they have met today's most pressing management challenges. The book offers solutions that can be implemented in any company, large or small. Rosenbluth and Peters show how businesses can manage change gracefully--and profitably--by remaining steadfast to the fundamental principles of trust and respect and by maintaining a deep commitment to a corporate culture that brings out the best in everyone.
To order, call (800) 447-2226 or visit www.aw.com/gb/.
The Dolphins Are Back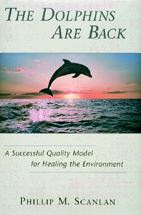 by Phillip M. Scanlan
In The Dolphins Are Back (Productivity Press, 1998), Scanlan shares with readers two compelling stories simultaneously: his experience implementing the industry-renowned quality methodology at AT&T, as well as the struggles and ultimate success of applying this same quality approach to cleaning up the New Jersey shore which, by the end of the 1980s, had become one of the most polluted coasts in the United States. In telling his story, Scanlan conveys the importance of recognizing the potential strength in relationships among business, government and citizens.
To order, call (800) 966-5423.
Invented Here
by Bart Victor and Andrew C. Boynton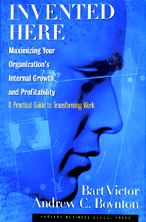 The ability to drive and manage change has emerged as a critical factor in any company's strategy to stay competitive. Invented Here (Har-vard Business School Press, 1998) encourages readers to abandon fads invented in other companies under different conditions and to develop plans that put their organizations on the path that's right for them. The authors argue that the best sources of innovation come from a firm's own learning experiences, combined with input from the customer. They offer a guide for driving strategic change.
To order, call (888) 500-1016 or visit www.hbsp.harvard.edu.