Hyundai Makes Quality Turnaround
Few companies have undergone the quality transformation that Hyundai Motor Co. has seen in recent years.
The Korean automaker has gone from producing some of the poorest-rated cars in the world to having its popular Sonata model named as one of Consumer Reports' most reliable cars for 2005--all in about a decade. The company earned a "Most Improved" ranking from J.D. Power and Associates in 2004, which also ranked the Sonata as having the highest initial quality in the midsized car category. In the entry-level sport utility vehicle segment, the Hyundai Santa Fe finished in second place this year; in the compact car segment, the Accent also finished second. This marks the first time that a Korean-branded vehicle has outpaced both European and U.S.-branded vehicles in initial quality.
In addition, the 2005 Strategic Vision Total Quality Study ranks Hyundai's Tucson and Accent as the segment winners in its small SUV and small car categories, respectively. The models tied for the honor with the Ford Focus and the Mazda3.
"The change really started with Hyundai Motor Co. Chairman Mong Koo Chung," says Robert F. Cosmai, Hyundai Motor America president and CEO. "Quality is his mantra. The chairman is very happy and pleased with these outstanding results, but he points out that this is just the first step."
Subir Chowdhury, ASI Consulting Group chairman and CEO, has personally consulted with Hyundai's executives. Hyundai's embrace of Genichi Taguchi's robust engineering model and a vigorous companywide quality effort that emphasizes defect prevention is a model for others.
"Hyundai's turnaround is really remarkable," says Chowdhury. "They've made quality a major goal companywide, and there's been a dramatic improvement in their products."
Over the past five years Hyundai has improved its J.D. Power and Associates' Initial Quality Study ranking to double the industry average. While the auto industry in general has improved 23 percent in the measure of problems per 100 vehicles, Hyundai has improved 50 percent. When measured by nameplate, Hyundai has improved by 62 percent over the past five years and is now ranked well above the industry average.
Consumers are taking notice. Hyundai sold 40,958 vehicles this April, up from 34,415 in April 2004. Hyundai's market share for the first four months of 2005 was 2.6 percent, up from 2.3 percent during the same time last year, according to Autodata Corp.'s data for light car and truck sales.
"The fact that Hyundai is now outperforming even perennial quality leaders like Toyota--and in a relatively short amount of time--is nothing short of remarkable considering the vast quality gap it faced just a few years ago," says Joe Ivers, partner and executive director of quality/customer satisfaction at J.D. Power and Associates. "A decade ago, as Korean manufacturers struggled with a universally poor reputation for vehicle quality, no one predicted that Hyundai could not only keep pace, but actually pass domestics and other imports in terms initial quality."
For more information, visit www.hyundaiusa.com.
ASQ Members Approve Bylaws Changes
American Society for Quality members overwhelmingly approved changes to the organization's bylaws recently.
Of the 6,733 valid proxy votes cast by members, 93 percent approved the amendments, which were proposed by ASQ's board of directors. Some of the changes include altering the composition and reducing the size of the board, relaxing the qualifications for board service, changing the process for board member nominations, simplifying the process for members to bring items to the board for consideration and the movement of certain details from the bylaws into policies.
The results were announced at ASQ's annual business meeting, which was held in conjunction with the or---ganization's World Conference on Quality and Improvement. The board had urged approval of the changes to help ASQ become more flexible by streamlining its governance.
For more information, visit www.asq.org.
ASQ Membership Decline Spurs Changes
Although membership in the American Society for Quality has taken a steep drop in the past decade, ASQ officials say that dropping membership numbers aren't an indication that the organization is in decline.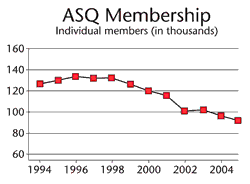 There were 125,894 ASQ members in 1994, and membership peaked two years later at 134,868. Since then, membership has decreased each year, with the exception of a small increase between 2002 and 2003. This year, there are just 92,754 ASQ members.
ASQ's membership statistics also point to a higher percentage of female members. In 1995, women comprised 20.4 percent of the membership; as of 2003, 29.8 percent of ASQ members were women. The workplace demographics have changed, too. In 1995, 69.1 percent of ASQ members were in the durable manufacturing industry; by 2002 that figure dropped to 61 percent.
The numbers illustrate a major shift in ASQ's membership. Historically, the typical ASQ member was a full-time quality professional in the manufacturing industry. But as the economy has slowed, companies have shifted quality positions to more multifaceted functions.
"Quality practitioners now operate in a wider circle," says Laurel Nelson-Rowe, ASQ managing director. "More companies consider quality everyone's job. It's not just a single department anymore. A nurse, for example, might not have quality as part of her job title, but it's certainly part of her job function."
This apparent decline of the full-time quality professional has had obvious effects on ASQ membership. To combat this trend, ASQ is casting a wider net to illustrate the quality aspects of nonmanufacturing jobs: nurses and doctors, school superintendents, college presidents and government officials. To get the word out, ASQ recently launched a major advertising campaign, "I Am Quality," targeting the new quality professional.
The organization also introduced the Living Community tiered membership model. More flexible and market-focused than the traditional membership model, the Living Community indicates a shift away from a product focus (i.e., certification and training) to a service model that's more familiar to prospective service-industry members.
"It used to be a one-size-fits-all approach, and we've overhauled that to reflect the needs of our members," Nelson-Rowe says. "ASQ is a nondenominational house of quality. We're not exclusive."
To learn more, visit www.asq.org.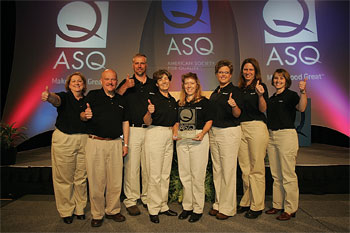 Baxter Healthcare's Value Stream team with their Gold Award

Teams Earn Cost-Cutting Awards at ASQ Conference
Three teams earned awards for their cost-cutting prowess at the American Society for Quality's recent World Conference on Quality and Improvement.
Baxter Healthcare's Value Stream Team earned the top prize, the Gold Award, in the conference's International Team Excellence Competition. The eight-member team u
sed lean techniques and value-stream mapping to remove waste from the production of one-liter saline solution bottles, a project that resulted in drastically reduced inventory at all stages of production, a 71-percent reduction in production time and product release time, and a 25-percent reduction in required processes. It also reduced work-in-progress by 30 percent. Baxter International Inc. is a global health care company, based in Deerfield, Illinois, with expertise in medical devices, pharmaceuticals and biotechnology. Visit www.baxter.com.
The recipient of the Silver Award was the "b" Color Control Team, from Reliance Industries Ltd. (www.ril.com). The team tackled the chronic problem of high b-color in polyester fiber, using Six Sigma to analyze and measure the processes that lead to the oversaturation. Reliance Industries is India's largest private-sector company as measured by all major financial parameters.
United Space Alliance's Shuttle Payload Integration and Cargo Evaluation (SPICE) Team received the Bronze Award for its implementation of lean and Six Sigma to streamline the processes required to estimate the weight and mass of space shuttle payloads. After analyzing approximately 200 process inputs, SPICE developed and implemented new calculations, tools and process controls. Headquartered in Houston, United Space Alliance is a leading space operations organization and is equally owned by The Boeing Co. and Lockheed Martin Corp. Visit www.unitedspacealliance.com.
The live competition was held at the World Conference on Quality and Improvement in Seattle. More than 25 teams from major companies such as The Boeing Co., Xcel Energy and Honda of America Manufacturing competed. Since 1985, more than 700 teams from all over the world have participated in the annual contest.

Innovative Workshops Seek to Revitalize Mold Industry
2000 wasn't a good year for Single Source Technologies or the mold and die industry the company serves.
In 1999, SST, an Auburn Hills, Michigan, reseller of tooling products and machinery, had sales of $40 million. In 2000, its sales dropped to $23 million as thousands of mold and die makers in Michigan and the surrounding areas lost their jobs. The industry was changing, says Keith Kauzlarich, SST's vice president, and to keep ahead of the curve, SST developed an innovative solution: treat prospective clients to lunch and teach them how to operate more efficiently.
SST has been offering Lunch Box Workshops for two years. The idea came to Kauzlarich and Tony Pekalski, SST's president, when they noticed that many of their clients were struggling with overseas competition and, more often than not, losing. Mold makers in places like China and Japan had improved lead times from six months to six weeks, a standard that U.S. makers couldn't match. Kauzlarich estimates that 30,000 mold and die makers in Michigan lost their jobs in recent years because of it.
"Our idea was to teach these people how to compete, how to use the same ideas the overseas shops use, and do it even better," Kauzlarich says. "This industry can't die out in America."
The company has hosted workshops on graphite machining, volumetric accuracy, five-axis machining, portable nonferrous machining and rib machining, among others. The workshops are held at lunch time, making them easy for working people to attend, and interest is high--attendance at some of the workshops has reached into the hundreds. The concept has been a good one for SST, as well: In 2004, the company reported sales of $30 million, which represented a 25-percent increase from the previous year.
Kauzlarich says that U.S. mold and die makers must adopt successful practices from overseas if they are to compete. Asian moldmakers' use of automation has made the process much more efficient, as has zero tuning and streamlined labor shifts. The use of zero tuning--ensuring that a product doesn't need tuning after assembly--has major implications for U.S. producers, and its use is becoming more widespread in the Detroit area. Kauzlarich emphasizes that the implementation of manufacturing processes into the mold industry--in particular, lean principles--is key.
"We want this industry to not only compete, but win," Kauzlarich says. "For that to happen, we have to innovate. To put it into a football analogy, we cannot settle for field goals anymore. We need to get that ball into the end zone."
For more information, visit www.singlesourcetech.com.
Quality News From China
The Shanghai Association for Quality recently completed a series of surveys designed to test foreigners' and residents' views of Shanghai, and the results show that the city has significant room for improvement.
More than half of Shanghai's residents reported that the city's health care, transportation facilities and service quality need "urgent" improvement. The General Public Quality Awareness Maturity Survey was one of 10 surveys SAQ conducted last year to measure the public's perception of the quality of life, transportation and environmental health of Shanghai. Also targeted for improvement was food safety and quality.
To help the city improve, SAQ will focus on the following goals in 2005:

Promote quality awareness and education. SAQ will organize several quality surveys focusing on telecommunications, construction and tourism, provide Criteria for Performance Excellence training for 500 senior managers, train 1,000 quality professionals for the service industry, finish China's Quality Control Technician Qualification stand--ard, and train 1,000 quality controllers and engineers.

Promote performance excellence. SAQ will partner with other quality organizations to train 1,000 quality experts and select 100 companies to run quality pilot programs.

Promote Six Sigma. Work to extend Six Sigma, design for Six Sigma and lean Six Sigma projects throughout China.

Promote quality academic exchange and collaboration. SAQ will host the Shanghai Industry Fair this year and attend quality conferences in the United States and Europe.
Hexagon Acquires Starrett's CMM Business
Hexagon Metrology North America and the L.S. Starrett Co. have announced that Sheffield Measurement Inc., a division of Hexagon, has acquired Starrett's coordinate measuring machine product division.
The acquisition is limited to Starrett's CMM product line only. Sheffield Measurement will assume customer service and support, and spare parts sales for all Starrett machines currently in use. It will also gain all of Starrett's CMM designs, and new and used

machine inventory.
"Primarily this acquisition is about the service opportunity," says Bill Gruber, CEO of Hexagon Metrology North America. "Starrett wanted to ensure that customers would have someone to go to for factory parts and service, and Sheffield will supply these services by combining their team with Starrett's existing CMM-focused employees located in Mt. Airy [North Carolina]. We don't plan on continuing manufacture of these machines beyond the remaining inventory of new and used machines that we acquired in the deal. However, we will continue to make spares available and, of course, service."
During a transitional period, Hexagon will offer Starrett CMM customers a bundled package consisting of a license, installation, training and a service agreement at a reduced price.
"In exploring our options for the coordinate measuring machine business, our focus has been on finding the best way to continue to support our existing CMM customers with the level of service and support they have come to expect from Starrett," says Douglas A. Starrett, president and CEO of the L.S. Starrett Co. "The acquisition of the coordinate measuring machine line by Hexagon Metrology North America will provide our customers with an excellent support and upgrade path now and in the future."
Starrett declined to comment further on the acquisition.
The acquisition of Starrett's metrology business follows several major Hexagon acquisitions. The company acquired Brown & Sharpe in 2001, Quality Ltd. and CE Johansson in 2002, and Romer CimCore Inc. and Sheffield Measurement Inc. in 2004.
For more information, visit www.sheffieldmeasurement.com.