There is no doubt that ISO 9001 and its progeny (ISO/TS 16949, ISO 14001, AS9100, etc.) have found their way into almost all industry segments in just about every country in the world. From Boston to Bahrain, from forest products to semiconductor fabs, ISO 9001-based quality management system (QMS) standards are arguably the most widely known quality standards on Earth.
But although the standards have penetrated almost all segments of North American economy, there are still industries where ISO 9001 hasn't taken hold. This could be due to perceptions that quality management standards, as with programs like Six Sigma or lean, are for "those guys in manufacturing," or simply because there is no market force driving certain industries to invest in the standard.
In this article we will look at how ISO 9001 is distributed in North American industry and ask some of the leading registrars about the growth of ISO 9001 in nonmanufacturing sectors, particularly in health care and nonhealth care-related services.
The certification data is drawn from Quality Digest's database of North American ISO 9001-registered companies (located at www.qualitydigest.com/iso9000database.shtml).
ISO 9001 in service
From the tables on the following page, it's obvious that manufacturing is by far still the largest adopter of ISO 9001. This should come as no surprise; the ISO 9000 series of standards got its start primarily within the manufacturing sector.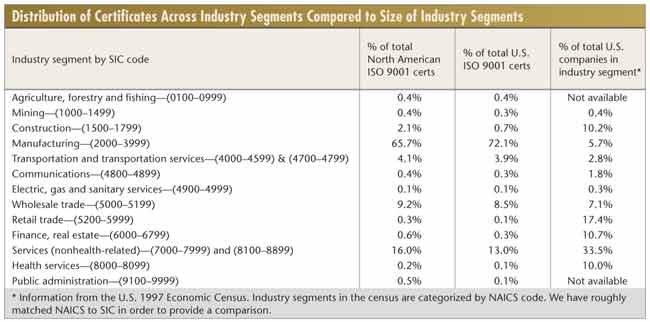 The driving force in the early days of the standard was largely global competition in manufactured goods. "It traces back to when the United States was facing increased global competition," explains Elizabeth Wagner, marketing manager for QMI, one of the largest registrars in North America. "They needed to further refine and enhance the quality and efficiency of their manufacturing processes. They saw ISO 9001 as one of the ways to address this issue."
Not only did these competitive forces work directly on the manufacturers, causing them to look to certification to sell product globally, the same forces worked on the customers of manufacturers who began mandating that suppliers be certified in order to ensure that they received good product.
"The standard was originally written by customers for suppliers," says Peter Lake, founder and CEO of SRI Quality Systems Registrar, a Wexford, Pennsylvania-based registrar. "Purchased products and materials typically represent the majority of purchased expenses to manufacturers, hence the early and continued emphasis on requiring enhanced quality management systems of their material suppliers."
Of course, once one manufacturer started down the ISO 9001 path, the others had to follow in order to remain competitive, which is why many early certification efforts were perceived to have value largely from a marketing perspective. This attitude slowly faded over time, as was seen in Quality Digest's 2004 ISO 9001 Survey (www.qualitydigest.com/pdfs/regsurvey2004.pdf). Even though 45 percent of companies responding to that survey (among those for whom registration was not mandated) indicated that competition was a key driver for pursuing registration, 72 percent indicated that the standard was pursued because of the perceived benefits. Today, as the value of registration (whether for competitive or quality reasons) has become widely known, nonmanufacturing industries have taken note.
Even looking at the recent past, the shift is visible. Near the beginning of 2002 manufacturing represented about 83 percent of all ISO 9001 registrations in North America, with another 10 percent going to nonhealth care, service-related industries (see figure below). Over the next three years ISO 9001 moved into other industry sectors, particularly in transportation and transportation services, wholesale trade, and nonhealth-related services. Today manufacturing makes up about 66 percent of North American ISO 9001 registrations, with service, the second-largest sector, representing about 16 percent of all registrations.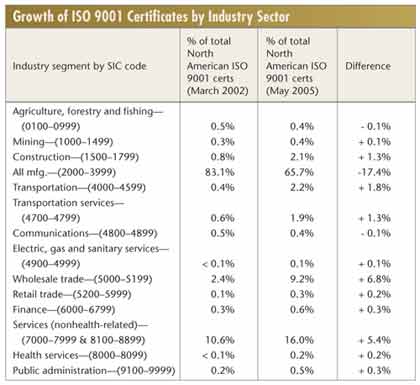 To understand the disproportionate use of the standard in manufacturing, consider the figure above, which shows the distribution of both North American and U.S. ISO 9001 certificates across industrial sectors compared to the percentage distribution of those sectors in the United States (the same data wasn't easily available for Canadian industry).
The figure shows that even though man--ufacturing makes up a relatively small portion of U.S. companies (about 6 percent) it represents 72 percent of all U.S. ISO 9001 certificates. On the other hand, while retail, finance and real estate, and health care combined represent around 38 percent of all U.S. industry, they account for less than 1 percent of certificates.
Where the growth of ISO 9001 in nonmanufacturing industries has been most visible is in nonhealth-related services and wholesale trade companies. Nonhealth-related services make up about one-third of all U.S. business and account for about 13 percent of U.S. ISO 9001 certificates, while wholesale companies represent about 7.1 percent of U.S. business and 8.5 percent of ISO 9001 certificates.
There are a couple of reasons for the shift to service, according to registrars. One is that manufacturing companies, finding success with an ISO 9001-based quality management system in manufacturing, broadened the scope of their certification to include the service areas of their organization. Next, industries that were strictly service or transactional in nature began to recognize the value of a stable QMS platform.
One such company was software developer Computer Associates, of Islandia, New York. The company develops off-the-shelf and custom business software packages and employs about 14,600 people at 196 offices in more than 40 countries. Prior to being ISO 9001-registered the company faced serious challenges.
"Computer Associates is built on acquisitions," explains Darrin King, Computer Associates' senior manager of quality for the Americas, referring to his company's frequent acquisition of other software companies. "Each of these companies comes with its own software development methodology." Some of the practices were good and some weren't, leading to inconsistent quality, King adds. ISO 9001 helped the company establish a strong framework throughout all its acquired companies, sites, and standardized product development and support.
A third reason the standard is gaining traction in service industries has to do with the evolution of the standard itself. "The way it has been rewritten makes it much easier to use in these industries. Previously, the terminology and structure was written all around and about manufacturing. Now, it's an awful lot easier for these companies [to implement the standard]," says Tom Shelley, area vice president of marketing for BSI Management Systems in Reston, Virginia.
Don Kuk, Computer Associates' vice president of worldwide excellence and quality, agrees. "The early character of ISO was really wrapped around industrial or manufacturing environments," says Kuk, whose company was originally registered under the 1994 version of the standard and later transitioned to the 2000 version. "It was a struggle to make the earlier standard work for us; it was too rigid and less focused on continuous improvement." The focus of the new ISO 9001 standard makes it much more applicable to transactional environments.
ISO 9001 in health care industries
While service industries have seen a lot of growth, health care is also taking a hard look at the standard. It's not immediately evident looking at the figures, but for those of us who follow registrations, there is a great deal of buzz in health care regarding ISO 9001, Six Sigma and other quality initiatives.
The reason for the interest is obvious. The results of increased health costs (some of which are quality-related issues) are in the news almost daily. General Motors recently announced 25,000 layoffs by 2008 and is putting a big part of the blame on the $7 billion health care tab it will pay this year. In the Sacramento area, 104-bed Marshall Medical Center is duking it out with Blue Cross over the cost of services. Marshall says Blue Cross needs to pay them more for services, and Blue Cross says Marshall wants too much. More than 28,000 subscribers in the area await the outcome. In both cases, increased efficiencies might have mitigated some of those issues.
The registrars have taken note of this shift. "Our greatest growth is in hospital and health care," reports Wagner. "They, like other more traditional organizations, are finding that the ability to operate more efficiently and decrease operating costs is beneficial."
Lake agrees that interest is growing in third-party quality assessments for health care organizations, but not necessarily for ISO 9001. Although he wouldn't elaborate, he says that increasing pressure is being brought by the government and major consumers on health care services to confirm effective quality management systems by both service and product providers.
More markets to tap
The larger industry segments that have received the least notice from ISO 9001 are construction and retail. Although certificates aren't unheard of, there doesn't seem to be much interest within these segments. Retail, which represented more than 17 percent of all U.S. business in 1997, has been relatively untouched by the quality management standard.
"I believe that it's basically the lack of exposure that retail establishments have had to ISO and its potential benefits," says Bill Sullivan, director of marketing for Houston-based DNV Certification. "We're back to the issue of drivers. There are really only three reasons why any company should consider certification: for the intrinsic value that certification brings, either in increasing the effectiveness and efficiency of a company's product or process, and opportunities to reduce costs through reduced scrap and rework; for the competitive advantage that certification might bring; and finally, certification is being mandated by customers, for example, the auto manufacturers requiring QS-9000/TS 16949 certification."
Sullivan acknowledges that the service sector is a huge market for registrars and will continue to grow in the coming years, particularly as service companies start playing follow-the-leader. "If you look at the certification growth in any given industry sector there are typically some early adopters," says Sullivan. "Once two or three major players in a given industry become certified, there tends be a cascade effect, with the other companies in the industry playing catch-up."
About the author
Dirk Dusharme is Quality Digest's editor in chief.