ISO Takes Steps to Curb Certification Malpractice
In November 2001, International Organization for Standardization secretary general, the late Lawrence D. Eicher, spoke out against unethical practices by certification bodies, boldly stating, "You need to police yourselves." Onesolution Eicher proposed was to pool information from various accreditation bodies about unscrupulous practices. In a move toward this call to action, ISO recently announced a partnership with the International Accreditation Forum in which the two organizations will share information on complaints relating to ISO 9000 certification and on actions taken to deal with them.
A joint working group comprised of the ISO Committee on Conformity Assessment, the IAF and the International Laboratory Accreditation Cooperation have identified three types of problems related to unethical or inappropriate practices: malpractice by conformity assessment bodies; misleading advertising of the status of conformity assessment results, including misuse of conformity marks; and confusion in the marketplace between the terms "certification" and "accreditation."
In a statement, the joint working group encourages dissatisfied customers of conformity assessment services to file complaints with the relevant conformity assessment bodies. "When accreditation bodies have proof that an accredited conformity assessment body has behaved inappropriately, it will take necessary action, includi

ng the suspension or withdrawal of accreditation."
The IAF, ILAC and ISO have established procedures to receive and investigate complaints about malpractice and advise on appropriate action. Further announcements of measures will be made as they are implemented.For more information, visit www.iso.org.
Airlines See First-Ever Rise in Customer Satisfaction
Marking only the first time airlines have shown improvement in customer satisfaction, the latest American Customer Satisfaction Index indicates that passengers are 8-percent happier with airline service than a year ago.
It's the first time the airline industry has seen a rise in customer satisfaction since the ACSI was established in 1994.
The results are surprising given that the nation's airlines are accruing significant financial losses since Sept. 11, says Claes Fornell, professor of business and director of the University of Michigan Business School's National Quality Research Center. "The decline of air travel, particularly among business travelers, has meant less crowded planes and more time available per passenger from flight attendants," he says. "But, in order to fill seats, airlines have also slashed fares and offered bargains."
Southwest Airlines came out on top, earning an ACSI score of 74 (all scores are of a possible 100). Continental Airlines and Delta Air Lines follow with scores of 68 and 66 respectively. Northwest Airlines showed a 16-percent improvement from last year, jumping from 56 to 65.
In addition to airlines, the ACSI's first quarter report tracked customer satisfaction in energy utilities, telecommunication companies, broadcast and cable/satellite television, parcel delivery services, the U.S. Postal Service, newspaper publishing, hotels, hospitals, the motion picture industry and health care insurance.
The ACSI is produced through a partnership of the University of Michigan Business School, the ASQ and the CFI Group. A complete list of scores can be found at www.theasci.org.
Eleven Quality Professionals Earn ASQ's Highest Honor
The American Society for Quality presented 11 quality professionals with Distinguished Service Medals during the organization's 56th Annual Quality Conference held in May. The award represents the highest distinction of quality service accorded by ASQ, honoring lifetime contribution to quality through the proliferation of quality principles, methods and science.
What follows is a list of Distinguished Service Medal recipients and the text inscribed on their awards:
n Yoji Akao--"For sustained distinguished service through his contributions to the international quality movement by the creation, development and propagation of quality function and deployment and policy management."
n John E. Condon--"For sustained distinguished service to the quality profession and his nation through pioneering work in aerospace quality and reliability improvement of the NASA space effort and his continuing leadership of the American Society for Quality."
n John D. Hromi--"For sustained distinguished service to the global quality community through teaching, writing and promotion of quality methods and principles and his leadership contributions to the American Society for Quality."
n Lloyd S. Nelson--"For sustained distinguished service as the founding editor of the Journal of Quality and Technology and for his exceptional contribution to the quality body of knowledge through extensive writings and teaching, as well as his personal promotion of the principles and methods of statistical quality control."
n Ralph E. Wareham--"For sustained distinguished service to the quality profession and to the American Society for Quality through his dedicated personal leadership, exceptional contributions to the codification of the quality body of knowledge and role model example of commitment to public service."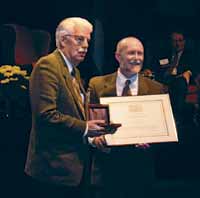 QCI International President Donald L. Dewar (left) accepts Distinguished Service Medal
n Frank Caplan--"For sustained distinguished service to the quality profession through his contribution as the founding editor of the Quality Engineering journal and for his contributions to promoting quality in education as co-founder of the National Educational Quality Initiative."
n Donald L. Dewar--"For sustained distinguished service to the global quality community through his active leadership as co-founder of the Association for Quality and Participation, publisher of Quality Digest, as well as an international author and consultant on teamwork and quality improvement."
n Frank M. Gryna--"For sustained distinguished service to the global quality community as a thought leader in quality management by extensive writing, speaking and teaching over a lifetime as a consultant, educator and author."
n Spencer Hutchens Jr.--"For sustained distinguished service to the global quality community, the quality profession and the American Society for Quality by his extraordinary personal dedication, tireless energy and exceptional contributions in a lifetime of volunteer leadership."
n Yashio Kondo--"For sustained distinguished service through both his volunteer activities in the global quality community and his extensive personal academic contributions as an international thought leader in human motivation and companywide quality control."
n Edward G. Schilling--"For exceptionally distinguished service through his sustained academic leadership in quality and applied statistics by his contributions in the fields of process management and acceptance sampling."
Health Care Improvement Initiative Begins Phase Two

In January, Quality Digest featured a news item about Pursuing Perfection, a grant initiative under which 12 health care organizations participated in a seven-month planning program designed to improve quality in their field. Since that time, seven of those organizations have been selected to move on to phase two.
Under phase one of the $20.9 million grant, each group received funds to devise a leadership and partnership strategy to reach a near-perfect level of health care in at least two of its care processes. Under phase two, the seven chosen health care organizations will each receive two-year grants of $1.9 million to help implement their strategies. These organizations are the Cambridge Health Alliance, Cincinnati Children's Hospital Medical Center, Hackensack University Medical Center of New Jersey, HealthPartners Medical Group and Clinics in the Twin Cities area, McLeod Regional Medical Center in South Carolina, St. Joseph Hospital of Bellingham, Washington, and Tallahassee Memorial Healthcare in Florida. The five other organizations will continue to participate in the program by implementing all or part of their plans.
"All the organizations participating in Pursuing Perfection can help the nation understand that near-perfect health care, as shown by measurable results, is within our grasp," says Risa Lavizzo-Mourey, M.D., senior vice president and director of the Health Care Group of the Robert Wood Johnson Foundation. "We expect that these organizations will produce compelling examples that show just how good health care can and should be."
The initiative is sponsored by the Robert Wood Johnson Foundation and the Institute for Healthcare Improvement. Find out more by visiting www.ihi.org/pursuingperfection.
Optical Gaging Products' Parent Acquires RAM Optical
Newport Corp. has sold its U.S.-based noncontact metrologybusiness, RAM Optical Instrumentation, to Quality Vision International Inc. The transaction is the latter part of a two-step plan by Newport to sell the majority of its Industrial Metrology Systems Division. QVI is also the parent company of dimensional measurement developers Optical Gaging Products and View Engineering.
Last month, Hexagon Metrology, a Sweden-based developer of coordinate measuring machines, software and precision measuring systems, acquired CEJohansson, the contact metrology division of Newport Corp. Hexagon is the parent company of Brown and Sharpe, headquartered in Rhode Island.
Learn more at www.newport.com or www.qvii.com.
DNV Introduces Web Browser-Based Certification Solution
DNV Certification has introduced e-Advantage, an Internet-based application designed to help companies coordinate their certification projects. Marketed by DNV as the first solution of its kind, the portal provides instant access to all aspects of a company's system certification process--including audit reports, scheduling issues, nonconformity notes and data analysis--from multiple company locations 24 hours a day.

Specific features of e-Advantage include:
n Access to project details, including number of employees, certification requirements and audit schedules
n Capability to download/upload specific audit documents, corrective actions, standards and news items
n E-mail notification when new documents are published regarding a company's specific project
n Lists of nonconformity notes that have been issued within the project and information on the status of each NCN
n Data analysis for benchmarking, enabling a company to compare its performance against competitors
n A library of DNV's ISO standards checklists
For an online demonstration, visit www.dnvcert.com.
Automakers Steadily Improving New-Car Quality
The quality of new cars in the United States has improved 10 percent in the last year, according to the J.D. Power and Associates 2002 Initial Quality Study. It's the highest one-year improvement since 1997, capping an overall increase of 24 percent during the past five years.
Toyota Motor Sales scored highest, earning top marks in five of seven segments in the light-truck category. The non-Toyota models in that category were the Ford Expedition, which won top billing in the full-size SUV category, and Lexus LX 470, which received top honors in the luxury SUV category. For a closer look at the results, see Figure 1.
"With truck sales now surpassing 50 percent of the light-vehicle market, truck quality is critical to automakers," notes Brian Walters, director of product research at J.D. Power and Associates. "Toyota Motor Sales' consistency in building truck models with high initial quality certainly gives them an advantage."
A wider variety of automakers were represented in the car category, including U.S. brands such as the Chevrolet Malibu, which earned first spot in the midsize car segment. It also made the biggest five-year quality gain, improving 58 percent, followed by the Buick Century, Chevrolet Corvette and the Lexus GS Sedan, each having improved 49 percent. Toyota Motor Sales and General Motors improved 31 and 30 percent during the last five years respectively. See Figure 2 for the nine segments in the study's car models category.
In 2002, Korean manufacturers Kia and Hyundai improved the most, by 21 and 19 percent respectively. During five years, Hyundai Motors America has improved 42 percent. Over the same period, American Isuzu saw an improvement of 39 percent, Mitsubishi Motor Sales has improved 38 percent, and DaimlerChrysler marked a 27-percent improvement.
The study is based on responses from about 65,000 purchasers and lessees of new 2002 model-year automobiles surveyed after 90 days of ownership. This most recent report marks the study's 16th year. For complete results of the 2002 J.D. Power and Associates Initial Quality Study, visit www.jdpa.com.
More Than 100 Facilities Registered to "Humane Workplace" Standard
Social Accountability International has announced that the number of facilities now registered to the SA8000 standard has reached 124, just three years since the first certificate was issued.
This encompasses 70,000 workers in 24 countries, including China, India, South Africa, Thailand, Turkey, the United States and others. Clothing, footwear, toys, food, cosmetics and paint manufacturing are among the 25 industries represented on the list, which includes Toys"R"Us, the world's largest toy retailer; Otto Versand, a leading catalog retailer; Dole, producer of fresh and prepared fruits and vegetables; and Kesko, Finland's largest retailer.
The SA8000 standard is designed to ensure that companies produce wares and services under decent conditions. It covers all human rights recognized by the International Labour Organization, the Universal Declaration of Human Rights and the United Nations Convention on the Rights of the Child. The nine tenets of the standard are:
n No child labor
n No forced labor
n A healthy and safe workplace
n Freedom of association and right to collective bargaining
n No discrimination
n No unjust discipline
n Limits on working hours
n Basic-needs wage
n Management systems for long-term compliance
SAI was founded in 1997 as a charitable human rights organization to help improve workplaces and communities worldwide by developing and promoting voluntary standards, independent verification and public reporting. Visit SAI's Web site at www.sa-intl.org. For a complete list of all facilities registered to SA8000, visit www.sa-intl.org/certification.htm.
Service Helps Turn Innovators' Ideas Into Marketable Products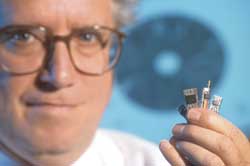 Intelligent Sensor Systems designs sensors that detect minute surface defects.
Constant innovation from the Georgia Institute of Technology has stimulated growth in the areas of engineering, computer science and a host of other technology-driven industries for more than 40 years. Now, in order to smooth the process of transforming ideas into commercial successes, Georgia Tech has established a $330 million-a-year program called VentureLab, which provides faculty members assistance in commercializing their technological innovations.
VentureLab stems from Georgia Tech's Advanced Technology Development Center, which operates the Faculty Research Commercialization Program. Since 1993, the program has helped create 22 new ventures and generate about $1 million in licensing revenues from research by Georgia's six largest universities.
Intelligent Sensor Systems Inc. recently became the first VentureLab firm to be accepted into the Advanced Technology Development Center, Georgia Tech's incubator for technology-based start-up companies. Intelligent Sensor Systems Inc. is developing sensors that can read the chemical makeup of a surface and create a detailed image that reveals microscopic defects, corrosion and irregularities.
The VentureLab service is designed to encompass all aspects of commercialization, offering assistance in four key areas:
n Technology assessment. VentureLab staff members will work with Georgia Tech faculty at the early stages of commercialization to help them evaluate the commercial value of their innovations and determine the best way to proceed.
n Commercialization workshops and seminars. These events will cover a variety of topics, including intellectual property, licensing, start-up processes and venture capital firms.
n VentureLab fellows. For technologies with the potential for quick start-ups,
VentureLab will provide a network of experienced entrepreneurs to evaluate innovations and build new companies on those that demonstrate commercial need.
n VentureLab Pre-Seed Awards. These awards will provide financing to help innovators generate prototypes and proof-of-concepts needed in order to show commercial need for the product.
Learn more about Georgia Tech's VentureLab at www.venturelab.gatech.edu.
Industry
Rudolph Technologies, a supplier of film-characterization metrology tools, has created a business unit dedicated to integrated metrology and producing a line of integrated metrology modules.
The business unit will provide integrated metrology for dielectric CMP, barrier/seed deposition, electroplated copper, copper CMP, OCD for photoresist processing and OCD for etch. For more information, visit www.rudolphtech.com.
Entela Receives Accreditation for Testing Automotive Glass
Entela Inc. has received accreditation from the Automotive Manufacturer Equipment Compliance Agency to test automotive safety glass and safety glazing materials. The AMECA program notifies government, industry and the general public about items for motor vehicle safety equipment that have been tested by an AMECA-accredited laboratory and found to be in compliance with applicable standards.
AMECA maintains a list of items that have been tested and currently comply with U.S. standards. It's updated quarterly and sold by annual subscription to industry and the public. AMECA maintains regular communication with its accredited laboratories as well as with local, state and federal governments. Learn more at www.entela.com.
Comalco, an Australia-based supplier of bauxite, alumina and primary aluminum, has contracted with Six Sigma Qualtec to design, implement and support a Six Sigma initiative to improve internal processes for bauxite mining, alumina refining and aluminum smelting.
Six Sigma Qualtec provides services for Six Sigma initiatives. Learn more at www.sixsigmaqualtec.com.
The Institute of Quality Assurance will host the 2002 World Quality Congress on behalf of the European Organization for Quality. The event is scheduled for Sept. 29 through Oct. 1 in Harrogate, England. Q2002 will feature key speakers from public and private sectors discussing quality issues in business, health care, manufacturing and education.
As the professional institute for quality and quality management in the United Kingdom, IQAprovides training and support for quality professionals and individuals responsible for quality management. EOQ is a federation of quality management organizations from 34 European member states, which represent more than 140,000 individuals and 23,000 businesses. For more information, visit www.iqa.org/q2002.