Three Educational Organizations
Win Baldrige Award
P resident George W. Bush and Commerce Secretary Don Evans have announced the five companies that will receive the 2001 Malcolm Baldrige National Quality Award. For the first time in the award's history, organizations in the education category will receive the nation's premier award for performance excellence and quality achievement.
The 2001 winners are Clarke American Checks Inc., San Antonio, Texas (manufacturing); Pal's Sudden Service, Kingsport, Tennessee (small business); Chugach School District, Anchorage, Alaska (education); Pearl River School District, Pearl River, New York (education); and University of Wisconsin-Stout, Menomonie, Wisconsin (education). There were no winners in the health care or service categories.
The Chugach School District is not only one of the first Baldrige winners in education, it also represents the smallest organization to win a Baldrige Award, with just 30 faculty members and staff.
"These organizations will be outstanding role models for 21st century education organizations," notes Evans. "As President Bush has also often said, if we succeed in educating our youth, many other successes will follow." The education category for the Baldrige Award was introduced in 1999. Since then, 37 applicants have been submitted.
Another first for the Baldrige Award is the announcement of a winner in the quick service restaurant industry, Pal's Sudden Service. Pal's also received the 2001 Tennessee Quality Excellence Award; Clarke American Checks received the 2001 Texas Award for Performance Excellence, and Pearl River School District won the 1994 New York Governor's Excelsior Award.
The winning organizations will receive the award during a ceremony slated for later this year.
Named after the 26th secretary of commerce, the Malcolm Baldrige National Quality Award was established by congress in 1987 to enhance the competitiveness of U.S. business by promoting quality awareness, recognizing the quality and performance achievements of U.S. organizations and publicizing successful performance strategies. Since 1988, 46 organizations have received a Baldrige Award.
The Baldrige program is managed by the National Institute of Standards and Technology. For more information, visit www.nist.gov.
Baldrige Applicants Get Guaranteed
Seat on Board of Examiners
I n an effort to improve organizations' understanding of the award's performance criteria, the National Institute of Standards and Technology has guaranteed a seat on the Malcolm Baldrige National Quality Award board of examiners to every organization that applies for the 2002 award.
Board members carry the duties of reviewing and evaluating applications for the Baldrige Award and preparing feedback reports to applicants, citing strengths and opportunities for improvement.
The guarantee is part of NIST's effort to help applicants, as board members, network with fellow quality professionals and improve their understanding of how leading organizations achieve performance excellence.
Board members will not be allowed to review applications from their own organization or any other organization with which they are affiliated. Board members who ask for information on applications other than those to which they have been assigned will be breaking the board's code of ethics.
Applications are due by March 18 and can be obtained at the NIST Web site at www.quality.nist.gov or by calling (301) 975-2036.
NQA Adopts Zurich's Certification Business
Z urich Risk Services has recently passed its ISO 9000 and ISO 14001 certification business over to National Quality Assurance, adding more than 800 new clients to NQA's 13,000-client base.

As a condition of the partnership, Zurich, a former competitor of NQA, will promote NQA certification services to its clients; similarly, NQA will promote Zurich's risk-assessment services and notified body activities to its own client base.
"This deal is great for Zurich and for our customers, as we will now be able to offer them ISO series certification through the NQA network. Access to this network will mean they not only benefit from NQA's unparalleled expertise in the certification arena but also have access to its extensive U.K. and global network of certification auditors," says Roger Cottell, managing director of Zurich Risk Services.
NQA carries out accredited third-party assessment and registration of management systems against the requirements of national and international standards. NQA has access to a global network of assessors operating in more than 40 countries.
Trevor Nash, managing director of NQA, adds, "Zurich's clients will gain added value from their certification not only through a more extensive network of assessors, but also through training and development opportunities and the range of product and sector-specific schemes offered by NQA. We are delighted to be in partnership with Zurich and look forward to a close working relationship with them and their clients."
Through NQA, Zurich will offer OHSAS 18001, ISO 9000 and ISO 14001 series certification to its North American customers. However, the agreement does not extend to new business development through NQA Inc. in North America.
Established in 1988, National Quality Assurance is a certification body, accredited by UKAS, RvA and RAB, the national accreditation bodies of the United Kingdom, the Netherlands and the United States respectively. NQA has issued more than 12,000 certificates of registration in 40 countries and provides certificates to ISO 9000, ISO 14001, QS-9000, AS EN 9100, TickIT, BS 7799/c:cure, product and personnel certification as well as OHSAS 18001, the new health and safety specification.
Zurich Financial Services Group provides financial protection and asset accumulation solutions. The group concentrates on five business segments: nonlife and life insurance, reinsurance, Farmers Management Services and asset management. Headquartered in Zurich, the company's holds offices in the United States, United Kingdom and more than 60 other countries.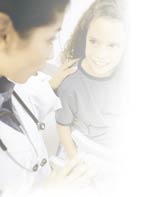 Healthcare Improvement Institute Issues 12 Grants To Improve Quality
T he Institute of Medicine recently reported that as many as 98,000 deaths occur each year because of medical errors.
In an attempt to curb this disturbingly high number, the Institute for Healthcare Improvement has set aside $20.9 million for Pursuing Perfection, a dual-phase grant program for health care facilities to improve quality in their field.
Under phase one of Pursuing Perfection, 12 chosen health care facilities will complete a seven-month planning program, with technical assistance tailored to meet their specific needs (e.g., Children's Hospital and Health Center in San Diego is seeking improvements in optimal clinical care and advanced patient safety, while Henry Ford Medical Group in Detroit will focus its improvements on developing a tangible model for near perfect care for prostrate cancer and major depression).
At the end of phase one, Pursuing Perfection will choose six of the participating organizations to proceed to phase two, which involves applying its plans to the company.
Although the specific methods of improvement vary, each group will closely follow a set of criteria established by the grantors. These criteria include:

A plan for piloting efforts that pursue perfect health care in at least two care processes

A diffusion strategy within the organization that relies on training the bulk of the organization's clinical and administrative employees to redesign their processes based on the lessons from the pilots

A strategy for building partnerships beyond the boundaries of the organization

An infrastructure-building strategy to support substantial, organizationwide improvements in such areas as clinical measurement, business processes, accounting, information systems, staff training and human resources

A strategy to make the business case for efforts that pursue perfect health care

A leadership strategy that directly involves the CEO, medical leadership and trustees or board members
Nongrantees are welcome to participate through the Pursuing Perfection Learning Network, which provides resources for organizations that would like to implement quality, especially in the realm of health care. The Learning Network guides participants through the grant application process in order to help them assess their own qualifications for implementing change within the organization. It follows each step that the 12 grantees are taking, all the way up to implementation of phase two.
For more information, visit www.ihi.org/pursuingperfection/index.asp .
Study Shows Baldrige Contributes $25 Billion to U.S. Economy
T he Malcolm Baldrige National Quality Award has long been viewed as the pinnacle of quality in industry. Until recently, however, the award's impact on the economy as a whole has been unknown. A recent economic study reveals that the Baldrige has had a tremendous positive affect on U.S. industry.
Benefits to the U.S. economy stemming from the Baldrige National Quality Program reach upwards of $25 billion, a benefit-to-cost ratio of 207-to-1, according to a recent analysis that determined the operational costs, including the value of executives' volunteered time to review applications, at $119 million.
The findings were based on information from the National Institute of Standards and Technology and a mail survey of members of the American Society for Quality. The survey collected data about the net private benefits associated with the Baldrige Program and determined those benefits to be valued at $2.17 billion. "If the entire economy benefits to the same extent as the ASQ members, the conservative estimate of the present value (in constant 2000 dollars) of social benefits associated with the Baldrige program is $24.65 billion," the study states.
According to the report, no other quality model has gained such widespread global acceptance. For example:

Since the introduction of the Baldrige program, NIST has distributed more than 1 million copies of the criteria.

More than half of the states in the United States have quality award programs modeled after Baldrige criteria.

Upwards of 50 countries are estimated to have awards programs based on the Baldrige program.

The European Quality Award criteria are modeled after Baldrige criteria.

Large companies' internal assessment quality awards often pattern their criteria after the Baldrige program.
From the program's 1987 inception through 2000, 41 companies have received the Baldrige Award and NIST has received 785 applications. However, thousands of other organizations of all sizes and in all sectors of the economy have benefited by using the Baldrige Criteria for Performance Excellence as the foundation for performance management and quality improvement programs, according to the report. In 1991, eight states had award programs that directly tied to Baldrige criteria. By 1998, the number of states had jumped to 44. Additionally, 111 service and manufacturing organizations applied for state and local quality awards in 1991. In 1998, that number was 830.
Planning Report 01-3: Economic Evaluation of the Baldrige National Quality Program is available at www.nist.gov/director/prog-ofc/report01-3.pdf or by faxing a request to NIST Public Business Affairs at (301) 926-1630.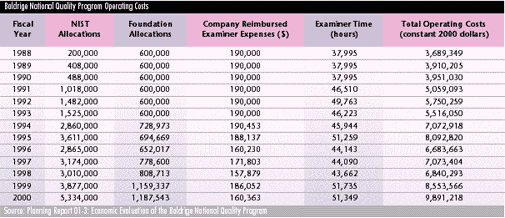 T he International Organization for Standardization has acquired www.iso.org as its new Web site address.
The site replaces www.iso.ch. The ".ch" prefix is derived from Switzerland, the location of the ISO Central Secretariat.
The new site will contain all the same material as its predecessor, which includes information on more than 13,400 international standards for business, government and society.
ISO reported that potential visitors to the Web site, especially members of the general public, were searching for the organization online using the domain name www.iso.org. ISO acquired that domain name in order for people who hadn't previously visited the ISO Web site to find it more easily and quickly.
Both www.iso.org and www.iso.ch will link to the same information for an indefinite period. After the transition is complete, www.iso.org will be ISO's primary universal resource locator.
Customer Satisfaction Holding Steady
Customer satisfaction with everyday nondurable goods and products is holding steady, according to the American Customer Satisfaction Index's third quarter results for 2001.
The overall score, updated on a quarterly basis, dropped just 0.1 percent (from 72.1 to 72.0). Scores are based on a 100-point scale. The ASCI score for customer satisfaction dropped a mere 0.6 percent from 80.8 to 80.3 points for goods in the nondurables sector of manufacturing, which was the focus of ACSI's third-quarter study.
Products in the nondurable manufacturing sector include eight industries: food processing, soft drinks, beer, tobacco, apparel, athletic shoes, personal care products and pet foods.
"It seems reasonable to assume that products like ketchup, soup, oatmeal, cheese, blue jeans and soap have the same qualities now as they did before the economic downturn. People's experience with these products has not changed," says Claes Fornell, professor of business and director of the University of Michigan Business School's National Quality Research Center. "The market offers numerous brands with many purchase alternatives, thus satisfying many different consumer tastes. Dissatisfied buyers can easily switch to another product."
Of the eight nondurables industries, only food processing registered an increase in customer satisfaction, from 81 to 82 points. The H.J. Heinz Co., with a score of 89, remains the highest-scoring company of all nondurables for the second year in a row. Raking in 86 points were the Quaker Oats Co., Hershey Foods Corp. and Mars Inc., which saw its score rise almost 5 percent from last year.
In the realm of personal care, Colgate-Palmolive registered the largest score increase from 80 to 85. The Clorox Co. also scored 85 points.
The pet foods industry came down a point to 82. The soft drink sector lost five points to land at 82. Cadbury Schweppes remained at 85 for the second year, while Coca-Cola Co. fell six percent to 81. Scores for major brewing companies dropped, as the beer industry sector lost two points to land at 80.
ACSI is produced through a partnership among the University of Michigan Business School, the American Society for Quality and the CFI Group. A full report of company scores is available at www.asq.org/info/acsi .
Web-Based Program Harnesses Six Sigma Wisdom
Six Sigma Qualtec has released 6Net, a Web-based training and deployment support program that manages Six Sigma projects while retrieving and analyzing data from historical activities.
"6Net provides a systematic process of finding, selecting, organizing, distilling and presenting information that is useful to every level employee," states Pete Robustelli, executive vice president of Six Sigma Qualtec.
The program is a server-based tool accessible through Web browser software. The server stores the user's databases, communications logs and tracking tools, while providing a forum for users to enter test data, conduct analysis, monitor projects using real-time information, search databases for historical experience and collaborate with others working on shared goals.
To learn more, visit www.sixsigmaqualtec.com .
TÜV Now Providing TL 9000 Certification
TÜV Management Service has been accredited by the Registrar Accreditation Board to provide
TL 9000 registration to manufacturers and service providers in the telecommunications industry.
The TL 9000 quality management system is the first unified set of quality system requirements and metrics designed specifically for the telecom industry and encompasses ISO 9001 and other industry specific requirements.
TÜV also provides registration to ISO 9000, ISO 14001, QS-9000, ISO/TS 16949, TE Supplement, AS9100, VDA 6.1, ISO 13485/88 and EN 46000 standards.
To learn more, visit www.tuvam.com .
Six Sigma Conference Approaching
The second annual American Society for Quality Six Sigma Conference is scheduled for Jan. 28 and 29 at the Tampa City Center in Tampa, Florida. Proxima Technology, a supplier of service-level management solutions that support the Six Sigma quality method, will sponsor the event.
Tim Young, Proxima Technology's vice president, will speak about Six Sigma and Information Technology management.
To learn more and register online, visit sixsigma.asq.org .
ISO Unveils New Magazine
ISO Management Systems, a new magazine published by ISO, is now available.
Replacing the organization's old publication, ISO 9000 + ISO 14000 News, ISO Management Systems is a full-color magazine published six times a year. It covers ISO 9000 and ISO 14000 developments, implementation case studies, upcoming revisions to standards, viewpoints and debates, resources and other standards-related topics. To subscribe, visit the ISO Web site at www.iso.org or e-mail the ISO central secretariat at .