Are Union Shops More Productive?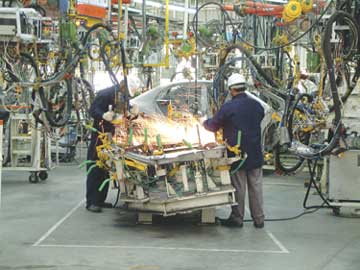 The United Auto Workers has borne much of the criticism for the U.S. automobile industry's financial woes, but a recent report suggests that some North American union-represented assembly plants are more productive than some of their nonunion competitors.
In fact, the most productive auto assembly plant in North America, according to The Harbour Report, is General Motors' Oshawa (Canada) No. 1 plant, in which workers take just 15.85 hours to assemble a vehicle. The plant assembles the Chevrolet Monte Carlo and Impala, and is represented by the Canadian Auto Workers.
Six of the top 10 North American assembly plants are union shops, reports Roger Kerson, assistant director of public relations of United Auto Workers. Ford Motor Co.'s Atlanta assembly plant was ranked third on the list, at 16.58 assembly hours per vehicle; GM's Oshawa (Canada) No. 2 plant was fourth, at 17.47 hours; and GM's Lansing, Michigan, assembly plant was fifth, at 17.53. Nonetheless, Nissan's Altima plant in Smyrna, Tennessee, a nonunion shop, is the most productive U.S. plant, with an average of 16.10 hours per vehicle. (See chart at bottom right.)
"I think it's a good sign that union workers are as productive, and in many cases, more productive, than nonunion workers," Kerson says. "Union workers are more invested in their jobs. They know that they can speak up about how to do things better to management, and they won't get fired for it. It leads to a happier, more productive worker."
Improved productivity among the unionized labor force has been a long time coming, says Greg Gardner, Harbour Consulting Inc. spokesman. He points out that the UAW has streamlined its worker classification system by eliminating many of the classifications, which has allowed unionized workers to be cross-trained on many different positions, thereby making them more efficient. In this way, the UAW has taken a page from such famously efficient Japanese automakers as Toyota and Honda, which cross-train nearly all of their workers. Local union leaders, on the whole, have also cultivated better relationships with plant management, which has led to greater understanding on both sides.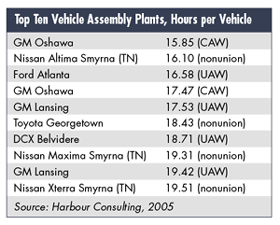 "There's very, very few job classifications in the Japanese-owned plants," says Gardner. "We're definitely seeing more of that in the UAW and the CAW. I think it shows that the UAW is capable of stepping up and working with the plants to make workers happier and more productive."
Union plants reported particularly notable improvements in assembly time, but industrywide productivity has also improved. The average assembly time per plant is as follows:
• Toyota: 19.46 hours (down 5.9 percent--partial plant report)
• Honda: 20.62 hours (down 0.1 percent--partial plant report)
• New United Motor Manufacturing Inc. (a joint venture by Toyota and GM): 21.78 hours (down 0.6 percent)
• GM: 23.09 hours (down 2.2 percent)
• Ford: 24.48 hours (down 3.8 percent)
• DaimlerChrysler: 25.17 hours (down 3.2 percent)
Japanese-owned auto companies such as Toyota and Honda aren't represented by unions, a fact that's allowed them to avoid the costly pensions and health care costs of their U.S. competitors, but the wages they pay their employees are nearly identical. According to The Harbour Report, this has allowed Japanese car makers to remain more financially stable than the traditional large U.S. manufacturers, despite the dramatic cycle-time, quality and assembly-time improvements achieved by Ford, GM and DaimlerChrysler in recent years.
But while unionized auto workers posted impressive productivity, union membership has been on a steady decline since the late 1970s, when the UAW had 1.5 million members (as compared to approximately 600,000 today). In 1999, unions represented just 48 percent of U.S. autoworkers, down from 61 percent at the beginning of the decade. And although auto industry employment grew by more than 100,000 in the 1990s, the number of union members dropped by 51,000.
RFID on the Rise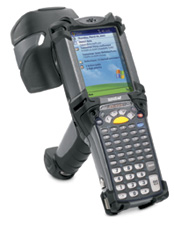 Quality, meet RFID. RFID, meet quality.
A newly released report suggests that the use of radio-frequency identification (RFID) has become mainstream and will be an increasingly large force in the quality industry. Many retail operations (chief among them Wal-Mart) mandate the use of RFID tags to reduce out-of-stocks and maintain appropriate inventory levels, but research firm Regan, Jacob & Sydney found surprising adoption of the technology as a quality-assurance tool. For example, automotive manufacturing organizations have used RFID chips to replace their paper-based, paint-process production requirements, resulting in better production quality and reduced rework.
Regan, Jacob & Sydney's report notes that 2005 was a watershed year for the use of RFID, featuring some of the following trends:
• Temperature-sensitive supply chains are increasingly adopting RFID tags that record compliance with temperature requirements, which reduces spoilage and extends shelf life.
• The Veteran's Administration, which operates one of the largest medical supply chains in the world, has begun RFID deployment.
• The Boeing Co. and other aerospace firms, faced with a high-cost inventory and counterfeit parts to fend off, have started to adopt RFID. This has required them to address compliance issues with the Federal Aviation Administration and the Federal Communications Commission.
• TNT Express, a global package-delivery organization, completed testing RFID equipment in its China-to-Europe logistics offering, and has expanded its RFID program beyond its first supply chain. • Automotive companies have used RFID in spot production, high-payoff areas.
The report also notes the Department of Defense's decision to use RFID to manage its vast supplier relationships as proof that the technology has matured within the market. The department, among other internal operations, plans to drive RFID adoption to a wider base of suppliers than retailers can.
To view the entire report, visit www.reganjacobsydney.com.
Information Quality Still Eludes Companies
Despite numerous technological advances and tens of billions of investment dollars that they have poured into information technology, a new report found that a majority of businesses don't have access to high-quality, reliable operations and financial information.
The survey, conducted by CFO Research Services and Deloitte Consulting, surveyed 385 senior finance and IT professionals from the United States, China, Europe and Canada about the quality of management information they routinely receive. The result: Fewer than half of respondents believe they have achieved their information quality (IQ) objectives. Eighty-two percent of respondents reported that they could improve the utility of their financial information for forward planning and strategies.
The research report, "IQ Matters: Senior Finance and IT Executives Seek to Boost Information Quality," also found that in the absence of reliable IQ data, a majority of respondents spend time building special reports and analyses that could be automatically provided by effective IQ reporting.
For more information, visit www.deloitte.com.
Stinky SOx?
According to a survey by the Corporate Executive Board,87 percent of chief financial officers feel the cost of complying with section 404 of the Sarbanes-Oxley Act (SOx) exceeds its benefits. The provision requires internal controls over the creation of financial reports, a requirement that has cost companies more than was anticipated when SOx was passed by Congress in 2002. Financial Executives International, a trade group, conducted a survey of 217 companies with average revenues above $5 billion and found that the average cost of SOx compliance was $4.36 million, approximately 39 percent more than companies expected to spend.
Consumers Choose Style Over Substance
What poor-quality cars lack in performance and reliability, they can make up for with style, according to a new study.
In the short term, consumers will put up with a measure of performance deficiencies if they're satisfied with the style and appearance of new vehicles, reports A.T. Kearney, a management consultant firm that performed the survey. In recent years, the study notes, consumers have come to expect satisfactory quality in most new vehicles; consequently, their purchasing decisions are based more on the look of the car than its perceived quality.
"A clear trend indicates that sales generally increase for vehicles with new or freshened styling," says Paul Carrannanto, co-author of the study and a principal at A.T. Kearney. "In case after case, this has held true even when quality ratings for these vehicles are less than stellar."
Carrannanto reports that sales for newly stylized vehicles increase for about two years. After that, sales fall off to previous levels, and in some cases, decline even further. According to Carrannanto, several nameplates have done particularly well in producing attractive, well-designed cars: BMW, Lexus, Acura, Nissan, Volvo, Cadillac and Chrysler, for example.
Styling research also shows that interior design is often more important than exterior styling, and may be, in many instances, the key factor in purchase decisions.
"New and interesting exteriors draw consumers to showrooms, but it's the interior styling that closes the deal," reports Carrannanto. "For the consumer, a vehicle interior is a lot like a living room, and they have to like it before they'll go through with the purchase."
For more information, visit www.atkearney.com.
Quality Drives Competition
Fifty-four percent of best-in-class companies said that enforcement of quality procedures was the top strategic action for their companies, according to a newly released report, "The Product Quality Benchmark Report: Achieving Quality Across the Global Manufacturing Network."
Strategic Actions by Best-in-Class Companies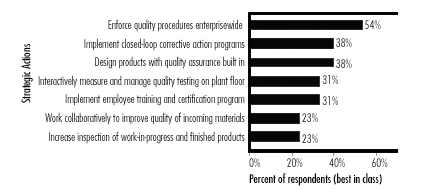 The study, performed by AberdeenGroup, also found that best-in-class organizations are significantly more likely to have a global quality program in place and four times more likely than average performers to empower their decision makers with Web-based integrated technologies.
View the entire survey at www.aberdeen.com.
Quality Circles Still Big in India
Nearly 2,700 students from all over the world attended the eighth-annual International Convention on Student's Quality Control Circles in India in December 2005.
The event, organized by the World Council for Total Quality and Excellence in Education, was held at the City Montessori School in Lucknow, India. With 30,000 students, CMS is the largest private school in the world on a single campus. Jagdish Gandhi, founder and manager of CMS, is also president of WCTQEE. CMS teachers present the quality circles methodology as part of the school's curriculum, a nod to the enduring popularity of quality circles in India, says Don Dewar, president of QCI International Inc. and a conference sponsor.
"Many, many organizations in India are using quality circles, and they're getting great benefits," Dewar says. "U.S. companies are looking for the next big thing in quality, but Indian companies don't jump that quickly. There's great interest there."
Attendees at the conference, the vast majority of them students, engaged in a poster competition to illustrate quality concepts, participated in speech and debate competitions about different quality methodologies, and attended workshops that addressed quality issues.
"There's no doubt that people in that part of the world are very interested in ensuring that their products and services are of the highest quality," says Dewar.
Conference attendees came from 20 countries and 99 schools around the world. CMS hosts the annual conference every second year. It is scheduled to be held in Sri Lanka this year.
For more information, visit www.cmseducation.org/icsqcc.
Got an Award-Winning Six Sigma Project?
Quality conference organizer WCBF has issued a call for entries for the Global Six Sigma Awards, which will be presented this June in Las Vegas.
Entries are now being accepted for the following categories:
• Best achievement of Six Sigma in manufacturing
• Best achievement of Six Sigma in service and transactional environments
• Best achievement of Six Sigma in health care
• Best achievement of Six Sigma in financial services
• Best achievement of Six Sigma in government and defense
• Best achievement of integrating lean and Six Sigma
• Best achievement of Design for Six Sigma
• Best achievement of innovation through Six Sigma
• Best achievement of Six Sigma in compliance
The entry deadline is March 24. The judges panel includes Subir Chowdhury, president and CEO of ASI Consulting Group; Michael Teasdale, Baxter Bioscience quality leadership process director; Leslie Behnke, Cigna Corp. vice president of business excellence; and Karen Schoen, Countrywide Financial performance management group managing director.
The winners will be announced at the Global Six Sigma Awards Gala Dinner on June 28 at the Venetian Resort Hotel and Casino in Las Vegas. The dinner coincides with WCBF's Global Six Sigma Summit, which will be held June 27-30.
For more, visit www.wcbf.com.
Clare M. Kroll
Quality Digest and the quality world lost a colleague on Dec. 7, 2005, with the passing of Clare M. Kroll.
Kroll was committed to quality assurance for nearly 40 years. He was responsible for all quality assurance and operations at Shimadzu Precision Instruments Inc., and also worked as the director of quality and corporate quality assurance manager for Lefiell Manufacturing Co. and International Light Metal Corp., respectively.
Born July 27, 1932 in Leavenworth, Kansas, Kroll was a contributor to Quality Digest. In 1997, he was a member of the Quality Management 9000 delegation, which traveled to China to present information about the ISO 9000 series of standards to Chinese businesspeople.