IRS Allows ISO 9000
Costs Deduction

O

n January 6, the Internal Revenue Service issued a ruling allowing businesses a tax deduction for the costs of gaining and maintaining ISO 9000 registration.

"It's hard to overstate the impact here," says Michael Baroody, senior vice-president of policy, communications and public affairs for the National Association of Manufacturers (NAM). "Registration is expensive. Losing this deduction would add to those costs by increasing tax bills, and for small businesses, that could result in a serious cash-flow problem. Some small businesses need ISO 9000 registration just to survive--their major customers require it."

NAM, the National Federation for Independent Business and other organizations petitioned the IRS in 1998 to permit businesses to deduct ISO 9000-related costs in a single year instead of spreading them out over several years. In a joint letter, the organizations described the registration process as "both expensive and time consuming, particularly for small businesses."

Section 162 and section 1.162-1(a) of the Income Tax Regulations generally allow a deduction for all the ordinary and necessary expenses paid or incurred during the taxable year. The courts generally have construed section 162 as containing five conditions that an expenditure must meet to qualify for deduction: The expenditure must be (1) an expense, (2) ordinary, (3) necessary, (4) paid or incurred during the taxable year and (5) made to carry on a trade or business. The new determination that ISO 9000 registration is often necessary is, in part, responsible for this policy change.

"Although ISO 9000 registration is voluntary, it increasingly is a contractual requirement for doing business with many organizations, both public and private, worldwide," noted the IRS ruling. "ISO certification also is an alternative to product certification in some foreign markets, particularly the European Union."

A previous unofficial IRS position paper concluded that all internal and external costs associated with the initial ISO 9000 registration process, as well as subsequent re-registration audits, were required to be capitalized (deducted over a three-year period) because the resulting competitive advantage would likely exist for longer than the one-year period.

"ISO 9000 certification does not itself result in the creation of an asset having a useful life substantially beyond the taxable year," according to the new IRS ruling. Exceptions to that rule (such as the costs of creating a quality manual and purchasing new machinery and equipment), however, still must be capitalized because they result in the creation of an asset.

Contact your tax adviser to determine which ISO 9000 registration and maintenance expenses are deductible for your organization.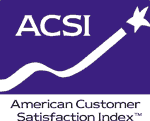 ACSI's First Measure of
Government Quality
T he Clinton administration vowed to "reinvent government," but it can be difficult to measure the government's quality improvement. Vice President Al Gore, through the National Partnership for Reinventing Government, recently announced a possible solution: the American Customer Satisfaction Index (ACSI).
The 29 U.S. government agencies that serve 90 percent of Americans are included in the most recent ACSI report, a national indicator of the quality of goods and services in the U.S. marketplace.
"Government is a large part of the economy," says Claes Fornell, a founder of the ACSI methodology. "It is important that the quality of that service be measured in a uniform manner so that comparisons can be made to the private sector." The 29 government agencies joined more than 180 companies from 34 industries already part of the ACSI.
The ACSI found that customer satisfaction varies greatly within the government; scores ranged from 51 to 87 on the ACSI's 100-point scale. Among the best performing services were the Women, Infants and Children program; the Head Start Program of the Administration for Families and Children; and the Treasury Department's U.S. Mint; which scored 83, 87 and 86, respectively.
On the opposite side of the spectrum, among the lowest scorers were the Occupational Safety and Health Administration and the Internal Revenue Service (IRS), which each scored 51, and the Veterans Benefit Administration with 61.
The ACSI look at government quality is more than descriptive of the state of affairs, however--it's prescriptive in how to improve them. For instance, the ACSI rating of the IRS from citizens that filed their returns electronically was 23 points higher than the IRS' overall rating, suggesting that the electronically filed tax return system greatly improves customer satisfaction.
Programs of the following government agencies and departments were included in the program: Agriculture, Commerce, Defense, Education, Environmental Protection, General Services Administration, Health and Human Services, Housing and Human Development, Interior, Justice, Labor, NASA, Office of Personnel Management, Social Security, State, Transportation, Treasury, and Veteran Affairs.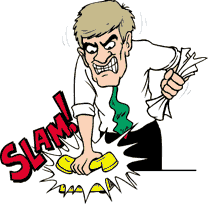 Technology Answers the
Need to Improve Call Centers
P lease press one to test your customers' patience. Press two to leave them furious and frustrated. Press three to replace your receptionist with a call center and do both.
New "natural language" technology developed by AT&T Labs seeks to cure many of the ills associated with telephone call centers.
Call centers were designed to improve efficiency by automating the task of routing callers to the appropriate person. However, recent studies have suggested that the proffered efficiency is both lacking and detrimental to customer satisfaction. Prudential Insurance Co.'s survey on this issue found that push-button telephone customer service often left customers frustrated and angry--36 percent of respondents said the recorded messages common to call centers are often confusing and inappropriate for the purposes of their calls.
AT&T Labs' "How May I Help You" takes voice-response technology a step further. Its service is designed to understand a customer's request in the customer's own words. The system draws from a suite of integrated speech processing techniques that recognize spoken words, grasp their meaning, and enable them to confirm and clarify a caller's meaning--a vast improvement on the "word-spotting" systems, which recognize only a limited, pre-programmed vocabulary.
"The advanced spoken-language technologies we've developed enable machines to recognize and understand what callers really want, as opposed to forcing them to pick choices off a menu," says Jay Wilpon, speech-processing research director for AT&T Labs. "The interaction is so lifelike that some people say 'Thank you' at the end of their call, thinking they are speaking with a real person."
Society of Automotive Engineers
Publishes Lean Standard
Recent action by the Society of Automotive Engineers (SAE) has yielded the automotive industry an official standard for lean operation. The new document, named "Identification and Measurement of Best Practice in Implementation of Lean Operation (SAE J4000), can be used to identify and measure the implementation of their production systems.
"Now automotive and manufacturing companies will have a common definition of 'lean' and a yardstick to measure their lean status, as well as a methodology to compare their operations with the most successful lean operation systems," says Roy Trent, director of SAE's Best Manufacturing Practices Automotive Manufacturing Initiative. SAE J4000 and the implementation of lean operation can help manufacturers achieve significant cost and time savings by eliminating waste in an organization's value stream, Trent says.
Six areas of implementation are covered in the standard: management/trust, people, information, supplier/organization/customer change, product and process flow. It also lists 52 components that provide measurable points of reference for successful implementation of lean operation.
In support of J4000, SAE has also developed the "Implementation of Lean Operation User Manual," (J4001), and a report documenting examples of best practices among manufacturers implementing lean-operation principles. The report, which offers an objective study of lean operations, includes contributions from the automotive sector and academia.
The new standard, report and user manual are available by fax or mail, or download them from SAE's Web site, www.sae.org . J4000 can also be ordered for $25 by calling SAE at (724) 776-4970 or e-mailing publications@sae.org .
Home Builder
Constructs
Quality Focus
with ISO 9000
A fter more than a year of development and preparation, Michigan-based Delcor Homes--the first home builder to do so--has been registered to ISO 9001.
"Delcor Homes has successfully transformed home building processes to conform to the requirements of ISO 9001," says Kishor Desia, lead auditor at NSF International Strategic Registrations Ltd., whose four-and-a-half-day audit was the last step in the registration process. "This achievement will facilitate continuous improvement and enhanced services to the home buyers they serve."
"We saw the need to develop a system to help us deliver a zero-defect home on time and at a reasonable price," says Phil McCafferty, Delcor's president. "Our goal was to achieve the best product in our state. Before embracing ISO 9000, we had come 80 percent of the way, but we seemed to have reached a plateau."
Indeed, there were nagging problems at Delcor that kept the company from moving forward. Changes during construction weren't always handled in a timely fashion, resulting in costly tear-outs or last-minute attempts to make alterations. Reliance on verbal communication among the field workers, the office staff and the contractors led to the installation of incorrect options, elevations or colors. And the failure of workers to measure each room during construction led to kitchen cabinets having to be customized rather than shipped directly.
Delcor's use of ISO 9000 to focus on quality has already produced improvements. In 1997, the rate for correctable defects in the homes built by the 30-employee company was 27.4, roughly the industry average. The next year, that rate fell to 9.6. The 1999 rate improved again to 1.7. Moreover, in 1997, Delcor buyers gave the company a building experience approval rating in the mid-60s (on a scale of one to 100). The rating is now in the mid-90s.
This improvement in quality has not gone unnoticed by accounting.
"Since we embraced the ISO 9000 principles two years ago, our bottom line has risen. Now, our profit margin is about 7.5 percent, so the hefty cost associated with ISO 9000 is incremental," McCafferty says. He sees that cost as an investment that will help the company more than double its unit volume--perhaps to as many as 500 homes per year in the next few years--while keeping its profit margin intact.
"The day will come when our process is so systematized that people no longer have to work overtime to get the job done," predicts McCafferty. "We want to become a much larger company, and we want to be able to do that not with grunt work but with brainpower."
Recognition
Japan's Deming Prize Award Committee recently presented Dan Steinburg, president of Salford Systems, its Nikkei Quality Control Literature Prize. Steinburg's Applied Tree-Based Methods Using CART is currently only available in Japanese from JUSE Press Ltd. in Tokyo. The Nikkei Literature Prize is awarded annually. Visit www.salford-systems.com .
Attachmate Corp ., which provides software that accelerates business advantage by extending the reach of enterprise information, received the Quality Champion Award from the Seattle Area Software Quality Assurance Group. SASQAG's goal is to promote professional software quality practices, share knowledge of standards and processes, and offer education through lectures and classes. Visit www.attachmate.com .
Mergers
National Technical Systems Inc ., a leading provider of quality and conformance testing and managed services, has acquired the Dallas-based operations and laboratory from RheinTech Laboratories of Herndon, Virginia. This acquisition strategically expands NTS' geographic reach: Texas is home to the second-largest telecommunications market, a primary customer group of the California-based company. Visit www.ntscorp.com .
Cooperation
Complete automation leader Rockwell Automation has signed a license with Microsoft Corp. to embed Microsoft SQL Server 7.0 scalable database technologies into its upcoming software products. SQL Server 7.0 allows independent software vendors to build and deploy manufacturing and supply-chain solutions that effectively manage data throughout the entire company. More information is available at www.rockwellautomation.com .
People
Intertek Testing Services, the world's largest product and commodities testing organization, has promoted James Conroy to division quality assurance manager for the company's ETL SEMKO, Americas division. Conroy will be responsible for managing internal quality assurance for all of the division's operating units and TQM program. Visit www.etlsemko.com .
Resources
The Society of Manufacturing Engineers recently released a three-tape video series, Lean Manufacturing. The program presents the benefits and basic principles of lean manufacturing and includes two case studies detailing how companies have successfully integrated that business philosophy. More information is available at www.sme.org .

Online Education
Quality University On-line offers Web-based learning in the quality field with courses covering ISO 9000, auditing, six sigma, the Malcolm Baldrige National Quality Award, Shingo, TQM, state quality awards, W. Edwards Deming and other quality-industry topics. From the QU On-line Web site, students can remotely register for classes, pay fees, take tests, study and get instructor feedback.
www.quniversity.com
Manufacturing Resource
The MetrologyWorld.com database is designed to serve the information needs of quality professionals, manufacturing and production engineers, machinists, job shop managers and owners, business executives, and others involved with discrete parts manufacturing. The site delivers the latest news on topics such as inspection and measurement devices including gages of all kinds, coordinate measuring machines, noncontact measuring systems, and standards such as ISO 9000, QS-9000 and the DMIS standard for converting CAD data to CMM inspection routines.
www.metrologyworld.com
Quality Software and More
Visit this Web site for tips that will make your life easier, customer stories, quality links and working versions of most of PQ Systems' software products, available for immediate download. Also, sign up for the PQ Systems online newsletter, Quality eLine. This monthly e-mail gives you industry news, case studies and information about product enhancements and tips to enhance your software use.
www.pqsystems.com
Technical Computing Tools
Scitech offers a number of online catalogs of scientific and technical software for academics, engineers and laboratory scientists. Visit this site to find a complete selection of quality laboratory supplies and equipment, books, and software.
www.scitechint.com
Health Care Improvement
The Institute for Healthcare Improvement offers resources and services to help health care organizations make dramatic and long-lasting improvements that enhance clinical outcomes and reduce costs. With education, demonstration projects, research, and social and technical support, IHI intends to help leaders in health care to accelerate their progress toward unprecedented levels of performance and improvement.
ihi.org
To submit your Web site for consideration, e-mail a description of its content to contact_us . More quality-related links are available at www.qualitydigest.com.