Hexagon Attempts Takeover of Leica Geosystems
A week after Leica Geosystems AG rejected its surprise acquisition offer, Hexagon Metrology has mounted an effort to buy all outstanding shares of the Swiss metrology company.
Hexagon has offered Leica shareholders 440 Swiss francs per share for their stock--a 21.23-percent premium compared to the average daily opening prices of Leica shares during the 30 trading days prior to the publication of the pre-announcement of the offer on July 13, 2005. In response, Leica has emphasized its intention to remain independent, announced its acquisition of Terramatics Inc. and reaffirmed sales growth targets of 10 percent through fiscal year 2009.
Calling Hexagon's offer "a step backwards" that would take Leica "back to the '80s and an old strategy abandoned years ago after many bad experiences," Leica Geosystems rejected Hexagon's cash offer in late June.
"Leica Geosystems is not available at a bargain price," says Mario Fontana, Leica's chairman of the board.
Hexagon, a Swedish metrology, engineering and polymers company, had offered Leica shareholders the equivalent of $345 per share, valuing the company--the world's second-largest maker of measuring equipment--at about $798 million.
Hexagon's bid for Leica follows several major acquisitions: the company acquired Brown & Sharpe in 2001, Quality Ltd. and CE Johansson in 2002, Romer CimCore Inc. and Sheffield Measurement Inc. in 2004 and The L.S. Starrett Co.'s coordinate measuring machine business in July.
The offer is indicative of Hexagon's new business strategy to focus on metrology and polymers. "Following this [Leica] acquisition, future focus will primarily be on growth and utilization of the different strengths of the two companies," says Ola Rollen, Hexagon's chief executive officer.
Leica officials were not agreeable to the offer, however. In a terse response posted on its Web site four days after the offer was announced, Leica reported that Hexagon's bid "undervalues the company and materially reduces its growth and development prospects."
Nicholas Bloch, Leica Geosystems head of corporate communication and public relations, says that Hexagon's offer grossly undervalues the company, noting that Leica has posted strong earnings in recent years. At a shareholder's meeting held July 6, 94 percent voted to reject the Hexagon offer.
"We have many new investors coming to Leica Geosystems because we are a strong company with excellent potential," Bloch says. "Merging with Hexagon would only slow that growth down."
Even so, Hexagon appears confident in its acquisition effort, reporting on its Web site that it "intends to acquire the Swiss-based survey and measurement technology specialist to form a world-leading provider of survey and measurement technology solutions."
Bloch points out that the acquisition by such a large company wouldn't allow it to focus on its specific markets. Leica Geosystems has six divisions--surveying and engineering, high-definition surveying, geographical information systems and mapping, metrology, consumer products, and special products.
"Integration in a less-focused industrial conglomerate such as Hexagon would represent a step backward, from which neither 90 percent of Leica Geosystems' customers nor 90 percent of its business could possibly benefit," reports Leica.
Hexagon declined further comment on the acquisition attempt and directed questions to its Web site.
For more information, visit www.leica-geosystems.com or www.hexagon.se.
Intertek Launches Online Standards Store
Looking for a standard? The one you're looking for may be just a click away.
The ETL SEMKO division of Intertek recently launched an online standards store that carries more than a million technical documents, industry standards and requirements. The offerings include the latest conformity assessment standards, such as UL 60950, IEC 60950, IEC 60601-1, UL 60601-1 and UL508. Also included is technical information gathered from standards-developing organizations, manufacturers, government agencies, and others, such as the American National Standards Institute, American Society of Manufacturing Engineers, International Organization for Standardization and British Standards Institute.
"With so many technical professionals relying on our global Web site as a testing and certification resource, the online standards store is a logical value-added service," says Gregg Tiemann, president of Intertek ETL SEMKO Americas. "Now, visitors can do everything from initiating testing projects, learning about services and testing efficiencies, to ordering standards without leaving our site."
The store is a joint effort of Intertek ETL SEMKO and Information Handling Services, a provider of information handling and distribution. ETL SEMKO is a provider of testing, inspection and certification services.
For more information, visit www.intertek-standards.com.
Quality Pays at Hilton Hotels
Ensuring that guests are satisfied with the quality of their service has paid off for Hilton Hotels Corp.
In 2004, the chain, which operates more than 2,200 Hilton Hotel and Resorts, Doubletree Inns and Hampton Inns, began implementing its Ultimate Service program, which trains employees to anticipate guest needs, personalize service and, if necessary, deal with complaints quickly and seamlessly. The goal is to ensure that each guest leaves the hotel happy, anticipating a return visit and willing to recommend the facility to a friend.
"Being sure that our guests have positive, consistent experiences at our hotels is the reason we're in the business," says Jim Hartigan, senior vice president of customer quality and performance support.
Hilton also uses a stringent inspection schedule to ensure quality. Each of its facilities is inspected at least twice a year and judged on general cleanliness, adherence to brand standards and customer service. The company also processes upward of 1 million Satisfaction Loyalty Tracking surveys each year.
The organization links the ratio of "good" to "bad" surveys to each property's on-site inspection. Too many unsatisfied guests results in a failed inspection. New training of front desk personnel allows them to deal with guest complaints by issuing vouchers for free stays, free room-service meals and even full refunds. Last year, the company tracked $16 million in refunds, finding that when considering the number of surveyed guests who reported choosing to stay at a Hilton property because of its 100-percent satisfaction guarantee, it realized a 7-1 return on its investment in training and refunds.
"We've also found that as our team members are more empowered to deal with customer problems, they have more pride in their performance," Hartigan says. "And that enhances the quality of our guests' experiences."
For more, visit www.hilton.com.
Quality Down for Wireless Services and Airlines
Customer dissatisfaction with hospitals, fast-food chains, hotels and airlines caused a 2-percent downturn in the most recent American Society for Quality's Quality Index.
The Quality Index for the first quarter of 2005 reveals a 7.7 percent drop in the quality of information services, and particularly low ratings for wireless service providers, even as cable and satellite TV companies posted modest improvements over last year. For the first time, local and long distance telephone service providers were combined into one "fixed-line telephone" category, and although some perceived quality scores have increased since last year, most of the telephone providers are still down 5-15 percent since 1995.
Cell phone service providers continue to be the lowest-rated industry in the survey; however, their manufacturing counterparts--Nokia, Motorola and Samsung--have a much higher perceived quality rating.
"In this highly competitive industry, virtually all of the manufacturing participants use advanced quality techniques such as Six Sigma, ISO management systems and the Malcolm Baldrige National Quality Award criteria to drive quality improvement," says Jerry Mairani, ASQ president-elect.
Airlines were rated the second lowest. Only two airlines--Southwest and Continental--have improved over the past few years. Comparing results from ASQ's 10-year analysis and its first Quality Index, it appears that customers have not reduced their expectations as rapidly as the airlines have reduced their service.
Customer's perception of hotel quality saw only a slight 1.2 percent decline from last year. ASQ reports that the industry's ability to remain one of the highest-rated service industries can be attributed to leaders such as Starwood Hotels & Resorts, which drove Six Sigma extensively throughout the organization.
Fast-food chains remain among the lowest-rated industries in the index, realizing a 1.4 percent drop in perceived quality from 2004's comparable period. In the industry, pizza chains are consistently among the top rated, while burger franchises occupy the lowest tier.
"Pizza chains do a great job in meeting customer expectations," says Jack West, former ASQ president. "They offer amenities that typical fast-food restaurants don't, such as the ability to offer home delivery, and customized products which contribute to perceptions of higher-quality offerings."
ASQ's Quality Index is derived from the American Customer Satisfaction Index, a prominent quarterly economic indicator, which is produced through a partnership with the Stephen M. Ross Business School at the University of Michigan, ASQ and the CFI Group. The index measures more than 200 companies in 41 industries.
For more information, visit www.asq.org.
Solve the Kanban Mystery
Few lean manufacturing tools have been as misunderstood as kanban (a Japanese term associated with "just in time" production), but a new book aims to shed light on the sometimes mysterious methodology.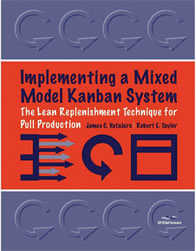 Implementing a Mixed Model Kanban System: The Lean Replenishment Technique for Pull Production, by James C. Vatalaro and Robert E. Taylor (Productivity Press, 2005), is a workbook on the principles of a kanban pull system. It provides a step-by-step guide to the entire implementation process.
Kanban pull is a visual replenishment-signaling system that effectively connects the supply-and-demand processes throughout the value stream. Proponents say it is so effective because it's based on real-time consumption, instead of hypothetical production forecasting or prediction schemes.
The book illustrates the step-by-step kanban implementation process through a case study of a fictitious golf club manufacturer, Emca Golf. The scenario is based on the authors' years of highly successful on-site kanban implementation experiences with companies in many industries. A CD-ROM containing spreadsheets and forms discussed in the text is included.
Kanban pull can be effectively used in any of the following types of environments: component fabrication and supply, assembly and subassembly, manual production cells, semi-automated and manual lines, low-volume production, high-volume production, and high and low mix.
Lean Certification Standard Underway
The Society of Manufacturing Engineers, the Association for Manufacturing Excellence and The Shingo Prize for Excellence in Manufacturing are working together to develop a new standard for lean certification.
The organizations are collaborating with industry and academia in the initiative, which has been encouraged by lean constituents. The certification scheme is being designed for manufacturing professionals who want recognition and credentials to illustrate their knowledge and application of lean principles. Certification candidates will have to serve as mentors and be mentored, provide a portfolio to illustrate how lean principles were applied in organizations, and pass an examination.
In a survey with more than 1,100 industry respondents, 77 percent indicated a likelihood of pursuing lean certification, while 83 percent stated that the collaborative development of a lean standard is critical, very important or important. Additionally, 60 percent of those surveyed thought lean leaders at their organization should be certified.
Lean certification currently comprises four levels. The first level measures knowledge of lean principles; candidates at the second level should be able to apply lean principles and tools to drive measurable improvements; third-level lean practitioners should be senior employees or team leaders who use lean to drive measurable improvements and orchestrate the transformation of a complete value stream; and at the highest level of lean certification, the practitioner has authority over assets, processes and people, with a solid understanding of all aspects of lean transformation.
For more information, visit www.ame.org, www.shingoprize.org or www.sme.org.
China Conferences Produce Quality Insights
Participants at the ISO 9001 and TQM International Conference and the Shanghai International Symposium on Quality proposed several ways that quality philosophies can adapt to China's rapidly changing Asian social environment.
The conferences were held simultaneously in Shanghai recently. Participants presented 164 papers addressing six common themes: adapting quality philosophies to new environments, the extension of total quality management (TQM) to new fields, the use of performance excellence models to promote international competency, the expansion of Six Sigma, the importance of value-added operations as effective management systems and knowledge management as quality improvement.
Zhaou Taitong, deputy mayor of Shanghai Municipality, spoke about adapting quality methodologies to governmental agencies in China. Other speakers discussed additional philosophies that can employ these techniques: general public quality awareness, scientific quality and human-oriented quality.
Liu Yuanzhang, a member of the Chinese Academy of Engineering and International Academy for Quality, pointed out that the development of a scientific quality philosophy would help achieve sustainable development.
H. James Harrington, former American Society for Quality president and Quality Digest columnist, presented his insights on change management, reporting that technology, process and employees are the three key factors that decide the success or failure of a change.
Chen Bangzhu, president of the China Association for Quality, reported that the successful extension of the TQM philosophy is evidenced by the adoption of quality as a strategic marketing technique. Symposium participants from the Shanghai Academy of Quality Management predicted that the performance excellence model will be the theme of ongoing TQM activities in China in the near future.

Court Rules in Favor of ROMER CimCore
A Southern California District Court ruled in favor of ROMER CimCore Corp. recently, in the case of a patent lawsuit the company filed against FARO Technologies Inc.
The court handed down a summary judgement in the case, filed in November 2003, which alleges that FARO illegally uses ROMER's patented infinite rotation technology in its FaroArm articulated inspection device. Also in dispute is FARO's alleged use of ROMER's patented technology in its FaroGage and FaroGage Plus. The technology allows the CMM's three joints to swivel endlessly without encountering a stopping point or needing to be rewound.
Hexagon Metrology, which owns ROMER CimCore, reports that it is happy with the ruling and will pursue unspecified damages in the case.
"ROMER has now prevailed on its infringement case," says William Gruber, Hexagon Metrology North America president. "We are confident that ROMER will obtain an injunction and recover substantial damages as a result of FARO's infringement of our patented technology."
The companies, which are the two largest manufacturers of portable arm measurement devices, have been in unsuccessful settlement talks for months. The case is scheduled to go to a jury trial in November, although the summary judgement could prevent it from starting.
Darin Sahler, FARO's global public relations manager, says that his company is prepared to pursue the case into a Federal Circuit Court. He added that FARO will continue to manufacture and distribute the FaroArm, FaroGage and FaroGage Plus, pointing out that the case involves "only very minor features" of the disputed devices.
Simon Raab, FARO's CEO, says that the company stands by its claim that the disputed patent does not apply to FARO's use of the infinite rotation technology. The patent was issued on November 3, 1998.
"FARO will continue to vigorously litigate this case with respect to both the invalidity of the (disputed) patent and, if necessary, file an appropriate appeal to the Federal Circuit," Raab says.
This is not the first time FARO and ROMER CimCore have tussled in court. FARO filed suit against ROMER in January 2002, alleging patent violations. That case was dismissed.
For more information, visit www.romer.com or www.faro.com.