Making the World a More Reliable Place

Product reliability and quality have become national concerns and worldwide issues. To promote the implementation of reliability-centered technology and quality-oriented service, the World Reliability Organization, headed by President Cheng-Shien Chang, is currently creating an International Reliability Index.

The IRI project, which has been underway for a year and a half, will rate each country by conducting evaluations of its various regions, including cities, counties, states and provinces. Each country will then receive a score based upon four factors: education, government, engineering and management. In the case of education, the WRO will conduct a search within a region of the scholarly papers that are concerned with quality and reliability issues. Businesses will be rated on the quality of the products and services they offer.

The index's cre-dibility will rely on mathematical methods, including Tag-uchi and Baysian analysis, and its accuracy will be subject to constant evaluation. Chang hopes to have a single quality value for each region evaluated. However, the index currently has two subindexes: quality and the reliability effort. In some cases, "these two factors may not be going in the same direction," says Chang, and so by featuring these two different scores, he hopes to give a more accurate quality assessment of each region.

Chang is using the index to specifically target government agencies -- he hopes that governments will use the IRI to analyze quality in their regions and/or countries, and that the index will urge them toward self-assessment, improvement and a healthy attitude of competition with other countries. The index has already been introduced into the United States, Sweden, Canada, China and Switzerland, and has been formally adopted and used in Taiwan. The WRO hopes that the World Bank and the United Nations will eventually adopt the IRI as well. The index should also prove valuable for businesses, emphasizes Chang.

The index will be introduced in an annual report in paper format; Chang plans to eventually offer the index in other, easily accessible formats, including online. For more information on the IRI, check out their Web sites.

otal.umd.edu/~cschang/iri.html
---

EH&S Integrate
Society's priorities often determine the ways businesses must develop in order to stay on top, and this is certainly true in the case of people's concerns with the environment.
The primary reason for the rapid pace of EH&S business integration is that the current generation of leaders believe in and understand business integration and sustainable development, says Jack Giampalmi, director of The Conference Board's Townley Global Management Center for Environment, Health & Safety.
" Just as the music of Frank Sinatra was integrated with a new recording technology each time one was the state-of-the-art -- from 78 r.p.m. records to CDs and the Web -- businesses, to remain competitive, have had to adapt to priorities of the times," observes Giampalmi. "There is now a direct relationship between business success and effective EH&S practices, and it will continue into the next century."
For a company's products and services to remain viable, EH&S managers must use the best technology available. Giampalmi cites leading organizations nationwide that are integrating EH&S practices with their core businesses, including Alcoa, which uses technology to evaluate the cost of remediation over the life of a project, and Ford, which is using life-cycle analysis.
---

UpsideDownsizing
While job elimination remains a fact of life at many major U.S. companies, job creation is rising dramatically, according to the American Management Association's 10th annual survey of the U.S. work force.
Forty-nine percent of the 1,441 companies surveyed reported job eliminations in the period between June 1995 and June 1996. At the same time, 68 percent of surveyed firms created jobs. In companies that reported job eliminations, concurrent job creation within these same companies meant that their actual work force number remained, on average, virtually stable.
This means that companies are undergoing a metamorphosis -- a change of priorities in what types of employees are necessary.
" Companies are redistributing their work forces to better meet today's complex and rapidly shifting market demands," explains Eric Rolfe Greenberg, AMA director of management studies.
To get a copy of the survey, call the AMA at (212) 903-8052 or fax (212) 903-8404.

www.amanet.org
---

Program Builds Bridge Between Schools and Industry
Perry Wiltsie had a problem. Over the last few years, his company, Vanamatic, in Delphos, Ohio, has been expanding, and locating qualified new employees was difficult. "We found that the level of expertise of the individuals seeking employment here was not exactly what we needed," recalls Wiltsie, Vanamatic's quality president. And with an estimated cost of $500 to train just one employee, Wiltsie saw the need for preparing students for jobs in industry.
Wiltsie mentioned his concern to Robert Kiracofe, principal of Delphos Jefferson Senior High School, and suggested the school offer students a course in statistical process control. After approval by the school board, The Crosby Co. donated enough SPC training software for 18 students, and Vanamatic donated three computers to help the program get started. The SPC workshop was first offered on a voluntary basis to Delphos Jefferson High's Industrial Tech IV class.
Each of the original students passed the workshop, which has since been expanded to the school's agriculture program. Wiltsie also reported that the program has netted its first success.
" Our most recent employee was a graduate of the high school and participated in the SPC program," says Wiltsie. The young man listed the SPC workshop on his résumé, which gained him an interview and, eventually, the job. Wiltsie points out that, without the SPC training the student received, he wouldn't have been considered qualified enough for the job.
The program is slated to continue at Jefferson Senior High. The program's teachers decided that it was a positive experience for two reasons: Students gain an understanding of industry, and, for students that aren't college-bound, the workshop provides them with skills and options to take with them into the workplace. Seniors Doug Rahrig and Jim Rode took the SPC course, and both believe it was beneficial. Rahrig, who plans to study mechanical engineering in college, says of the workshop, "It's probably going to help me get a job in a better factory."
---

CQM Now Offering Educational Opportunities to Nonmembers
Mutual learning has become a trend in corporate training. Executives and senior management teams -- within and across organizations and industries -- are learning the best, cutting-edge business practices from each other: They conduct research; share personal experiences in study groups, roundtables and other networking activities; develop and teach courses; write journal articles; and conduct seminars.
The Center for Quality Management, a nonprofit organization with more than 75 member companies, including L.L. Bean and Bose Corp., has based a successful series of courses on the principle of mutual learning.
" Companies are seeking a new paradigm for management education that will help them respond more effectively to fierce competition, shrinking time-to-market cycles and increasing demand for customized products and services," observes Toby Woll, CQM's executive director. "Mutual learning is rapidly emerging among industry leaders as an outstanding way to spread best-in-class management practices throughout their organizations."
CEOs and managers from CQM member companies work together in developing, teaching and attending courses, bringing together their knowledge and experiences in order to address the most pressing business issues. What results is a mutual learning system that combines educational offerings with research initiatives, networking activities and publications, says Woll.
An example of the coursework's success is Analog Devices' collaboration with CQM members Hewlett-Packard and Teradyne to share information about hoshin planning. This Japanese methodology has helped Teradyne ensure that its more than 1,000 active quality improvement teams work on projects closely aligned with the company's business goals. Through hoshin planning, Analog Devices improved its new product shipping from $125 million in 1995 to $300 million in 1996. And Hewlett-Packard used the process to slash $8.4 million in manufacturing costs in one year.
---

CEOs on the Phone
Have you ever wondered about the telephone habits of your average CEO? The typical CEO spends two hours a day on the phone, places calls personally and tries to return calls the same day they're received, according to an American Management Association survey-by-fax of 1,073 executives.
CEOs hardly differ from other senior executives in phone time -- more than financial officers (1.9 hours) but less than marketing executives (2.5 hours), the survey found. CEOs generally place calls personally (95%), but are far less likely than others to answer their own phones (42%, compared with 74% of other executives), particularly in small companies.
---

State Quality Awards Update
In the February 1997 Quality Digest, we featured a directory of state quality awards offered throughout the United States. Since then, we have been contacted by a few states who have provided us with award information not previously available.

Indiana Quality Improvement Award -- This biannual award, designed specifically for Indiana businesses, recognizes manufacturing, service and education organizations that meet well-defined evaluation and improvement standards. For more information, call Bob Fryer at (317) 635-3058 or fax (317) 231-7095.

Kansas Award for Excellence -- Though currently without a program, Kansas is developing a Baldrige-based award. For more information, call the Kansas Award for Excellence office at (800) 743-6767 or fax (316) 529-1037.

Mississippi Quality Award -- Patterned after the Baldrige Award, this award focuses on economic development rather than competition. The award has four levels: Quality Interest, Quality Commitment, the Excellence Award and the Governor's Award. Companies at all levels of quality achievement are encouraged to apply; any public or privately held organization of any size located in the state of Mississippi is eligible. For more information, call Duane Hamill at (601) 982-6739 or fax (601) 982-6365.

Wyoming State Quality Award -- All organizations are eligible for this Baldrige-based award, which is judged on the basis of three elements: leadership, human resource development and management, and customer satisfaction and operational improvement. For more information, contact Jere Hawn, executive director, Department of Commerce, Economic Development, 6101 Yellowtale Road, Cheyenne, WY 82002, telephone (307) 777-7133, fax (307) 777-5840.
Correction: The fax number for the Arizona Governor's Award for Quality was incorrect in the 1997 State Quality Awards Directory. The fax number is (602) 655-8089.
---

Boosting Team Productivity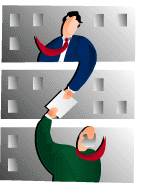 In business, it's common for people from different areas of a company to come together as a team without clearly understanding what each team member really does. However, for teams to truly succeed, they must reach two levels of understanding: horizontal and vertical, says Jack Gillespie, editor of Communication Briefings, a publisher of management-communication resources.
"Horizontal occurs between teammates working at the same level; vertical occurs between managers and employees on the team," says Gillespie. "If teammates don't understand one another's roles, they risk miscommunicating, wasting time and making costly mistakes."
To help all team members understand one another's roles, the video Everyone's Teamwork Role suggests using the "TEAM" approach:

Teach one another what you do and what you bring to the team. Share personal strengths, skills and roles.

Empathize by showing that you understand your teammates. Listen for phrases that tell you how your teammates really feel about something.

Ask questions. To better understand your teammates, use a mix of open, closed and "what if" questions to encourage definitive answers, opinions and to gather facts.

Motivate teammates -- It's not just the team leader's job to motivate. Offer praise to your teammates when their efforts produce positive results.
For more information, call Communication Briefings at (800) 888-2086 or contact their Web site.

www.combriefings.com