Lean Community Improvement
During the past five years, the University of Central Florida (UCF) and the Harrington Institute Inc., located in Los Gatos, California, have successfully helped at-risk populations by employing the lean Six Sigma methodology.
By creating a mutually beneficial relationship between number-crunching industrial engineers at UCF and central Florida community organizations, the Harrington Institute was able to help enhance the quality of life for those who require public assistance, while introducing lean Six Sigma to UCF students. The effort involved 20 community projects and created more than 200 Black Belts and Green Belts.
The impetus to engage community organizations in lean Six Sigma came from Frank Voehl, Harrington Institute's chancellor, who in 2002 was the chief operating officer of The Harrington Group Inc., located in Orlando, Florida. "My interactions with other Orlando businessmen convinced me that to become more attractive as a blossoming community, we needed to deal with two problems: the agencies and organizations serving the at-risk population were in trouble and needed help; and, students and local professionals needed to learn the lean Six Sigma quality tools."
By working on lean Six Sigma projects, businesspeople, students, and community-service organizations incorporated the speed and effectiveness of lean with the quality and variation control of Six Sigma. "Before we started the community improvement initiative, Orlando organizations did little root cause analysis and problem resolution," Voehl says. "For example, when we identified several service problems, the response was 'That's nothing new; we knew those problems existed over a year ago.' They didn't have the tools to systematically root out the source of problems and permanently resolve them. Instead, they were solving similar problems over and over again."
One of the prime beneficiaries of the community-improvement initiative was the Central Region ACCESS Florida program and the Department of Children and Families. According to a recently documented project closure report from Orlando community improvement project No. 20, costs were dramatically reduced, cycle time improved, and customer satisfaction goals were surpassed thanks to the recommendations and implementation of lean Six Sigma.
According to Jorge A. Martinez, operations management consultant, manager of the data and quality improvement unit for the Central Region ACCESS Florida program office, "The Six Sigma project conducted several activities and utilized tools to identify areas and issues. Among the tools utilized were supply, input, process, output, customer (SIPOC) diagrams, value-stream mapping, voice-of-the-customer surveys, Ishikawa's fishbone diagram, affinity diagrams, 5 Whys strategy, 2 by 2 matrixes, and tree diagrams. Quality function deployment, failure mode and effects analysis, and statistical process control chart analyses were also utilized."
Most of the recommendations to come out of the assessment process--evaluation of performance expectations, streamlining appointment notices to decrease the wait time, an increase in phone capacity, the legibility standards of the scanning process, and a need to reduce food stamp application cycle time--resulted in a proactive approach toward handling applications. The outcome was a reduction of 17 percent in cycle time to interview food stamp applicants that qualify for emergency services in circuits 9 and 18, with some sites marking a reduction in wait time of 41 percent.
Now, says Martinez, "designated sites in circuits 9 and 18 are meeting the Expedited Food Stamp Timely Applications Performance Standard target, whereas before they were not meeting this target. Furthermore, the reorganization addresses the internal customers' needs as well."
Martinez says that some of the recommendations, such as an increase in phone capacity, have already been implemented. Others, such as the reorganization of workers, active recruitment, and engagement of bilingual employees, are still in process.
During the past five years, a total of $5 million in in-kind consulting was provided for community improvement projects on a pro-bono basis by Harrington Institute and UCF faculty, local professionals, and students alike. "The question is, why wouldn't more community agencies want to utilize it?" asks Voehl. "The only risk is admitting your organization needs help, and the benefits far outweigh that."
By engaging the community in this way and promoting the lean Six Sigma methodology, everyone involved became a winner.
For further information, visit www.harrington-institute.com.
Do the Math
Last month's "Do the Math" required reading through a lengthy article full of lots of pesky numbers in Medical Product Outsourcing magazine. In "Plan to Prosper," the author writes, "If a manager's average annual pay is $40,000, then multiply this figure by 0.125% (or 125% of the annual pay, a reasonable estimate for this level of employee), and you'll find that it costs $50,000 to replace just one manager."
Everyone caught the obvious error that to find 125 percent of $40,000 you would need to multiply by 1.25, not 0.125. The use of the percent sign after 0.125 was also a mistake.
The winner of this month's "Do the Math," chosen entirely at random, is Jonathan Sims. Congratulations Jonathan, you win a (most likely refurbished) gift from our favorite tchotchke provider, woot.com.
By the way, isn't it good to know that you can be replaced simply by adding 25 percent to your salary? Makes you want to quit and reapply for your own job, doesn't it?
This month's puzzle
Put on your helmet and leathers and get ready for this month's electrifying puzzle. This flawed specification sheet on the Kawasaki KLR650 motorcycle was submitted by Steven Bell. Go to www.kawasaki.com/Products/DetailPrintVersion.aspx?id=221 and find the error. It's a bit obscure, which is why we have already given you a hint. Steven wins a fabulous gift from woot.com for his entry. Send your answer to us by clicking the feedback link at the bottom of this page.
Submit your "Do the Math"
You too can win a great prize. Just send us your math snafu snatched from the headlines (or wherever). If we use it, you win (something worthless). Send your puzzle to us by clicking the feedback link at the bottom of this page.
Six Ways to Put the Customer First
"Creating a customer-centric company is a classic case of easier said than done," says author David F. Giannetto, who, along with co-author Anthony Zecca, wrote The Performance Power Grid: The Proven Method to Create and Sustain Superior Organizational Performance (Wiley, 2006). "It's a concept that every business leader at any level wants to think he has a grasp onto, but more times than not, he doesn't."
The book offers six "truths" about putting the customer first, along with methodologies to help begin the process of moving from a value chain business model, where the product or service comes first, and into the customer-centric zone, where the customer comes first.
• Truth No. 1 : Right now your company is product-centric.
• Truth No. 2 : Your employees may not understand the customer.
• Truth No. 3 : Your company's money isn't allocated with the customer in mind.
• Truth No. 4 : To stay viable in today's business world, you must cut the value chain and hop on the customer-critical path.
• Truth No. 5 : The customer-critical path offers more options for your customers.
• Truth No. 6 : Adopting the customer-critical path can transform every aspect of your company.
By defining this way of thinking as the "customer-critical path," a pre-business idea of putting customers first before they are even your customer, The Performance Power Grid details how companies can examine the relative worth of projects, assets, and expenditures and take a clear, unbiased look at where resources should and should not be spent.
For more information, visit www.performancepowergrid.com.
Consolidated Registrars
SAI Global Ltd., headquartered in Sydney, Australia, has acquired QMI, North America's largest registration body, headquartered in Toronto, Ontario. The merger fulfills both companies' strategies of becoming a larger global player in a market that is showing increasing signs of consolidation.
The combined company will represent approximately 15,000 registrations in North America. "My colleagues and I are extremely excited about joining with QMI, which we view as one of the most significant, strategic events in the development of our global assurance business," says SAI Global's chief executive, Tony Scotton. "SAI will now have the largest market share in the United States, Canada, Australia, and Mexico, and significant footprints in Europe and Asia."
"We chose SAI Global because we see this as the best fit in terms of company origins, culture, shared vision, and QMI's positioning within the expanded enterprise," says Wendy Tilford, QMI president. "This partnership will benefit our customers, not only in registration, but also in training, business improvement, and a variety of other areas. As a combined company, we will have access to new products and additional resources for new product development, as well as an extensive audit base, both locally and globally."
For more information, visit www.saiglobal.com.
I on the News
Editorial by Carey Wilson
Downer: Biggest Beef Recall Yet
In early February, the Chino, California-based Hallmark/Westland Meat Packing Co. shut down operations and recalled 143 million pounds of ground beef products due to inhumane practices and food safety violations regarding the use of beef from downer cows--animals that cannot stand or walk on their own, which indicates either grievous injury, illness, infection, or possible symptoms of bovine spongiform encephalopathy, commonly referred to as mad cow disease.
The violations were brought to light by way of videotaped evidence collected by the Humane Society of the United States.
According to an unnamed Humane Society undercover worker's statement to the Chino police, the USDA supervising veterinarian, Dr. Gabriel Gurango, visited the cattle pens twice daily, at 6:30 a.m. and 12:30 p.m., during which times the inhumane treatment of downed cattle was "toned down," according to a March 11 article in The Wall Street Journal.
William G. Hughes, the general counsel for the National Association of Federal Veterinarians, said that Dr. Gurango, who had worked at the site for 20 years, was "appalled by the video" and unaware of the inhumane activities. Most of the veterinarian's time was spent on the meatpacking side of the plant, inspecting carcasses to determine whether the meat was legally fit for human consumption and overseeing the work of the four other on-site USDA inspectors.
Hughes contends that the USDA didn't have enough inspectors on hand at the packing plant to properly monitor food safety concerns.
The breakdown in quality management practices and governmental oversight was also discussed at length during a telephone news conference conducted by the USDA on February 21, one day after a story in the Los Angeles Times quoted Dean Cliver, a food safety expert and advisor to the USDA, as saying that authorities need to rethink how meat inspections are conducted.
"Both laws and regulations are predicated on an adversarial 'gotcha' relationship," says Cliver, professor emeritus of food safety at UC Davis. "Some kind of a teaching relationship is what you need. [The USDA] ought to be doing a better job of explaining what is wrong and how to do it right."
Cliver says that authorities were laying most of the blame on the company when they should be reviewing the agency's inspection process.
"The lessons learned from this will go right by the USDA, and the company will go bankrupt," Cliver predicts.
For more recall information, or to read the transcript of the USDA FSIS press conference, visit www.fsis.usda.gov.
A Little Less Satisfied
Customer satisfaction with the goods and services that Americans buy declined in the fourth quarter of 2007, according to a report by the University of Michigan's American Customer Satisfaction Index (ACSI). The index fell to 74.9 on the ACSI's 100-point scale, down 0.4 percent, to its lowest score of 2007.
A second consecutive drop in customer satisfaction, combined with increasing unemployment, plummeting house prices, tighter credit, high levels of household debt, and inflating fuel and food prices, is likely to pose even more challenges this quarter for consumer spending growth.
"Falling customer satisfaction has a dampening effect on consumer demand, and household debt-to-income ratios affect consumers' ability to spend. Both are moving in the wrong direction, brewing up a double-whammy that may hit the economy hard," says Claes Fornell, founder of the ACSI. "In such an environment, customer satisfaction becomes even more important because satisfied buyers tend to reduce sellers' cash flow volatility."
ACSI measures customer satisfaction every fourth quarter. Among those in the retail sector who succeeded in customer satisfaction and quality were Nordstrom, Lowe's, Circuit City, and Publix supermarket, along with newcomers Dollar General and Whole Foods Market. Cited as reasons for improvement were quality goods, superior customer service, and the wide variety and high quality of available merchandise. Circuit City, in particular, reduced prices on some items and expanded home installation and tech support service.
At the bottom of the list were Wal-Mart, The Home Depot, Best Buy, and Winn-Dixie.
In the e-commerce category, Amazon is king in customer satisfaction. The e- commerce sector rose 2.0 percent to a new high of 81.6. In the highly competitive e-retail category, Amazon leads with a score of 88, one of the highest in any category. Amazon has been successful at keeping pace with increasing customer expectations and improving the customer experience accordingly.
For more information, visit www.theacsi.org.
ASQ World Conference on Quality in Everyday Life
Ever wonder how quality relates to a slice of New York-style pizza? Or how to use lean tools at home? The American Society for Quality (ASQ) is offering innovative "After 5" sessions that cover a myriad of topics on how to incorporate quality in day-to-day life at the 2008 World Conference on Quality and Improvement, May 5-7, 2008, at the George R. Brown Convention Center in Houston, Texas.
The "After 5" sessions will take place Monday, May 5, from 5:15 p.m. to 6:30 p.m. They'll include a social component to generate interaction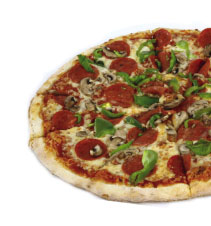 between the facilitator and the participants. The sessions include:
• DOE and Pizza. The trick to the perfect pizza is to find the right combination of ingredients and styles that satisfies expectations. What to do? Make one. The session will cover tips in replicating "real" New York-style pizza via a not-so-heavily statistical pizza analysis design of experiments. ASQ's own "Pizza Man" promises that if attendees are "left empty" by the data, there will be a real slice, or two, for the taking. Session leader: Elias Monreal, chair of ASQ's Tucson Old Pueblo Section 0707
• Lean for Your Life. The "Lean Lady" from ASQ's Women in Quality Network will share her secrets on using the tools of lean at home. Get the clutter out with quality spring cleaning. There will be something to share and something to test from this idea potluck. Session leader: Aimee Siegler, ASQ regional director--board of directors; global compliance Manager, Benchmark Electronics
• Slow Food and Quality . Where do the many paths of continuous improvement, sustainability, farming, organic food, eating, entertaining, and cooking come together and thrive? This open dialogue focuses on practices and opportunities to improve the understanding of the sources and substances of food, locally and globally. It will help you begin making better choices every day. Session leader: Kay Kendall, ASQ regional director--board of directors; Master Black Belt; director, Sun Microsystems Inc.
• Reduce Stress, Yoga at Your Desk . Do you feel like you start to get shorter and more slumped as the day goes on? Try yoga stretches at your desk. Attendees will relax, regenerate, and learn simple techniques to clear their heads and refresh their nervous system. Session leader: Janet Raddatz, director--quality systems, Sargento Foods Inc.
For more information, visit http://wcqi.asq.org/.