Health Care Report Cards Unreliable
The increasing popularity of pay-for-performance health care has made patient report cards more important to health care consumers, but these reports aren't as reliable as they appear.
Researchers for a Rand Corp. study found that 83 percent of patients received industry-appropriate recommended care--a figure that would give the delivering health care facilities high marks on a report card. However, this assessment of quality care only used information from claims filed for payment and other administrative records. When the study graded the care using a broader set of standards and took into account patients' medical records--used less often in grading medical report cards--they found that just 55 percent of patients received the recommended care.
Public agencies and consumer groups create report cards to help consumers choose doctors, hospitals and insurance plans. Facilities that perform well on these reports often receive higher fees or bonuses from insurance plans, and their patients may have lower co-payments. The report cards are usually developed from administrative records collected during insurance payment processes because the information is computerized, making it easy to assess large amounts of patient data. However, many records are in the form of handwritten notes made by doctors and nurses, and might not be a part of the official records given to insurance companies.
"Our findings suggest that examining administrative information alone does not provide an accurate picture of whether people are receiving appropriate medical care," says Catherine McLean, M.D., the study's lead author. "It appears that report cards based on just administrative information are incomplete and may lead to grade inflation."
The study, which appeared in the February issue of Medical Care, examined the care over a 13-month period given to 399 patients age 65 or older who were at risk of declining health and were enrolled in two managed-care health plans in different regions of the nation. Researchers examined performance on 182 measures of health care quality for 22 common medical conditions, including pneumonia, heart disease, malnutrition and urinary incontinence. About 20 percent of the quality measures could be examined using either administrative information or medical records. Using these sources of information, both sets of records agree that patients receive approximately 83 percent of the recommended medical care.
However, when the assessment was expanded to include the other 80 percent of the measures (i.e., those which could be checked only through a thorough examination of medical records), patients received just 55 percent of the recommended medical care. In addition, the review of administrative records alone in report card production cannot provide any information about important quality measures such as end-of-life care, falls and pressure ulcers, among others.
The findings are from a project titled "Assessing the Care of Vulnerable Elders," which is a partnership between Rand Health and Pfizer Inc. The findings support the creation of computerized medical records, which would make it easier to incorporate detailed medical information into the routine creation of medical report cards.
The National Committee for Quality Assurance, which annually publishes the widely read "State of Health Care Quality" report, agrees that the formation of a database for computerized medical records would be good for health care consumers and health care providers. The NCQA, a public watchdog agency, gets the data for its health plan report cards through a hybrid model.
"We get some from administrative sources and health plans, and some from chart review," says Jeff Van Ness, NCQA spokesman. "We'd agree that examining medical records would be the best way to judge the quality of care on the whole, but it's just not feasible. There's simply too much information to review."
For more information, visit www.rand.org or www.ncqa.org.
Don't Cut Auditing Time
Think auditing is expensive? If you think it's too costly, you're not alone. But deciding to forgo registration to quality or environmental standards might turn out to be just as costly--or more so.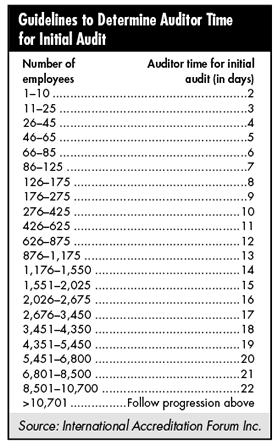 According to QSU Publishing, a medium-sized U.S. company will pay upward of $100,000 on average to implement a quality system. Registration expenses cost between $10,000 and $20,000, and on top of that, it costs about $5,000 a year for the auditing required to maintain registration.
An increasing trend, according to the ANSI-ASQ National Accreditation Board (ANAB), is for cost-conscious companies to save money by lobbying auditors to trim their billable auditing time. This can be a dangerous path to take, however.
"If you single-mindedly go for the lowest price, you may very well end up with the most expensive deal," says Randy Dougherty, ANAB director of accreditation. "A company may not gain any value from the cost incurred for certification."
When certification bodies (CB) bow to customer demand and cut back excessively on auditing time, customers will begin to view audits as a cost with minimal return on investment. Carried to an extreme, certification could ultimately fail to provide confidence in an organization registered to ISO standards, thereby destroying the value of registration.
The International Accreditation Forum Inc. doesn't require set auditing times for different-sized companies. Instead, it has published recommended guidelines that are generally followed.
"An unwarranted decrease in auditor time may produce an audit that is superficial and inadequate for a company," reports ANAB. "If the auditor has too little time to do a thorough audit, the CB will be limited in its ability to deliver information and findings of value to the customer."
For more information, visit www.anab.org or www.iaf.nu.
State Quality Awards Update
In the March issue of Quality Digest, we featured a directory of state quality awards offered throughout the United States and Canada. Organizations that administer these awards often change. Following are the awards affected by such changes; they were left out of the directory last month.
Delaware Alliance for Excellence partnered with the University of Delaware
Ph. 302-571-5233 Fax 302-571-56665
E-mail: jriabov@udel.edu
Award levels are Delaware Quality Award in honor of W. L. (Bill) Gore, Delaware Quality Award of Merit, Delaware Quality Commitment Award and the Genevieve W. Gore Lifetime Achievement Award.
Maryland Technology Enterprise Institute
Ph. 301-405-7173 Fax 301-403-4105
E-mail: martys@umd.edu
The highest award level for this organization is the U. S. Senate Productivity Award for Maryland. Applicants are recognized at four levels--Gold, Silver, Bronze and Certificate of Recognition.
Consumer Confidence Slips
Maybe it's a belated comedown from Christmas, but consumers aren't feeling too good about the economy lately.
That's the word from The Conference Board, whose most recent monthly Consumer Confidence Index is a widely cited and reliable barometer for the general direction of the U.S. economy. From the looks of it, things aren't going well.
Consumer confidence was measured at 101.7, down from 106.8 in January. Consumers' outlook for the next six months was bleaker in February than it was in January, and those expecting business conditions to worsen increased to 11.1 percent from 10.5 percent. The outlook for the labor market was also dimmed. Consumers expecting fewer jobs to become available in the coming months increased to 20 percent from 15.2 percent; the number of those expecting more jobs declined to 13.4 percent from 13.6 percent.
"Consumers are growing increasingly concerned about the short-term health of the economy, and in turn, about job prospects," says Lynn Franco, director of The Conference Board Consumer Research Center. "If expectations continue to lose ground, the outlook for the remainder of 2006 could deteriorate."
For more information, visit www.conference-board.org.
Valuing ISO 14001
Do environmental management systems lead to greener business performances, or is the effort just a "green" wash that costs a lot of money without any return?
That's the question being asked by QSU Publishing, ANSI-ASQ National Accreditation Board (ANAB) and the Wharton School of Business, which are performing a joint study on the subject. The survey, the results of which are expected to be published in June, aims to find the true economic and environmental value of voluntary environmental management systems and accredited third-party registration. Researchers are polling nearly 4,000 organizations registered to ISO 14001 in hopes of determining the exact value of registration to the standard.
"We're doing this survey so that from a broad base of industry we can determine the value of an environmental management system, and in particular, ISO 14001, to the bottom line of a company," says Robert H. King Jr., ANAB president.
Organizations in more than 125 countries have implemented ISO 14001. The United States is sixth on the list, with more than 4,500 certificate holders; Japan is first with nearly 20,000 organizations registered to the standard.
For more information, visit www.anab.org.

ACSI Reports Rebound in Consumer Satisfaction
The latest American Customer Satisfaction Index indicates a slow and steady climb in customer satisfaction during the fourth quarter of 2005.
The index is released quarterly and examines customer satisfaction in rotating groups. During the fourth quarter, it measures satisfaction with the quality of products and services in retail, financial services and e-commerce. The index increased 0.4 percent over the previous quarter to an aggregate score of 73.5, but year-over-year it remains slightly below 2004. Customer satisfaction with e-commerce, and financial and insurance rose, but the high price of gasoline dragged down the retail trade sector.
"[Companies that score high on the ACSI report higher numbers of] repeat customers and increased spending, and the new data suggest that consumer spending will rebound," says Claes Fornell, director of the University of Michigan National Quality Research Center, which compiled and analyzed the data. "But the negative savings rate suggests that consumers have been spending beyond their means, which may affect the degree to which spending will increase."
The overall retail score declined 0.3 percent to 72.4, with Kohl's Corp., Costco and Target scoring the highest with consumers. Satisfaction with e-commerce increased 1.3 percent to 79.6, significantly higher than satisfaction with the overall retail industry. Amazon.com and Barnes and Noble's online retailing site tied for the highest score with 87. In the finance and insurance sectors, satisfaction with health care insurance was measured at 68, and property insurance was measured at 78, which amount to increases of 1.5 percent and 1.3 percent, respectively.
2005 was the first year that the ACSI added health and personal care stores to its measurement of the retail sector, which includes supermarkets, department and discount stores, specialty retail stores, and gas stations. Of the companies in this new sector, Home Depot posted the biggest decline, with an 8.2 percent drop to 67. Lowe's, its major competitor, gained 2.6 percent to 78, and now leads Home Depot by a whopping 14 percent. When the index first measured both companies in 2001, they each scored 75. Analysts attribute falling customer satisfaction with Home Depot to store-based quality problems.
"Home Depot's state-of-the-art quality techniques are more focused on internal systems for operational efficiency and productivity," says Jack West, a past president of the American Society for Quality. "These things are largely transparent to the customer and would take a while to be reflected in perceived quality ratings, if they're ever noticed by the customer at all."
For more information, visit www.theacsi.org.
Standard Addresses Records Management
Wondering what to do with the dozens of boxes of spreadsheets, forecast plans and financial documents stored in your office?
Just ask the International Organization for Standardization, which recently published a new guideline for business records management. ISO 23081-1:2006 regards the long-term storage of business records, while simultaneously allowing them to be used in any application or information system. It's designed to be used within the framework of ISO 15489, "Information and documentation--Records management." The standard addresses the relevance of records-management metadata in business processes and the different roles and types of metadata that support business and records-management processes. It also sets a framework for managing these metadata.
"ISO 23081-1 clearly shows how an organization can systematically and effectively improve its record keeping, and do so in a way that business objectives are supported," says Robert McLean, a member of the ISO subcommittee responsible for archives and records management. "Senior management will be able to identify tangible benefits such as reduced costs and better-managed risks, thereby contributing to better corporate governance."
For more information, visit www.iso.org.
Shingo Prize Winners Announced
The Shingo Prize for Excellence in Manufacturing was given to ten outstanding companies and divisions recently. The prize recognizes quality and efficiency achievements using lean principles. It's the premier manufacturing award in North America, and interest in the program is growing: Administrators report a 120-percent increase in the number of 2006 applicants. "The 2006 recipients have demonstrated the aim to control their destiny though lean manufacturing and business principles," says Ross Robson, Shingo Prize executive director.
The 2006 Shingo Prize winners are:
• Aspect Medical Systems of Newton, Massachusetts. This health care supplier reports a 50-percent reduction in the product costs of goods that generate more than 70 percent of its revenue. Rework rates have been improved by 81 percent, scrap has been reduced by 37 percent and customer service measures have improved by 80 percent.
• Autoliv Promontory Facility of Promontory, Utah. This plant, which produces more igniter and gas generant for automotive applications than any other pyrotechnic facility in the world, has reduced process lead time by 69 percent, increased production efficiency to 99 percent and reduced inventory by 68 percent.
• Delphi Electronics & Safety of Milwaukee, Wisconsin. Plant employees at this supplier of automotive electronics have improved customer satisfaction by reducing customer returns by 65 percent, improved first-time quality by 17 percent and reduced scrap by 48 percent.
• Delphi Productos Delco de Chihuahua (Plant 58) of Chihuahua, Mexico. A division of Delphi Corp., this energy and chassis facility has used lean to reduce costs, improve quality, improve growth potential, and to value and improve its people. Achievements include a 100-percent on-time delivery record, 80-percent reduction in customer complaints and a 70-percent improvement in first-time quality.
• Delphi Corp. of Queretaro, Mexico (Plant 65) . As part of Delphi Steering, a division of Delphi Corp., Plant 65 is a 176,981-square-foot facility with 233 employees. It specializes in rack-and-pinion gears, and employees have achieved 100-percent on-time delivery and a 100-percent improvement on delivering premium freight.
• Delphi Steering Systems, Alambrados y Circuitos Electricos IX (Plant 66) of Queretaro, Mexico. With a focus on quality, safety and community service, this facility achieved a 50-percent reduction in downtime in machining areas, a 56-percent improvement on inventory turns, and had zero quality spills between 2001 and 2005.
• Dj Orthopedics Inc. of Vista, California. This medical device company started its lean journey in 2000, and since then has improved its safety-incident rate by 53 percent and reduced order-to-shipment lead time by 66 percent.
• Methode Mexico S.A. de C.V. of Apodaca, Mexico. This facility has embraced lean for just two years but has achieved a 99-percent reduction in customer return parts per million (PPM), 31-percent uptime improvement and 76-percent scrap reduction.
• Steelcase Inc. of City of Industry, California. This office furniture supplier has reduced its cycle time from raw materials to finished goods from 6-8 days to less than 3.5 hours, improved raw material turns by more than 250 percent and reduced floor space for finished goods shipping by more than 85 percent.
• TI Automotive of Mexico City, Mexico. This organization has driven its customer return PPM below 16 for the last five years, improved inventory turns by more than 38 percent and seen significant improvements in its profits.
The awards will be formally presented at the 18th annual Shingo Prize Awards Ceremony, which will be held April 6 at the Northern Kentucky Convention Center in Covington, Kentucky.
For more information, visit www.shingoprize.org.